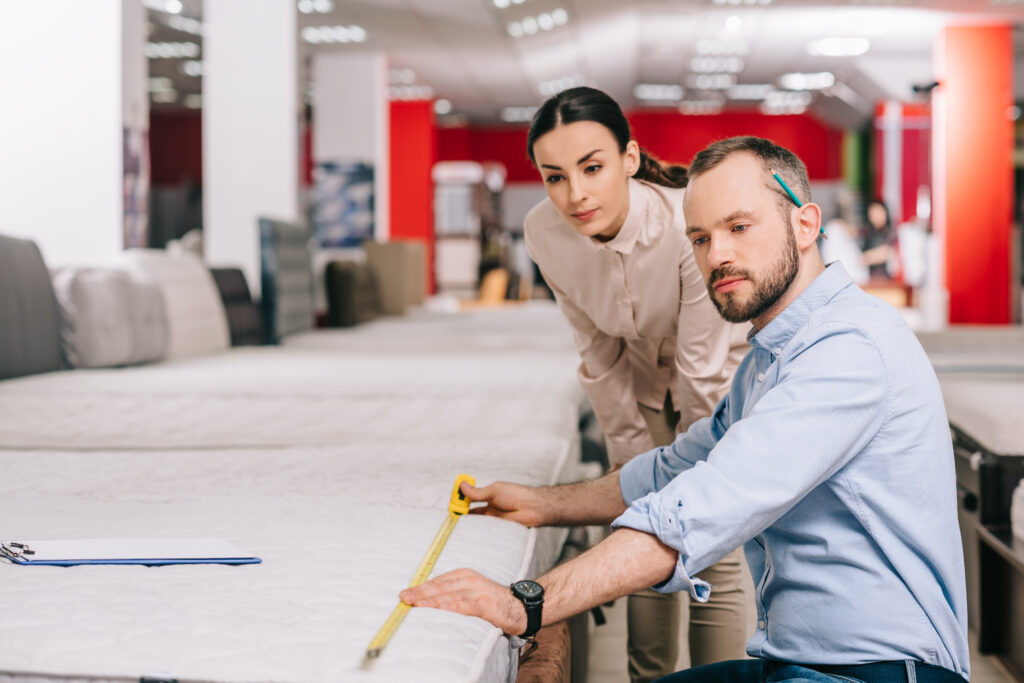 The best time to buy a mattress is when you need one. Mattress sales are indeed common at various times of the year, and it's worth checking into sales if you think your mattress will need replacing soon. You may also want a new mattress if you're moving or redoing your bedroom, or if you want to upgrade an older style. But by far, the best time to buy a mattress is when yours no longer promotes quality sleep.
 5 signs you need a new mattress
The Better Sleep Council notes that mattresses tend to wear out slowly over time, so it isn't always easy to tell when yours has broken down. Still, if you pay close attention, you will start to notice the signs that you need a new mattress.
Mattress age: Mattresses have an average useful life of about seven years. If yours is older than that, it's time to start shopping for a new one.

Visible damage: Stains, tears, lumps or depressions are sure signs that your mattress has seen better days. You may be able to buy some time by adding a mattress topper, but it's best to replace the mattress as soon as possible.

Sleeping better elsewhere: Did you recently stay in a hotel or at a friend's house, and find that you slept better than at home? Your mattress is likely to blame.

Aches and pains: Waking up with back or neck pain is often a sign that your mattress isn't providing proper support. Consider switching to a different type of mattress.

Fatigue: A low quality or broken down mattress can make it difficult to get high-quality sleep. If you're sleeping enough hours but waking up tired, it may be time to buy a mattress.
When is the best time to buy a mattress?
So when is the best time to buy a mattress? The answer, like so much in life, is that it depends. There's nothing wrong with buying early, even if the above signs have not yet started to manifest. Likewise, though these signs are indicators that it's time to start thinking about a new mattress, you can wait a few weeks or months depending on your comfort level. Whether you're moving soon or just hoping to find a good sale, there are many reasons why the best time to buy a mattress may not be solely based on when yours wears out.
So when do mattresses go on sale? The best time of year to buy a mattress has long been assumed to be Black Friday, and there are still a lot of deals to be had on that day. But that's not the only time you can find a great deal. Consider other major holidays, including Presidents' Day, Labor Day, Memorial Day, and even the Fourth of July. Spring is also an excellent time to shop, as new mattress models typically arrive in showrooms in March and April, making it easy to get a closeout on the previous year's models.
Note that the best time to buy a mattress also depends in part on the type of mattress you want and your budget. Mattress prices can range from $250 to more than $3,000. A basic innerspring twin mattress costs a lot less than a California king hybrid or latex mattress. If you want to upgrade your mattress, you may choose to save up money before making your new purchase.
Mattresses are sold both online and in stores. The major advantage of mattress shopping in a store is that you can lie down on different mattresses to determine which is most comfortable for you. The disadvantage is that mattress stores tend to charge enormous markups – up to 900% in some cases.
Online mattress shopping requires you to know what you want since you won't be able to physically try out different mattress styles. But cutting out the expensive overhead and middlemen lets online shops sell mattresses at a fraction of the price you'll pay at a brick-and-mortar store. Also, many mattress brands offer lengthy in-home trials for their online customers. This allows you to sleep on the mattress for up to a year, and then return it if you decide it's not for you.
The bottom line
The best time to buy a mattress is when you, personally, need one. There are signs that your mattress is getting too old, from waking up with aches and pains to visible damage on the mattress itself. There are certain times of the year when you might get a better deal, but don't let that be the driving factor behind your decision to buy a new mattress.
You may want to buy a new mattress for a new home, upgrade your basic model to a more luxury type, or switch to a new mattress size. In-store shopping lets you try out different mattresses, but online shopping can save you money. Regardless of when you purchase your new mattress or where you decide to shop, it's important to do your research. Learn about the different styles, sizes, and price ranges, read consumer reviews and consider choosing a brand that provides a lengthy in-home trial period.
Frequently asked questions
How long do mattresses last? 
The exact lifespan of a mattress varies by type and how heavily it is used, but in general, the average useful life of a mattress is seven years.
What is the best month to buy a mattress? 
There is no single month that's best to buy a mattress. Nearly every major holiday brings mattress sales, along with closeouts in the spring. Buying online can also save money over buying from a brick-and-mortar store. With a bit of research, you can find a good deal on a mattress throughout the year.
Do I need a new box spring when I get a new mattress? 
Not usually. Box springs can wear out, but you will generally see visible damage if this happens. If the box spring seems solid and in good shape, replacing your mattress is generally all that's required. Keep in mind that many beds today don't require a box spring at all. Platforms and other foundations can replace box springs except in old fashioned beds with slats.
---