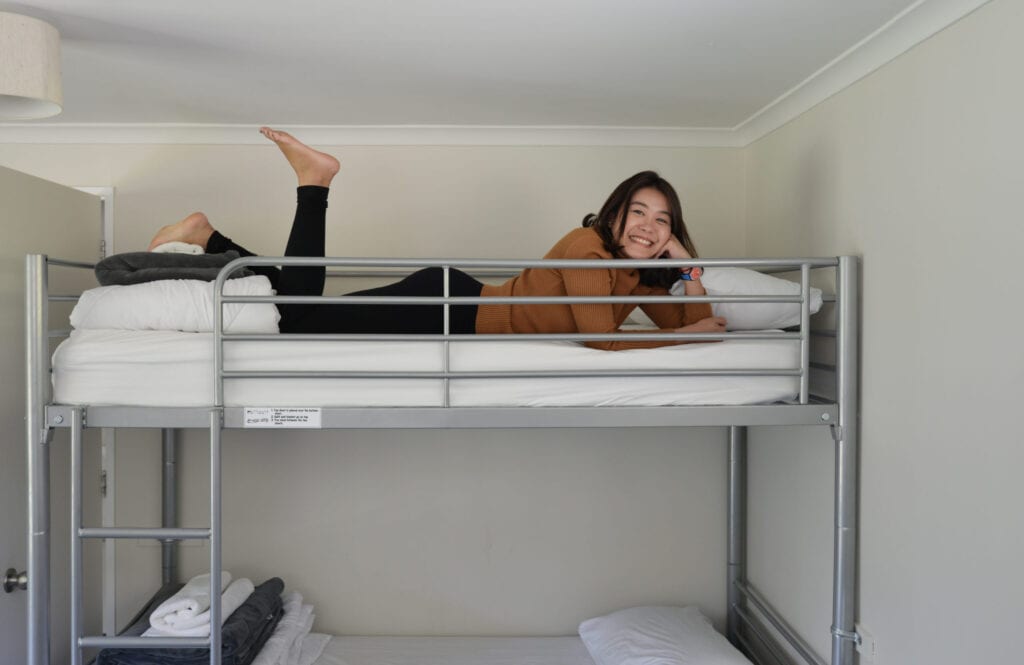 Deciding whether to get a twin or twin XL size mattress means factoring in the height of the person sleeping in it, the dimensions of the room, and the constraints of your budget. While the difference between twin and twin XL mattresses is slight, comparing them is still essential to ensure you're getting the bed you need.

How long is a twin XL bed, and what is the difference between twin and twin XL? Here are the details.
What is the difference between twin and twin XL beds?
The main difference between a twin and twin XL mattress is the length. Because a twin mattress is smaller than a twin XL, they're typically best for college dorms, growing children, or guest rooms. Here are the twin vs. twin XL dimensions:
| | | |
| --- | --- | --- |
| | Twin | Twin XL |
| Width | 38 inches | 38 inches |
| Length | 75 inches | 80 inches |
| Cost | Prices range from $75 and up | Prices range from $87 and up |
| Best for | Children and teens | Taller people |
| Availability | Most manufacturers | Most manufacturers |
More on the twin mattress:
With dimensions of 38″ by 75″, twin beds are a popular choice for children, average-size adults, and teens. If you need to save space, this is an inexpensive way to create a comfortable sleeping spot.
As early as 1892, writers talked about how they believed the twin bed would take the place of double beds in rooms occupied by more than one person. The popularity of these mattresses prevailed not only because of their size and affordability but their availability as well.
Pricing for these mattresses depends on their material, thickness, and topper type. For example, if you want a six-inch memory foam twin mattress, you can find it for about $140. A six-inch innerspring mattress runs between $75 and $140. You can also find plush and luxury pillow-top mattresses featuring 14″ of thickness for between $550 and $1,000.
Pros

Cons




It's an excellent choice for a child's room because it allows for plenty of floor space.

Twin beds work well in rooms where two children are sharing.

A twin bed can provide comfortable seating when dressed as a daybed in a guest room.

It's a budget-friendly option for off-campus housing or as a "big kid bed" when your little one starts to grow.

The size does not accommodate more than one person.

Its length might be too short for adults or tall teens.

Children might grow out of a twin quickly.

It's not ideal for sleepers who toss and turn a lot.









More on the twin XL mattress:
The twin XL dimensions are longer than a regular twin by five inches, measuring 38″ x 80″. That extra length makes these mattresses ideal for adults, tall teens, and those looking for a dorm room or guest room bed.
The history of twin XL mattresses is not clear, but we do know that they were popular in dorm rooms during the mid-1970s. The extra length makes them more comfortable for taller sleepers. Comfort also changes depending on the type of mattress you select. For example, a twin XL mattress with a pillow top might be more comfortable than a traditional innerspring model.
Pricing for these mattresses varies depending on the materials, the type, and if there's a built-in topper. You can get a seven-inch innerspring twin XL mattress for between $87 and $160. If you prefer the feel of cooling gel memory foam, a seven-inch model ranges between $100 and $330. You can also find 14″ luxury pillow-top innerspring mattresses for between $680 and $800.
Pros

Cons




The narrow width makes a twin XL ideal for small living spaces.

There's more legroom thanks to the additional length.

It fits well into certain bunk bed sets.

It's ideal for college dorms and children's bedrooms.

Combination (back and side, for example) sleepers might not have enough space.

Some sleepers find these beds too narrow.

It fits only one person.

It does not fit on a standard twin bed frame.









Can you loft or bunk both types of mattresses?
Yes, twin and twin XL beds are excellent options for loft and bunk beds. If you're trying to save space but need extra length, using a twin XL loft bed is ideal. These configurations work well in college dorm rooms, as well as anywhere else where there's limited space. You can find many options available for bunks for a twin XL mattress, including twin over twin bunk beds, twin XL over twin XL bunk beds, twin over full bunk beds, and twin XL over full bunk beds.
The bottom line
While there are not too many differences between a twin vs. twin XL, the length is what matters the most. That extra five inches in a twin XL helps tall teens and adults who have a limited amount of sleep space in their room. You can save even more space by opting for a twin XL loft bed.
Frequently asked questions
Can twin sheets fit on a twin XL? 
Many manufacturers make sheets that fit both twin and twin XL mattresses. However, it's a good idea to make sure the sheets are deep pocket to compensate for the mattress's extra length.
Which is bigger, twin or twin XL? 
Both mattresses are the same width, but they differ in length. A twin XL is longer than a twin by five inches.
Will a twin XL comforter fit a twin bed? 
Yes, though, be sure to consider the extra length of the quilt or comforter. For example, if you're using it for a bed sitting on a frame, the comforter is going to look long. So you might run into difficulties if you use this comforter on a twin loft or bunk bed set.
---