Home > Best Prebuilt PCs
Hunting Decent Value Prebuilt Desktops As Good Alternatives to DIY (All Budgets)
Last Updated: April 6, 2021
Planning to get your hands on a new desktop for 1080p, 1440p, 4K or VR gaming but trying to remain as cost-effective as possible? In this latest roundup of the current best prebuilt gaming PCs for the money I list the top value options I could find on the US market this past week based on careful research and a strong BS radar cultivated over many years of seeing the prebuilt desktop market for what it really is: a minefield of overpriced and under-performing systems, ticking time-bomb abominations, and the occasional diamond in the rough that represents okay value for money that I can stick my neck out for and make a (still rather lukewarm) recommendation for.
See Also: Best Value Gaming Monitors
Perhaps you have no interest in learning about building a PC, or you are just really strapped for time and just want a computer ASAP without having to spend the extra time required to plan and build one yourself. Whatever your reasons, there's nothing wrong with that. While building your own PC has advantages, not everyone needs to (nor should) build their own system.
Besides, buying a graphics card to build your own PC is not the easiest of tasks at this moment in time, especially if you're like most of us and looking to pay a normal-ish price that's not absurdly beyond the card's intended MSRP (Manufacturer's Suggested Retail Price). If you weren't already aware, graphics cards are in massive demand right now, without the supply to meet it. Buying a prebuilt gaming PC is definitely an option to consider instead of building your own system, and can be an easier way to get a hold of one of the latest NVidia RTX or AMD RX graphics cards (since prebuilt PCs that include these massively desired GPUs are much easier to find in stock than the individual GPUs themselves).
Prebuilt computers get a bad wrap in DIY PC communities, but for good reason as companies often cut corners in terms of the quality of parts included in their premade desktops in order to increase/maximize profits. But preubilt PCs aren't all horrible piles of steaming scrap metal, so if you're not interested in building your own computer or just cannot for the life of you find a graphics card in stock, buying a prebuilt PC is absolutely fine. 
Just always stay on your toes and do your research, as many (I'd even say most) prebuilt PCs are either way too overpriced for what you actually get (despite slick marketing that persuades many people to think otherwise) or are systems that cut a little too many corners in terms of component quality and reliability (ie horrible PSU, low storage, very limited upgrade flexibility, poor airflow, and so on). If you want my opinion on some good prebuilt PCs as someone who's been carefully hand-picking the most legit systems on the market for years with perfectionist-like precision, the following are some of the best prebuilt gaming PCs for gaming and VR I could find available on the market right now.
1. SkyTech Archangel 3.0 RTX 3060 (Best Value Prebuilt PC)
If you want the best prebuilt gaming PC with a RTX 3060 from an affordable yet still-reliable manufacturer that also includes decent quality supporting components, the SkyTech Archangel 3.0 gets my pick based on current pricing and availability.
Let's talk first about the graphics card, seeing as it's by far the most important component within a system when it comes to gaming and VR. The recently released RTX 3060 replaces the former RTX 2060, offering a decent leap forward in performance over the previous series, and will no doubt become one of the most popular cards this current generation for its affordability.
The 3060 boasts a whopping 12GB of VRAM that comes in handy for VR games, most of which can easily eat up VRAM like nobody's business. That said, don't get too caught up in comparing VRAM numbers on graphics cards, as it's not just about the capacity (ie amount) but also about the type of VRAM. More powerful GPUs like the RTX 3060 Ti and RTX 3070 have "only" 8GB VRAM, but it is faster GDDR6X memory compared to the slightly inferior GDDR6 that the RTX 3060 has.
Still, the 12GB of the 3060 is still nice and does help in the VRAM hungry realm that is virtual reality, and more importantly, in terms of pure gaming performance the 3060 performs fast enough and is "enough" GPU grunt for a decent VR experience.
Combined with the still capable Ryzen 5 3600 processor and 16GB of 3000MHz RAM, along with a list of basic yet good-enough parts, this particular SkyTech prebuilt PC is decent value for money and a better option than many other prebuilts out there in my opinion. The system also looks decent, with a slick white case and 3 included RGB fans, and it comes complete with a gaming keyboard and mouse (albeit basic), included WiFi, and you get a large 1TB SSD for fast loading of a ton of games and applications.
As for the brand, if you haven't heard of SkyTech that's because they're fairly new to the prebuilt PC scene, but I've kept an eye on them, their offerings, their service, and so on over the past couple years and compared to other gaming desktops out there I can comfortably recommend them based on what I've seen so far. They've been improving over time and offer some solid value systems, without sacrificing on component quality too much (and much less so in general compared to a fair few other prebuilt PC brands).


SkyTech Archangel 3.0 Specs
Model Number: ST-Arch3.0-0180
CPU: AMD Ryzen 5 3600 (6-Core)
CPU Cooler: AMD Wraith Stealth (Stock Cooler)
GPU: NVidia GeForce RTX 3060 (12GB GDDR6)
RAM: 16GB DDR4 (3000MHz)
Motherboard: AMD B450 (mATX)
Storage: 1TB SSD
Power Supply: 600 Watt (80 Plus Gold)
Case: Thermaltake H200 TG RGB (White)
Case Fans: 3 x 120mm RGB RING
OS: Windows 10 Home
WiFi: Yes (802.11AC WiFi 5)
Other: SkyTech Keyboard and Mouse
Warranty: 1 Year
Honorable Mentions:
SkyTech Shadow 3.0 (RTX 3060, R7 3700X)
HP Omen 25L (RX 5700, R7 3700X)
CyberPowerPC Gamer Xtreme (RTX 3060, i5 10400F)
2. HP Omen 30L RTX 3080 (Best High-End Prebuilt PC)
For the best VR experience, or for standard flatscreen gaming on a top 4K 144Hz monitor for those who haven't caught the VR bug, the ideal situation is getting your hands on a system containing the super powerful NVidia RTX 3080 graphics card. The competing Radeon RX 6800 and RX 6800 XT cards from AMD are also great choices, and are slightly less powerful (6800) and slightly more powerful (6800 XT) compared to the RTX 3080, though it depends on the specific game in question as to which card performs better. Overall, you can't go wrong with any of these 3 high-end GPUs, with all being capable of superb performance.
RTX 3080 prebuilt PCs don't come cheap, and it's difficult to find anything that resembles good value for money. On my hunt the best I could find right now in terms of bang for buck is this HP Omen desktop, which has its downsides such as limited upgradeability due to a small proprietary motherboard and average cooling with a subpar, small 120mm liquid cooler that doesn't give such a powerful CPU as the i9 10850K much leeway. If your new setup will live in a warmish room/climate, I don't recommend this system. You can also forget about overclocking the CPU as the cooler isn't good enough for that, though most people buying a prebuilt gaming PC are highly unlikely to be overclocking anyway.
But based on current pricing at the time of writing this, it's one of the better "value" RTX 3080 gaming desktops I've seen, and the list of components gets a pass from me. Yep, just a pass, since prebuilt PCs like this always cut corners and doesn't compare to building your own gaming PC (where you have freedom to only include top notch parts and brands), but a pass by my perfectionist high standards as a lifetime DIYer is a stronger recommendation than it may sound, with most other RTX 3080 prebuilt gaming PCs failing that test due to being way overpriced.
If you know hardware and DIY well, most prebuilt PCs are overpriced to be fair, but some are less so than others. And besides the strong CPU and GPU, this HP does have some other positives going for it such as an efficient Platinum certified power supply (it's not a high-end brand but Cooler Master PSUs are okay), the latest WiFi 6 standard for full compatibility with next-gen routers, and plenty of storager with a large and fast 1TB SSD from Western Digital and a secondary 2TB hard drive.
Just keep in mind these prebuilt recommendations were based on the prices at the time of writing, and PC prices fluctuate often (especially during this current volatile market) meaning that by the time you read this there may be a better "value" RTX 3080 or RX 6800/XT option. But right now after having scoured the market, if your PC will live in a nicely cooled room this particular HP model is worth considering if you want to save a little money over more "luxury" 3080 desktops. If you don't mind spending extra on a more reliable, well-cooled, and feature-rich RTX 3080 prebuilt PC, check out the honorable mentions listed below for good alternatives that I found at the time of writing.

Omen 30L Specs
Model Number: GT13-0092
CPU: Intel Core i9 10850K (10-Core)
CPU Cooler: Proprietary HP AiO Liquid Cooler (120mm)
GPU: NVidia GeForce RTX 3080 (10GB GDDR6X)
RAM: Kingston HyperX 32GB DDR4 (2x16GB, 3200MHz)
Motherboard: Proprietary HP Z490 (mATX)
Storage: Western Digital Black 1TB PCIe NVMe M.2 (SSD) & 2TB 7200RPM SATA (HDD)
Power Supply: Cooler Master 750 Watt (80 Plus Platinum)
Case: Proprietary HP Model
Case Fans: 1x 120mm Front, 1x 92mm Rear
OS: Windows 10 Home
WiFi: Yes (802.11AX WiFi 6)
Other: Bluetooth, HP Keyboard and Mouse
Warranty: 1 Year
Honorable Mentions:
Thermaltake LCGS View 380 (RTX 3080, R7 5800X)
SkyTech Chronos (RTX 3080, R9 3900X)
SkyTech Blaze 3.0 (RTX 3080, R7 3700X)
Thermaltake LCGS Glacier 370 (RTX 3070, R5 5600X)
Skytech Chronos (RTX 3070, R7 3700X)
3. Thermaltake LCGS View 390 RTX 3090 (Ultimate Prebuilt PC)
Next up in the list of best prebuilt gaming PCs for the money right now is a monster for the hardcore gamers and VR enthusiasts. Starting off with the star of the show which is of course the GPU, and for the ultimate VR/4K experience, right now nothing can beat the RTX 3090 from NVidia. The gap in performance between a RTX 3080 system (or RX 6800 XT) and one with a RTX 3090 is not that big, meaning the disproportionately higher price tag of the latter just does not make sense for most people. But if you're looking to buy the absolute ultimate gaming computer for VR/4K that money can buy, you're not most people, and being cost effective is unlikely to be your priority.
So while the RTX 3080 really is plenty of power for an excellent VR/4K gaming experience (and a significant leg up over the previous RTX 2080 series), if you simply want the best performance possible running the highest visual settings (and maybe turning on some fancy eye-candy like SuperSampling that really helps in VR), a rig with a NVidia RTX 3090 is the way. With the help of a whopping 24GB of VRAM, this GPU is a VR enthusiast's dream and will make the absolute most of high-end VR headsets like the Valve Index with its industry leading 120H and 144Hz modes or the HP Reverb G2's extra-high, immersive resolution.
As for choosing the best RTX 3090 prebuilt PC, at the time of writing this Thermaltake caught my eye over the others, but not because of it's slick design which I consider a bonus. It's list of internal components is solid, and the price is decent compared to other options I've researched – at least at the time of writing this. Unlike the HP Omen series, this Thermaltake desktop is more thoroughly cooled, with plenty of fans and a large 360mm Thermaltake liquid cooler. You also get a next-gen PCIe Gen4 SSD for blazing fast storage and load times, and an X570 chipset motherboard (though the exact brand is unspecified).
It's got the latest AMD Ryzen 7 5800X processor, an absolute gaming beast which actually performs just as well as the more expensive Ryzen 9 5900X or 5950X. It "only" has 16GB of RAM, though the modules are set at a fast 3600MHz. 16GB is plenty for any modern game, VR or not, but for an extreme no-compromises system having 32GB is ideal. You can upgrade the RAM if you like, or check out the other RTX 3090 prebuilts I've recommended above, but for the time being 16GB really isn't going to hold back performance in the far majority of games unless you're simultaneously running some seriously heavy workflows in tandem.

Thermaltake LCGS View 390 Specs
Model Number: V51B-X570-39V-LCS
CPU: AMD Ryzen 7 5800X (8-Core)
CPU Cooler: 360mm AiO Liquid Cooler
GPU: NVidia GeForce RTX 3090 (24GB GDDR6X)
RAM: Thermaltake ToughRAM 16GB DDR4 RGB (3600MHz, 2x8GB)
Motherboard: AMD X570 (ATX)
Storage: 1TB NVMe M.2 Gen4 (SSD)
Power Supply: 850 Watt (80 Plus Gold)
Case: Thermaltake View 51 Black Tempered Glass
Case Fans: 3x ARGB (200mm, 120mm)
OS: Windows 10 Home
WiFi: Yes (802.11AC WiFi 5)
Other: Bluetooth
Warranty: 1 Year
Honorable Mentions:
Corsair Vengeance a7200 (RX 6800 XT, R9 5900X)
Thermaltake AH 390 (RTX 3090, R7 5800X)
SkyTech Prism II (RTX 3090, R9 3900X)
Empowered PC Sentinel (RTX 3090, i9 10900KF)
4. SkyTech Shadow 3.0 GTX 1660 Ti (Best Budget Prebuilt PC)
A PC rocking an RTX 3060 or thereabouts (ie RX 5700/XT, RX 6700 XT, RTX 2060 Super) is my cutoff recommendation for anyone really interested in VR who wants solid performance in the latest AAA games to experience them fully without many/much sacrifices on quality and immersion.
However, if systems with these types of graphics cards are over your budget, the truth is that lesser GPUs like the GTX 1660 Super, GTX 1660 Ti, or RX 5600 XT can indeed run VR, and depending on the game and resolution (ie headset), if you're willing to run lower in-game visual settings you can get smooth performance in many titles without a doubt. Even the ultimate PC VR experiences right now (Half Life Alyx as the obvious example) will run on these cheaper graphics cards, and if you do your research you'll fine plenty of satisfied players with these types of setups.
So while not ideal, I can safely recommend a prebuilt PC with something like a GTX 1660  Ti (which is slightly faster than the 1660 Super) if you really want to experience VR and are strapped for cash, so long as you know what you're getting into in terms of having to stick to lower settings in most games and not being able to run super demanding titles like the latest mindblowing Flight Simulator VR anywhere near smoothly no matter what the settings (No Man's Sky and Elite Dangerous being two other quite demanding VR games).
As for choosing the best GTX 1660 Ti prebuilt desktop right now, another SkyTech computer gets my top pick here, as they've taken the prebuilt PC market by storm in the past couple of years (especially on Amazon) and currently offer some of the best value desktops for gamers on the market whilst importantly not cutting too many corners to make that happen.
Many prebuilts sacrifice a little too much in terms of the quality of the components included in the system, in order for them (as a company) to make a profit (or more of a profit). From the many SkyTech desktops I've researched, and having kept a close, critical eye on them for a while now, they genuinely seem better than most in terms of limiting the sacrifices made on their systems. Their customer support also seems decent from my research.

SkyTech Shadow Specs
Model Number: ST-SHADOW-0178
CPU: AMD Ryzen 5 3600 (6-Core)
CPU Cooler: AMD Wraith Stealth (Stock Cooler)
GPU: NVidia GeForce GTX 1660 Ti (6GB GDDR5)
RAM: 1x8GB DDR4 (3000MHz)
Motherboard: AMD B450 (mATX)
Storage: 500GB SSD
Power Supply: 500 Watt (80 Plus)
Case: Skytech Shadow Tempered Glass
Case Fans: 3 x 120mm RGB RING
OS: Windows 10 Home
WiFi: Yes (802.11AC WiFi 5)
Other: SkyTech Keyboard and Mouse
Warranty: 1 Year
Honorable Mentions:
HP Pavilion (GTX 1660 Ti, i5 9400F)
Dell G5 (GTX 1660 Ti, i7 10700F)
SkyTech Legacy Mini (GTX 1660 Ti, R7 2700)
5. Skytech Chronos Mini GTX 1650 Super (Best Cheap Prebuilt PC)
If you're on a tight budget and want the absolute bare minimum PC to run VR, and you'll also be mostly sticking to less demanding VR games/experiences such as VRChat to name one extremely popular example, a computer like this with a NVidia GTX 1650 Super graphics will get the job done. You could run some of the more demanding games like Half Life Alyx, but it's not recommended and you will not only have to play on the lowest graphics settings but you should expect the occasional performance hiccups (ie drops in frame rate, which is more noticeable VR).
I highly recommend a slightly stronger PC for most people playing VR, but if you know what you're getting into and accept the limitations of what games you can play nice and smoothly, this is the best cheap prebuilt gaming PC I can recommend that also looks nice and is upgradeable should you want to throw in a better graphics card in future once you've saved up some more money to boost performance considerably (just remember to check the card's length when buying to make sure it fits the case).
The component list is quite basic, with only an A320 motherboard instead of the superior B450 chipset, only stick of 8GB RAM, and only 500GB of storage, but these aren't deal breakers and common for almost any budget prebuilt PC in this price range. You can always upgrade the RAM later (just keep in mind the motherboard only has 2 RAM slots so you can only add another 8GB 3000MHz module to make a total of 16GB), and you can also easily add another storage drive later on (whether internal or external).
The power supply is average, but is adequate for an entry-tier gaming desktop like this and has an 80 Plus Bronze certification which is nice – you can definitely find worse in many cheap prebuilt PCs. Though I wouldn't be planning a significant GPU upgrade in future using that power supply (but something like a GTX 1660 would likely be fine still). Anyway, all things considered compared to other budget prebuilt gaming PCs available, this setup is decent value at its current price.
It will also perform nicely in standard flatscreen games too, and is plenty of GPU grunt to run mostly any PC game at 1080p fairly nicely on good settings, and you'll be fine running even the most demanding titles like Cyberpunk or Red Dead if you sacrifice settings. As I mentioned, for light VR gaming it's also going to get the job done, and is guaranteed to have a DisplayPort on the back of the GPU as mentioned in the full product listing specs (needed for connecting PC VR headsets).

Skytech Chronos Mini Specs
Model Number: ST-Chronosmini-B-0068
CPU: AMD Ryzen 3 3100 (4-Core)
CPU Cooler: AMD Wraith Stealth (Stock Cooler)
GPU: NVidia GeForce GTX 1650 Super (4GB GDDR6)
RAM: 1x8GB DDR4 (3000MHz)
Motherboard: AMD A320 (mATX)
Storage: 500GB SSD
Power Supply: 550 Watt (80 Plus Bronze)
Case: Thermaltake H200 TG RGB (Black)
Case Fans: 3x ARGB 120mm

OS: Windows 10 Home
WiFi: Yes (802.11AC Wi-Fi 5)
Other: SkyTech Keyboard and Mouse
Warranty: 1 Year
Honorable Mention:
HP Pavilion (GTX 1650 Super, i3 10100, Buy Extra Storage)
How to Choose a Prebuilt Gaming PC (Key Specs)
If you're new to PC hardware, here are some basic things to keep in mind about choosing a good prebuilt desktop for gaming in terms of their parts-list. There are tons of specs and features that make up a computer, but these are the key things to know if you're a gamer.
Is Buying a Prebuilt PC More Expensive?
The majority of prebuilt computers on the market can be built for either less or around the same price with better-quality and/or faster components if you do it yourself – especially as gamers looking for maximum frame rates for the money. But that's not to say that there are no good prebuilt PCs out there, as if you know what to look for and shop carefully you can find decent prebuilt PCs for gaming that won't break the bank.
Plus, during times when graphics card prices are higher than normal, the typical cost savings you'd get from building your own system are either cut down or wiped out entirely. Besides, not everyone has the patience or interest to assemble a computer from scratch, no matter how straightforward it is to do these days if you just take your time with it, and some people are willing to pay extra for the convenience and time saved by buying a pre-assembled PC.
See Also: The Best Refurbished Gaming PCs (pre-owned)

Why Are Prebuilt PCs Often Considered Bad?
The convenience of buying an already fully assembled, 100% ready-to-go rig is tempting, but there are many pitfalls to be aware of when doing so if you want to make a good purchase that won't let you down. Prebuilt PCs often get roasted within hardware circles, and oftentimes for good reason as there are plenty of straight-up bad buys out there when it comes to prebuilt desktops. 
If you gain even a somewhat basic understanding of PC hardware, it's easy to look beyond the surface-level marketing of many premade systems and realize that a fairly significant majority tend to include lower-tier parts, such as cheap, unreliable, timebomb-ticking power supplies, or poor, restricted airflow that could easily cause excessive noise, high temperatures, overheating, or worse.
There's a whole heap of other potential issues when it comes to premade desktops due to manufacturers making sacrifices in their production process in order to keep costs as low as possible. Add to that the fact that many prebuilts are also typically quite overpriced compared to picking out the parts individually yourself and building your own setup, and it's easy to see why you must do research before buying the first random PC you see, despite how good it sounds on paper or how slick it looks in the pictures (which are actually sometimes misleading and don't show the exact parts you'll end up receiving).
There's always the occasional exception, but in most situations building your own PC does give you more for your money overall. But the truth is, even though building your own PC will almost-always be the best way to get the fastest gaming performance and highest component quality for your hard-earned (or strategically begged for) money, there are plenty of respectable prebuilt computers out there from reputable companies if you know what to look for, such as the best prebuilt PCs from my list above which were all carefully hand-picked for their overall value and trustworthiness as a whole. But if you have an interest in tech and computers, I highly recommend you consider building your own PC if you have a little time and patience and don't need a new setup right this second, as it is quite rewarding in more ways than one.
Related: Why Build Your Own Computer?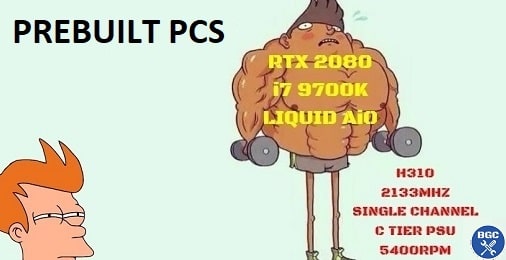 Be skeptical and keep your wits about you when shopping for a prebuilt PC as they're not always as they seem (look past flashy exteriors or clever marketing)
---
Trusted Stores
The online retailers I recommend for tech.
USA:
Amazon US /
BestBuy /
Canada: Amazon CA
UK: Amazon UK /
Australia: Amazon AU /
PLE /
Affiliate Disclosure: Build-Gaming-Computers.com is a participant in the Amazon Services LLC Associates Program, an affiliate advertising program designed to provide a means for sites to earn advertising fees by advertising and linking to Amazon.com.
That simply means if you purchase product/s within a certain period of time after clicking the store links above (or any product links on this site), if that store offers an affiliate program I receive a small commission of the total sale amount (at no extra cost to you – it comes out on the retailer's end). This is how I'm able to earn an income writing and updating these articles for you guys. Also note this is unrelated to manufacturers: I don't accept monetary incentives to recommend a certain product over another.
Trusted VPN
Cybersecurity is becoming increasingly important, and installing a VPN is one easy way to improve the security and privacy of your PC. NordVPN is the one I use and can recommend. For more on VPNs see the gaming PC software guide.
Enjoy the Site?
Find value in these guides and want to return the favor? Consider sharing the article with others if you know anyone who might also find it useful. You can also show your support on our FB Page or by leaving a comment on an article with your feedback (constructive criticism also hugely welcome to help improve the site). Much appreciated guys.
Most Shared
All Articles: Archives
Search Articles
About Me
Indie game dev currently working on my dream game, an atmospheric VR FPS adventure powered by Unreal Engine, who also likes writing about hardware and gaming in general. 
Favs of all time are OOT, Perfect Dark, MGS1, MGS2, GE007, DKC2, THPS3, WC3, HL1, HL2, with the most recent addition to my list of immortals being the VR masterpiece that is Half Life Alyx. 
To keep in touch check back to the blog for my latest articles or see BGC on FB, and for anyone also into the VR FPS scene I'll be sharing the first screenshots of my upcoming VR game here when the time is right (game is very early on in development). – Julz