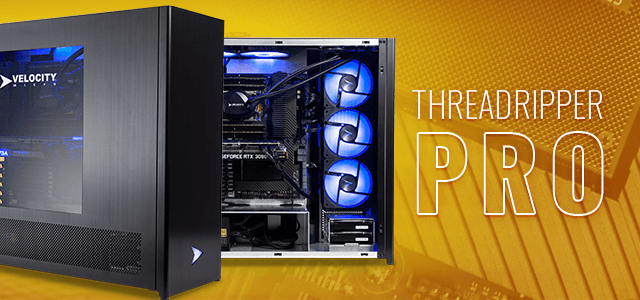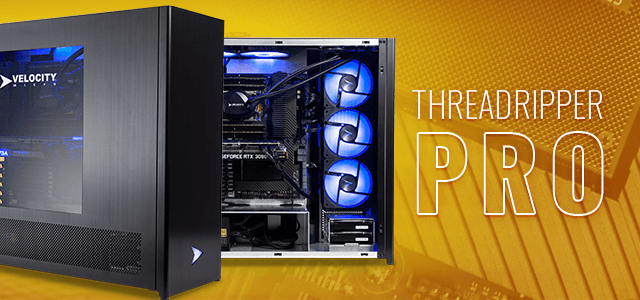 Today we announce the immediate availability of the ProMagix HD150, our first AMD Threadripper PRO Workstation. Over the past few years, no one has built more Threadripper workstations than we have and we're excited to expand upon that product line with the new PRO processors and WRX80 chipset motherboards. You can check out our full press release here with quotes from AMD and Asus, but read on to learn more about this amazing new workstation platform, how it's different, and who it's best suited for.
What are the advantages of Threadripper PRO?
Like the TRX40 version of Threadripper, the WRX80 PRO version is primarily a workstation platform, designed for highly threaded applications like computational fluid dynamics, professional video editing, or visual effects. Both feature up to 64 cores and 128 threads of CPU power, but there are some key advantages that the PRO versions offer:
Higher Memory Bandwidth and Memory Density – PRO supports up to 2TB total RAM vs 256GB with the standard version plus full support for ECC RAM.
128 PCIe Gen4 Lanes – Doubling the maximum number for PCIe lanes from 64 to 128 future proofs your workstation for expansion options down the road
AMD PRO Technologies – Threadripper PRO also comes with the same encryption and deployment features as previously released Ryzen PRO processors, to make the HD150 as secure as it is powerful. To learn more about those features, click here.
Who is Threadripper PRO for?
The use case for a PRO workstation is pretty vast, but essentially anyone in need of a system to be used in an enterprise environment where the PRO Technologies are advantageous or 256GB+ RAM is necessary will see benefits. This includes verticals like Architecture, Oil/Gas, Machine Learning, VFX, scientific research, simulations, and many more. Check out these links to some channel specific workflows to learn more about how Threadripper PRO can improve workflow.
Benchmarks
Cinebench is a CPU intensive benchmark designed to take advantage of multi-threaded processors. We're still working on a full set of test data to really show the performance advantages that this platform offers, but these scores should give you an idea.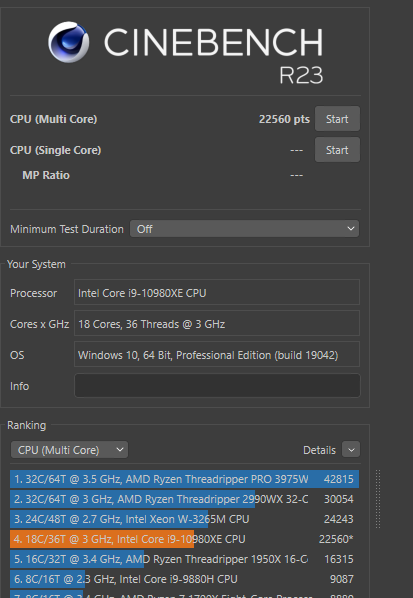 You'll see from this screenshot that the 32 core PRO 3975W outscores the 2nd gen Threadripper by 35% and nearly doubles the scores of the Intel i9-10980X – and that's only the midrange option from this product stack! For multi-threaded workflows, this type of a performance advantage is simply an absolute boon for productivity.
Click here to learn more about our Threadripper PRO Workstations or configure your own. As always, our sales consultants are available to assist with your questions M-F, 8am-6pm EST at 804-419-0900 or vmsales@velocitymicro.com.
The following two tabs change content below.
Josh has been with Velocity Micro since 2007 in various Marketing, PR, and Sales related roles. As the Director of Sales & Marketing, he is responsible for all Direct and Retail sales as well as Marketing activities. He enjoys Seinfeld reruns, the Atlanta Braves, and Beatles songs written by John, Paul, or George. Sorry, Ringo.