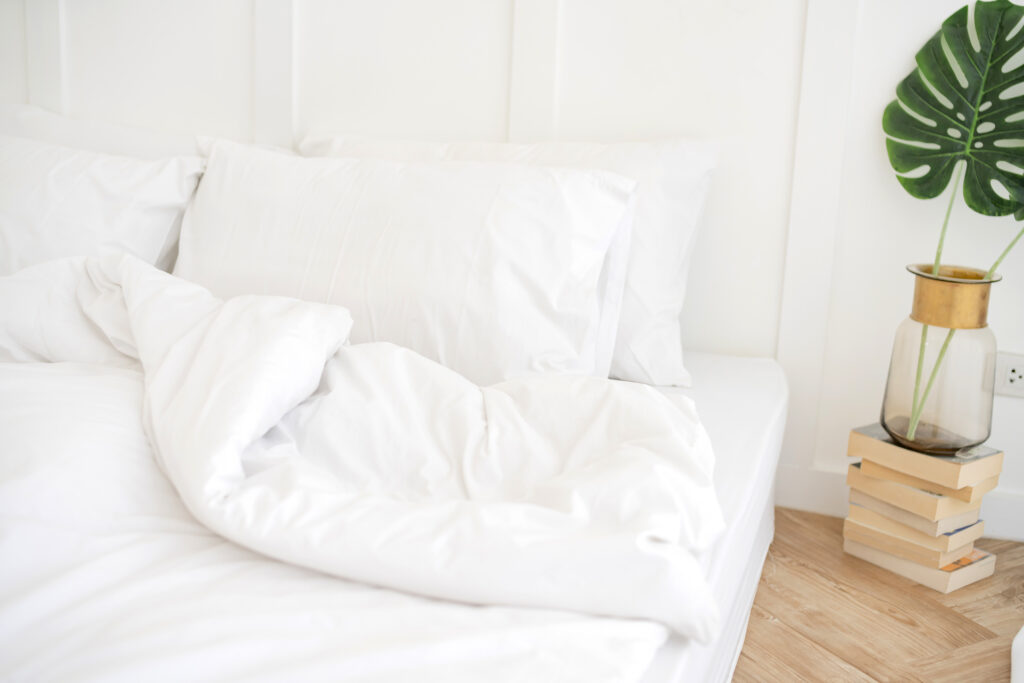 If you're tempted to toss your current mattress during your move, you'll be in the market for an upgraded mattress at your new home. Why not make it a bamboo mattress?

A bamboo mattress either has the cover made entirely from bamboo fibers, or a top layer of foam infused with bamboo. There are a lot of different brands of bamboo mattresses on the market, so we sifted through the options.
The top 5 bamboo mattresses
Best Overall: Brentwood Home Cypress Classic Cooling Charcoal Infused Hybrid Mattress
The Brentwood Home Cypress bamboo mattress ranked easily as one of the best overall on the market. Receiving an astounding review profile on Amazon, with absolutely no 1-star reviews, over 70% 5-star reviews, and a few 4 stars, this mattress satisfied customers in quality, durability, and sleep comfort.
People like its medium firmness and average affordability. But supply runs out fast on Amazon, so keep an eye on the Brentwood Home website for updates on manufacturing and availability.
Brand mattress details
Sizes: Twin, Twin XL, King, California King
Mattress height: 11-inch
Models offered: Oceano Luxury Hybrid Mattress (medium firmness), Cedar Natural Luxe Mattress (medium firmness), Hybrid Latex Mattress,(medium firmness) Crystal Cove Mattress (vegan, and slightly less firm)
Pros and cons 
Pros:
Durable

Good for most sleepers due to hybrid structure and breathable bamboo foam

Affordable payment options through the website
Cons:
Expensive for more budget-savvy buyers

Popular on Amazon; stock runs low
Best for firm support: Cariloha Luxury bamboo mattress
Specializing in only bamboo, Cariloha ranks consistently as one of the best bamboo mattresses on the market. It is known for its phenomenal support, high quality, and overall durability. It's especially popular with people who prefer a firm feel.
It's more expensive than some other bamboo options, though. Especially the resort-style — the model best known for providing excellent support. But to ease the pain that might cause your wallet, you can occasionally get free shipping on all orders over $100 through their website.
Brand mattress details
Sizes: Twin, Full, King, California King
Mattress height: 10-inch
Models offered: Classic and resort. Resort is firm; Classic is the softer, more affordable option.
Pros and cons
Pros:
The company specializes in only quality bamboo mattresses

Deep support for firm sleepers

Durable
Cons:
Priciest on the market

Some complaints about Cariloha customer service
Best mattress pad: Viscosoft bamboo mattress pad
If you just want to improve your current mattress, a mattress topper is your best bet. The Viscosoft bamboo mattress pad ranks consistently well in customer reviews for softness, breathability, and durability. With a very small percentage of 1-star reviews (6%) speaking mainly of personal sleeping habits, it's a solid affordable bamboo option.
Also comes with a 60-day trial period. If you don't like the feel, you can send it back with a full refund.
Brand mattress details
Sizes: Twin, Twin XL, Full, Queen, King, California King
Mattress height: Can extend over 18-inch mattress
Models offered: Relex Gel, Select High Density, Seren Hybrid, Serene Latex, Active Cooling, Copper Quilted, Anti-Static Quilted. All are soft except the Select High-Density model.
Pros and cons 
Pros:
60-day money-back guarantee

Cheapest bamboo option

Great for soft sleepers
Cons:
Temporary solution for an aging or sagging mattress

Some complaints about durability
Best for hot sleepers: Snuggle-Pedic Ultra Luxury Hybrid Mattress with Kool-Flow bamboo mattress cover
If you sleep on the hotter side try the Snuggle-Pedic Hybrid Mattress. The breathable bamboo mattress cover and connected airflow structures disperse heat for greater comfort.
This is a firm mattress, with overwhelmingly positive reviews for improved sleep quality. It is on the more expensive side, and some customer reviews noted a lower-than-expected quality for the money.
Brand mattress details
Sizes: Twin, Full, Queen, King
Mattress height: 10-inch
Models offered: Hybrid (firm), memory foam (medium firmness), and plush (soft)
Pros and cons
Pros:
Reviewers rave about improved sleep

Patented airflow systems work to keep you cool

Full refund after 120 nights of use
Cons:
Pricey

Some quality issues reported by customers
Best memory foam: Best Choice Products 12in Queen Size 3-Layer Medium-Plush Bamboo Charcoal Gel & Green Tea Infused Memory Foam Mattress
This is the best bamboo memory foam mattress on the market, with three layers of bamboo-infused foam, combined with odor repelling green tea fibers to keep your mattress fresh. Reviews say it's best for people who want medium firmness and some flexibility. Some reviews complain the mattress is harder than advertised, but overall, many loved the additional support.
Brand mattress details
Sizes: Full, Queen, King
Mattress height: 12-inch
Models offered: Best Choice Products also offers a 3-inch folding memory foam mattress, but is currently out of stock.
Pros and cons 
Pros:
Most affordable bamboo memory foam

Great for sleepers who love a medium firmness

Repels odor
Cons:
Some say it's too firm

No clear return policy

Some reports of poor quality
Methodology: We researched 10 different mattresses, all pulled from a variety of best bamboo mattress lists, and looked through each product's customer review profile. We considered durability, quality, firmness, whether or not it enhanced sleep quality, price, and the store's quality guarantee measures. Each choice was influenced heavily by real customer reviews. 
Choosing the right mattress materials
There are three different kinds of mattresses to consider when buying bamboo: memory foam, classic spring, or hybrid. Each offers a very different experience, so it's important to know what your body needs most for a good night's sleep.
Memory foam is the softest of the three. Made of foam that molds to your posture, it's popular with people who like a softer surface. A spring mattress is a classic, firm mattress with a soft cover — what most of us grew up with. Last but not least, the hybrid is a combination of a foam, gel, or latex top with a spring mattress foundation. These are great if you want a middle-ground firmness level.
Things to consider when shopping for mattresses
There are few things to keep in mind when looking for a new mattress for your new home.
We are all unique, individual sleepers, so one mattress is not going to fit all. Think about what helps you with a great night's sleep, and invest in a mattress that fits your needs.

Always read customer reviews. Look at both the good and bad, and see what kind of sleepers didn't like the mattress, and what kind did. This will help narrow down what style will work for you.

Think about whether or not you really need bamboo. While bamboo fabrics are breathable, hypoallergenic, and incredibly popular, some people might sleep better with a different mattress style. Bamboo isn't always better.
The bottom line
Bamboo mattresses are growing in popularity, and the market provides an impressive array of styles to choose from. Whether you are a hot sleeper, soft sleeper, or want to put your top dollar down on an investment mattress, this list should help you choose which brand works best for your sleep health.
Frequently asked questions
What are bamboo mattresses good for?
They are great if you are looking for something that is hypoallergenic and breathable. In addition, growing and harvesting bamboo can be done more sustainably than cotton or polyester.
Are bamboo mattresses soft?
It depends on the type. Classic spring mattress, while they will have a smooth bamboo cover, will still be a harder surface.
How long do bamboo mattresses last? 
It depends on the brand. Some last for many years without sagging, while others sacrifice some durability for affordability.