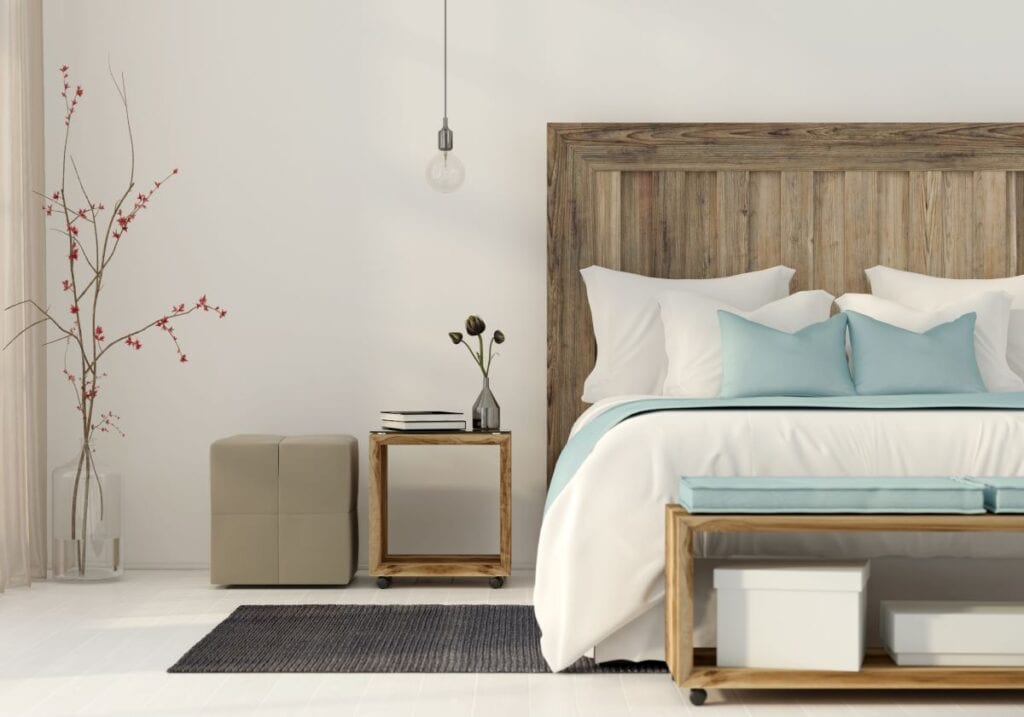 Greige paint
continues to be a highly sought-after shade in both new and newly redesigned homes. Through a combination of gray and beige tones, greige delivers a fantastically neutral hue. Does greige work in every room? Absolutely! From light and muted to mid-tone and bold, these 17 greige shades will inspire you to explore this chameleon of a color palette.
The 17 best greige paint colors
1. Dining room
Adding a warm greige paint to your dining room walls creates a welcoming space for family and friends to gather. Warm shades of greige are an excellent backdrop for farmhouse-style or reclaimed wood furniture.
Our paint suggestion: Kilz Tribute Trinket TB-23
2. Powder room
Create an elegant look with a medium-toned greige paint. For a tasteful contrast, pair this color with a classic white pedestal sink or a white vanity with marble top. Adding greige to smaller rooms such as a powder room delivers an instant facelift.
Our paint suggestion: Boomerang Greige 5183-72A
3. Master bedroom
Slumber will be oh-so-sweet with walls in a soothing greige color. Decorators in favor of the minimalistic look incorporate greige throughout the bedroom for a cohesively neutral appearance. Others mix things up with a bold statement wall behind the bed and greige on the remaining walls.
Our paint suggestion: Prestige Harvest D364
4. Master bathroom
Subtle greige walls with a handcrafted vessel sink, waterfall shower, and tile backsplash make for a luxurious master bathroom. Keep your paint looking brand new by choosing the right sheen. Rooms with moisture content such as bathrooms do best with a semi-gloss paint.
Our paint suggestion: Prestige Apple Blossom D351
5. Kitchen cabinets
Greige paint isn't limited to just walls, it makes an attractive statement on kitchen cabinets. Go full greige on upper and lower cabinets or mix it up with bright white uppers and greige lowers.
Our paint suggestion: Nuvo Hearthstone Cabinet Paint Quartz
6. Magnificent in any room
You'll spot Sherwin Williams greige paint in a great number of homes for a reason. They serve up the perfect greige to transform just about any room.
Our paint suggestion: Sherwin Williams Perfect Greige SW603
7. Laundry room
Your space to "wash, rinse, and repeat" doesn't have to feel like a chore. Combine mid-tone greige walls with a cheery accent color such as teal or yellow to keep your laundry room light and bright.
Our paint suggestion: Kilz Tribute Portobello TB-14
8. Foyer
Light greige paint is an excellent color choice for foyers as it seamlessly blends with other paint shades throughout the home. The lighter the greige, the more naturally it will reflect light, making this shade a stunner in both low and high-ceilinged foyers.
Our paint suggestion: Glidden Fall Chill
9. Guest bedroom
A neutral greige paint is a perfect foundation when designing an inviting guest bedroom. Choosing a greige with a warm touch of brown as an undertone gives overnight visitors a welcome retreat.
Our paint suggestion: Microblend Aged Linen
10. Den
Add depth and character to any multi-purpose room, including a den, with the addition of a deeper greige shade. Dark greige creates a less formal feel. Whether you opt for a light or dark shade of greige, remember to allow the paint to thoroughly dry before adding a second coat.
Our paint suggestion: Kilz Tribute Reserved White TB-07
11. Home office
Stay focused with shades of greige in your work or home office. Opting for a light to medium greige tone creates a neutral space that is primed for productivity.
Our paint suggestion: Prestige Italian Straw D374
12. Finished basement
Greige walls allow you to add as many (or as few) accent colors as you want based on your decorating tastes. If your basement has no windows, make sure you add sufficient lighting with table or floor lamps, and recessed lighting to keep the greige shade from looking too dark.
Our paint suggestion: Glidden Deconstruction
13. Pantry
Is your pantry small in scale or dimly lit? A pale greige paint works wonderfully to add a bit of color without darkening the space.
Our paint suggestion: Montage Patina
14. Living room
Keep it bright with a light greige living room. Lighter shades of greige complement the shabby chic look for a relaxed, lived-in vibe. Check out our best edging tools to keep your trim and baseboards looking as fantastic as your new wall color.
Our paint suggestion: Prestige Beach Light D362
15. Nursery
Design a calm, soothing space for little ones with a gender-neutral nursery in greige. Customize your baby's room by adding soft pastel or bolder primary-colored bedding, area rugs, and wall art.
Our paint suggestion: Montage Dove Gray
16. Exterior
Say goodbye to traditional brown; greige siding stands out superbly on all types of homes. Greige allows you to easily add your own personality to your homes' exterior. Go big and bold with a brightly colored door or remain refined with coordinating neutral exterior shades.
Our paint suggestion: Kilz Tribute Art Museum TB-17
17. Media room
A richer shade of greige is ideal for media rooms. These entertainment rooms with stadium seating and projection TVs need a color to envelop, not overwhelm, the room.
Our paint suggestion: Acoustic Brown TB-29
The bottom line
With so many shades of greige paint on the market, how do you choose the right one? As you select your go-to shade of greige, keep in mind the contents of the room you're refreshing. Size, amount of natural light, and flooring all play a part in making greige blend cohesively within your home. Test a few paint samples to help you better visualize the finished project.
Greige paint is a lovely addition to any room or furniture piece in your home. With greige's ability to be "dressed up or down", the combination of gray and beige is a popular paint choice across all decorating and design styles.