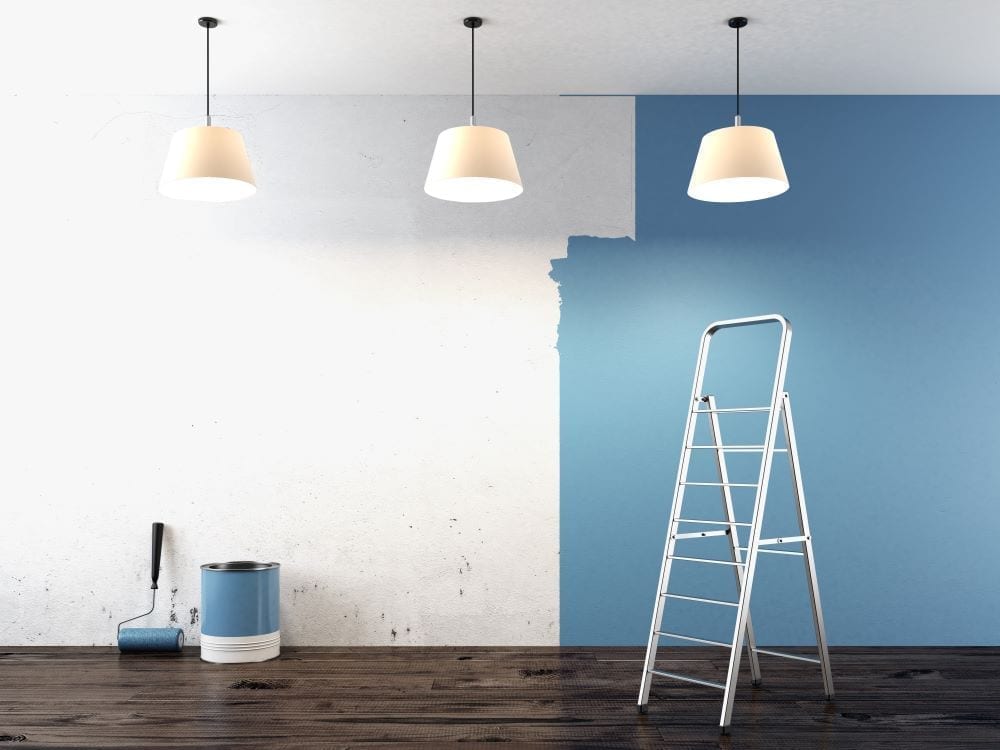 Anyone who has ever painted a room knows the difficulty of painting along baseboards and trim. Before the invention of the edge painting tool, the options were tape or time-consuming (often back-breaking) care.

But thanks to paint edgers, the job of achieving clean paint lines around home fixtures is a breeze. But of course, not all paint edging tools are created equal, so here are seven of the best.
The 7 best paint edging tools
Methodology: We sourced our list of top paint edgers from products sold on Amazon. We then distilled our choices to the top seven based on price, key features, and customer reviews.
1. Accubrush MX Paint Edger 11 piece kit: Best for overall use
Why it made the list
Given its price and overall functionality, the Accubrush MX paint edger 11-piece kitis an ideal edge painting choice. The kit comes with one edger tool, four rollers, and four brushes, which you can easily interchange. Each brush allows for precision edging, and you can wash and reuse the rollers.
Price on Amazon: $39.95
Pros:
Extra rollers and brushers provide flexibility

There's no need to clean between colors, just switch the roller or brush and continue
Cons:
This product is for hand use only; you can't attach it to a pole or extender
2. Shur-Line 1000C Paint Premium Edger: Best for your budget
Why it made the list
The Shur-Line 1000C premium paint edger is very low cost and simple to use. Although designed mainly for manual use, it can be attached to a threaded extension pole for those hard-to-reach paint jobs.
Price on Amazon: $5.67
Pros:
It's simple and easy-to-use

Has a washable pad for reuse
Cons:
While this edge painting tool is excellent for painting trim, it's not as effective in corners because the sides can leave streaks if you're not careful
3. HomeRight Quick Painter Pad Edger: Best for big projects
Why it made the list
The HomeRight Quick Painter Pad Edger with Flow Control is good for big projects. The unit has a durable, hollow handle that can hold up to 4.6 ounces of paint. This will allow you to cover up to 50 square feet (or 150 linear feet) of space without stopping for constant paint dips or refills.
Price on Amazon: $9.68
Pros: 
Easy to set up and use

This edger provides ample paint for a large area without multiple refills
Cons: 
Cleanup needs to be done as instructed (dry can leave your tools dry, crusty, and ineffective)

Reviews say it takes a few uses to figure out the paint flow feature
4. Accubrush XT Complete Paint Edging Kit: Best kit
Why it made the list
The Accubrush XT Complete Paint Edging kit is the best for big, comprehensive paint jobs because, as it states, it's complete. The kit provides everything you'll need to produce nicely-edged paint jobs in any situation. It includes:
Two Accubrush paint edger tools

Seven-piece extension pole kit

Six rollers

Four brushes

Roller paint tray
Price on Amazon: $124.97
Pros: 
It includes everything you'll need to paint edge and trim.

The Accubrush paint edger tool swivels for difficult angles.
Cons: 
The complete kit is more expensive than other paint edging products

Some reviews say the tools lack accuracy and are hard to use on lining near ceilings and corners
5. HomeRight Quick Painter: Most easy-to-use
Why it made the list
The HomeRight Quick Painter is the easiest paint edging tool to use while also providing some of the great elements found in pricier models. Small and compact, this edging tool can hold up to 4.5 ounces of paint in the handle and has an easy swivel head. It can cover over 50 square feet of space with ease.
Price on Amazon: $11.20
Pros: 
This paint edger holds paint in the handle, cutting down the number of paint dips and refills you'll have to do

The quick thumb trigger permits smooth delivery of paint
Cons: 
You can't add it to an extension pole, making it hard to reach tall paint spots

Regular cleanup is required after each use to prevent clogging of the device (be sure to follow cleaning instructions carefully)
6. Emery Edger Paint Brush Edging Tool: Best for quick projects
Why it made the list
The Emery Edger Paint Brush Edging tool is the perfect paint edger for quick projects. First, it's designed to easily snap onto a standard 3-inch paintbrush. This design also permits quick cleanup and is remarkably effective at achieving clean edges around trim, baseboards, and other tricky paint jobs.
Price on Amazon: $12.95
Pros: 
You can attach the device any standard 3-inch paintbrush

This product can tackle tricky paint jobs on textured surfaces, like popcorn ceilings or textured drywall
Cons: 
Replacement pads sold separately

Designed for manual hand-use only
7. Wagner SMART Edge Paint Roller: Best paint roller
Why it made the list
This handheld paint edger roller is easy to use and provides controllable paint flow and remarkably clean edges. The reservoir holds up to six ounces of paint to cover up to 32 square feet of space (96 linear feet).
Price on Amazon: $22.49
Pros: 
No roller tray is needed, the roller holds paint in the handle for quick and easy refills

It has a long reach for ceilings and tall paint projects
Cons: 
The entire unit must be cleaned very well after each use, or future operation will be difficult (follow cleaning directions precisely)
*Pricing information as of 04/14/2020
Things to consider when shopping for paint edgers
When shopping for paint edgers, the most important thing to consider is the size of the job.
If you're getting a new paint edging tool for small touchups, something simple and easy-to-use may be ideal. If you're working on a bigger project — perhaps a large living room or two rooms — you may want to find an edging tool that comes with both a paint reservoir and the ability to attach an extension pole.
Be sure to pay close attention to cleaning. If you want easy cleanups, a simple, perhaps disposable, design is better. If you don't mind cleanups, paint edging tools with reservoirs are great, especially for larger jobs.
Frequently Asked Questions
How do you use a paint edging tool?
How you hold the paint edging tool will differ depending on the type of tool you choose, but all of them require you to press the tool as close to the edge as possible. Apply paint with a smooth, single stroke, guiding the edger along the surface. Take your time and pay attention to your work. Even with an edger, rushing can result in less-than-perfect results.
Do paint edgers really work?
Yes. Paint edgers eliminate the need for taping along surfaces and can even be used to paint clean edges around circular objects like smoke detectors.
What are the tools for painting?
Typically, you need paintbrushes, roller pans, paint rollers, a drop cloth, tape, and paint. An edging tool eliminates the need for tape and, in some cases, a pan. In fact, the Accubrush XT Complete Paint Edging kit contains all you need except for paint and a drop cloth.