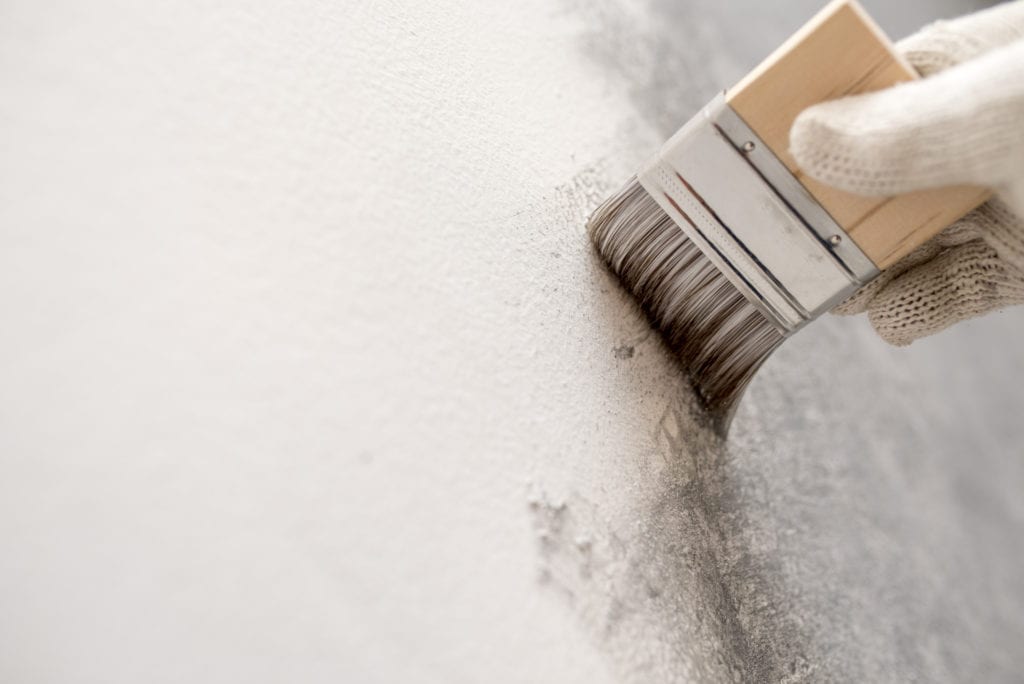 From patios to garages to cinder block retaining walls, concrete and cement surfaces require a paint that can hold up to the elements and tough use. The following seven types and brands of concrete paint were selected from popular varieties sold on Amazon and then chosen for their price, quality, and user reviews.
These products are mostly used for specific applications, but several can cross over for a spectrum of concrete and cement painting needs.
The 7 top concrete paints for any project
Best overall: Rust-Oleum Decorative Concrete Coating
It's pretty difficult to find concrete and cement paint that's tough, versatile and offers a unique look. The Rust-Oleum Decorative Concrete Coating checks all those boxes while being offered at a great price. It's also Amazon's Best Seller in the space.
While other paints might be more durable for high-demand and high-traffic areas, they're typically only available in one or two colors. This product is available in four different colors. While most people aren't too picky about their garage floor color, you'll want to have more options for an exterior wall or patio.
Price on Amazon: $53.50
Best for your budget: Kilz Decorative Concrete Coating
At $43 a gallon, the Kilz Decorative Concrete Coating is the most affordable concrete paint listed here. Versatile and easy to use, this paint is suitable for driveways, patios, walls, and any other concrete or cement project that you need.
The drawbacks of this product include limited colors (either tan or gray) and some problems with a thick consistency, which can make it difficult to determine how much you need for a particular project. To cope with this, buy about 15%–20% more than you think you'll need for rough concrete surfaces, or stick with the recommended 50 square feet per gallon recommendation for smooth areas.
Price on Amazon: $40.08
Most weather resistant: In The Swim Patio And Deck
In The Swim tailor-made this paint for patios and decks that will take abuse. Originally formulated for pool decks, this paint won't fade for many years (even with extensive exposure to UV light) and won't peel from rain or water.
You can choose from taupe, granite, buff tan, putty, and sandstone for the color. The price is around $59.99 per gallon, and coverage is around 90–125 square feet depending on how porous the surface is. Reviews note that this product is easy to use and dries quickly, and a local paint center can tint it if the color is darker or lighter than what you're looking for.
Price from In the Swim: $58.99
Best for your driveway: Rust-Oleum EpoxyShield professional floor coating kit
As a urethane-based epoxy coating, the EpoxyShield products from Rust-Oleum were originally designed for garages. Now, many people use the products for driveways because they adhere well to rough concrete surfaces.
This product is expensive — the kit will cost you around $105 for enough paint to cover 200 square feet. However, this stuff means business and has a 4.8 star Amazon rating for durability against weather, oil stains, chemical stains, and the wear and tear of driving. Though this product shows the addition of decorative flakes on the packaging, they're not included and would need to be added.
Price on Amazon: $121.97 for a 2-pack
Best for your porch: INSL-X Sure Step
When considering paint for a patio or walkway, make sure to find a product that produces good traction to prevent slips and falls. That's why the INSL-X Sure Step paint wins this category. The Sure Step paint adds traction without feeling rough or abrasive. It's also formulated to resist peeling and scratching from everyday use. Available in a range of 8 colors and a semi-gloss finish, this product has more color options than the typical concrete paint.
This paint has some reviews that bring up a lack of durability in high traffic areas — but that's mostly referring to walkways or surfaces that a vehicle would drive over. This product should be sufficient for a porch or patio that sees easy use on evenings and weekends.
Price on Amazon: $50.88
Best for your walls: RTG Supply Co. Concrete Paint
RTG Supply Co., which sells almost exclusively through Amazon, offers great interior and exterior concrete paint for the money. At $29.99 for a quart, this paint is a little more expensive than some others in the lineup, but it doesn't require any primer or applicator (which might save money in the long run). It also extends pretty far, as a quart will completely cover 80–100 square feet.
RTG Supply Co paints are available in four colors: white, light gray, sand, and amber/clear. This paint is UV stable to resist fading in sunlight and has high ratings for ease of use. This product is not made to be as tough as a garage or driveway paint, so take that into consideration if your wall faces a yard that's mowed often and will have debris thrown on it.
Price on Amazon: $29.99
Best waterproofer: UGL DRYLOK Masonry Waterproof
If you live in an area with a lot of moisture, such as the Southeast or the Pacific Northwest, you'll likely have moisture issues with garages and basements that are completely or partially below ground. This paint from UGL excels at keeping water out of these areas while also offering stain resistance.
This product is available in blue, white, gray, and beige, and will run about $40 a gallon depending on the seller. You can expect to cover around 75–100 square feet per gallon, and two coats are recommended.
Price on Amazon: Starting at $41.79
*Pricing information as of 05/21/2020
Depending on your project and needs, different paints are going to serve different purposes better than others. The following are some things you need to determine before shopping for the right concrete paint for you.
What color do you want to paint your concrete? The majority of concrete paints manufactured today are made with practical qualities as the first priority, which means that most come in standard colors. If you're looking for a concrete or cement paint to add a pop of color, then start with the brands that offer the most variety.
How much abuse will the surface be taking? If you park your car in your garage, fix your lawnmower, or have mischievous kids, you need to consider how much traffic and abuse the painted surface will have to take. The more expensive paints offer durability, but also offer stain resistance that can make cleaning up spills easier on the floor and prevent marks from routine cleaning.
Will the surface be exposed to the elements? Even though all outdoor surfaces will be exposed to UV light and water, some take a beating more than others. You might be painting a surface that's not covered by an awning or is on the side of your home that gets the most rain, hail, snow, or wind, which can wear down a lower-quality paint.
Does it need to shed water or be waterproof? With proper concrete paint for patios, walls, decks, and driveways, water will shed off and not prematurely crack or hurt the paint. If painting a concrete retaining wall or the cement walls of a basement, the paint will need to hold back moisture and water, which takes a special-made paint.
Frequently Asked Questions
Do I need to prime concrete before painting?
Depending on the paint that you choose, you may have to use a primer. Some brands also suggest using an etching primer (which makes very small etches in the concrete) to help the product stick to porous concrete surfaces.
How long does concrete paint last?
Most brands suggest that you apply a new coat every 3–5 years, depending on use. Some may last much longer if the area is protected from the elements or seldom tread upon.
Is painting concrete a good idea?
Painting concrete, even with a clear sealant, is beneficial to keep your concrete from cracking. Unsealed concrete can allow water to creep in and freeze, which will expand the cracks over time. Painted concrete can also make washing easier, allowing you to skip pressure washing and just scrub and rinse with a designated cleaner.
Can you paint outdoor concrete?
If the product is designed for exterior use, then you can paint any outdoor concrete surface. Just be sure to check the application, clean the area well before applying, and make sure you have the right roller or brush called for by the manufacturer.