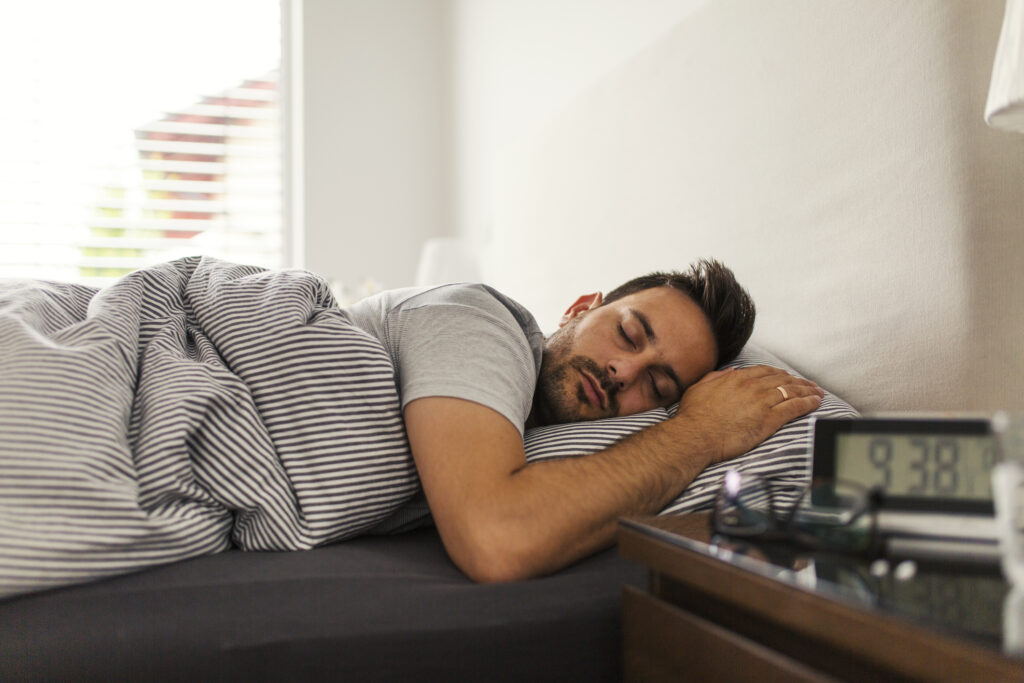 The quality and quantity of sleep we get each night makes a big difference in our day-to-day because better sleep means a healthier, happier lifestyle. And assuming you're one of the 63% of Americans who identify as a "side sleeper," the most important thing you can do is find the best mattress for side sleepers.

We have carefully researched side sleeper mattresses (including the best memory foam mattress for side sleepers) and compiled a list of those that may work best for you.
The Top 5 Best Side-Sleeper Mattresses
Methodology: Research to find the best mattresses for side sleepers on the 2020 market was conducted by analyzing customer reviews of individual mattresses and their companies. To ensure accurate reporting, customer service advisors were reached via the company website to validate facts and usages.
Best overall: Casper Hybrid
Why it made our list:
The Casper Hybrid mattress is the signature design of the Casper brand. Designed to ease pressure points, this mattress is both supportive and conforming. The areas of the mattress under the shoulders and hips target common pressure points for side sleepers. And with four layers of premium foam lined up on top of the gentle yet resilient coils, this bed flows with you. Some customers claim to have slept through earthquakes on this bed.
Buying from Casper means you will get a 100-night trial with your bed, and a promise of a full refund if not satisfied. Casper ships mattresses for free, including any necessary returns, and comes with a 10-year limited warranty.
Casper mattress details:
Price: $695-$1,495
Sizes: Twin–California King
Models offered: 
Casper mattress reviews:
Many customers find that mattresses from Casper run on the expensive end. However, there are many reports of satisfaction due to the firmness level and the breathability of the mattress. Casper has an overall rating of 4.5 stars on Trustpilot.
Best for your budget: Nectar
Why it made our list:
Yes, mattresses are an investment in your quality of life, but they don't need to take all the money in the bank. Nectar offers prices that are more affordable than other leading brands and frequently have Free Gift sales on holidays. Constructed from memory foam, this bed minimizes motion transfer. It also helps to increase airflow, keeping you cool, and sleeping easy.
Nectar believes in their product, offering a forever warranty on their mattresses, a 365-night home trial, as well as free shipping to your door. If you aren't satisfied with it, the return will be free as well.
Nectar mattress details:
Price: $898-$1,398
Sizes: Twin–California King
Models offered: 
Nectar mattress reviews:
Nectar mattresses are well-reviewed both on Consumer Affairs and Trustpilot, with consumers saying that aches and pains in their shoulders had completely disappeared since their mattress transition. But be warned that the company itself shows some spotty customer service, as mentioned throughout the reviews.
Best for luxury: Saatva Classic
Why it made our list:
The Saatva Classic mattress is made with a hybrid innerspring that provides optimal spine support and is chiropractor-approved. Designed to reduce back and joint pain, it contours, and cushions around pressure points on the back, hips, and shoulders.
When a Saatva mattress is purchased directly from the company, Saatva offers "Free white glove delivery," meaning they will deliver and set the mattress up in any room of your home. You will receive a 120-night trial, along with a 15-year warranty. When ordering, you can select your firmness, from 3 to 8.
Saatva mattress details:
Price: Starting prices range from $799–$1,899
Sizes: Twin–Split California King
Models offered: 
Saatva mattress reviews:
Saatva customers rave about the comfort of their mattresses. The ability to select firmness levels, as well as the strong customer service of the company, has made for a 4.7 overall rating on Consumer Affairs. If you struggle with severe back or shoulder pain, this mattress may be the one for you.
Why it made our list:
Infused with a phase change molecule called TitanCool™, the Brooklyn Aurora Hybrid was crafted by scientists to keep the sleepers' body temperature down. Although the average skin temperature is 91 degrees, the team at Brooklyn Bedding found that the ideal temperature for sleep is 88 degrees. This bed is made to keep you cool all night long.
Rated as the best for couples to keep each body cool at night, this mattress is also offered at three different levels of firmness to help you match your needs.
Brooklyn Aurora mattress details:
Price: $999–$2,124
Sizes: Twin–California King
Models offered: 
Brooklyn Aurora mattress reviews:
Customers claim that the Brooklyn Aurora Hybrid is cool to the touch. Complaints of a restless partner have ceased for several reviewers since they have switched to this mattress. Overall, it has 4.7 stars from Brooklyn Bedding.
Best for firmness flexibility: Layla Memory Foam
Why it made our list:
A unique mattress in that it is designed with copper to obtain a cooling effect, the Layla bed-in-a-box claims to be a mattress that is great for any sleeping position. The reasoning? This mattress is flippable: It has a soft, plush firmness of 4/10 on one side and a harder, more sturdy firmness of 7/10 on the other.
The copper-gel memory foam should keep you cool by transferring your body heat to the edge and outside of the bed. The copper also helps you obtain an odor control with its antimicrobial properties.
Layla mattress details:
Price: $599-$1,091
Sizes: Twin–California King
Models offered: 
Layla mattress reviews:
Out of 5,000 reviews on their website, the Layla Memory Foam Mattress has garnered 4.3 stars. Customers that are set in their side-sleeping ways raved about the mattress, claiming it was the best one they had owned considering their sleeping habits.
Things side sleepers should consider before buying a mattress
If you are a side sleeper, you will have specific considerations to think about. And if you're in a couple, don't forget to discuss the details with your partner to find the perfect bed.
Pressure points
Pressure points are one of the biggest issues for side sleepers. Those that sleep in other positions (like back or stomach) will have pressure dispersed over their whole body. As a side sleeper, the pressure will affect your spinal alignment by causing your weight to be concentrated on your shoulder and hip region. This is a leading cause of lower back pain as well as neck pain if your shoulders aren't aligned.
Firmness
Every mattress feels a little different when it comes to how firm or soft it is. A side sleeper needs to find a satisfying medium since a mattress that is too soft may apply more pressure to the lower back and shoulders. A mattress that is too firm will apply tension to the neck and hip areas. Part of this consideration involves the sleeper's weight since this will cause the pressure to be applied differently on different firmness levels.
Material
The material refers to the mattress's inner makeup, not as much the outer cover. The interior can help relieve pressure, add contour, and support spinal alignment. For instance, memory foam mattresses will conform to the specific contours of your body, giving support where needed. An innerspring mattress is very supportive, but sometimes this can mean non-conformity. Hybrid mattresses have become increasingly popular to combine support with contouring and might be the best option for side sleepers.
The bottom line
When choosing the right mattress as a side sleeper, avoiding pain is the real game. Investing in a mattress with a middle-ground firmness level will be a good way to keep control of your sleeping situation. Make sure to find one that matches both you and your partner's needs and gives you firmness options to find your best fit.
Frequently asked questions
How firm should a mattress be for side sleepers?
Side sleepers generally need a mattress with middle levels of firmness, from 4 to 7. This will be partially dependent on the weight of the sleeper.
Is memory foam good for side sleepers?
Memory foam is a good option for side sleepers since it offers necessary contouring to support and relieve areas of pressure.
What kind of mattress is best for a side sleeper?
Hybrid mattresses are thought to be the best for side sleepers. They combine the ability to conform to your body's contours as well as support areas of pressure more than memory foam.
How do you know if your bed is too firm?
If you are experiencing constant aches or pain in your neck or hips in the morning, this may be a sign of a bed that is too firm for a side sleeper's needs.