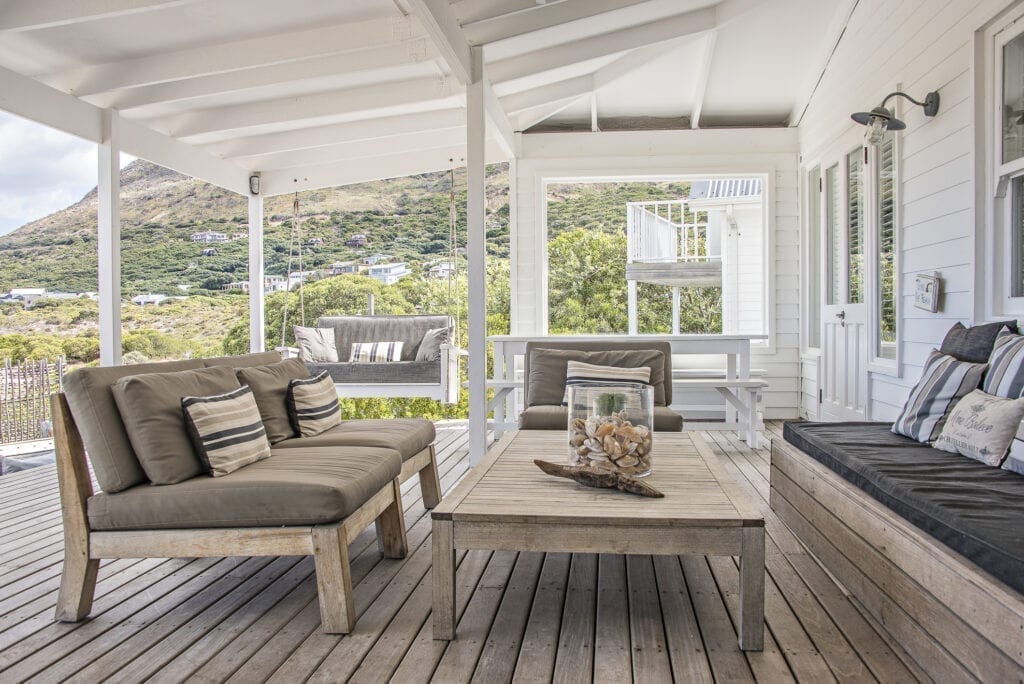 This article is sponsored by Cost Plus World Market. The opinions and statements below are those of our writer's experience. Freshome may collect a share of sales from the links on this page.
Summer is right around the corner. That means it's time to start sprucing up your outdoor spaces. Don't worry, we've got you covered. Whether you need summer lawn care tips, home maintenance checklists or suggestions for improving your outdoor entertaining, we want to help you have your best summer ever. But what do you do if, even armed with these guides, your outdoor spaces still look tired? Easy. Just pick up a few World Market outdoor products.
Whether you need a full set of outdoor furniture or just want to add fun touches around your yard to refresh it for summer, World Market's latest outdoor offerings can deliver. Blending quality materials and fun colors with products designed for the way you live, their weather-resistant furniture, break-resistant glassware and more are sure to delight both you and your guests.
Here are 10 World Market outdoor products we love for summer.
Eric Audras / Getty Images
With summer here, you're going to want to spend more time outside. This stool can help you do just that with ease. As convenient as it is cute, you can easily move it around your yard to hold your drinks, give yourself a place to kick up your feet or even provide additional seating.
Summer means relaxation. Whether you plan to do that with a cold drink in your own backyard or you're putting together a picnic, this La Playa tote is your new best friend. The vibrant colors make it a fun and playful addition to any Insta-worthy hangout, plus it wipes clean when you're done.
The summer sun may be inviting, but that doesn't mean you want to roast under it. With this big umbrella, you can get the shade you need to enjoy long days outdoors without a sunburn. Plus, if its thatched design doesn't scream summer, we don't know what does.
You don't need to buy all new furniture to get your yard summer-ready. Some of our favorite World Market outdoor products are simple pieces you can quite literally throw in your outdoor space to bring it up a notch. This indoor/outdoor pillow isn't just stylish, either. It's also environmentally friendly. The polyester thread from which it's woven is made from 100 percent recycled plastic bottles.
You know you want to kick up your feet this summer, but where, exactly, will you do that? Solve that conundrum with these inviting, durable, comfy teak chairs. And, because no one likes to hang out alone for too long, World Market sells both the chairs and the ottomans as sets of two. Oh, and the lumbar pillow is included too!
That said, you might want to upgrade your pillows to something a little more eye-catching. With its stark contrast and zigzag pattern, this pillow is just the thing. Soft enough to work indoors but tough enough to last outside, this pillow is versatile. And, like many of the World Market outdoor products, it thinks about its environmental footprint. It's woven from polyester made from recycled plastic bottles.
As summer heats up, you need to be able to keep your cool. And this travel-ready cooler is here to help. It can add a splash of color to your own backyard or travel with you for a day at the beach or that neighborhood softball game. It packs down small so you can easily sling it over your shoulder, but offers pretty impressive ease-of-use once set up. Not only does the stand prevent you from having to hunch over to grab items from it, but it also has an access door at the top to make it easy to fetch a beverage without having to expose all the cooler's contents to the warm air.
Available in gray, white, black or orange, this planter is so much more than just a place for your plants to live. Its modern design and matte finish make a statement, while its solid acacia wood legs take your planting up a level — literally. World Market offers a small and large size of this planter so all of your plants can find a happy home.
One of the great pleasures of summer is enjoying a drink al fresco. One of the great hassles of summer is trying to pick up broken glass when said drink takes a tumble. Fortunately, World Market has a solution to that issue. With these stylish acrylic tumblers, you can eschew the Solo cup for an upgraded beverage container without needing to worry about the possibility of it breaking. Oh, and these tumblers are BPA-free and scratch-resistant.
Some of these World Market outdoor products can help you upgrade your existing space, but what if you're ready for a complete overhaul? If that's you, look no further than their stunning Praiano collection. This resort-inspired collection includes everything you need, from chaises, benches and chairs for lounging to tables that include storage. All this, and machine-washable ivory slipcovers keep your yard looking crisp while the plush cushions ensure your seating is super comfortable.
Is your yard summer-ready? If not, grab a few of these World Market outdoor products. With them, you'll be ready to entertain all summlong.
---