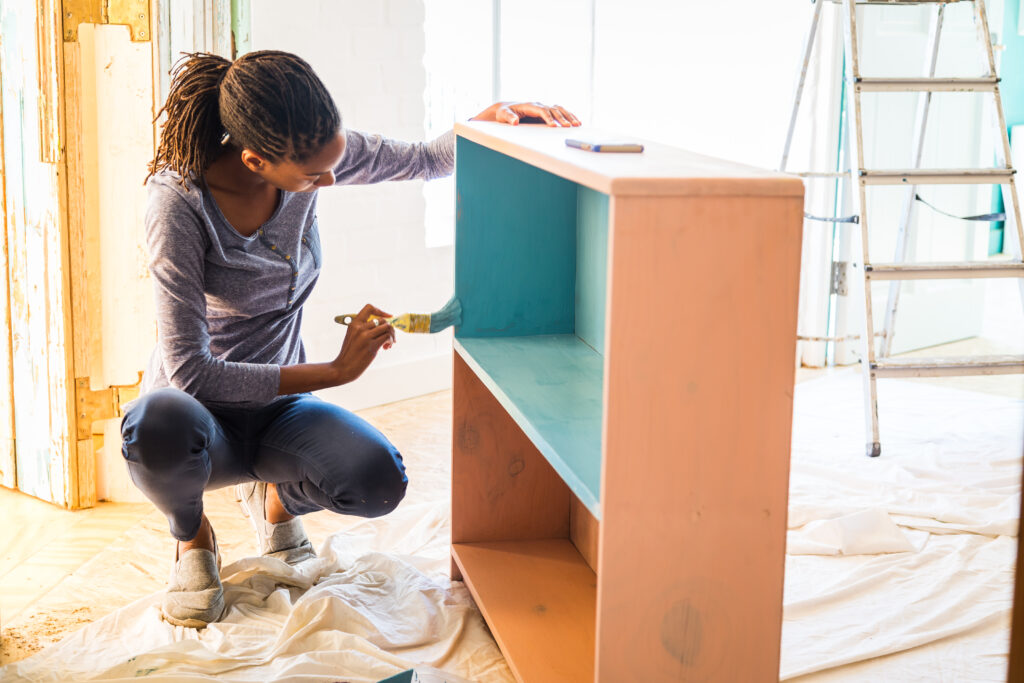 Got time on your hands during the coronavirus? With the new reality of social distancing, you probably do. Instead of exhausting your Netflix recommendations and working on that puzzle you thought you'd never open (let alone do), why not spruce up your house with a few fresh coats of paint? You'll boost your home's curb appeal and may even increase its overall value, too.

Fill up your free time and touch up your space with the following DIY paint project.
Before we start, a quick safety note
Keep in mind that some local home improvement stores might not be open or might have new regulations — like online orders and curbside pick-up.
Needless to say, put your safety, as well as the safety of others, first. Though we admit you're probably going to be restlessly inspired in just a few moments, we recommend you work with what you already have or order online. If you need to run to the store, make sure to first call the store and learn about their COVID-19 policies.
Try one of these 12 DIY house painting projects to liven up your quarantine space and brighten up your day. 
Here are 12 DIY house painting projects you can do during self-quarantine to liven up your space and brighten up your day.
1. Front and Back Doors
Doors can look beaten up pretty fast. Luckily you can rejuvenate them pretty easily with a fresh coat of paint in an hour or less.
If you're thinking about putting your home on the market, a freshly painted front door will greatly improve your home's chances of making a strong first impression. You could even step up your outdoor decor with a bold front door color.
List of Supplies
2. Porch
Painting your porch doesn't take as long as you might think, but the size of the space will determine the length of the project. Before you get to painting, make sure to thoroughly clean your porch — remove the grime and dust — to minimize the need for repeat coats.
A vibrant porch can help your appraisal, and may even get you higher offers if and when you choose to sell.
List of Supplies
3. Picture Frames 
Got a few pictures hanging up on your walls? Add an artsy touch by chalk painting the frame. You can go bold with color, or stain natural wood for a classic look. This doesn't take long — 30 minutes to an hour, tops.
List of Supplies
4. Kitchen Cabinets
Your kitchen is the heart of your home, so you shouldn't hesitate to give it a little bit of TLC. Painting cabinets can take a bit of time. You'll want to remove any hardware and hinges and have a place for them to dry. Because of this, you can expect it to take between two to six hours, depending on the size of your kitchen.
A renovated kitchen will not only help your home receive offers, but it may even encourage a bidding war if it captures everyone's hearts.
List of Supplies
5. Accent Walls
This is a fast project and shouldn't take you very long to do. Add some personality and flair to your neutral bedroom or living room by adding a pop of color.
List of Supplies:
6. Bookshelves
Painting your bookshelves is a project that takes longer than you might think — but it's definitely worth your time and effort. Expect to spend a few hours on this one, and take your time getting into each and every corner with multiple coats. You'll want these shelves to stand the test of time.
Go bold with color and don't look back. You won't regret it.
List of Supplies:
7. Kitchen Chairs
Painting chairs may very well take the longest on this list (because you're painting a three-dimensional object that will likely need multiple coats). However, it's worth it! This project has the power to modernize an entire space and get you excited to eat at your kitchen table again.
List of Supplies: 
8. Mirrors
Similar to painting your picture frames, painting your mirror can also give any room a new pop. It doesn't take long (30 minutes to an hour), and you'll love the new look and feel. Go shabby chic with chalk paint or add some drama with metallic paint.
List of Supplies:
Paint of your choice.
9. Floor Stencil
Can't afford to make your home look like a Grecian or Mexican palace? You only think you don't. Try using a stencil to create a pattern on your tiled bathroom floors. Granted, you have to be dedicated to do this, but when it's done right, it looks amazing.
List of Supplies:
10. Bathroom cabinets
You don't have to spend thousands of dollars on a bathroom renovation. Just paint the cabinets,  add some new hardware, and you'll have the space looking like new. Expect to spend an afternoon on this project.
When you decide to sell, this updated touch will greatly improve your chances of receiving fast offers.
List of Supplies:
11. Light Fixtures (including chandeliers)
This one's fun, but it will require some basic electrical knowledge if you opt to paint your chandelier. It doesn't take long, but you'll need more cans of spray paint than you think. Depending on your lighting fixture, we recommend ordering three to four cans just to be safe (but you may even need more).
List of Supplies:
12. Staircase
You need to like color for this paint project. If you do, this one's for you. You also need to be able to sleep downstairs for a few days because the paint needs time to cure. When painting your staircase, go systematically from top to bottom, or make every step unique. It's all up to you!
List of Supplies:
The bottom line
You can use this coronavirus quarantine time to make your home truly reflect your style and zest for life. When you're done, you may even be thankful you got so much time to beautify your home!