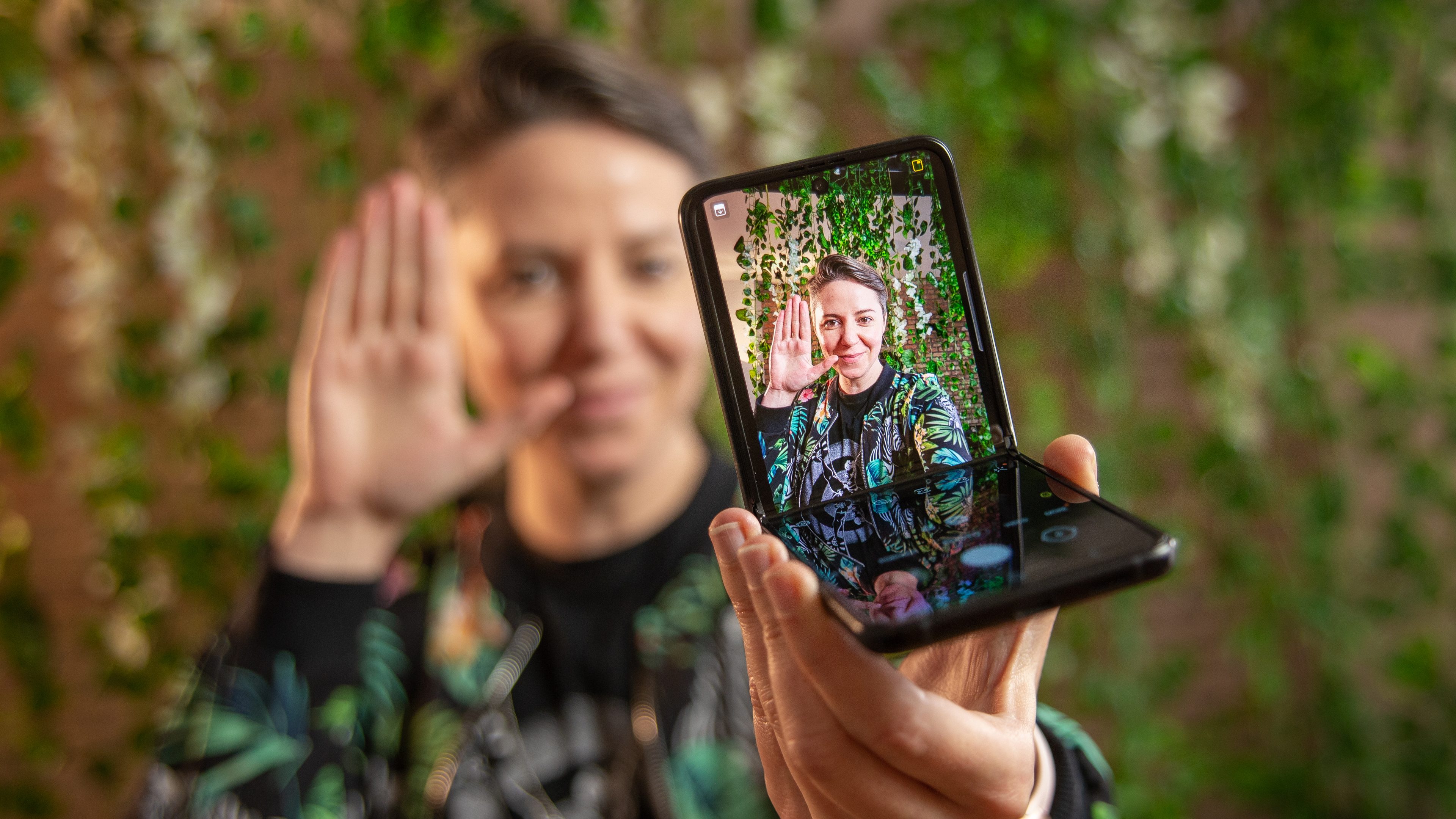 Smartphones continue to improve and evolve, but when it comes to visual differentiation, few companies have impressed as much as Samsung did in 2021. That's because the South Korean manufacturer has just firmly established itself in the foldable smartphone market with the third-generation Z series. And if the Galaxy Z Fold 3 were to end up being the death knell for the Galaxy Note series, then the Galaxy Z Flip 3 might also send shivers down the spine of the iconic Galaxy S series!
Good
✓

Amazing design

✓

Flexible screen

✓

IPX8 certification

✓

Four years of system update

✓

Rear camera doubles up as front camera
Bad
✕

Camera could have been better

✕

Battery capacity is below average for its category
Samsung Galaxy Z Flip 3 in a nutshell
The Samsung Galaxy Z Flip 3 is the most impressive smartphone of 2021. 
The foldable display has become a function more than just a special feature in the new Galaxy Z generation. Yes, we still have the visible crease that you can feel with your finger when navigating between system screens, but the quality of the foldable display has never been better.
The folding mechanism has been integrated extremely well along the visual lines of the device. While it's not a practical matter to open the Z Flip 3 with just one hand, the feel of aluminum, glass, and plastic in your hands lends you a sense of exclusivity. Needless to say, this is a premium quality smartphone.
Both the battery capacity and camera module have been compromised for the sake of design however, but that doesn't mean you can't use the device for an entire day or the results of the camera are not up to par. 
As for the software, we have the combination of the most widely used operating system in the world while sporting one of the most popular skins in the Android universe. In addition, the guarantee of receiving software and security updates for up to 3 years and 4 years, respectively, and IPX8 certification offer the assurance of durability. The Galaxy Z Flip 3 is not a smartphone that you will want to trade-in anytime soon.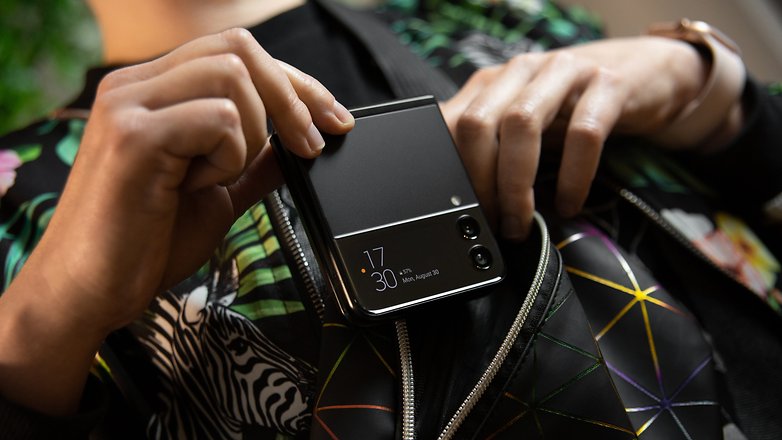 Ultimately, the Galaxy Z Flip 3 is an above-average priced smartphone, even for a flagship. However, Samsung does offer you the chance to trade-in or recycle your old smartphone in order to snag it at a lower price. Needless to say, newer handsets in the trade-in will yield larger savings. Oh yes, the Z Flip 3 does not come with a charger or pair of headphones out of the box.
The Galaxy Z Flip 3 is available in two variants: 128 GB and 256 GB, where they will retail for $999 and $1,049, respectively. You can purchase either via its official online store.
Designed to impress
Although the design of the Galaxy Z Flip 3 stands out from other vanilla handsets because of the flexible screen, this is a complete smartphone whose ability to fold in half is just a feature.
When fully opened, the dimensions of the smartphone measure 166.0 x 72.2 x 6.9 mm. When closed, you end up with an 86.4 x 72.2 x 17.1 mm device. However, the handset itself is not light, tipping the scales at 183 grams. Despite the main screen being 6.7-inches in size, the Z Flip 3 is a very sleek handset and feels great in your hands. A lot of that can be attributed to the 22:9 aspect ratio that Samsung has incorporated into the display.
---
What I liked:
This smartphone folds!
Compact and sturdy design, easy to carry around.
Functional external screen and intuitive experience when folded.
What I disliked:
Opening the device with one hand is not so easy.
Bulky side edges and location of volume buttons.
High chance of greasing up the camera lenses with your fingers.
---
There are many reasons to have a smartphone that can fold in the middle. The one that interests me the most, though, is being able to place the device in your pocket or fanny pack and not have to worry about whether it will fit or not. And this is where the Galaxy Z Flip 3 shines, as the hinge and screen components allow this to happen consistently and easily.
You will still need to use both hands to open and close the Z Flip 3, while the crease in the screen is visible to the naked eye. Whenever you slide your fingers down the region where the screen folds, there is a little bit of indentation. However, this is far smoother and does not affect the overall experience with the device.
Given the characteristic of this display, the side edges of this smartphone ended up being a wee bit bulkier, as though it had to protect the different layers of the display. Hence, each time you slide your finger from the side to the main panel, you will be able to feel a slight bulge. This does not occur in the flat or curved screen smartphones that are available in the market today – for obvious reasons.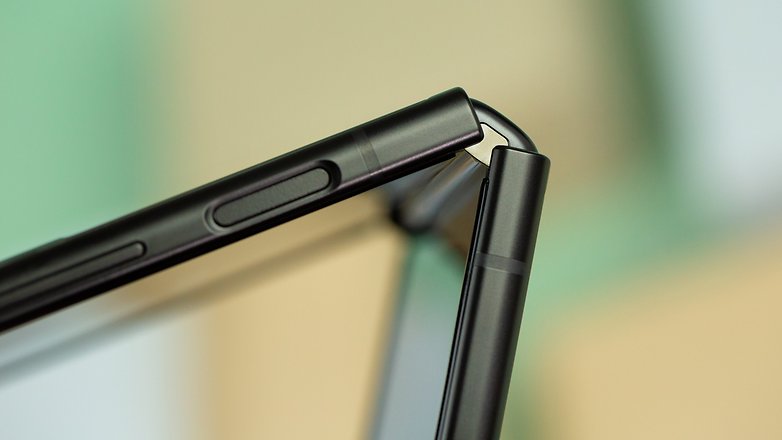 One big advantage of the current generation Z series over previous models would be the IPX8 certification. This means the handset is protected against water damage and can withstand rain or accidental drops into freshwater. However, we don't have dust protection certification, with only the inner part of the hinge being protected. 
An excellent move by Samsung was to increase the size of the secondary display, where this allowed one to access selected system features  quickly even when the smartphone is folded. This is extremely useful, especially when we are consuming media or using the main camera instead of the front one for selfies and video calls.
Taking all of these into account, I must say that some design details of the Galaxy Z Flip 3 make all the difference when it comes to intuitive use. The volume buttons work one way when the device is open and display a different function when closed, alternating its position to remain aligned with the screen experience.
However, when using the Galaxy Z Flip 3's main screen, the volume buttons end up a little farther from your thumb, which compromises the ability to use this handset with just one hand. The same does not happen with the biometric sensor, which remains positioned on the power button. In fact, unlocking the Z Flip 3 using your fingerprint is quick and secure.
TL;DR | Overall, what makes the Galaxy Z Flip 3 an amazing smartphone is the fact that it can fold in half and still offers a flagship experience. Hence, the design plays a big role in making it happen without limiting it to simply fitting into a variety of bags and pockets.
Flexible screen that offers solid quality
The Galaxy Z Flip 3 features two screens – the main one being a 6.7-inch FHD+ panel that relies on Dynamic AMOLED technology with a 22:9 aspect ratio, 120 Hertz refresh rate, and sports the Infinity-O Flex design.
The second screen, meanwhile, experienced a considerable evolutionary step over the previous generation. Now, the front panel that we see in front of the Flip when folded, measures 1.9-inches across diagonally, uses Super AMOLED technology, and is also touch-sensitive. In addition, it offers a number of widgets that can be accessed at a touch.
---
What I liked:
120 Hertz refresh rate makes everything smoother.
Larger and functional secondary screen.
What I disliked:
We still see the crease in the screen.
Protective layer of the display is visible.
Using the smartphone on the street on sunny days can be a problem.
---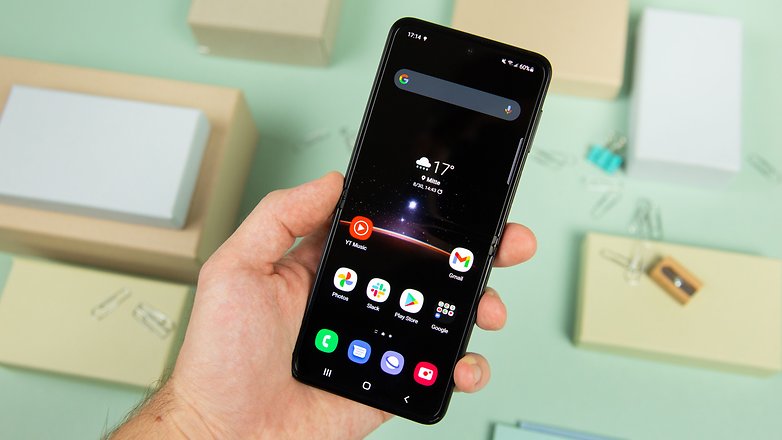 The crease in the screen is noticeable, but it doesn't limit the use of the Galaxy Z Flip 3.
The Galaxy Z Flip 3's display is flexible, which allows you to bend the smartphone (in the right direction) without missing a beat. And, in 2021, this still means that having such a feature would translate to sacrificing something. One of these sacrifices is related to the screen, which is not 100% flat because it has a recess where the hinge is.
However, colors on Samsung's AMOLED display combined with the 120 Hertz refresh rate offer a great experience in videos, games, and regular browsing. On the other hand, using the Z Flip 3 during the day under bright sunlight can be a bit challenging. This is especially so when using it while wearing a pair of sunnies, because despite being in bright surroundings, those who opt for dark themes will end up having difficulty seeing the screen's content.
Samsung also claims that the device's screen is 80% more scratch-resistant than the previous generation. According to the manufacturer, this was possible with the implementation of Gorilla Glass Victus, which protects the device against scratches, as well as an additional layer of protection thanks to a "stretchable PET" (Polyethylene terephthalate) surface.
And it is precisely this layer of external protection that supposedly aligns itself to the contour of the notch of the front camera, resulting in giving the feeling that we are seeing a poorly applied protective film. This bothered me more than the crease in the screen at times.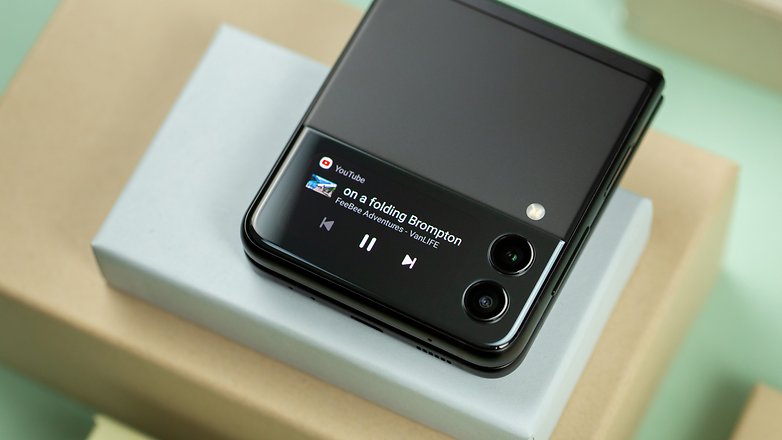 On the other hand, the larger front screen brings about a number of possibilities to a device that spends much of its time folded. When used while the Flip 3 is closed, we have a number of widgets that can be configured to launch quick actions, such as recording a conversation, controlling podcast episodes and music playback, checking the weather, among others.
What still needs to happen, however, is to have a larger ecosystem of options that can take advantage of this display, including more apps that offer widgets for use in conjunction with the Galaxy Z Flip 3.
TL;DR | We are now in the third generation of the Galaxy Z series, and with this latest release, Samsung has shown just how much you can improve a flexible display from one year to the next. I'm no doubt convinced that the next generation Z Flip's display will be even better, but I don't think it will be that much better than the Z Flip 3's, which already offers a comparable premium smartphone experience.
Flagship performance
When it comes to the performance offered by its hardware specifications for everyday use, the Galaxy Z Flip 3 is a rugged smartphone to say the least.
Powered by the Qualcomm Snapdragon 888 5G processor, the Galaxy Z Flip 3 positions itself in the premium device category in 2021, alongside devices like the Xiaomi Mi 11 Ultra and the Sony Xperia 1 III, whose performances were praised in reviews on NextPit. Memory-wise, the Flip 3 offers 8GB RAM with 256GB (UFS) or 128GB (UFS) internal storage options.
---
What I liked:
Consistent performance.
Support for 5G.
Three guaranteed Android versions.
Four years of guaranteed security updates.
What I disliked:
Unstable Bluetooth connection.
---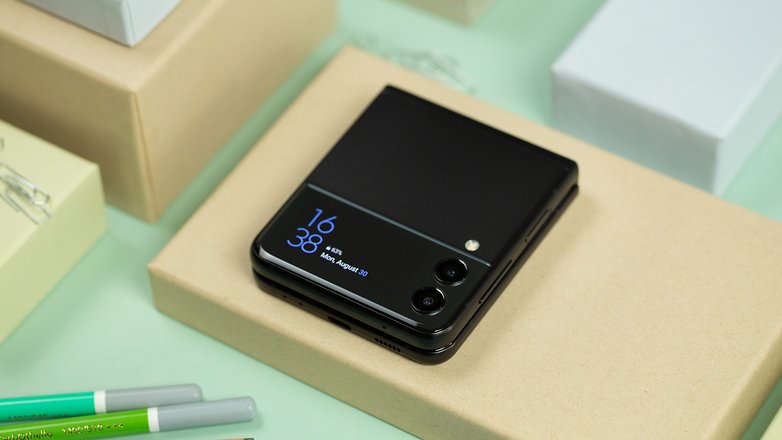 Samsung chose to power the Galaxy Z Flip 3 using Qualcomm's Snapdragon 888 SoC over its proprietary Exynos 2100 processor. This places the handset to be on par with flagships from Xiaomi, OnePlus, Asus, and Oppo.
Overall, the Z Flip 3's daily performance is excellent and the device delivers the performance that you would expect from a flagship. The smartphone responds quickly to system commands and apps load and runs immediately. With 5G support included, browsing the internet is very fast and performance for games like Free Fire and Alto's Odyssey was exemplary.
However, one thing that caught my attention is the Bluetooth connection that proved to be unstable. I lost the signal at times, while it took really long for the connection to work at times. Hopefully, Samsung is able to fix this with a future firmware update.
Samsung Galaxy Z Flip 3: Benchmark comparison results
Graphical Benchmarks


| Benchmarks | Samsung Galaxy Z Flip 3 | Motorola Edge 20 Pro | Vivo X60 Pro 5G | Asus ZenFone 8 | OnePlus 9 | Xiaomi Mi 11 |
| --- | --- | --- | --- | --- | --- | --- |
| 3DMark Wild Life | 5.297 | 4.189 | 4.244 | 5.753 | 5.683 | 5.702 |
| 3DMark Wild Life stress test | 4.374 / 3.231 | 4.170 / 4.144 | 4.242 | 5.825 | 5.716 | 5.697 |
| Geekbench 5 (single/multi) | 1.069 / 3.319 | 565 / 2.509 | 1.031 / 3.449 | 1.124 / 3.738 | 1.119 / 3.657 | 1.085 / 3.490 |
| PassMark RAM | 30.494 | 18.153 | 25.660 | 32.247 | 32.124 | 26.333 |
Android 11 out of the box
When it comes to software, the Galaxy Z Flip 3 runs on Android 11 right out of the box using the One UI 3.1.1 skin. Since this is a premium device, Samsung guarantees at least three years of Android updates and four years of security patches.
The manufacturer's user interface is very intuitive, easy to use with just one hand, and offers support for apps that take advantage of the split-screen feature. The latter has been extended with the Flex Mode option, which splits the screen when the device is folded in an "L" form. This means apps like Google Meet, YouTube, or even Camera will move the video up while playback controls are available on the bottom screen.
However, just a few apps have been adapted for use with the foldable screen, which is not a problem on the Z Flip, because the display is still tiny compared to the Galaxy Z Fold 3.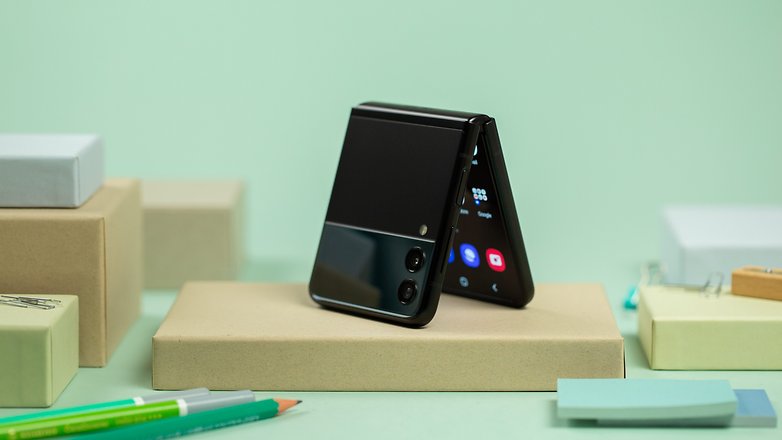 TL;DR | In short, the Galaxy Z Flip 3 offers flagship-level performance. Samsung also offers at least four years of security updates, falling just one year behind Apple, which promises up to five years.
The camera of the Galaxy Z Flip 3 is just "ok"
Samsung's biggest compromise on the Galaxy Z Flip 3 would be the cameras. Do bear in mind that the images captured are not bad at all, it is just the fact that we just don't have the versatility expected from smartphones that compete under the same category. Overall, we have three cameras with the Z Flip 3:
A 12-megapixel wide-angle main sensor (with f/2.2 + 1/3.0″ aperture) with autofocus.
A 12-megapixel ultra-wide-angle sensor (with f/1.8 + 1/ 2.55″ aperture) with 8x digital zoom.
A 10-megapixel front-facing camera (with f/2.2 aperture + at 1/3.24″).
---
What I liked:
Nice, natural colors.
Good job with exposure.
Discreet main module offers a clean design.
What I disliked:
Not very versatile.
No telephoto lens.
Ultra wide-angle lens delivers very distorted images.
---
Regarding the camera configuration, the Galaxy Z Flip 3 shares similar specifications and lenses as the model that was released last year, so it does not come with anything new to be dazzled by. Results are just "ok". However, that doesn't mean the Flip 3's cameras are bad, they just don't offer the degree of versatility or camera capabilities of flagships like the Samsung Galaxy S21 Ultra does, for example.
The Z Flip 3's main camera offers nice, natural colors, but when it comes to Samsung, they're always a bit more intense. Another highlight concerning the lenses here would be the good exposure in the images.
On the other hand, the digital zoom capability is not really attractive and any capture beyond 2x zoom is useless, while low light photos are not impressive, either. Another criticism would be the distorted images that are captured using the ultra wide-angle lens, which can be quite noticeable.
Samsung also offers a number of camera software options for those who enjoy using some custom filters and one that caught my attention the most here was the Food Mode. Food Mode photos offer excellent results but require a certain degree of attention in relation to the blurring of the image edges.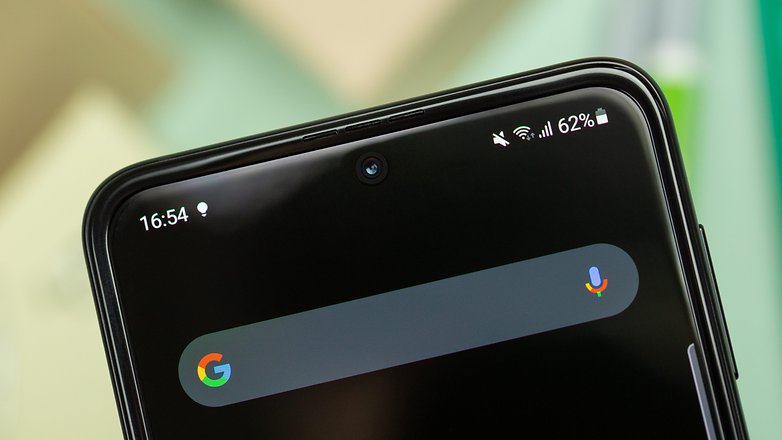 In addition, the main camera offers features like autofocus, dual pixels, flash, and autofocus tracking. And the most interesting thing about the Galaxy Z Flip 3 is how you can rely on the 1.9-inch front display to capture selfies and videos while using the main sensor. With a hand in front of the camera lens, you can take photos with the 12-megapixel camera, where the quality is far better than using the device's front-facing camera.
So, the Galaxy Z Flip 3's camera highlight is not the sensors themselves, but rather, the possibilities of using the main camera as a front-facing camera.
Below, you can see a gallery of images taken with the Galaxy Z Flip 3 camera:
TL;DR | Overall, I had a lot of fun with the Galaxy Z Flip 3's camera, which is pretty solid and I'm sure many people will make good use of. However, this is clearly the component that had to be compromised by Samsung, both for the sake of design and cost. It's a good camera, but it's not flagship level.
High performance levels results in low battery life
The Galaxy Z Flip 3 has a battery capacity of 3,300 mAh, and supports 15-watt fast charging technology, with 10-watt wireless charging. For a smartphone that folds in half, the battery capacity is relatively good, given that it's two separate battery cells of different sizes which work together.
However, when looking at the range of available options in the same price range as the Galaxy Z Flip 3, Samsung falls behind in both battery size and charging power.
---
What I liked:
Wireless charging option.
What I disliked:
Not enough battery life for a high performance handset.
---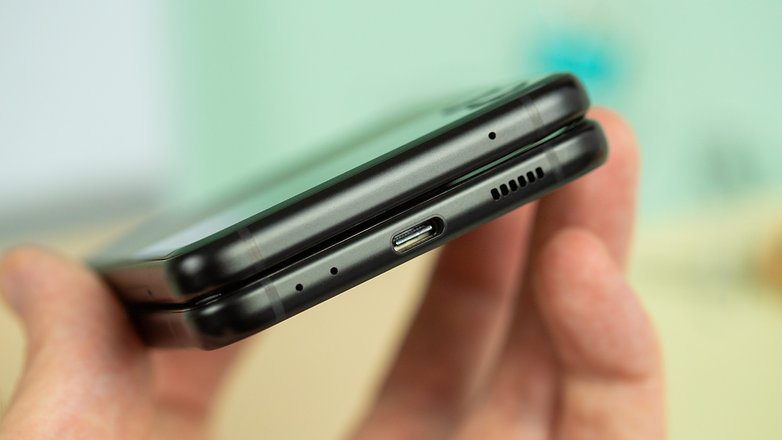 For people who make average use of the smartphone, the Galaxy Z Flip 3's battery life will always be good.
Things change when you use more than 4 hours of screen-on time on a daily basis.
A high-performance smartphone with two screens, even with the adaptive refresh rate option enabled, ends up demanding a lot of power. During the review period where I used the Galaxy Z Flip 3 for almost two weeks, I ran out of battery at least once during an intense day of use. So you will need to charge your smartphone at least once a day to make sure you don't run out of juice halfway through.
Samsung does not offer the Z Flip 3 with a charger in the box, only a USB-C cable. However, we do have the option of wireless charging, which turned out to be very useful for me in these times of working from home.
Charging time is below average for this category of smartphones, as I required almost 1 hour and 30 minutes to charge the device from 0-100%. However, this can prolong the battery life cycle in the long run. Unfortunately, Samsung does not provide any additional information regarding the life expectancy of this component in the Z Flip 3, but we do know that similar devices maintain at least 80% of their original capacity after at least 500 full charge cycles.
Detailed technical specifications
Samsung Galaxy Z Flip3 5G
Check the detailed technical specifications of the Samsung Galaxy Z Flip 3 5G

Model
Samsung Galaxy Z Flip 3 5G
Processor
Snapdragon 888
Memory (RAM / internal)
8 GB / 128 GB
8 GB / 256 GB
Expandable memory
No
Dual SIM
Yes (SIM1 + eSIM)
Display

Main display: 6.7-inch, 22:9, Dynamic Display, AMOLED FHD+ (2,640 x 1,080 pixels)

Front Display: 1.9-inch Super AMOLED (260 x 512 pixels)

Dimensions

Closed: 86.4 x 72.2 x 17.1 millimeters

Open: 166 x 72.2 x 6.9 millimetres

Weight
183 grams
Connectivity
5G, LTE, WLAN 802.11 a/b/g, Wi-Fi 6, Bluetooth, USB Type-C, GPS
Main camera
12 megapixel at 1/3.0″, f/2.2 aperture
Ultra Wide Angle
12-megapixel at 1/ 2.55″, f/1.8 aperture
Front-facing camera
10 megapixels at 1/3.24″, with f/2.2 aperture
Battery Capacity
3,300 mAh
Charging technologies
Quick charge at 15 watts, wireless charge at 10 watts
Authentication
Biometric sensor on the side, face recognition
Audio
Stereo speakers, Dolby Atmos, Music Share
Price
$999/$1,049
Launch
27 August
Conclusion: More than just a fashion icon
The Samsung Galaxy Z Flip 3 still needs a few more generations to become great, but that doesn't mean it isn't already amazing!
The camera of the Z Flip 3 may not be the best option among flagships, while the screen has a slight degree of unevenness, so you have to be careful not to run out of battery by the end of the day. The price of the device is not affordable for most people. However, none of this is relevant to the point of making me deny that this is the most incredible smartphone of 2021.
Besides being a complete smartphone that does not repeat the serious shortcomings of its predecessor, this vanity project is a breath of fresh air in a market that is increasingly static.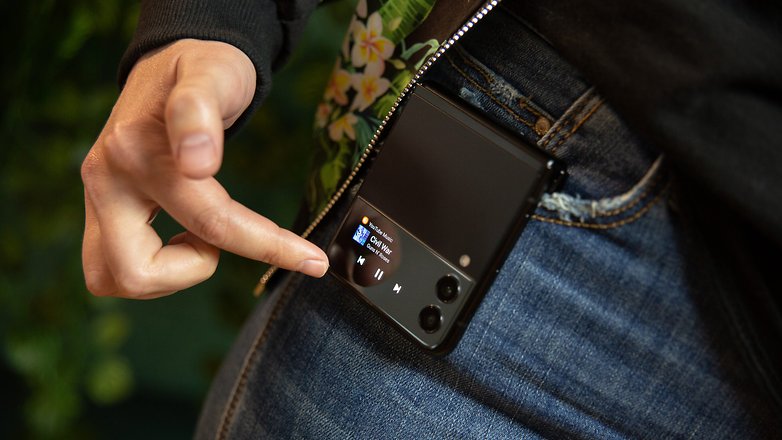 Samsung has already understood that the Galaxy Note line no longer has a place in its portfolio given the options offered by the Galaxy Z Fold 3. After reviewing the Galaxy Z Flip 3, I'm beginning to wonder about the future of the iconic Galaxy S series as well. The trend is for us to have better and better flexible screens in different folding styles.
In addition to this, the sales of Samsung's flagships have been decreasing year after year, while the quality of its smartphones has not declined. On the contrary, is the market that is saturated. The solution? Innovation. And Samsung seems to have understood this. Now, it remains to be seen if we are prepared to deal with the next evolutionary step. Are you?