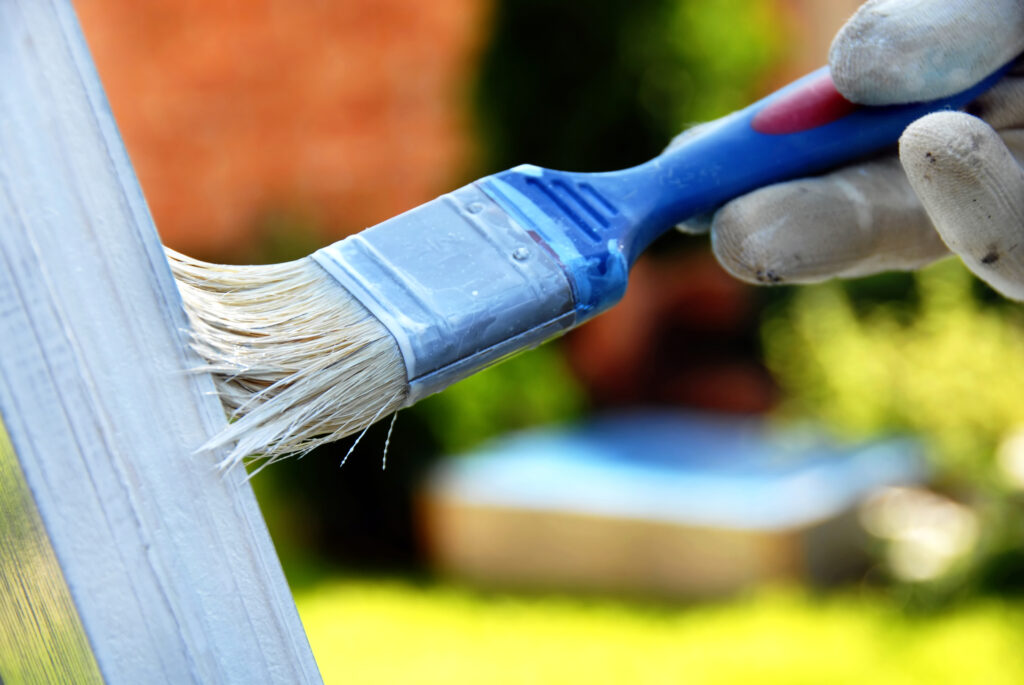 Painting can be a stressful but rewarding DIY project. If that project includes painting over stained wood, the slow nature of the process can make it even more of a headache. If enough time, effort, and patience are put into painting the stained wood, the outcome will be well worth it.

If you've been staring at worn-out stained wood (and not the aesthetic distressed kind) ever since you moved into your home, avoid shelling out tons of money to a contractor; consider flexing your painting chops and taking care of that wood yourself.
Can you paint over stain?
While stained wood is an attractive look, giving your cabinets or deck a fresh coat of paint can bring your home back to life. But can you paint over stain? The right answer depends on several factors, including how much time you can allocate to the project and your skill level.
The process used for painting over stained wood depends on the type of stain you use, the current condition of the wood, and whether or not the piece you're painting is furniture.
Paint over wood stain in 6 easy steps:
Whether you're a new homeowner or you want to give a facelift to a home you've been living in for years, the following DIY guide on painting over stained wood will help you choose the proper tools to get the job done right the first time.
Step 1: Start by sanding the wood
"Can you paint over stain without sanding?" is a common question. While some primer manufacturers and guides say it's possible, you should sand down your stained wood with 150 grit sandpaper for best results. When using sandpaper, your goal is just to make the surface rough enough for the paint to have something to grab onto. There's no need to strip the entire surface of the wood.
Step 2: Wipe down the wood
After sanding the wood, wipe it down with a tack cloth. This will help remove any particles and residue left by the sandpaper. Using tack cloth is essential; a paper towel won't do the trick.
Step 3: Add a coat of primer
Make sure to use shellac or an oil-based primer when you paint over stained wood.Oil-based primers help protect wood surfaces better than water-based primers. When priming, use a foam brush and foam roller to get the best results.
Step 4: Wipe the wood with a cloth
After your primed wood is fully dry, take a fresh tack cloth and wipe away any remaining wet spots. Similar to Step 2, do not use a paper towel to wipe down the wood.
Step 5: Paint your wood
After priming the wood, the next step is to paint it. Grab a fresh foam roller and apply at least three coats of either latex or oil-based paint. Latex paint is preferred for cabinets and doors because it doesn't leave an odor behind when you're done. Oil-based paint is great for high traffic areas like decks and porches because it lasts longer and offers maximum protection. Make sure to allow six hours of drying time in between coats of paint. During this time, inspect the wood for any clumped leftover paint residue that needs to be removed with a tack cloth before the paint dries completely.
Step 6: Apply the finish
After applying at least six coats of paint, you'll need to apply something to protect the wood. The best option is using a Polcrylic Protective Finish that can be applied with a cloth or aerosol spray, depending on the brand.
What you'll need to paint over wood stain
The bottom line
Patience and attention to detail are two key factors essential to painting over stain the right way. If you plan on painting over stained wood yourself instead of hiring a contractor, follow the instructions perfectly, and make sure you have the right tools and materials for the job.
For best results when painting over stained wood, six-hour breaks are required in between each coat of paint. Continuously watch for defects and paint drops. Give yourself at least two days to complete the entire process from start to finish.
Frequently Asked Questions
Can you paint over stained wood without sanding? 
If you use the right primer, you don't have to do any sanding before painting. Some of the items you can paint without sanding include cabinets, furniture, and trim molding. For the best results, though, sanding is recommended.
How do you paint over stained timber?
The process and materials are the same when painting over stained timber.
What kind of paint do you use to paint over stained wood? 
Always use spray paint, water-based latex paint, or oil-based paint.
Can I paint acrylic over wood stain? 
As long as you sand the wood with at least a 150 grit sandpaper, you can use acrylic paint on stained wood.