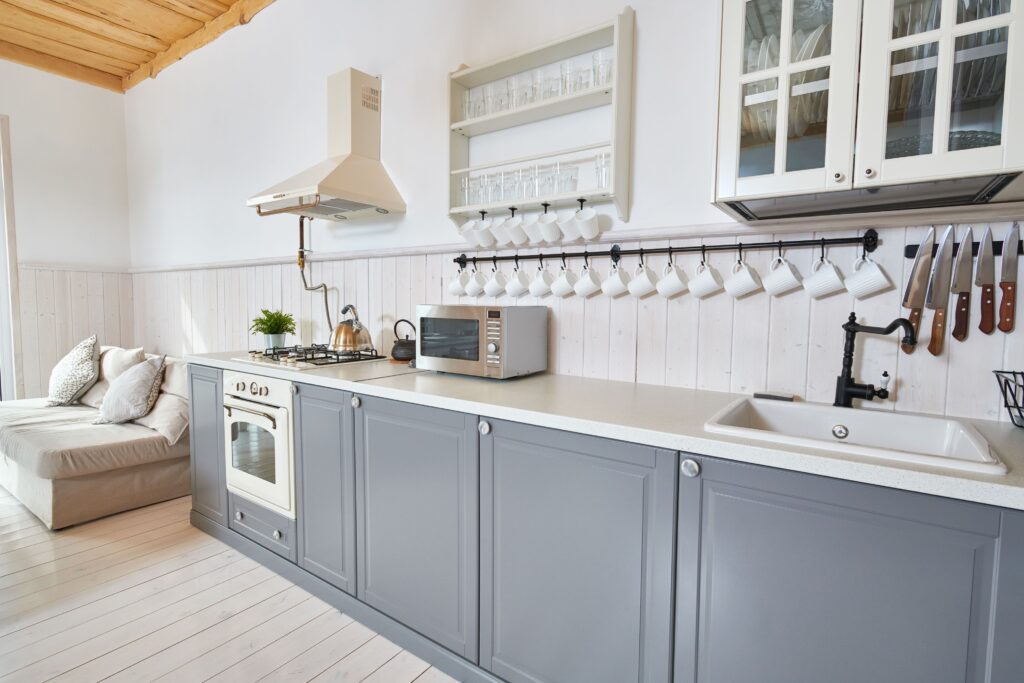 Choose your Formica paint color and read on to find out how you can easily and affordably bring your kitchen into the modern era with this simple DIY.

For many people, the kitchen is the heart of the home. It's the place where everyone gathers to enjoy each other's company, so it makes sense that you'd want it to look its best. The downside? The kitchen can also be the most intimidating and costly room in your home to renovate.

Big-ticket items like cabinets and countertops are some of the most expensive to replace, and the first to show your home's age. If you've ever wondered whether you can paint Formica, you're in luck. You can take that 70's avocado-green counter and make it look brand new with a fresh coat of Formica paint.
10 steps to painting Formica
Step 1: Choose your Formica paint color
You've asked the question, "can you paint Formica?" You've learned the answer is yes! The next part may be the most exciting  – choosing your Formica paint color. Make sure to choose a semi-gloss or high-gloss enamel paint. This will stand up well to knicks, dents, and scratches, and provide the toughest painted surface to sustain daily wear and tear.
Step 2: Prep your workspace
Now that your Formica paint has been chosen, let's prepare your workspace. Clear everything off your counters and wash with a damp rag and a kitchen counter degreaser. Don't forget to lay a drop cloth on the surrounding floor to protect from paint splatter.
Step 3: Sand counter
Sand your counter using 150-250 grit sandpaper. This will dull down your counter's smooth surface and help your paint adhere better.
Step 4: Fill counter imperfections
Using an epoxy putty, fill any holes, scratches or dents to create a smooth countertop for painting.
Step 5: Tape the edges
Using painter's tape, tape off any edges you don't want to be covered in paint. This will also ensure you get pin-straight lines to help you achieve that professional, polished look.
Step 6: Apply primer
Next, take out your roller and apply a water-based bonding primer. Depending on the Formica paint color you are looking to apply, this may require two coats. Use a high-quality paintbrush to get in any tight corners or edges. When the primer is dry to the touch, you're ready to move onto the next step.
Step 7: Paint counter
Stir paint, then pour into a tray. Using your paintbrush, smoothly apply the paint to the edges and corners. Next, use your roll in long smooth strokes to apply the rest of the paint. Depending on your Formica paint color, you may want to use two coats. Wait until the first coat is dry to the touch before applying the second coat.
Step 8: Apply top coat
Once your paint is dry, you can apply a protective sealant. Choose a high-quality clear gloss acrylic topcoat. This will provide another protective barrier against daily use.
Step 9: Remove tape
Once your countertop has been dry for 24 hours, you can carefully remove the tape. The sealant will take 2 – 3 weeks to cure, but that doesn't mean you can't gently use your counter. Do not scrub or use abrasive chemicals until the sealant has cured. In the meantime, gently wipe with a damp rag and water and avoid setting heavy objects on top of it.
Step 10: Enjoy
Congratulations! Your counter has been brought out of the past and into the present day. Accessorize your space to reflect your updated look.
Products and tools you'll need to paint Formica
Don't want to use chemicals? Here's how to paint Formica naturally
It's no secret that some paints contain harmful chemicals. Different people and environments can make for varying reactions to chemicals, making it tough to know how the Formica paint you choose could impact your health. But there is a healthier alternative to help you cover your bases.
Look for primer and paint that are non-toxic and 'No-VOC' or 'zero VOC.' VOC stands for volatile organic compounds. The gasses that VOCs emit may have short term consequences including headaches and dizziness, while the long-term consequences are more uncertain.
Using a non-toxic primer and paint products will help you reduce the risk of harmful chemical exposure in your home.
The bottom line on how to paint Formica
Ten simple steps and a fresh coat of Formica paint can quickly bring your home back into the present day. A project that once seemed daunting and expensive is only a weekend away. With the right supplies and know-how, you can forget about hiring professionals to replace your countertops with expensive quartz or granite and give your home the quick refresh it needs.
Frequently Asked Questions
Can you paint Formica?
Yes, Formica is easy to paint and is often done in rental suites or DIY makeovers to quickly and affordably update your kitchen efficiently.
Do you need to seal your paint job with a topcoat?
Yes, the kitchen counter is used every day and can experience a lot of wear and tear. The sealant will protect your counter's smooth and glossy finish and keep it looking new longer.
---