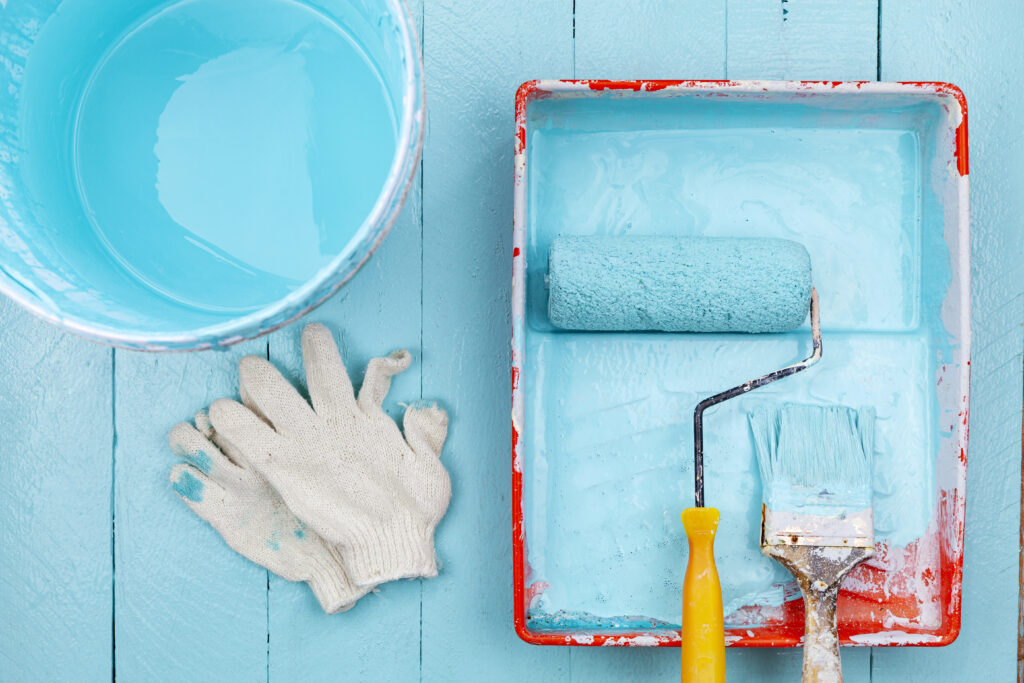 Aluminum is a popular siding material for a variety of reasons. From extreme weather durability to minimum maintenance requirements, homeowners often prefer it over other siding materials like stucco or fiber-cement. If you're currently in the market to buy a home with aluminum siding, don't be concerned if you encounter peeling paint. With some painting supplies and some elbow grease, painting aluminum siding doesn't have to be a daunting task. This helpful guide on how to paint aluminum siding makes the process easy, even for first-time painters.
6 steps to painting aluminum siding
Step 1: Prep the siding
Scrape off any peeling paint with a paint scraping tool. Then, using a combination of ten parts water to one part bleach, remove any noticeable mildew. If your aluminum siding is particularly grimy, you might consider renting a power washer from your local home improvement store. Finally, using a power sander, sand down the siding. Most pros suggest using 80 grit sandpaper for the first round of sanding, followed by 220 grit sandpaper for the second round.
Step 2: Apply the first coat of primer
Plan to start painting when the weather is mild and dry to prevent rain, dust, and debris from ruining the finish. Using a paint roller, apply the primer evenly, rolling back and forth twice. This process should only take a few seconds per square foot.
Pro tip: When applying primer, always work in one direction, either from left to right or right to left. This will maximize drying time and help you to work more efficiently.
Step 3: Apply a second coat of primer
Apply the second coat of primer after the first coat has dried. Primer usually takes about four hours to dry, so plan your day accordingly.
Step 4: Paint the aluminum siding
Make sure to paint using long, even brush strokes while working top to bottom. This will allow you to fix any drips along the way. For best results, always paint in the same direction of your siding (if your siding is horizontal, paint left to right, and if your siding is vertical, paint up to down.)
Pro tip: If you notice visible lines in the paint, you're probably painting too slowly. Try to paint a full side all at once, taking breaks in between each side. This will ensure a smooth, finished surface.
Step 5: Apply a second coat of paint
After a minimum of two hours, begin applying the second coat of paint. Use this process to correct any mistakes or flaws that occurred during the first coat of paint. For example, any bumps that you come across can be removed by gently sanding them away.
Pro tip: Always buy more paint than you think you need. An extra gallon could be used for touchups or help with an additional coat of paint, if necessary.
Step 6: Inspect your work
Once you've completed both coats of paint, let the paint dry for at least two hours. Then go back and inspect your work, looking for spots that you may have missed, bumps, and paint drips. If you can still see any of the old aluminum finish beneath the paint, consider applying one more coat.
Products and tools you'll need to paint aluminum siding
Frequently asked questions
Can you paint aluminum siding?
Painting aluminum siding yourself is possible. Even those who don't know how to paint aluminum siding can learn as they go along. The key is to have the right supplies, prepare the siding, apply primer, apply paint, and then look for mistakes immediately after you finish each coat, correcting them before the paint dries.
What kind of paint should I use when painting aluminum siding?
Exterior acrylic latex paint is the best choice for painting aluminum siding. When choosing a finish, stay away from anything glossy that attracts attention to dents or other inconsistencies. Choose a satin or flat finish paint in a color that closely resembles what is currently on the siding of your home.
How long does it take to paint aluminum siding? 
This varies depending on the size of your home. For the average single-story home, expect to spend one full day prepping, one full day applying two coats of primer, and one full day for applying both coats of paint. When planning time to paint your siding, avoid rain and choose days that are forecasted to be warmer than 60 degrees Fahrenheit, as most latex paint won't properly dry in colder temperatures.
How long does paint last on aluminum siding?
On average, you can expect to paint your aluminum siding every 5 to 10 years. Well-maintained, painted aluminum siding can last about 40 years.
How much paint do I need to buy?
The easiest way to determine how much paint you'll need is to calculate the total square footage on each side of your home. Subtract 20 square feet for each door and 15 square feet for each window to get an accurate calculation. On average, you can expect one gallon of paint to cover approximately 350 to 400 square feet. Purchase enough paint and primer for at least two coats each.
---