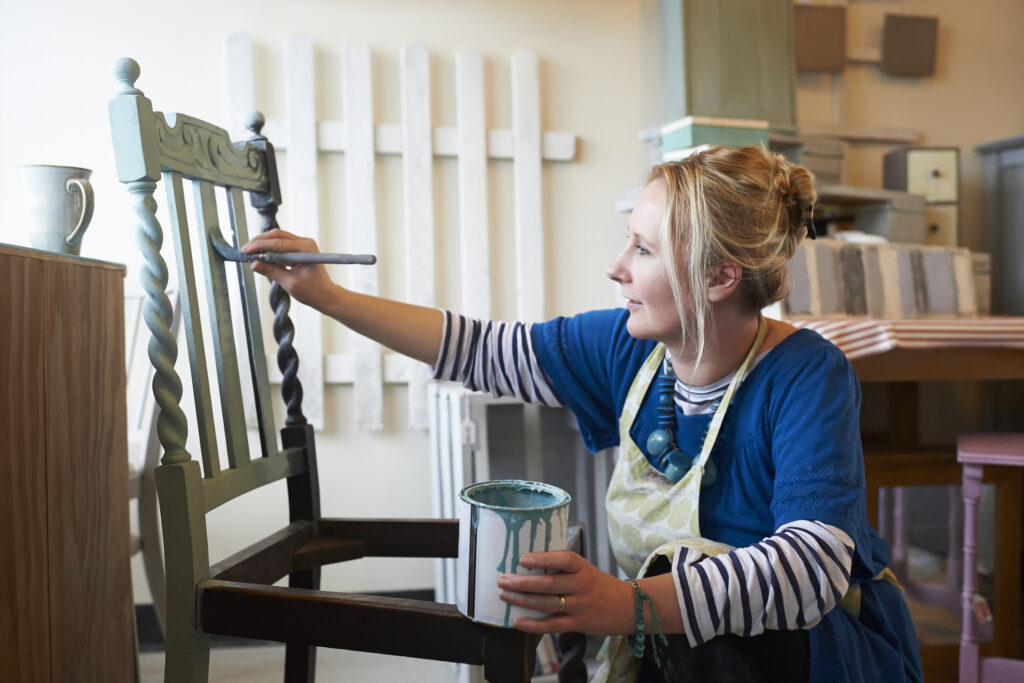 What is milk paint? What is chalk paint? Which is better? It's an oft-debated question that many looking for a decorative paint finish have asked themselves. Although both have a unique texture, a matte-like finish, and can create a distressed antique aesthetic, these two paint varieties actually have a lot of differences.

Whether you're wondering, "What is milk paint," "Is chalk paint thicker," or "Which paint finish is non-toxic," we've got you covered. Find out all you need to know about milk paint vs. chalk paint in this helpful guide.
What is milk paint?
Milk paint has roots set firmly in the past, as some of the first human cave paintings used a similar concoction. Its main ingredients include milk (or quark) and lime, and it mostly comes in powder form, requiring it to be mixed with water prior to use. It has a slight sheen, and the solution's color can be altered by combining colored, dry pigments into the base paint.
Milk paint is one of the most environmentally-friendly forms of paint, as it is water-based, non-toxic, and free of volatile organic compounds (VOCs).
What do you use milk paint for?
Milk paint can be used on a variety of surfaces, including walls, ceilings, furniture, and decorative objects such as vases and jars. As the name suggests, it has a "milky" appearance, making it perfect for a paint wash, for thinning out other paint, or for achieving a rustic style.
There's no doubt you have seen milk paint finishes on platforms like Pinterest, as many DIY lovers use milk paint to achieve an antique-inspired, 'chippy' look. This is achieved by sanding the milk painted surface once dry.
Use one of these highly-rated milk paints
Miss Mustard Seed's Milk Paint: Containing just five simple ingredients—milk protein (casein), limestone, clay, chalk and natural, non-toxic synthetic pigments—this product comes in traditional powder form and is then mixed with water.

General Finishes Milk Paint: This is a modern, pre-mixed liquid paint that has an acrylic base, so although it's not a 'true' milk paint, the product imitates the low luster of traditional casein-based milk paint.

The Real Milk Paint Company: This smaller brand is well-known for using traditional, natural ingredients to get back to the roots of milk paint. Their 56 milk paint colors are made from 100% organic material.
Milk paint pros and cons                                                                             
Pros

Cons




Eco-friendly and non-toxic

Perfect for creating an antique-inspired 'chippy' look

Can mix dry pigments into the liquid base paint to create unique colors

Fast-drying

Thinner than most paints, therefore requiring multiple coats (depending on the look you want to achieve)

Can have a lumpy consistency when mixed from powder form

Due to the organic ingredients, can have a very short shelf life once mixed (usually two days if it contains no additives)









What is chalk paint?
Traditional chalk paint dates back to 1990 when British artist, color expert, and author Annie Sloan first developed the mixture. Chalk paint has a matte chalky texture, but unlike most milk paint, it comes in liquid form and is ready to apply. It's completely odor-free and takes just one hour or less to dry completely.
This type of paint is also much thicker than milk paint, requiring fewer coats for an even finish. To create a unique color, one chalk paint must be mixed with another chalk paint.
What do you use chalk paint for?
Just like milk paint, chalk paint can be applied to walls, ceilings, furniture, or décor items. But due to its thick consistency, it can prevent underlying textures from showing through. You can give the surface a matte appearance or distress the paint for a "shabby-chic" vibe.
On Pinterest, you'll notice the majority of painters like to use chalk paint for making over their stained furniture, such as chests of drawers, coffee tables, and kitchen cabinets.
Use one of these highly-rated chalk paints
Annie Sloan Chalk Paint: Annie Sloan invented her revolutionary furniture paint in 1990 and hasn't stopped refining and improving her formula since. No priming or sanding required.

Rust-Oleum Chalked: This popular brand features a velvety smooth matte finish and can be distressed to achieve a long-lasting vintage look.

Retique It Chalk Finish Paint by Renaissance: This non-toxic, eco-friendly chalk paint is specifically designed for furniture and cabinets and boasts a silky-smooth, chalky finish.
Chalk paint pros and cons
Pros

Cons




Pre-made solution requires little preparation

Odor-free

Dries within an hour or less

Thicker solution requires fewer coats for an even finish

It's a thicker solution means that can mask the underlying texture

Color customization can be more difficult as you can only mix pre-made chalk paint shades

Not all chalk paints are non-toxic and some contain low amounts of volatile organic compounds (VOCs)









Which is better — milk paint or chalk paint?
The choice of milk paint versus chalk paint depends on the desired effect you wish to achieve. It also depends on the color you want to produce. Milk paint works better as a paint wash.  It's also good for thinning out other paint, or for achieving a rustic, 'chippy' style with a very light sheen. And don't forget: you can mix milk paint pigments to create any shade you want.
Chalk paint, on the other hand, is better for creating a thicker, more even finish with a completely matte appearance. It can also create a realistic antique look when distressed, however, color options and color mixing is more limited.
Frequently Asked Questions
Do you have to sand before using milk paint?
Yes. Sanding cleans and opens up the surface of the wood, allowing the milk paint to adhere more successfully.
Can milk paint be used over chalk paint?
Yes. When layering milk paint over a fresh coat of chalk paint, you don't need to sand the chalk paint surface.
Why would you use milk paint?
Milk paint distresses much more easily than other types of paint, making it a simple and ideal way to achieve a vintage-inspired 'farmhouse look' with furniture.
---