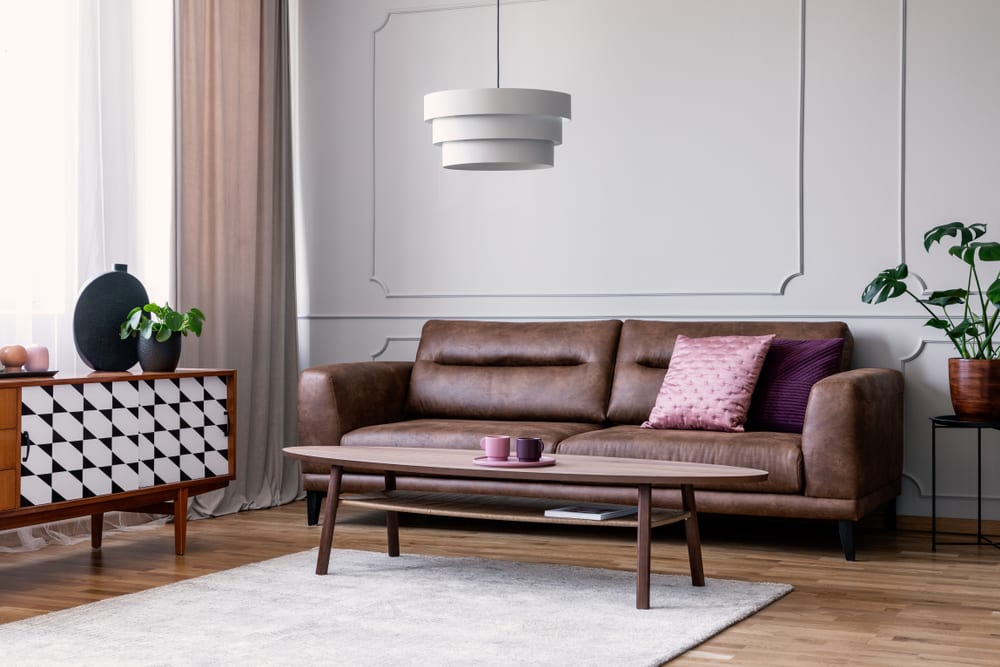 Do you wish your home looked like you stepped onto the set of "Mad Men"? You're not alone in wanting to channel your inner Betty or Don Draper. The sleek, unpretentious style of mid century modern decor attracts many aficionados. But what is mid century modern? Mid-century modern (MCM) is a well-known American movement that affected all aspects of the design world. With a focus on form and function, minimal trims and embellishments, sleek lines, and a combination of contrasting materials, the mid century modern style has left an indelible mark on American design history.

According to Architectural Digest, "The movement really took hold after World War II, thanks to new technologies and materials, and a newfound prosperity, spanning from about 1933 to 1965." Fast forward to the present day, and you'll find countless storefronts with mid century modern furnishings that offer everything from brand new MCM in a range of price points to authentically vintage pieces.

Use the lists below as a starting point to discover your ideal mid century modern look. Eager to snag wallet-friendly MCM pieces? Check out our list of nine places to shop on a budget. If your budget is larger and you want to build a mid century collection, look to our list of luxury spots to splurge.
Affordable mid-century modern design:
As you dream of creating a mid century modern apartment or home, you may suffer a bit of sticker shock. But the good news is not all mid century modern decor has to empty your bank account. With a little creativity, DIY skills, and detective work, it's totally possible to design a stunning yet affordable mid-century space on a budget. Ready to get shopping? Scour these nine locales for mid century modern decor.
Amazon: Amazon is truly a one-stop-shop, even for mid century modern decor. With low, competitive pricing and fast shipping, you'll be decorating your mid-century modern space in no time.

Overstock: Overstock carries a wide range of affordable mid century modern design. Go to the Overstock website and set your price range in their product search to find things like mid-century modern chairs for under $200.

Thrift stores: Love the thrill of finding hidden treasures (and saving a ton of cash) at your local thrift shop? You'd be surprised at the amount of mid century modern furniture pieces that are donated. Be sure to stop by often as inventory continuously changes.

Ikea: Ikea's accessible and affordable designs lean heavily toward a mid century modern feel. Keep in mind that most of their furniture needs to be self-assembled, so get ready to break out your handyman skills.

Urban Outfitters: Urban Outfitters is known as a lifestyle retailer. In addition to clothing, this stylish store offers "statement setting" home decor. As you style your space, remember that accessories make all the difference. Snag some MCM accessories such as a statement wall hook, fun and funky geometric wallpaper, and some unique artwork.

Target: The much anticipated mid century modern collection, Project 62, has Target shoppers flocking to buy from this budget-conscious brand. While most know Target for clothing and household items, savvy shoppers hit Target for their minimalistic mid century modern decor.

Craigslist: Oftentimes, houses going up for sale need to be cleared of outdated furniture. You may find the mid century modern piece of your dreams listed on Craigslist at a fraction of the cost. Don't be afraid to haggle as the seller may come down in price

Etsy: Not ready or able to invest thousands of dollars in mid century modern furniture? Adorning your walls with a few MCM touches such as wall art helps set the tone without breaking the bank.

World Market: World Market offers an ever-changing selection of "high-quality, original items at everyday low prices." Spend less and get more with hairpin chairs, a gold-tipped, tapered leg desk, and an accent table all under $200 each.
Luxury mid-century modern decor:
You'll find that both authentic mid century modern furniture and high-quality reproductions cost significantly more than their affordable counterparts. This is due to the investment in not only the furniture, but the designer of the piece and the materials used within the design. For vintage original and inspired-by artisanal pieces, the companies listed below carry high-quality mid-century modern decor that will become heirloom historical pieces in your home.
The bottom line
The mid century modern decor style is a cornerstone in the design industry and certainly here to stay. Look for vintage MCM furniture in specialty shops, thrift stores, and yard sales. However, if your search for authentic mid century modern pieces comes up short, or you simply prefer to purchase brand new furniture with an MCM feel, numerous retailers (including the ones on our list) offer mid century modern pieces in a wide range of price points. Whether you add just a few mid century modern touches to your home or go all out with a complete MCM vibe, you can find the perfect pieces for your space by following our essential shopping tips.
---