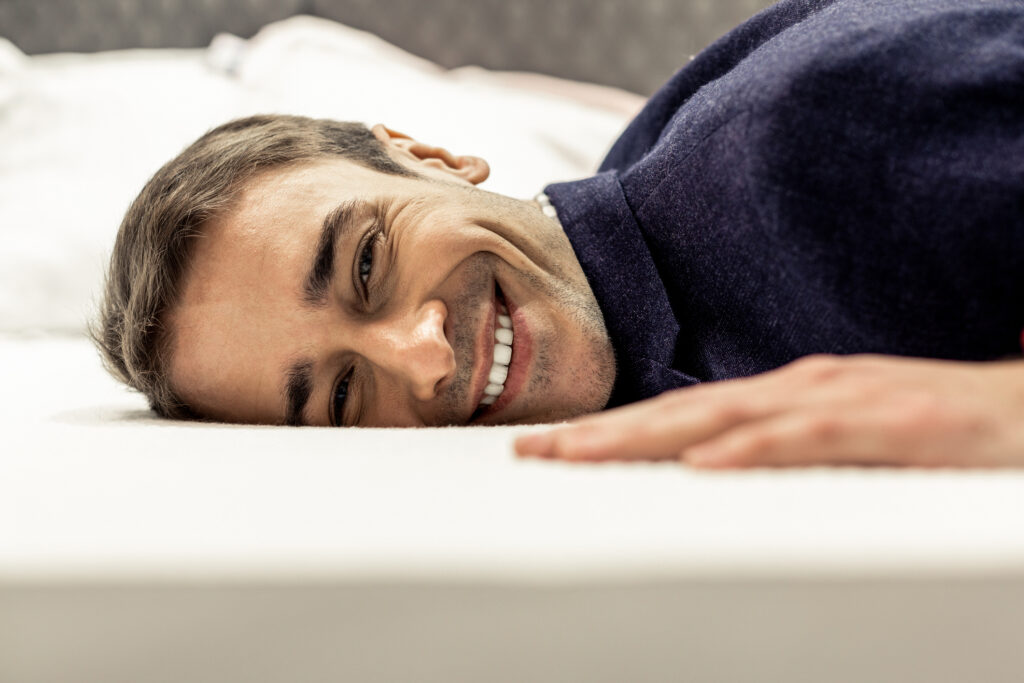 If you've shopped for a new mattress in the last ten years, you've probably heard the term "memory foam." Many mattresses are now made exclusively of memory foam, while some hybrid models have a memory foam layer. And if you have a traditional spring or coil bed, you can add a memory foam topper for softness and support.
What is memory foam?
Originally invented for NASA airplane seats in the 1970s, memory foam is composed of viscoelastic polyurethane foam, which is both energy-absorbent and soft. Memory foam molds to the body in response to heat and pressure, and slowly springs back to its original shape when you move. The material went on to find use in myriad other applications, including cushioning, prosthetics, pillows, and mattresses.
Its ability to mold and cushion according to pressure makes memory foam prime bedding material. Viscoelastic polyurethane foam isolates vibration, dampens sound, and isolates shock, allowing for both movement and uninterrupted sleep.
Types of memory foam mattresses
Memory foam helps the sleeper get in (and stay in) a comfortable position. Memory foam distributes body weight evenly and eliminates the cause of painful pressure points. Many top-selling memory foam mattresses are blends of  different polyurethane foams:
Traditional memory foam
Traditional memory foam reduces pressure points, conforms to the body, is anti-dust mite and anti-microbial, and reduces motion transfer better than any other mattress type. It's also very durable. However, some downsides include a tendency to retain body heat and a slow response to movement, which some restless sleepers may not like.
Open-cell memory foam
Open-cell memory foam has tiny cells allowing air to flow through it, making this type of mattress cooler than traditional memory foam. Plant-based memory foam often features an open cell structure and includes less of the volatile organic compounds (VOCs) that can retain a chemical smell, which is another frequent criticism with memory foam.
Gel memory foam
Gel memory foam uses gel to regulate a sleeper's body heat. The gel is either infused into the foam or forms a separate layer on top of the foam. Heat can be absorbed to keep the sleeper cool, but can also be released to add warmth when the body's temperature drops.
Copper-infused memory foam
Copper-infused memory foam is a new addition to the memory foam market. This type claims that infusing copper will draw body heat away from the sleeper and distribute it more evenly across the surface area of the mattress.
What type of sleeper is memory foam best for?
There are perks to memory foam mattresses that make it a good choice for all back and side sleepers. Memory foam molds around a sleeper's body and flexes to ease pressure points, making it worth considering for back sleepers who need support around the lower back. Side sleepers are typically the most flexible and can frequently benefit from the memory foam's ability to distribute weight evenly.
Stomach sleepers, on the other hand, may find that memory foam mattresses sink too much, making an exaggerated "U" shape with their bodies. If you are interested in memory foam, look for firmer models or hybrids that offer more support for stomach sleepers.
If you sleep with a partner or a pet, you should definitely consider a memory foam mattress. Its ability to limit motion transfer helps you remain undisturbed by someone else's movement during the night.
What to consider when buying a memory foam mattress
Firmness: While it may be comfortable for many, the ability of memory foam to mold to the body has caused some people to report feeling stuck or as if they are sinking into their bed.

Overheating: Contouring around the body can limit airflow, causing heat buildup in the mattress and on the skin.

Mattress thickness: A thicker mattress may be more comfortable — especially for couples and pregnant women. A thinner mattress can be a good choice, however, for those with limited mobility, as they may find getting in and out of it easier than a thick mattress.

Longevity: In general, memory foam mattresses will last 8 to 10 years.

Allergies: Pollen, dust, dust mites, and bed bugs are primarily prevented from entering a memory foam mattress because of its material.

Mattress base: A platform bed, slat foundation, or adjustable base will work better with a memory foam mattress than a box spring.
How much do memory foam mattresses cost?
The cost of a memory foam mattress varies according to the density, amount, and type of foam used. Higher density and thicker layers of foam equal higher cost. Plant-based or gel-infused foams are the most expensive, while synthetic foams are cheaper. The price of a queen-size memory foam mattress can range from $150 to $4,000, according to Sleephelp.com.
*Pre-promotional prices as of 08/20/2020
Is memory foam right for you?
Pros of memory foam mattresses
Evenly-distributed support and pressure relief

Memory foam's molding properties support proper spinal alignment and circulation — a benefit for side sleepers and people with back and/or neck problems

The softness and support of memory foam offers a very comfortable sleep surface

It limits motion-transfer

Memory foam has a longer lifespan than traditional innerspring mattresses
Cons of memory foam mattresses
Foam mattresses tend to trap heat

Bounce-back of the material is slow

Some buyers report a dislike of the "quicksand" or "sinking" feeling of the mattresses conforming to the body

Some customers report a chemical odor with some memory foam mattresses, but most dissipate over time
The bottom line
Memory foam distributes weight evenly, providing relief for painful pressure points. Thanks to the contouring effect of memory foam, back pain and neck pain lessen with a more natural resting position and support of the spine. Memory foam mattresses also limit motion-transfer, making for a more restful night sleep for those sharing a bed with others or pets.
Frequently Asked Questions
How long does a memory foam mattress last?
Eight to 10 years.
Is memory foam a good mattress?
Memory foam is an excellent choice of mattress material due to its comfort, support, and durability.
How do you clean a memory foam mattress?
It's wise to use a protective mattress pad. Vacuuming is the only recommended cleaning method. If you must clean a stain, use mild soap with cold water and apply lightly. Don't ever soak a mattress.
---