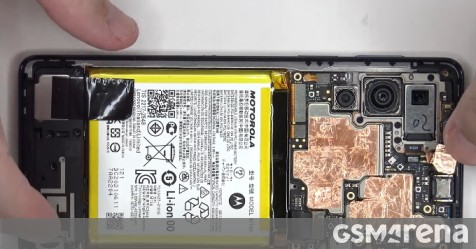 It was just yesterday when we brought you a video teardown/disassembly of the Motorola Edge (2021), a phone that became available today in the US (and is meant for the North American market). If you're elsewhere, though, that may not be useful to you as Motorola won't be selling that model in any other places.
What it is selling, though, is the Edge 20 Pro, announced in late July and released in mid-August in specific countries. This phone is more intriguing, as it sports a flagship level chipset (for 2020 at least), and a periscope zoom camera. Luckily the same PBKreviews YouTube channel also happened to have one of these on hand, and proceeded to tear it down on video as well, for your enjoyment.
The Motorola Edge 20 Pro is even less easily repairable than the Edge (2021), getting a lower 4.5/10 score (where 10 would be easiest to repair by yourself). With that in mind, it's probably best not to attempt to make any repairs and just use a service center when things go bad.
There's a bunch of graphene film inside, and by watching the video you also get a better look at the sideways-mounted telephoto shooter, next to the 108 MP main camera.
Like what we saw in the Edge (2021), the Edge 20 Pro's battery has no pull tabs either, which makes removing it quite a risky affair. The adhesive underneath is very strong. Similarly, if you need to replace the screen you practically have to pry open the entire phone, starting on the rear and moving forward. And again like for the Edge (2021), here too if you ever need to replace the side-mounted fingerprint sensor you have to pry the screen off first.