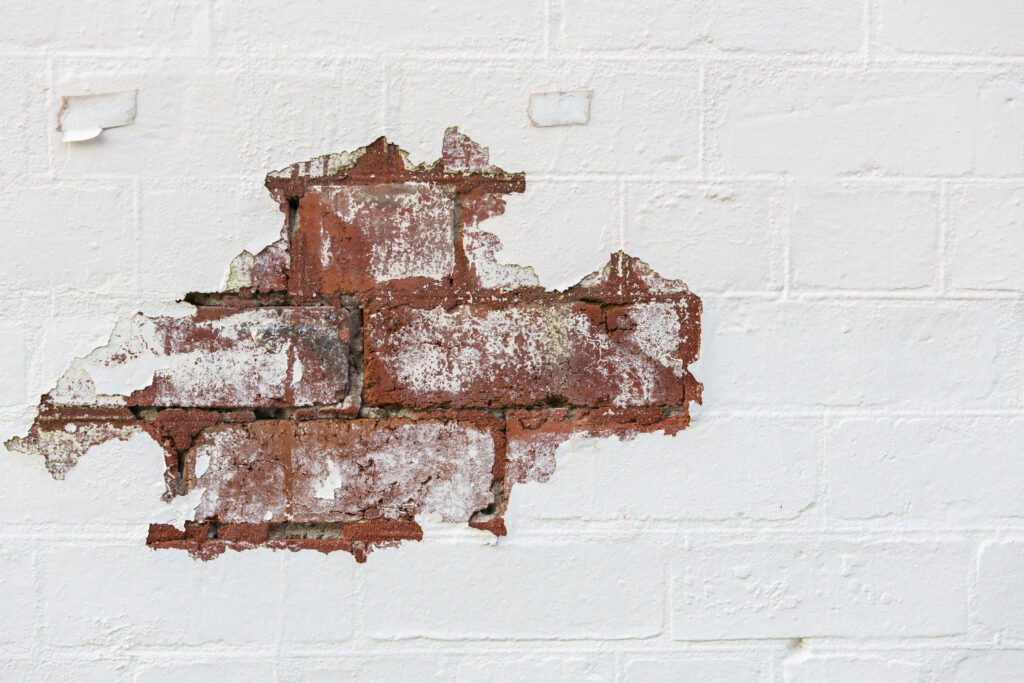 Brick can immediately increase a home's coziness factor. Exposed brick walls, brick fireplaces, and brick exteriors add instant charm and appeal. When done right, painted brick can easily make a home look like it's out of a storybook. But painted brick done wrong can turn prospective buyers away. If you're looking at home or feature that belongs in the second category and want to know the easiest way to remove paint from brick, read on to learn more.
How to get paint off brick, step by step
Prior to 1920, brick consisted of mostly lime and sand, a combination that causes the material to crumble over time. Nowadays, most bricks are made from Portland cement, which is a more durable, long-lasting material. If you know for sure that your home consists of lime and sand brick — or you notice a significant amount of crumbling and cracking — have a masonry company assess the situation and make repairs before continuing with the following steps.
Step 1: Organize your workspace
Like any other outdoor and home improvement job, there's a mess involved. Use drop cloths or plastic to cover the ground beneath the brick. Removing paint flakes from plants or sweeping them up from the floor is a hassle and could eat up hours of your time. Place all necessary tools in one easily accessible location.
Step 2: Test a small area first
Test a small, out-of-sight area with the stripping compound first to make sure it works properly. This test is also useful to see whether or not the paint was used to purposefully hide any maintenance issues.
Step 3: Remove loose paint
Before going crazy with the paint stripping compound, scrape away as much paint as possible that's already come loose.
Step 4: Apply the paint stripper
It's time to start stripping away that paint. Start with the tool provided by the manufacturer. If a tool wasn't included, a trowel works just fine. Make sure to cover every single brick and push the stripper into every hole and crevice you find. Apply as much paint stripper as the instructions recommend. You might need multiple layers of paint stripper to get the job done.
Step 5: Apply the peeling strips
After applying the stripper, place peeling strips over the entire area. These strips are usually made of fabric and should overlap each other so that you cover every single brick. Press each strip firmly against the stripper chemicals.
Step 6: Wait for the magic
After applying all strips, wait until the stripping compound fully cures. This varies depending on the manufacturer, but in many cases, you might have to wait a full 24 hours.
Step 7: Remove the strips
Once the required amount of time has passed, you'll be able to remove the strips. Do this slowly and deliberately to avoid any tearing. Use a trowel to remove any leftover paint stripping compound or residue. If that fails, warm water and a thickly-bristled brush should do the trick.
Step 8: Dispose of the strips
Properly dispose of the strips following the manufacturer's instructions. Note that you may have to place them in a neutralizing chemical before throwing them away.
Products and tools you'll need to get paint off brick
Don't want to use harsh chemicals? Here's how to remove paint from brick naturally
Paint stripping compounds can contain harmful chemicals that you might not want in your home. Luckily, when looking for ways to get paint off brick, you've got more than one option.
Two other popular methods are power-washing and sandblasting. Depending on the condition and material make-up of your bricks, these may be easier options for you. If you choose either method, make sure to wear safety glasses at all times. Sandblasting kits often come with glasses, but power washers do not.
The bottom line
The process of removing paint from brick isn't easy. It's extremely physical, can be frustrating, and will take you more than a day to complete. Before choosing whether you want to use a paint stripper compound, a power washer, or a sandblaster to remove paint from brick, carefully inspect the bricks for severe deterioration. While power washing will take the least amount of time, using a paint stripper is the safest solution because it protects the integrity of your bricks.
Frequently asked questions
Can painted brick be restored? 
It depends on the condition of the brick. If you notice brick deterioration in a few places, you could use a couple of coats of liquid cement hardener to solve the problem and then remove the paint using a stripping compound.
Can you pressure wash the paint off brick? 
Pressure washing is one of the more popular ways to remove paint from brick. You must first inspect the brick to determine whether or not any erosion has occurred to avoid further damage.
When should you hire professionals to remove paint from brick? 
If you're unsure about which method to use for this project, or if the amount of brick corrosion you see makes you feel uncomfortable, hiring a professional is a good option. Professionals know what to look for and how to avoid further damage.
What weather is necessary to remove paint from brick? 
Removing paint from brick should only be done when you are certain temperatures will stay above 40 degrees Fahrenheit for at least a month. If your bricks don't dry completely before a frost occurs, you could face major brick deterioration issues.
How many layers of paint does paint stripping compound remove? 
This really depends on the brand you're using. Most paint stripping compounds can remove at least three layers of paint.