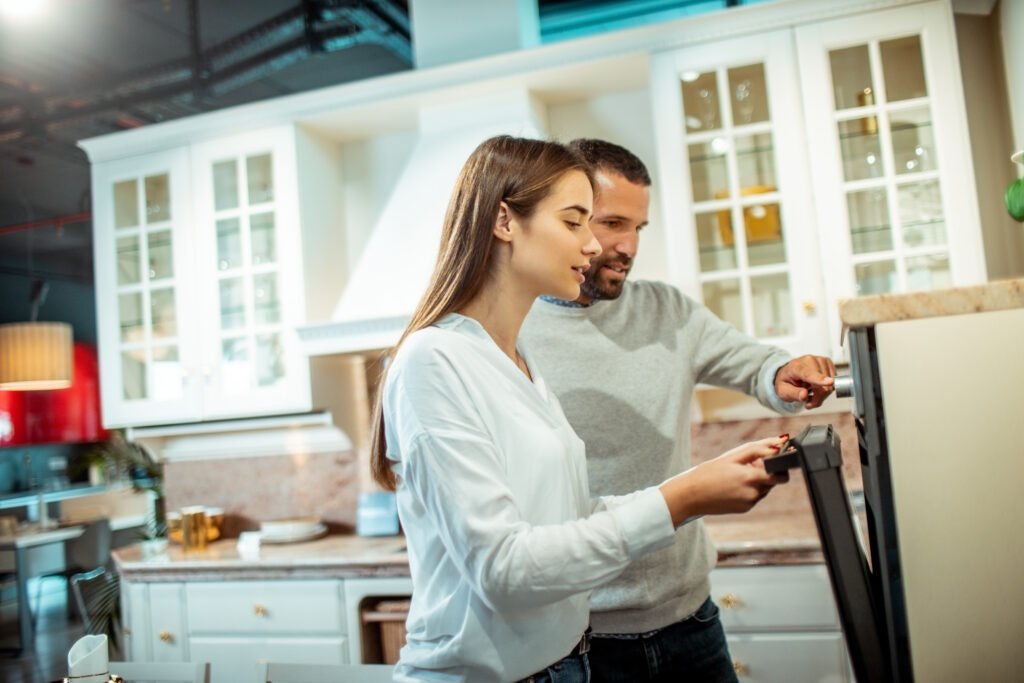 The kitchen really is the heart of a home, where everyone gathers and holiday meals are prepared. But it's also one of the most important rooms to have looking at its best during a resale. Considering a DIY kitchen remodel to refresh your space? No matter where your remodeling budget lands, keep it in check with these best-practice tips and recommendations.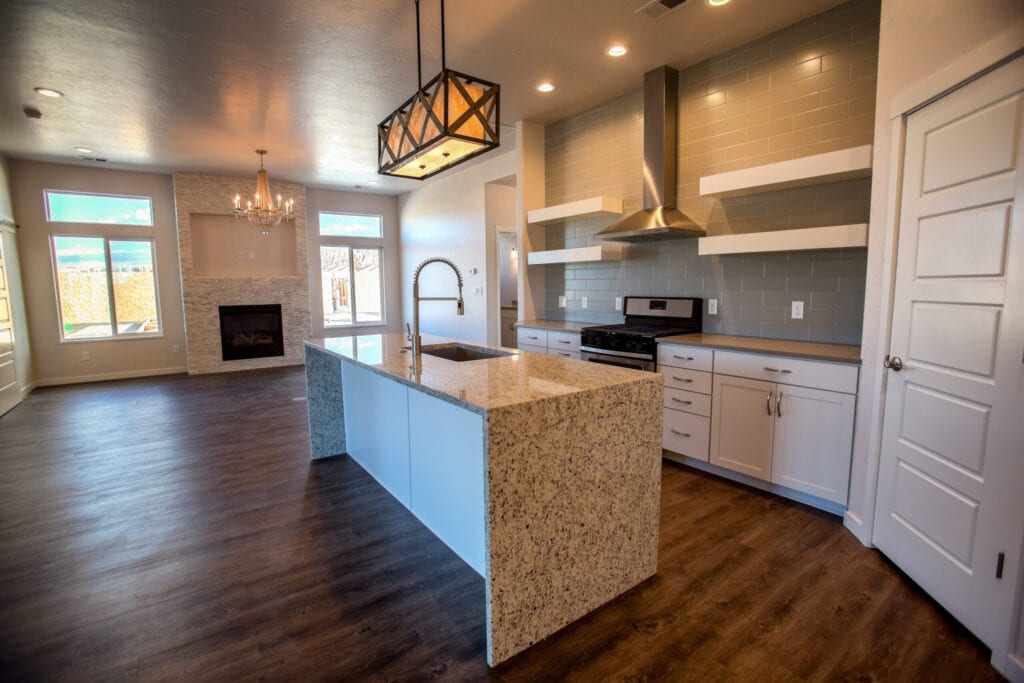 How to remodel your kitchen, step by step:
Step 1: Get inspiration and create your list of must-haves.
While painting walls can be a fast and easy update, a kitchen remodel is not something you'll often do. So even if you DIY, it's important to take time to strategize the style and layout you'll be happy with for years to come. Do you like clean, modern lines or the rustic farmhouse look? Pinterest is an excellent place to explore kitchen remodel ideas, and before and after results. Make a list of must-haves to focus your new-kitchen vision.
Step 2: Set your budget.
The last thing you want is to run out of money mid-way through your kitchen renovation, so it's vital to determine your "all in" kitchen budget. If your budget is $10,000 total, determine your priority list. Properly pricing out and comparing all of the components that go into a DIY kitchen remodel versus a professional remodel gives you a clear understanding of where your money will be going and if your budget is realistic.
Home Depot recommends using the ⅓ rule to divide your expenses into equal parts: ⅓ for cabinetry, ⅓ for countertops, backsplashes, flooring, appliances, hardware, faucets, and sinks, and if you plan to have a professional assist with your remodel, budget ⅓ for labor and installation.
Step 3: Look for ways to save.
Whether you choose a DIY kitchen remodel or opt to bring in the professionals, there are always ways to save on a kitchen renovation. Enlist family and friends to help with demo or installation to avoid labor costs. Look for product rebates on everything from flooring to appliances.
Shop for hardware and lighting that looks luxe but doesn't break the bank. Pick up used kitchen cabinets at a fraction of the cost on OfferUp, Craigslist, Facebook Marketplace, or Habitat for Humanity Restore. Skip the custom high-end cabinet option by choosing in-stock cabinetry, or keep the cabinets and swap out the doors at IKEA.
Step 4: Gather quotes.
You may need a professional for portions of your DIY kitchen remodel, especially electricians, to ensure the electrical wiring is up to code or plumbers to connect the faucet. Get at least three quotes. Don't forget to confirm that the pro is properly licensed and insured.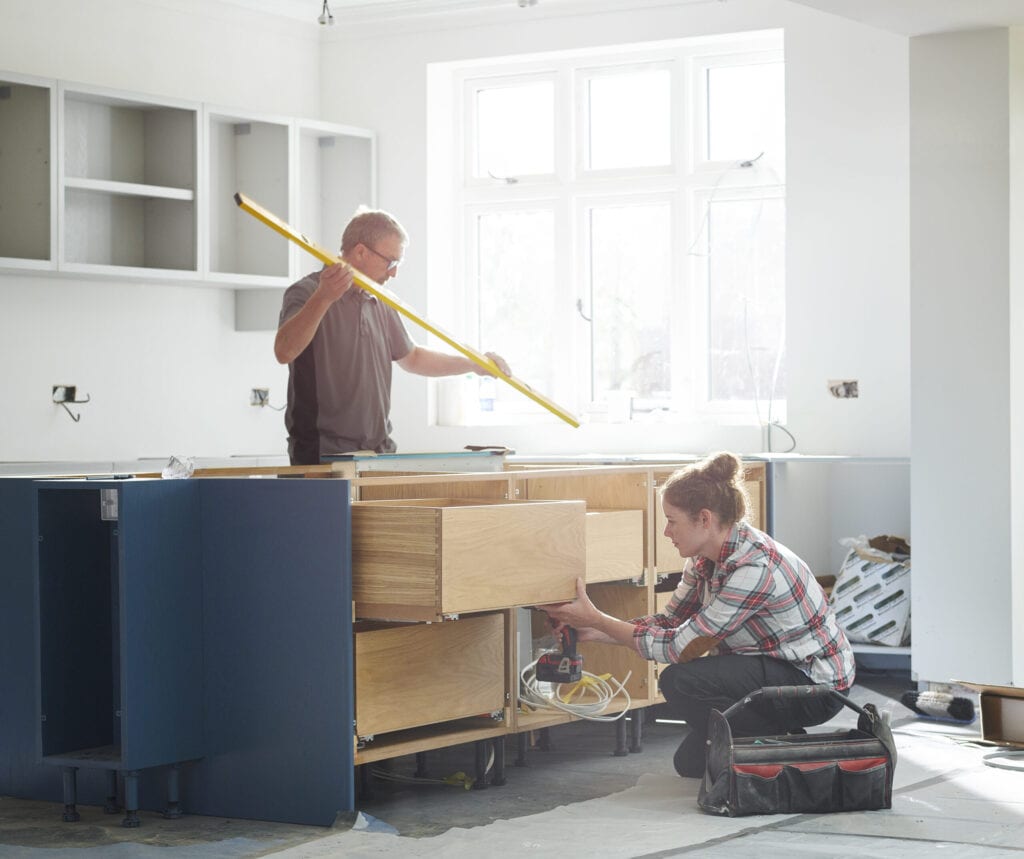 Key items to save for during a kitchen makeover:
Cabinetry:
Cabinet style helps define and set the tone of your kitchen.
For a fast DIY refresh on a budget, paint your cabinets.
Reface, don't replace. If they're salvageable, keep your existing cabinets and reface them. The average cost for minor cabinetry refacing ranges from $7,700 – $14,900.
If you're going full reno, know that the cost of new cabinets in a kitchen makeover can vary greatly depending on whether you choose in-stock (most economical), semi-custom, or fully custom — the priciest option.
Flooring:
Pick flooring based on who's walking on it (human and fur babies) and how often.
Do you have hardwood floors in fairly good condition? Refinishing them yourself can save a lot.
Tile is durable and easy to maintain. But installing it can be labor-intensive and challenging to lay and grout the tile evenly. The average cost for tile installation and labor is between $500 and $3,500 for a 200-square-foot kitchen to hire a pro. But that cost varies based on square footage and materials.
Laminate flooring looks like tile, hardwood, or stone but is extremely DIY-friendly. Composed of easy "click and lock" interlocking pieces, laminate is an excellent choice for a DIY kitchen remodel.
Countertops:
The material options for kitchen countertops are extensive, so it's important to not only know what style fits with your kitchen remodel but the price point for each type. In-person shopping is best, so you can get the look and feel of options, including marble, laminate, granite, Corian, wood, and quartz.
Appliances:
If your existing appliances are in good condition and fit aesthetically and physically in your kitchen remodel, you can cross this cost off your expenses list. But if they need replacing, a kitchen appliance package with a refrigerator, stove, dishwasher, and microwave makes it easy for as little as $2,500.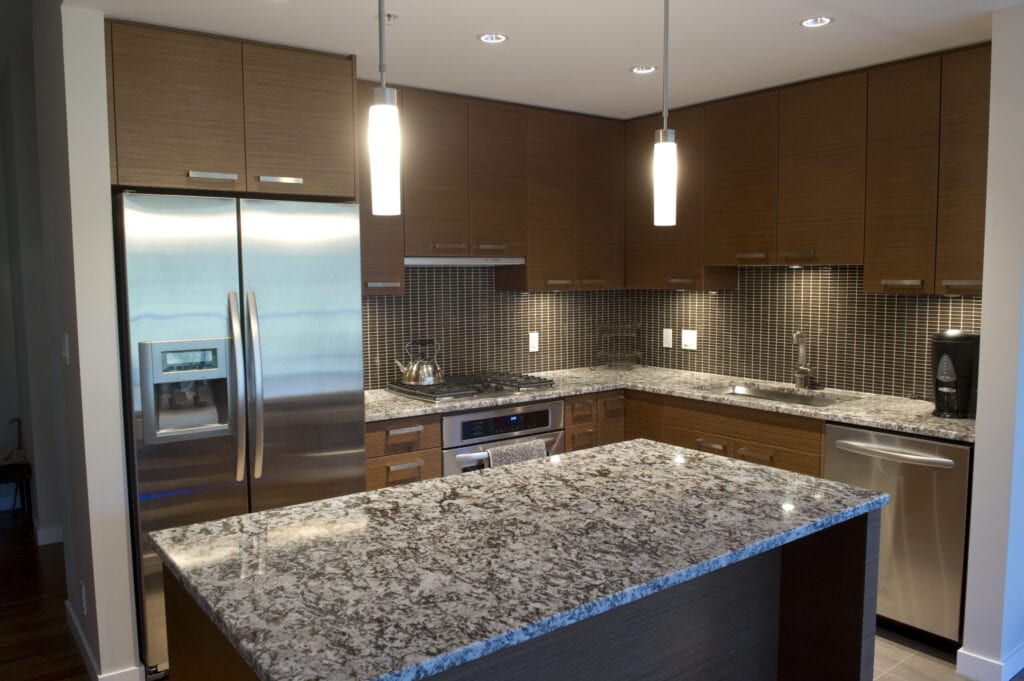 Things to consider when remodeling your kitchen:
Know how you'll navigate. A kitchen needs to be both visually appealing and functional. Does your current kitchen layout work, or are you squeezing by each other to get to the fridge? Make sure the layout of your kitchen renovation makes sense.
Do you have adequate prep space? Don't skimp on countertop space. Having enough surface area to prepare meals is essential for kitchen efficiency.
Have you properly protected the rest of your house? A kitchen remodel is messy. Using a tarp or plastic sheeting, seal off the kitchen from the rest of the home. This will keep dust and debris contained.
Are you keeping to your budget? While you may dream of having a $10,000 gourmet stove, does it fit into your DIY kitchen remodel? Create a budget and be flexible to stay on track.
The bottom line
A kitchen makeover is a long-lasting renovation that breathes new life into your home. Whether you tackle a DIY kitchen remodel on your own or leave it to the professionals, setting a solid budget, taking time to choose which style reflects your family's personality, and creating a list of must-haves will help ensure amazing final results.
Frequently asked questions
Q:
How much does a kitchen remodel cost?
A:
The average cost of kitchen remodels varies greatly. A minor kitchen remodel is $24,000, a major remodel averages $69,000, and an upscale luxury kitchen remodel averages $136,000.
Q:
Can you do a kitchen remodel yourself?
A:
Yes, you can do a DIY kitchen remodel if you have the time and skills. Sweat equity goes a long way. Taking on the task and asking for family and friends' help can eliminate the cost of hiring a contractor. However, for things like electrical and plumbing, it may be best to hire professionals.
Q:
In what order do you remodel a kitchen?
A:
First, set your goals and budget. Then place orders for all cabinetry, appliances, flooring, hardware, countertops, and lighting—complete demo along with any structural, plumbing, or electrical updates. Install drywall, flooring, cabinets, countertops, and appliances. Your final step after completing the kitchen backsplash is to clean up debris.
Q:
How can you save money on a kitchen remodel?
A:
Search for lower-priced items with a high-end look. For example, laminate wood flooring costs considerably less than hardwood. Choosing less expensive hardware and lighting also helps keep your budget in check.