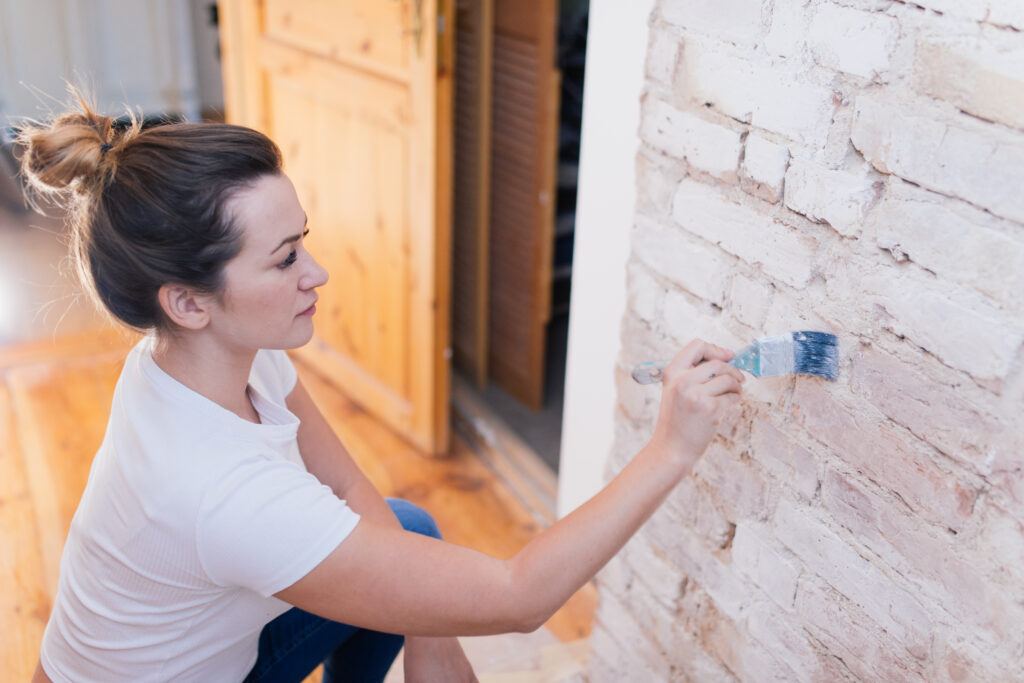 If you're looking to give your home a fresh new look, painting interior or exterior brick is a great place to start. Brick paint isn't just inexpensive to buy, it's also easy to apply, provided you know how to do it.

Keep reading for a step-by-step guide on how to paint brick, including how to prep your brick, what tools you'll need, alternatives to brick paint, and more. You'll be a brick painting pro in no time.
3 steps to painting brick
1. Clean and prep the brick 
If you're painting exterior brick, washing with a high-pressure hose will do the trick for removing dirt, dust, and other debris. If applying brick paint inside your house, use soapy water and a wire brush to remove any particles that may stop the paint from adhering. Let your brick dry completely over a 24-hour period, as paint won't stick to wet brick, and check for any cracks or damage that need repairing. Then, tape off the sections you don't want to paint.
Pro tips: Make sure any brick surface you're painting has been installed for at least one year so it's had enough time to dry and acclimate. When cleaning, don't use acidic cleaners, as they can damage your final paint job.
2. Apply a primer 
Before you apply brick paint, it's essential that you apply a primer specially formulated for brick surfaces, as brick is very porous. These contain latex for its high level of elasticity. If you're painting onto a large brick surface, use a roller or paint sprayer. Be sure to wear safety equipment such as goggles, gloves, and a mask. Smaller sections, however, will be fine using a brush. Apply one to two coats and let it dry for at least 24 hours.
3. Apply your paint 
When selecting a brick paint, ensure it is a latex paint designed for brick or masonry. If you're painting the interior of a brick fireplace, make sure you're using heat-proof paint too. You can use a paint sprayer for a larger surface area, or a roller or brush for any size area, depending on your preference. Make sure your roller has a nap (the thickness of its cover) between 20 to 32mm, as this will help it to spread the paint further into any nooks and crannies. Allow your first coat to dry for a further 24 hours before deciding if a second coat is required.
Products and tools you'll need to paint brick
Metal brush: This is a heavy-duty brush which is perfect for getting into the crevices of bricks and removing dirt, dust, and other debris.

Paintbrush, roller, or spray paint equipment: If you're using a paintbrush, buy an assortment of sizes to suit your needs. You can also use a paint roller with a thick nap to get into the brick crevices. Alternatively, if you're painting a large area, spray paint equipment is recommended to make the job easier.

Liquid detergent (such as Dawn or Palmolive): Mix a small amount of liquid detergent with water to create a safe cleaning solution for your bricks.

Brick paint: Only buy paint designed for masonry, stucco, or bricks, as this contains latex, which is necessary for filling in the porous texture of the brick.

Brick primer: It's also advised that you only buy a primer specifically for brick surfaces, as this also contains much-needed latex.

Painter's tape: This allows you to tape off areas you don't wish to paint, including window and door frames.
Alternatives to painting brick
If your brick surface is in good condition and you'd prefer to highlight it, rather than cover it, you can apply a stain or limewash, rather than brick paint. Staining (or dying) the bricks allows the natural texture to show through, while giving it a different color.
Limewashing is another similar technique, which involves using a paint made with lime to alter the color of the brick. Rather than sitting on top of the brick like paint does, limewash is absorbed into the brick to keep its original texture.
When applying a stain or limewash paint to your brick surface, the same process outlined above applies. Make sure your product, as well as an appropriate primer, is specifically made for painting bricks and don't forget to let the surface dry completely in between coats.
The bottom line 
Painting exterior or interior brick in your home is a relatively cheap and easy way to create a fresh, new look. All it requires is three steps, including cleaning and prepping, applying a primer, and applying brick paint. It's important your paint and primer are specifically designed for brick, or alternatively, you can apply a stain or limewash to the brick surface to bring out (rather than cover) its natural texture.
Frequently asked questions
Is painting brick easy to do? 
With the right tools and products, as well as the correct preparation, painting brick is a straightforward process. Make sure to clean and prepare the brick, use a latex primer, and use the right tools for the job.
Do I need to prep brick before painting it? 
Yes. The brick surface(s) will have to be scrubbed thoroughly with soapy water. Once dry (give it 24 hours to make sure the surface is ready for paint), at least one coat of primer must be applied. Wait another 24 hours before painting.
Should I wear safety equipment when using brick paint? 
To protect your eyes and skin, and prevent the inhalation of paint fumes, it is recommended that you wear goggles, gloves, and a mask, especially when spray painting.
---