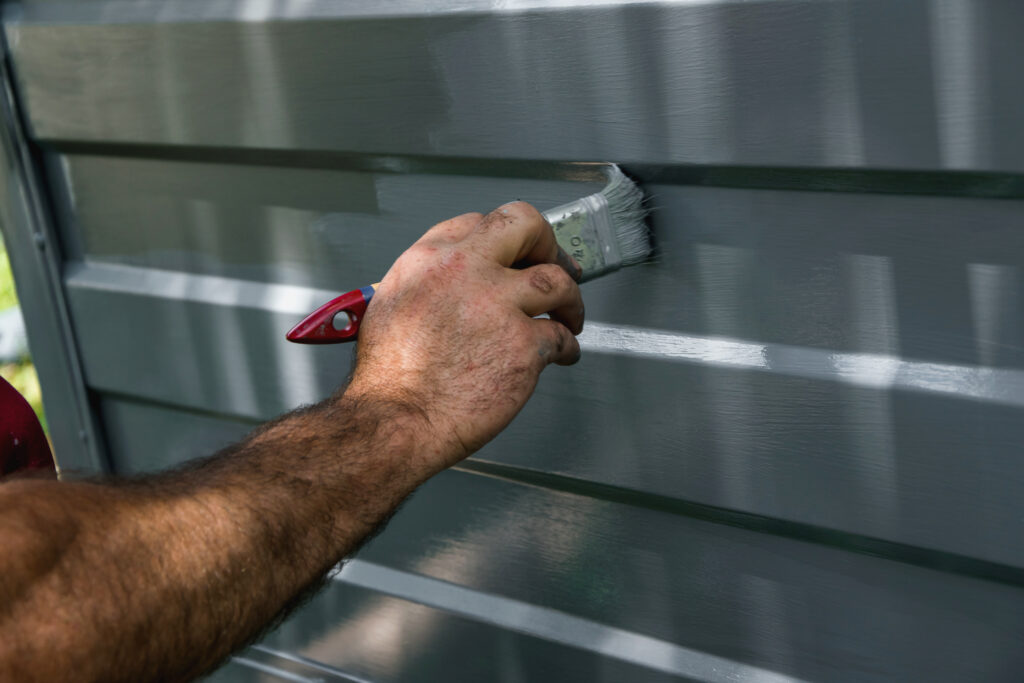 A garage door is an extension of your home. You want it to flow with the rest of your exterior, especially if the garage connects to the main portion of your house. Thankfully, painting a garage door can be an easy DIY job.

Finding the right garage door paint, prepping your garage door, and making the final result look great is all within reach — even if you're not a professional. If you are a new homeowner, painting your garage door can make your home feel more like you. Follow the guide below to learn how to paint a garage door.
8 steps to painting a garage door
Step 1: Pick your garage door paint
Most home improvement stores sell paint. For a garage door, look for paint that's formulated for exterior use to hold up against the elements. Acrylic latex exterior house paint works well. Be sure to shop around — pick up color samples you think might work on your door — so you can test them out before going all-in.
Pro tip: Buy an exterior primer to help the fresh coat of paint go on smoothly and stick better.
Step 2: Wash your garage door
Being close to a street can make the exterior of your home and your garage door especially dirty. Since you don't want the dust mixing in with the new paint, be sure to wash your garage door thoroughly. All this takes is a bucket of water — perhaps a hose if it's easily accessible — and a washcloth. For particularly grimy garage doors, you may want to rent a power washer.
Pro tip: Lay down a drop cloth after washing the door and before painting to keep drips off of the cement.
Step 3: Watch the weather
When planning to paint the garage door, you want to make sure you have a mild and clear day ahead. Warmer weather helps the paint dry quickly and evenly. And if it starts to rain in the middle of the job, you might have ugly runs in your paint. If you plan on priming the door, wait for a span of good weather days. Primer needs at least 12 hours to dry before applying a coat of paint.
Step 4: Tape off areas you don't want to paint
If your garage door has any design, like rectangular recesses, patterns, or multiple colors, you'll need to outline your workspace to keep the finished product even and keep paint from areas you don't want to be painted. Painter's tape is cheap and easy to use. Roll it out and stick it on areas of the door to create even lines that the paint won't soak through. You only need to do this around the garage door frame edges and if you're using two different colors to paint parts of the garage.
Step 5: Prime the garage door
Start by using a paintbrush to prime the garage door. Only one thin layer needs to go on — just enough to give the paint a base on which to stick. Thoroughly wash the brush out afterward to use it for painting later. Priming can be skipped if you're only touching up the garage door with the same color paint.
Step 6: Paint the recesses
Once you're ready to begin painting, start with a paintbrush. Get into the recesses of the door if you have them, then paint the main surfaces and carefully paint into the corners. Try keeping the paint off of the stiles (the raised edges) so that when you paint these, the coat is even.
Pro tip: When painting with a brush, maintain a wet edge (but not dripping!) so that the paint doesn't run or streak.
Step 7: Paint the stiles
Paint the stiles next. Since they are above the recesses, the quickest way to do this is to use a roller and a pan. This keeps your paint strokes smooth and gets the job done quickly.
If you can still see the primer through the paint coat, do a second one to make it look professional. Let each coat dry for about 12 hours before applying the next. A second coat usually isn't required but can be necessary if you're painting your door lighter than the original color.
Step 8: Keep it clean
Maintaining the garage door will go a long way in keeping it looking fresh. Gently wash it down every once in a while so the dirt doesn't scratch away your paint.
Products and tools you'll need to paint a garage door
When to call in a professional to paint a garage door
Although painting a garage door is a task many people choose to take on themselves, hiring a professional is another option. You may go this route if you have more than one garage door, or not enough time to take on the task yourself. You may also choose to do so if the garage door is old or hasn't been painted for a long time and needs more preparation before painting can occur.
The upside to hiring a professional is that the finished product will look professional, it won't take any of your time, and the job will be done quickly. Since they are not only bringing the materials but also doing the labor, you will have to pay for their time. Depending on the size of the job, it may cost anywhere from $200 to $1,000.
Frequently Asked Questions
How long should I wait between coats of paint on a garage door?
Wait at least 12 hours in between each coat of paint or primer to make sure it has fully dried and won't smear. This is longer than you'd usually have to wait for paint to dry inside your home.
Do I need to prime the garage door first?
You don't have to, but primer will make the paint stick better. This keeps the job looking better for a longer period. If you choose not to prime the garage door, consider using paint with a built-in primer.
Can I paint a garage door with a roller?
If your garage door is flat, you could do all but the edges with a roller. If it contains recesses, only do the stiles with a roller to keep it clean.
How much does it cost to paint a garage door?
Depending on the quality of paint you buy and the size of the door, a garage door will cost around $150 to $200 to paint yourself. If you hire a professional, costs can go up to about $1,000.
---