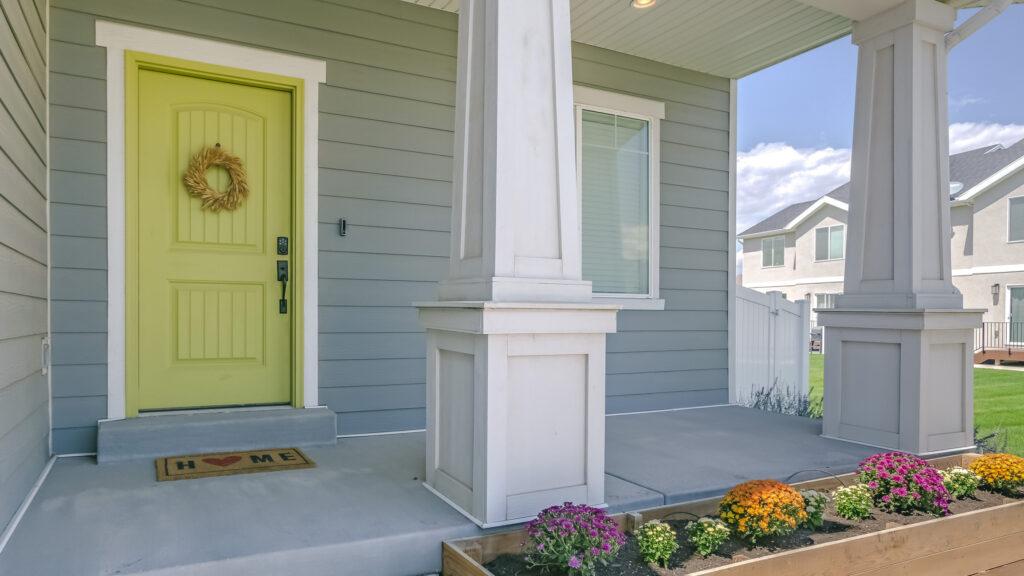 Refreshing your front door paint is one of the easiest ways to boost your home's curb appeal. This simple and cost-effective DIY project can be completed over a weekend and will instantly add new life to your home's exterior.

Many exterior home improvement projects can be intimidating to tackle or even require a professional. Yet learning how to paint a front door is not only easy to master but wallet-friendly too!

We've broken down the steps for how to paint a front door so you can easily give your home a revived look.
How to paint a front door in 8 Steps
Your front door sets the tone for how people feel when they enter your home. Over time, front door paint can chip and fade and even start to make your home appear more dated than it is. If your front door paint is looking a little worse for the wear, follow these steps to give your home a refresh.
Step 1: Choose your paint color
Choosing a front door paint color doesn't have to be daunting. Unlike repainting your home (which can be a big commitment in time and money), your front door paint color can be switched out often and easily. Make sure the color you choose comes in an exterior semi-gloss finish. This semi-gloss paint will stand up better to natural weathering and be more resistant to stains over the long run.
Step 2: Gather your supplies
There's nothing worse than starting a project and realizing halfway through that you don't have all the necessary supplies to get the job done. Review our supplies checklist below and make sure you have everything you need before starting.
Step 3: Set up your painting space
If you decide to leave your door on its hinges, cover up all hardware, windows, and trim with painter's tape to avoid paint splatter and mistakes. If you decide to remove your door from the frame, set up two sawhorses, and lay the door across them. In both instances, you'll want to place an old sheet or drop cloth underneath the area to protect the space around you. If you have a screen door, make sure it is well protected and not in the way of your painting.
One of the most important preparations you can make is to ensure that the space you're working in is well-ventilated. Most paints contain chemicals that evaporate into the air. Having good airflow will reduce your exposure to any harmful effects. Follow the Environmental Protection Agency's guidelines for best practices for safe painting.
Step 4: Sand your door
Use a sanding sponge to soften any scratches or imperfections in your door's surface. Sanding the door will also strip any pre-existing glossy finish, allowing the paint to adhere better.
Use a damp rag to brush off any remaining dust from your door. This will create a clean surface for your primer and paint.
Step 5: Prime your door
Use an exterior primer to prepare your door for painting. The primer will ensure your front door paint color maintains its integrity and help your paint last longer. Start on one side of the door and use an angled brush to prime raised edges, recesses, and tight corners. Use a small roller brush to prime the remaining flat door panels. Once your primer is dry, flip the door over and repeat on the other side.
Step 6: Paint your door
Now for the fun part! Use a painter's stir stick to stir your paint, then pour it into a painter's tray. Using an angled brush, first paint any raised and recessed edges and tight corners. Then use your roller to coat the remaining flat panels. Don't worry about any streaks for the first coat—your second (and potential third) coat will smooth these out. Once the paint is no longer tacky to the touch, you can flip the door over and repeat these painting steps on the other side.
Repeat this process for a second and possibly a third, time depending on the color saturation you desire.
Step 7: Let your front door paint dry
It's important to let your door completely dry to avoid any smudges, scratches, or nicks in your new front door paint. Your door is dry when the paint is no longer tacky to the touch.
Some of the best times to paint a front door are when you know rain will not be in the forecast for at least 48 hours. If you're painting during a dry summer month, aim to paint early in the morning or late in the afternoon. This will ensure your paint doesn't dry too quickly, which can leave an uneven surface.
Step 8: Reattach your door or remove painter's tape
Now that your front door paint is dry, it's time to see how your finished product looks! Carefully reattach your door and remove any painter's tape. Polish your door handle and hardware with hardware polish and a rag.
Now that your project is complete stand back and take in the finished product. A new paint color may also be an opportunity to update any accessories around your door to match your new look.
Products and tools you'll need to paint a front door
Don't want to use chemicals? Here's how to paint a front door naturally
Different types of paint can contain different chemicals. Combine that with the variability of people, environments, and situations, and a wide range of reactions to these chemicals is possible. It's hard to know how the paint you choose could impact your health. But if you'd rather err on the safe side, there is a natural alternative you can take.
Here's how to paint a front door naturally: Look for primer and paint that are non-toxic and say "No-VOC" or "zero VOC." VOC stands for volatile organic compounds. VOCs can be found in many common paint products, and the gasses they emit may have short- or long-term health consequences.
Using No-VOC, zero VOC, and non-toxic primer and paint products will ensure you reduce your potential risk to harmful chemical exposure in your home.
The bottom line on how to paint your front door
8 easy steps and a fresh coat of paint can totally transform your house. Whether your home's exterior is looking dull and dated, or you want a fresh new spin on the entrance to your home, painting your front door is a simple, cost-effective solution. With easy-to-obtain supplies and a steady hand, you can breathe new life into your living space before the weekend's over. The key to a successful front door repainting? Paying careful attention to the steps outlined above, and above all: patience between drying coats!
Frequently asked questions
How do I know if my door paint is dry? 
A front door painted in mild weather will dry to the touch within 4–6 hours. When you touch the paint, it will no longer feel tacky. Do not shut or close the door before it has at least 8 hours of dry time.
How do I ensure I don't get brushstrokes in my paint?
Start by properly sanding your door and wiping it free of any dust or debris. Use a high-quality paintbrush and lay your door flat while painting to avoid dripping.
How can I remove painter's tape without peeling paint off?
First, allow the paint to totally dry. Then, use a razor blade to run along the edge of your door. Next, lay the blade flat beneath the tape and gently pull it back from the door.
---