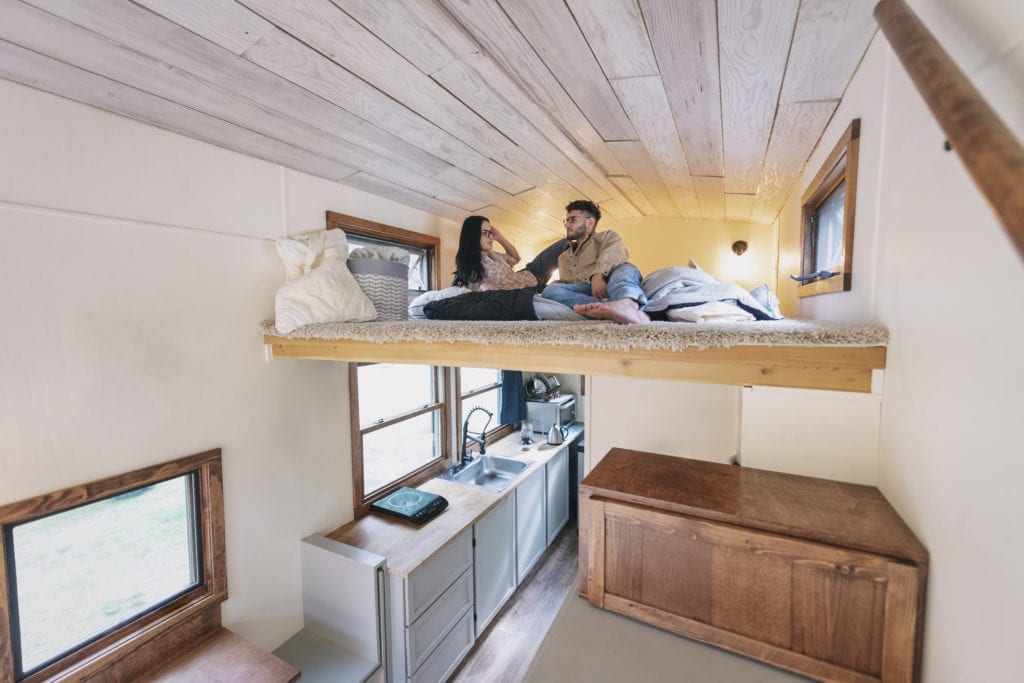 Tiny houses have catapulted to the forefront of housing trends over the past 10 years — look no further than shows like "Tiny House, Big Living." They show the uncomplicated, inexpensive advantages of living in a home that's only 100 to 400 square feet.

More than half of Americans say they would consider living in a home that's less than 600 square feet, according to a survey by the National Association of Home Builders. And 63% of millennials said they would adopt a tiny home lifestyle.

You may be ready to zip to the forefront of this minimalist lifestyle, especially when considering your budget and thinking about how much house you can really afford.

But before you start "living tiny," learn as much as you can about what preparation, work, and upkeep of a tiny home look like. Follow our guide and learn from real people who own tiny homes as you plan your tiny home move.
In this article
Financial implications of moving into a tiny home
Adopting the tiny house lifestyle doesn't just involve building the house itself. You'll have to consider factors like where you'll put the home and how you'll move it — are you going across town or across the country?
Here's a breakdown of costs you can expect whether you tackle the whole project yourself or hire a builder.
Costs
The cost to build a tiny house depends on the details of the structure itself. Costs also fluctuate based on whether you want to build your tiny house yourself or hire a professional.
According to The Tiny Life blog, the average tiny house costs between $10,000 and $30,000 to build yourself. The cost goes up significantly if you choose to have a professional build it for you, and can range from $60,000 to $75,000.
You can also buy tiny home building kits on Amazon — many are priced under $20,000. For example, you can buy the Allwood Ranger Cabin Kit for $19,900.
The Tiny Life offers a breakdown of costs on its website for the average tiny house build if you build your home yourself. Here are a few main costs you need to budget for:
Tiny house shell: Cost can depend on the size of the structure. Approximately $17,000 (12-foot structure) to $37,000 (28-foot structure)

Land: Cost per acre depends on the state you live in. Wyoming is the cheapest, at about $1,500/acre. New Jersey is the most expensive, at about $196,400/acre

Interior finishes: About $500 to $4,000, depending on the details of your tiny home

Windows: About $500 to $6,000, with prices ranging based on the required customizations

Appliances: About $400 to $4,000, depending on what you need and the details of your home

Electrical: About $750 to $3,000
In addition to the costs above, you need to consider bathroom features (like a shower, sink, and a toilet), decorative additions (like fixtures, paint, and flooring), and other home must-haves (like insulation and a water heater). You also should budget for recurring costs, like utilities and a mortgage.
Altogether, if you build it yourself, this project could cost between $25,000 to $35,000 for a 200 square-foot home, and between $30,000 and $50,000 for a slightly larger one. That cost can increase significantly if you hire a builder, as you'd be paying more for labor.
How to finance your tiny house
You may not have the money to support the upfront costs of building your tiny home, so you're going to need to get a loan. You can tap into a few options: a mortgage, an RV loan, or even a personal loan. Here are the pros and cons of each:
Mortgages
There's no good way to get a traditional mortgage for a tiny house. In fact, most financial institutions will not lend money for a tiny house, for several reasons:
It's not easy to appraise the home and property.

Tiny homes are often on wheels (and you're not supposed to be able to drive your home wherever you want when you have a mortgage).

They're not attractive to banks or other financial institutions, as most will only consider a mortgage where they can lend around $50,000.
You may be able to look into a chattel mortgage, a type of financing available to purchase a manufactured home that's not permanently attached to the land.
Chattel mortgages offer a shorter repayment term because the loan amount is much smaller than usual. It's important to note that you might end up with a slightly higher interest rate with a chattel mortgage.
RV loan
It can be tricky to get an RV loan for your tiny house because they're traditionally for recreational vehicles (RV). It's possible to make it happen, though.
In order to meet the loan requirements, your home must be on wheels and needs to be certified by an organization like the Recreational Vehicle Industry Association, according to U.S. News and World Report.
RV loans work much like car loans. Most RV loans are secured loans, which means you put the tiny house up as collateral. Your financial institution can take possession of your tiny house if you stop making payments on your loan.
Interest rates for RV loans are usually lower compared to personal loans. Loan repayment can be for up to 15 years.
Personal loan
Personal loans are fixed-interest loans distributed as a lump sum that you can take out to use for any reason — including a tiny house. They're usually unsecured, which means the loan is issued based on your creditworthiness. They're not backed by collateral, so you have more freedom as to how you use the loan.
A personal loan could be a great option because your tiny home will not be taken away if, for some reason, you fail to repay the loan.
Personal loans often have a higher interest rate than other types of loans. They're largely determined by your credit score, your payment history, and your annual income.
It's a good idea to compare rates from different lenders so you can make sure you're getting the best rate. Check out banks, credit unions, or other financial institutions for personal loans.
What to consider when moving into a tiny home
Before you build and move into your tiny house, consider the home's resale value. Even though tiny homes are currently trendy, they still play by the same rules as traditional homes: The more of a niche the home, the fewer buyers there are for it. Think practically about your tiny home, as it might not appreciate the same way a traditional home might.
Tiny home design
There are hundreds of tiny house plans sprinkled all over the internet. Here are some factors to consider as you choose your design, according to The Tiny Life:
The cost of the plan

House weight and towing capacity

Trailer size (which determines the house's square footage)

The number of lofts, or the size of the loft

The roof type

Home schematics that outline how to installing pipes and wires and frame the walls

Dormers, which can add headroom to a sleeping loft

Maximum height — a tiny house must have a maximum height of 13.5 feet to tow without a permit

A list of supplies, so you know what you need to build the house

A list of expected costs associated with the design
House plans show you how a tiny house is constructed but assumes that you understand how to build something yourself. A building guide shows you a more in-depth, step-by-step process.
Decide on the right design, which will depend on whether you're building your tiny home for just yourself or your entire family. Considering every member of your household will help you determine the size and features you will need.
Here are a few design options based on family size and design requirements:
For single individuals:
These tiny homes are the tiniest. They're best for single individuals because of their small living areas and bedrooms.
For couples:
These tiny homes feature larger, more spacious features, such as a larger loft, more closet space, and functional living areas.
For families with children:
If you've got kids, you're going to need more space, whether you include another bedroom, closets, or more living space.
For empty nesters and retirees:
You may not want to climb all over your house to reach things when you're a retiree — that's why it's a good idea to make sure you have ample room. Stick to larger tiny house plans to give you more space to move:
For builders on a budget:
You're probably already budget-minded if you're into tiny living — but if you want to save even more, consider these plans:
You can also check tinyhouselistings.com to find tiny houses for sale based on price.
Appliances
Furniture and appliance choices for a tiny house can be difficult because everything needs to be compact and fit together like a jigsaw puzzle.
When choosing appliances, here are some factors you may want to consider:
Your budget: How much are you willing to spend?

Your layout: Will you need stackable appliances or ones that fit into cabinets easily?

Your power source: Are you planning to live fully off-grid or want a fully on-grid home? In other words, will you connect to a city or town power line or use solar power instead? You may have higher power needs, and that can be tricky. Thirty-amp and 50-amp tiny houses have different electrical capacities, and the number of appliances you can run will vary.

Your environmental impact: Are you looking to shrink your ecological footprint? If so, you should consider Energy-star certified appliances that are water and energy-efficient.
Tiny houses need tiny appliances. You may not be able to move a full-size refrigerator into your small space. Here are some smaller versions of the appliances you will need:
Utilities
Tiny homes can offer you flexibility for electricity, water, or sewer. But first, you'll need to answer one main question: Will you be stationary or mobile? You can hook up to regular utilities if you're stationary, and if you're in the vicinity of another house (your tiny home may be in the backyard), you can keep everything connected to the main house.
On the other hand, if your tiny home is mobile, you may have utility hookups similar to an RV.
Utilities can cost more than you'd expect because tiny houses require specialized appliances, according to Business Insider. These appliances need to be energy-efficient and compact — factors that can add up.
If you live on your own land, you'll be responsible for:
Water

Sewage/septic

Gas

Electricity

Garbage

Internet
Some tiny house communities include utilities like garbage, electricity, and water in their fees. These communities are permanent locations for tiny houses, so owners don't have to deal with zoning restrictions or worry about private and public land-use laws.
Depending on where you live and what utilities you need to pay for, they can range from $50 to $300 each month.
Changing your address
Do you need a post office box, or do you get a real mailbox? If you plan to move into a mobile tiny home, you might want to get a P.O. box, and if you move into a tiny home that has a permanent foundation, you might consider getting a real mailbox.
If you're moving and planning on staying in a fixed location, you can change your address easily online with the USPS®. We recommend making this change online two weeks before you move, to give the change-of-address form time to process.
On the other hand, you might plan to move around constantly — and may want to consider an online mailbox, like Traveling Mailbox. It costs $15/mo. for a basic plan, and you'll need to complete the USPS® Form 1583. As your mail arrives, Traveling Mailbox scans the front of the envelope, and you tell the company whether or not to open it. The company will then scan your mail in full color and send it to you.
Decluttering and downsizing
It goes without saying that you'll need to declutter and downsize in order to fit all your stuff in a tiny house — particularly if you're moving from a regular-sized home.
"A small space tends to get messy really fast, so remember less really is more!" says tiny house owner Kelsey McCullough. "Do you really need 10 pairs of jeans, or is four enough?"
McCullough says getting rid of the clutter in her life is "really freeing."
"I no longer find myself buying frivolous things that I don't need," she says, "So my bank account appreciates it too."
Decluttering and downsizing can make your inner Marie Kondo so happy. Here are some tips for inspiration:
Start slow: Rome wasn't built in a day, either. Five to 10 minutes of going through your stuff should do the trick.

Fill up trash bags for donation: Put out a set number of trash bags. Then, pile clothes, toys, knick-knacks — any extra things that you don't need — into those bags, and don't stop until you've filled them all. Anything that you don't use regularly might be able to benefit someone else if you donate it.

Get help from a friend: Have a friend or family member help you declutter. You might think you have a great reason for keeping an item, but your friend might completely disagree. If so, chuck it.

Fill up four boxes every time you pack: Label each box "trash," "give away," "keep," or "relocate." Put every item in your house in one of these four types of boxes and get a new set of four boxes every time you fill up the last four.
License and registration – especially if you're tiny home is mobile
Zoning ordinances and building codes can be a challenge for tiny house owners — especially for those on wheels. The only legal place a mobile tiny home can stay is at an RV park — and these costs aren't sustainable. Staying in mom and dad's back yard can't be a forever thing, either.
Rules and regulations for tiny homes are evolving. Here's what you need to know:
Many municipalities are now open to accessory dwelling units (ADUs). This is when a tiny home is added to a property where a conventional house exists. ADUs are only allowed in certain states — and those states also tend to allow tiny house communities.

The International Residential Code (IRC) establishes specific guidelines for tiny houses. Check these out before you move into or build your tiny home.

A few communities welcome tiny houses, and some states are more tiny house-friendly than others. Those states include California, Colorado, Florida, Massachusetts, Michigan, New York, Oregon, and Texas.

You can still apply for a variance through the local planning commission to build outside the existing codes.

If your small house has wheels, it may fall under the recreational vehicle code. Some local laws don't allow people to take up permanent residence in RVs, Realtor.com reports.
Be sure you're following your state laws for registering your home if your tiny home has a permanent location. Check out the American Tiny House Association for more information on codes and zoning.
Stories from tiny house movers
It's one thing to read a guide — then there's the sage advice you'll get from real people who live in tiny houses. Here's exactly what you need to know before you "go tiny," from those who have been there, done that.
Kelsey McCullough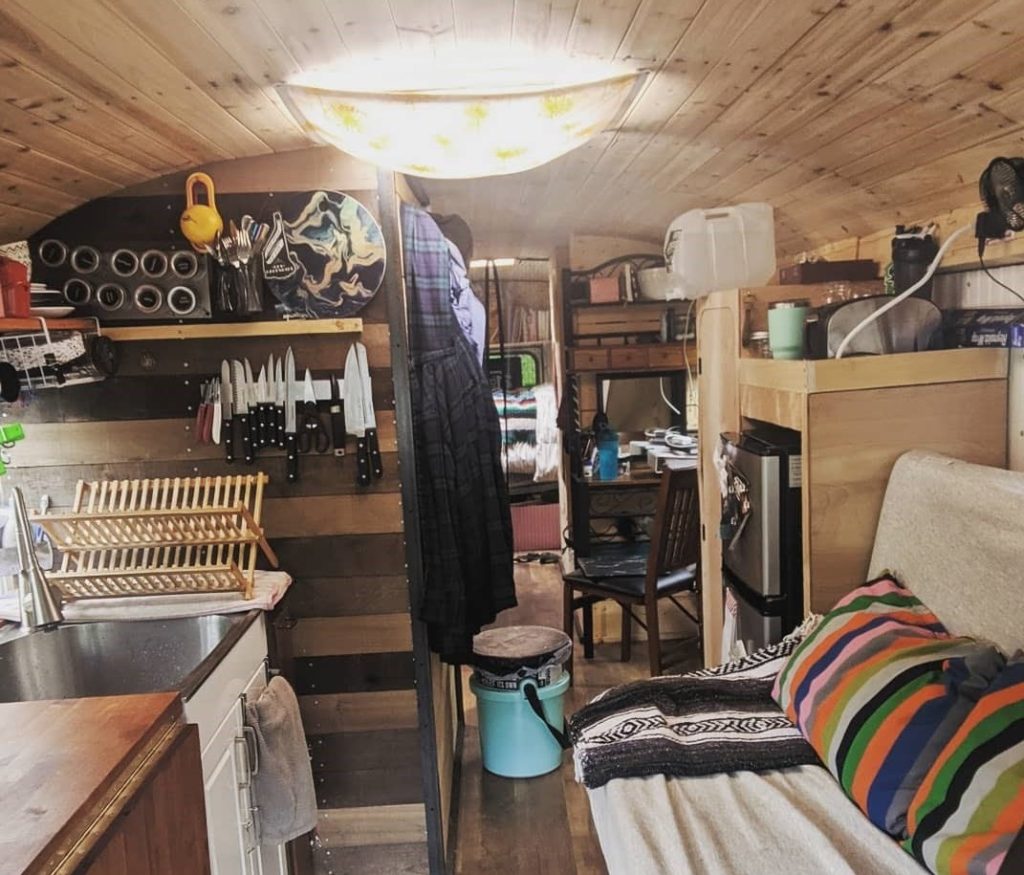 Kelsey McCullough, originally from New Hampshire, currently lives in Canyon Lake, Texas. She and her boyfriend (along with their dog) have been living in her tiny house for nine months.
What she wishes she knew before she moved in:
"I live in a converted school bus aptly named the 'Struggle Bus,' as we faced many bumps along the way. My boyfriend and I joke that we learned along the way how not to build a tiny house! But all kidding aside, we have created something we are both very proud of and comfortable in.
"So we made the decision to 'go tiny' mostly for financial reasons. We were sick of feeling like we were throwing away our money on rent and wanted to own what we lived in. Our next challenge was realizing we are not sure where we want to live, so it was important that our home could come with us!"
To learn more about Kelsey's story, visit her website.
Max Blackman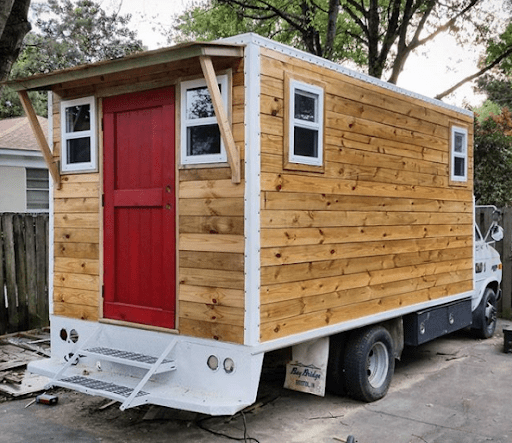 Max Blackman has lived in his tiny house for three years (that includes the time he spent building it!) and lives in Charleston, South Carolina.
Max's moving story: 
"I was living in a warehouse that I was leasing for my business. I saw this 1989 Chevy Van30 box truck on Craigslist and decided it was time to make myself a comfortable little home. I ripped the box off the back of the truck and built it into a nice little apartment. It took me about eight months to complete, between working at night and running a business. I poured a lot of time into it and learned a lot. When I finally finished, I moved my clothes, music equipment, cooking stuff, books, and myself in and lived in it for two years very comfortably.
"I purchased the van for $1,000, and the rest cost me about $2,000. I was also handy with scavenging building materials from various places that were throwing them out. I lived in the thing for two years, so if you're looking at it in terms of rent, you could say I spent $125/mo. I ended up putting about $26,000 into savings over those two years and bought a house.
"When I moved out of my tiny house, I traded it away to someone for the car that I currently drive. It's been nothing but a financial boom to have built and lived in 'Squad 1.' My girlfriend and I are currently working on building another tiny house in a 1991 Bluebird short bus to travel around in and live in."
Tara Skubella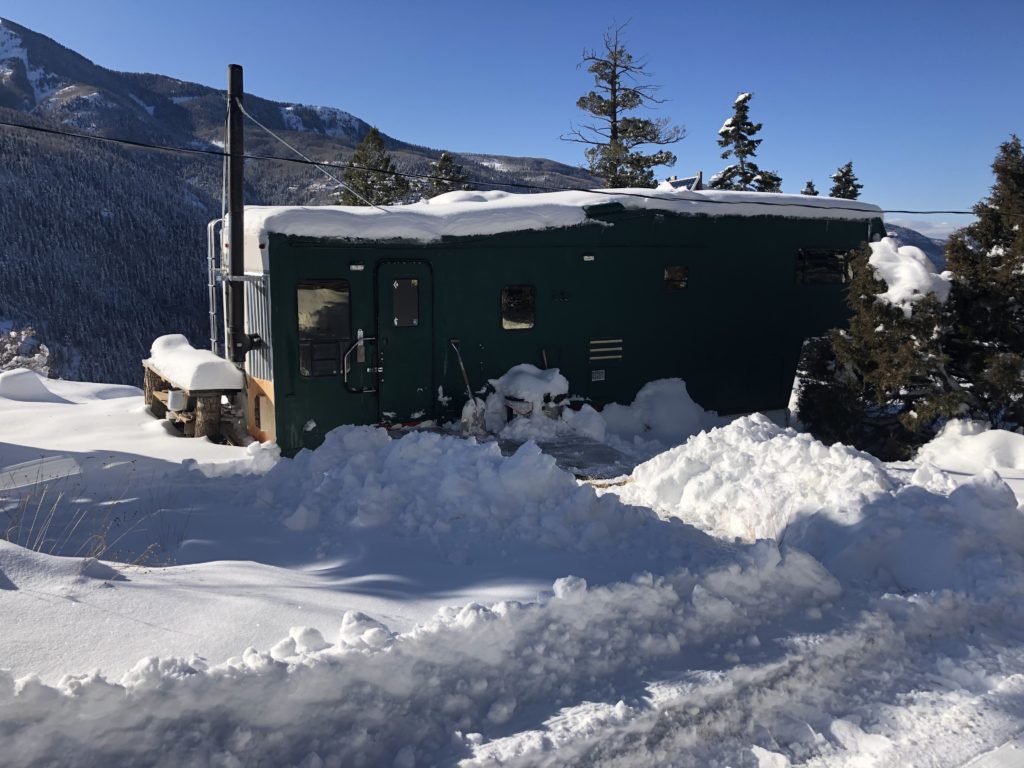 Tara Skubella and her partner have lived nearly off-grid on 1,800 acres in the high mountains of Ouray, Colorado, for four years.
Tara's advice for someone moving from a traditional home into a tiny home: 
"Less is more, for sure! I'm kind of a minimalist anyway, so it was easy for me to release things. When I made a transition from a traditional house to a tiny house, there was a divorce involved, so it was an emotional cleansing, so it was easy for me. It forces you to lose your insecurities and attachment to things. You really have to change your mindset from what you leave to what you desire. The stories you attach to things create this place of breaking out of your shell and personal growth. It's a time for expanding your personal growth as well and pushing those boundaries, and it does get easier."
To learn more about Tara's story, visit her website.
The bottom line
Whether you're set and settled on building or moving into your own tiny home, or you're just in the early stages of considering it, there are a lot of pros and cons to take into consideration. But take to heart that with research, planning, and tips from other tiny house veterans, you can make your minimalist dreams come true.