With the recent global pandemic, everything in our daily lives has changed. There has been a drastic change in how we conduct our business, as now a lot of it is conducted virtually.
As we get back to how things once were, there were some challenging aspects that businesses needed to overcome.
Brick and mortar stores that predominantly operated offline had to shift and go online (or mostly online). For some businesses, this was their first experience of the digital world, whilst others that had existing ecommerce sites saw their businesses increasing.
The transition from being an offline business to going online certainly presents a whole host of challenges. You'll need to communicate those changes to your customers if you already haven't.
We're going to cover some ways to make sure your online presence reflects the changes in your offline business. We'll also cover some tips for adjusting and reshaping your advertising and marketing to serve your new business model during unprecedented times.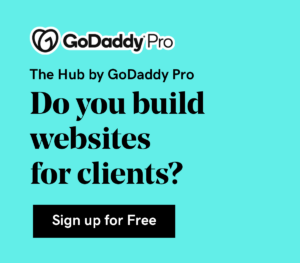 Update your key online listings
Odds are the hours you're open and the services you're providing are somewhat different than before. So, it's crucial that when a customer searches for your business, they see those changes in all your online listings and don't have to call to confirm your hours or services — or, worse, go to a competitor that's made things clearer.
If your business is open or has modified operations, you need to make sure your customers can easily find out, otherwise, they may assume you're closed.
Three main areas that you should focus on and update immediately are:  Google My Business, Facebook, and your own website.
Google My Business
We'll assume you have Google My Business account set up already to display the fundamental information about your business (location, website, hours, etc.) when your business pops up in Google searches. (If not, you should set that up first.)
Google is one of the top ways your customers will look for your updated hours and services—while not everyone uses Facebook, Yelp, Instagram, and the like, pretty much everyone except maybe the founder of Bing and their immediate family uses Google—so it's crucial to get your changes posted there. Do this as soon as possible (like right now).
The things you should update are:
Hours. Or, if your physical location is still completely closed, mark your business as "Temporarily closed."
Services. If the nature of your services has changed, add attributes to your profile like "delivery" or "pick-up."
Posts. Post a brief update that tells your customers about your changes. That serves the dual purpose of sharing the information and signaling to your customers that you're still actively working on day-to-day operations.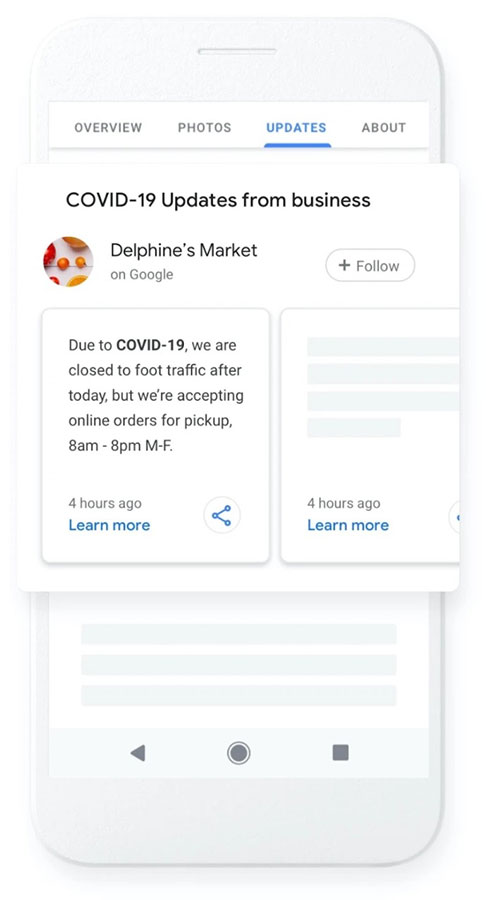 Facebook
Update your business's Facebook page to reflect the changes in your hours and services as well. (Facebook has set up a "Temporary service changes" section to help guide you through the process, which you can find at Page settings > Page info > Temporary service changes.)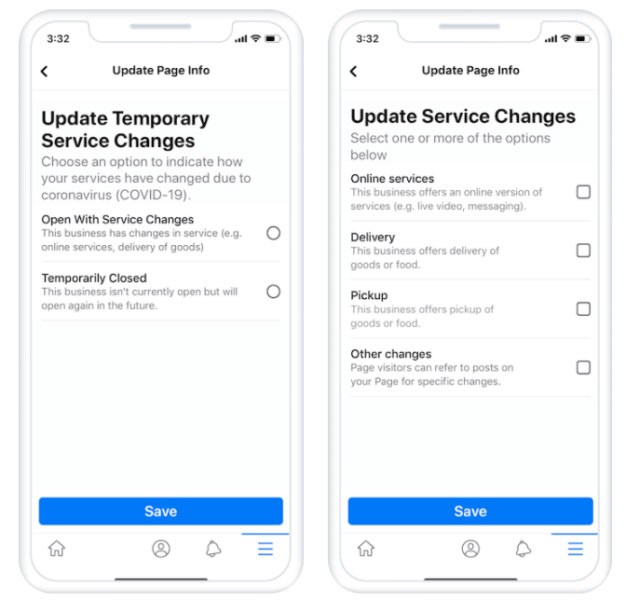 Via: Marketing Land.
You may also want to write a short post about the changes to your business, and pin it at the top of your timeline.
This could also be a good time to post a little more frequently on Facebook—as it's still seeing skyrocketing usage. To that end, try to respond quickly to customers who ask questions on Facebook right now as a means of reassuring them that the quality of the service you provide hasn't changed.
Your own website
Even if customers are most likely to look for information about your business on Google or social media, it's important to update the channels you fully own and control as well. (That includes things like your website, your emails, your store's voicemail message, and even the signage in your windows.)
After all, if someone sees your new hours on Google but the old hours on your website, it can create confusion.
So, make sure to update your own website, and all of your owned channels, with your new hours and any changes to the services you provide.
Other places to update
How do people find your business? If you get a lot of customers from Yelp, update your listing there. Likewise with other social media, if you have a popular Instagram account or Twitter feed, note your business's changes in your bio. Craigslist? The online Yellow Pages? Local business directories? Keep customers updated on your business's situation wherever you know they search for you.
Optimize your website for local SEO
Search engine optimization is an $80 billion industry—so, obviously, we're not going to be able to sum it up completely in a handful of bullet points. However, there are some relatively quick measures you can take to improve your local SEO that can potentially increase your business both now and in the future. And hey, this is a great project to take on to increase your business exposure.
Optimize your Google My Business listing
Google has a 92 percent market share for search, so search engine optimization and Google optimization are basically overlapping circles in a Venn diagram. And when it comes to optimizing for local search on Google, the most important factor is your Google My Business listing.
Some of the most important things you should examine in your profile are:
Your service area. Google wants to provide the best possible search results. So, when someone is looking for a specific type of business in their area, Google obviously aims to show businesses match both the type and the geographic area. If you provide too wide of a geographic service area, that can lead to fewer people who see your listing clicking through or engaging with it—and that, in turn, can signal to Google that other local competitors might be better. So, make sure the area you say you cover truly matches the area you cover.
Primary category and categories. Make sure your primary category is the best fit for your business—but also use additional categories that hit on the smaller aspects of what you do. For instance, if you run a restaurant that's continuing selling groceries and produce boxes, add the "grocery store" and/or "grocery delivery service" categories.
Products. You may, depending on your primary category, have the option to manually add the products you sell to your listing. Take advantage of that feature if it's available, as it can help customers find you when they search for those products.
Attributes. Take the time to add attributes for your business, like what you're popular for and what you offer.
Photos. While photos won't help your search rankings, they will help you convert when someone finds your profile. Google has found that businesses with photos get 35 percent more clicks through to their websites than businesses without.
Posts. Add posts about what you sell, share images, and offer deals. Posts expire in seven days, so keep them updated and timely. Use keywords in those posts that you think people would use when searching for your business.
Ask for reviews. Reviews are one of the top contributors to a Google My Business listing popping up in more searches. Encourage your best customers to leave you honest reviews and it will help you show up in search results more often.
Focus on your SiLs ("Service in Locations")
The main way people search for a local business is a combination of the city and the service. For example, if you live in Los Angeles, California and want to search for a builder on Google, you'd probably type in "Builder in Los Angeles" or "Los Angeles builder."
Those search phrases are referred to as SiLs, which stands for service in location. You should make a list of the different ways people might search for your business using the SiLs format (e.g., "builder in Los Angeles," "reliable builder in Los Angeles," "Los Angeles best builder.")
Once you've decided which SiLs to target, the next step is making sure your site comes up when people make those searches. This process gets into traditional SEO work (backlinks, relevant content, and so on)—but a few of the most important things you can do include:
Setting up specific URLs. If you serve multiple areas, set up landing pages on your site with your services, and tailor the URLs to those areas.
Create local resource content. Put up a blog post about "Quick at home building fixes." Give some tips and focus them locally (e.g., talk about what happens when you don't use the right screws on a wall fixture).
Try to get some quick backlinks. Contact other local businesses and offer to do a link swap. Have them link to your business using your key SiL as the text of the link; you'll want the link to be builder in Los Angeles, not Jack's Building Services. You can also give a few plugs to other local businesses in your content, as that can generate goodwill—and maybe even get them linking to your content.
Make sure your Apple Maps listing is optimized
Apple Maps may not be the mapping app most people use regularly—Google Maps has a dominant market share—but Apple Maps is the mapping app that tons of people inadvertently use regularly. Whenever someone does a Siri or Spotlight search for a local business on an iOS device, they get the results in Apple Maps. The iPhone has a 33 percent market share in the U.S.—so that's a lot of people on-the-go getting their local search results on Apple Maps.
You can add your business to Apple Maps or work on your profile at Apple Maps Connect. Make sure you've updated your current hours and services. Much like with your Google My Business account, confirm your business's location and make sure your primary category is accurate. The changes should appear in about a week.
Plan your marketing strategically and appropriately
It's difficult to market in a "business as usual" way with how the current situation is despite most businesses reopened. The overwhelming majority of companies have changed their marketing based on the pandemic. Here are some of the approaches you can take.
Demonstrate how your business fills an immediate need
People are, by and large, spending money on things for the present. As a result, your marketing strategy should focus on whatever you're selling fills an immediate need in your customers' lives. That doesn't mean you need to pivot from being a florist to manufacturing masks or gloves. What it does mean is you need to position your products properly. (A florist, for example, can promote how much nicer flowers make a house look, smell, and feel).
As you'll see from this list of immediate needs, almost everything can be considered an immediate need if you frame it correctly:
Life staples. Food, both essential food and morale-boosting, splurges and treats. Medical supplies, protective equipment, toiletries, clothing basics.
Keeping the kids occupied.  Activities, indoor playgrounds, puzzles, books, toys, educational toys.
Working from home. Computer equipment and upgrades, home office products, standing desks, lamps, sweatpants.
Entertainment and escape. Media, activities, video game products, home theater upgrades. This can even include things like jewelry or other luxury goods with the right marketing spin targeted at the right segment of customers.
Home improvement. Tools, DIY projects, plants, gardening products, mattresses, paint, lighting.
Comfort. Clothes, furniture, linens, massagers.
Self-improvement. Home fitness, online courses, meditation products, vitamins and supplements, skin care products, musical instruments.
If there's truly no way to frame what you sell as something essential or quasi-essential right now, focus on your brand and values instead. Position your marketing around what your brand is doing right now to try to pitch in, your continued commitment to and involvement in the local community, and what you'll be doing for people once we're on the other side of all this.
Keep the focus local
Your local customers are used to being able to go to your business to get what they need. That may not be the case anymore. It's up to you to let your customers, and the people in the communities you serve, know about the changes to your business and what you can and can't provide right now.
While many of the steps we detailed earlier in this article will help, like updating your Google presence, social media, and website, we also recommend spreading the message in other ways.
If you have an email list, use it to keep your customers updated and to promote any offers you're running right now.
If you have room in the budget, you could also see strong results by advertising locally right now. Use location-based filters on social media to target the right customers in your area to keep them apprised on what you're selling.
Make sure you emphasize things people care about right now in your marketing like are you still doing no-contact deliveries and pickups, how you're keeping your customers and employees safe, and your role in the community and local ecosystem. People want to support local businesses—so when you provide excellent products and services and genuinely demonstrate how your values match your customers' and communities' values, that makes it easy for someone to make the decision to shop with you.
Use empathy
It's important to find the right tone with your marketing campaigns. Promotions that have a "used car sales" tone—too sales-y, too aggressive, too disingenuous, too untrustworthy—feel especially disconnected from reality or the general mood of consumers.
Marketing right now needs to walk a fine line. There needs to be a sense of empathy and sympathizing with your customers and the ever-changing situations.
Here are two good rules-of-thumb to follow with your marketing right now.
One, try to market toward the greater good—position your products to help people, show empathy, and demonstrate caring about your customers, community, and the entire world. Remember to keep the focus on your customers and how your business is serving their immediate needs right now.
And two, whenever you post something on social media or send an email, think of how it would look right next to very bad news. Avoid making light of situations. Keep perspective—you wouldn't want to say anything that might offend or create a bad name with your brand.
Key takeaways
In a world of ever-changing situations and social distancing, many offline businesses are now or still leaning their online presence both for sales and to keep customers informed.
It's important to update your online listings with your new hours and services so your customers know exactly what you're providing and when and how they can get it.
Google My Business. Make sure to update the crucial information in your Google My Business listing and add a post with a brief update on your changes.
Facebook. Update your business's Facebook page and post frequently to let your customers know you're available for them.
Your own website. Don't neglect your own website. Make sure it reflects your new hours, services, and business info as well.
Other listings. If you get customers from Yelp, Craigslist, other social media sites, or anywhere else online, make sure to update your profile there too.
This is also a good time to refocus on your local search engine optimization, which can pay off in both the short term and long term.
Optimize your Google listing. Focus on your business categories, products, attributes, and posts.
Figure out your SiLs. Lots of people will discover your business by searching for "service in location." Determine the most common SiLs people will use to find you and take steps to improve your search engine rankings for those terms.
Optimize your Apple Maps listing. Siri and Spotlight searches utilize Apple Maps—and the iPhone has a large market share. Make sure everything in your profile on Apple Maps is complete and accurate to show up in more results.
Finally, tweak your marketing to match what people need right now and how to retain them.
Demonstrate how you fill an immediate need. Frame your marketing around how your products or services can fill one of the most pressing needs in your customers' lives.
Keep the focus local. Advertise locally, emphasize socially conscious processes like continuing no-contact deliveries and try to team up with other area businesses for joint sales.
Use empathy. Stay within your brand's voice as channel the empathy needed for this moment—without crossing over the fine line into being too depressing or opinionated.
One last piece of advice: Be sure to keep track of all the things you update, so you can switch them back or alter them as necessary when circumstances change with the world we are in today.