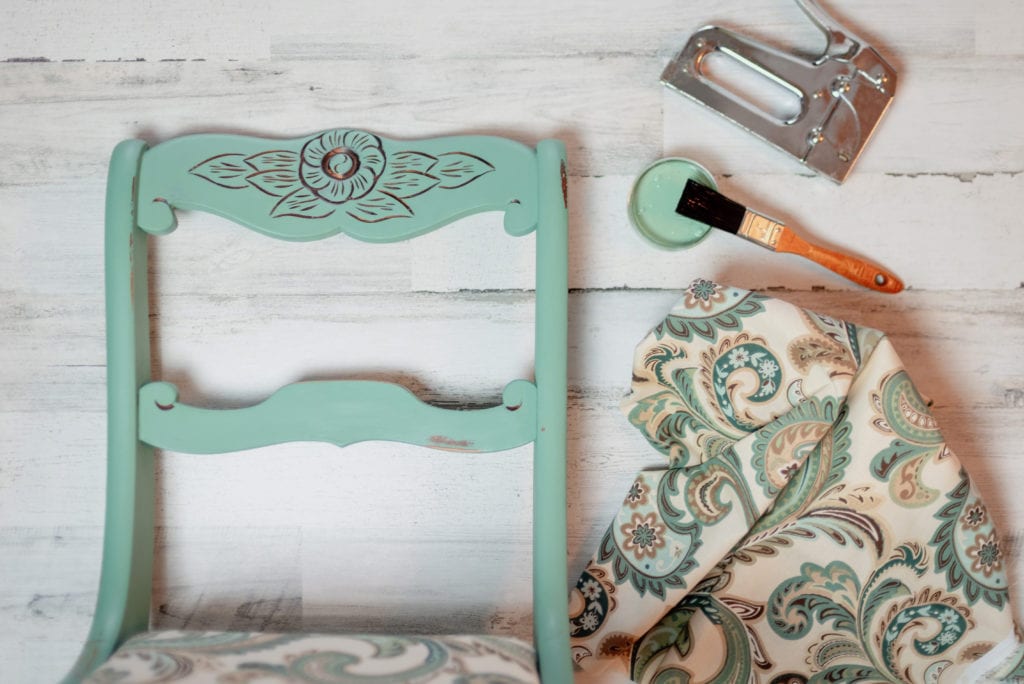 If you've Pinterest-binged lately, chances are you've come across rooms and furniture revamped with chalk paint. Creating a distressed and rustic look with chalk paint is one of the hot interior decorating trends of the moment.

DIY interior designers enjoy the versatility and simplicity of chalk paint, which adheres to practically any surface and requires minimal prep. Chalk paint spruces up old furniture and transforms walls without taking up a lot of time (and money).

Want to learn how to transform your space on a budget? Here's everything you need to know about how to make and use chalk paint.
What is chalk paint? 
It's a type of paint that can be applied to various surfaces to give your furniture or walls a chalky, rustic, and antique vibe. It's popular among DIY decorators because it requires minimal preparation and is easy to apply.
The original chalk paint product was trademarked by Annie Sloan in 1990, but other brands have since imitated its formula. Chalk paint adheres to many surfaces such as wood, glass, brick, ceramic, enamel, metal, and more. Its high versatility makes chalk paint the perfect way to refresh the appearance of furniture and other interior decorating elements like mirror frames, shelves, and backsplashes.
How to make chalk paint 
While it's easy to find high-quality chalk paint in the store, learning to create your own DIY chalk paint makes your project even more budget-friendly. There are quite a few variations of recipes available, but it's essentially a hybrid of latex paint, water, and a "chalky" substance like Plaster of Paris, baking soda, or unsanded grout. Here is how to make chalk paint on your own.
Chalk paint recipe
To make your own chalk paint, first gather these ingredients:
This simple chalk paint recipe is ready in minutes. First, blend the water with the Plaster of Paris until smooth. Then, stir in the latex paint until well-blended.
The amount of paint you'll need depends on the scope of your project. Follow the ratios above if you need more paint for a bigger project. This DIY chalk paint should be used immediately and not stored for later.
If you don't want to make chalk paint yourself, here are some great store-bought options 
Buying chalk paint in the store can save you time if you don't feel like making it yourself. While Annie Sloan has trademarked the original Chalk Paint®, there are several brands that have come out with comparable products. Each brand has a unique recipe that can create a smooth or rustic finish.
The best chalk paint to buy
Behr: This brand offers traditional style chalk paint, a decorative wax finish, and chalk decorative aerosol paint. Each can of Behr chalk paint covers up to 150 square feet and costs around $20/quart. The wax finish comes in clear, white, or dark, while the aerosol version costs $15 for an 8 oz can. Many users like the speed and convenience of the spray can, which gets an average rating of 4.8 out of 5 stars.

Magnolia Home: Joanna Gaines' chalk-style paint line offers 19 colors of paint and a light and dark wax finish. Each quart of paint costs $32 at most retailers. The value of this paint is comparable to the prices of Annie Sloan chalk paint, and many customers give the product high ratings.

Country Chic: Hundreds of customers have given this brand's Chalk Style All-In-One paint a 5-star rating. It has a clay base for secure adhesion and a built-in primer and topcoat. A quart of this product costs around $32.
Where to buy chalk paint
You can buy chalk paint at practically any home improvement store like Lowe's, Home Depot, and True Value. There are also many online stores that carry reputable brands of chalk paint, or you can buy the product directly from the manufacturer's website. Take your time to find the right shade, finish, and product specs that fit your unique decoration needs. If you prefer a more budget-friendly project, then learning how to make chalk paint from home can surely reduce costs.
Ideas for your next chalk paint project
Since this paint is so versatile, you can use it in many types of projects. These are just a few examples of how chalk paint can enhance the appearance of common household items.
Kitchen Cabinets: 
Painting cabinets is simple with this paint. There's no need to sand or strip the old topcoat or finish, which greatly reduces prep time.
Just clean the surfaces of the cabinets. Then, prime the cabinets with one coat of primer. After the primer is fully dry, apply two coats of chalk paint with two to four hours of dry time per coat, and 24 hours for the final coat. Then, apply your desired topcoat, allowing each layer to dry for an hour each. Finally, let the finish cure for another 24 hours before reinstalling the cabinets.
Dressers: 
You can easily transform a dresser into an accent piece with chalk paint, a project that's similar to painting cabinets. After washing the dresser and performing any optional sanding and priming, coat the dresser with at least one round of chalk paint. Allow the paint to dry for at least 24 hours before applying any finishing wax or topcoat, or leave it as-is. Depending on how you choose to paint the dresser, you can create a distressed, antique look or make a solid, opaque, and smooth effect.
Crate Bookshelf: 
Reusing crates to make a bookshelf transforms otherwise discarded items into useful furniture. Before securing the crates together into a type of cube storage, sand the interior and exteriors until smooth. Then, apply as many coats of chalk paint you want. After the final coat has dried for over 24 hours, finish them with wax. When the finish is dried, assemble the cube bookshelf with nails and fasteners.
The bottom line
Chalk paint is a highly versatile medium that achieves a rustic or smooth look with little-to-no prep work. You can find ready-made chalk paint in the store, or follow a chalk paint recipe. Knowing how to make chalk paint can help you stick to a budget when you don't want to spend extra on store-bought products.
Frequently Asked Questions 
What is chalk paint used for? 
Chalk paint is used to transform household furniture, walls, and decorations. Its unique creamy texture can achieve a distressed, antique effect, as well as a solid, opaque look, depending on how you apply it.
How do I chalk paint furniture?
You chalk paint furniture by simply applying the desired amount of paint to a clean and dry surface. Sanding and priming are optional to produce more long-lasting results.
Do you have to sand before you use chalk paint?
You do not have to sand before you use chalk paint, but it's an option if you want to create a smooth texture.
How many coats of chalk paint should you use?
Two coats of chalk paint are generally enough for most projects, but if you paint a dark piece with a light color, three coats may be necessary.
Why does chalk paint scratch off?
Chalk paint scratches off because it's meant to wipe off to create an antique effect. To prevent the paint from scratching, seal it with wax.