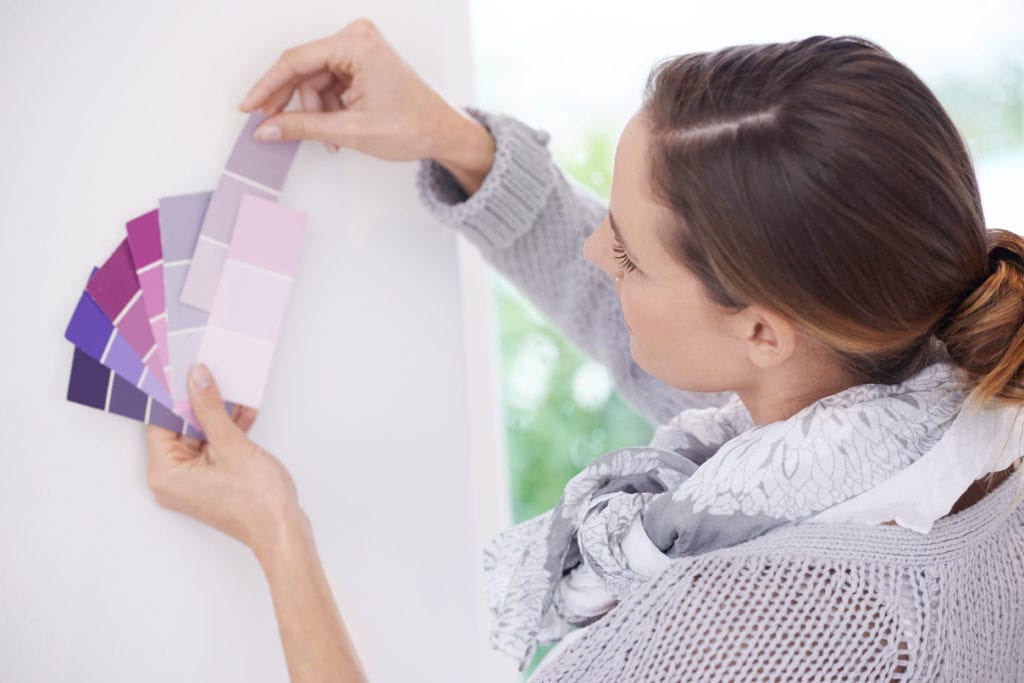 Paint matching can be a delicate business, especially if you're trying to achieve a particular look. But how to match paint? That largely depends on your temperament and the amount of time you have.

If you want to match paint with the best of them, choose one of the five methods listed below. When it comes to how to match paint on a wall, you shouldn't experiment — stick with a tried-and-tested method.
Five ways to color match paint
Although it can be a time-consuming process, color matching is not impossible. The following methods will get you as close to a color match as you can be. Read on for five ways to make paint matching easier than ever.
1. Use a color-matching app
There are paint matching apps for both iOS and Android available to help you paint match to your heart's content. The best-reviewed ones often come from some of the bigger paint companies, which is good because they're also free. By using those, you can even order your paint within the app.
The best thing about color-matching apps is how easy they are to use. You can color match paint from the comfort of your couch without ever having to leave your house. Many people use color matching apps in conjunction with other methods as a way to triangulate their color of choice. After all, if two methods recommend the same shade, then you know you've gotten pretty close.
2. Pick color swatches
The thousands of various colored notecards you see in the paint section can help you if you're patient. At your local paint store, gather up all the paint swatches you believe might be your color and head back home (don't worry, color swatches are free!). Once home, tape your swatches up on the wall and observe them throughout the day. You'll be able to narrow down your choices pretty fast.
To truly zero in on the perfect color match, observe it in different lights throughout the day, including morning, afternoon, evening, and artificial light at night. The color that looks good at all times of the day is the winner. Matching color swatches takes the longest amount of time, but is considered the most accurate. Just don't forget to also match up your new paint's glossiness level with the existing paint.
3. Cut it out
This method utilizes the spectrophotometer at your local paint store, but it involves the use of a razor.  Spectrophotometers measure colors objectively and work best when they are able to bounce light off of the actual paint you're trying to match. Lots of things can impact the shade of color when you take a picture or use your phone (such as shadows, light quality, time of day, and pixels). As with all things in life, nothing beats the real thing.
Spectrophotometers need about a square inch to work well. That's not a huge amount to cut out of your wall, but it will obviously be noticeable. If possible, use a section of your wall that will be hidden by furniture. Don't worry, once you cut it out, it's easy enough to repair— just spread a little bit of spackle over it, give it a day to harden, smooth it off it with a fine grade sandpaper, and then paint over it with your new paint.
4. Buy a color matcher
In-home color matchers work pretty well and don't involve you cutting up your wall. They usually need to be paired with smartphones and tablets and can be bought off of Amazon for about $30-$60. You just press the color matcher's sensor against the item you're trying to color match (walls, furniture, etc.), and the machine does the rest.
Color matching gadgets often come with a lot of bells and whistles on the app end, too— meaning you can usually save palettes, see complementary colors, and compare two colors you're considering side by side.
5. Take a high-definition photo
Almost all phones these days come with high definition cameras. Take a photo of the paint you're trying to match on your smartphone and then head over to your local paint store. Most professional paint stores these days have spectrophotometers, which can read colors off your phone and color match. However, technically speaking, phones tend to enhance or read colors differently than the human eye, so what you get using this method won't be as good as actually taking in a paint chip for the spectrophotometer to read.
Additionally, the glossiness of your phone's screen may also affect the spectrophotometer's effectiveness.  Only use this method if you're just looking for an approximate color match rather than true color matching.
What to do if you can't find the perfect color match
If you're struggling to color match paint, there are options that work really well to choose a complementary color for painting your wall.
Option one involves using a complementary color wheel. A color wheel goes through the entire spectrum and matches up colors with their opposites. This is a fun option for accent walls and adjacent rooms.
Option two is using a color palette. This option is similar to the color wheel, but you'll get a range of colors that mesh well with your color. Instead of having one option, you have 5 to 20. Just search for a color palette generator on the web, and you'll see a lot of options you can use.
Option three involves going neutral with a white or light gray. Although this option doesn't sound fun, using a neutral color in your home can really make other colors pop and stand out. Consider it a "less-is-more" approach.
The bottom line on paint matching
Color matching takes time and forethought. While you can always eyeball with color swatches at the paint store, honing in on a near to exact match requires plenty of time. This might involve removing a small section from an existing wall, taping swatches up on your wall, or using a well-reviewed app.
Bottom line? Don't rush. And if it's really important, use several of the methods listed above.
Frequently Asked Questions 
How big of a paint chip do I need to match?
Spectrophotometers need at least one square inch to provide reliable results. Although, more is better.
Can Lowe's match a paint color?
Yes, Lowe's can match paint colors as each store has a spectrophotometer in the paint section. This also holds true for other big-box retailers such as Home Depot and Walmart.
Can a spectrophotometer use cloth or threads?
Yes, spectrophotometers can be used with cloth or threads. The same rules still apply, however, when it comes to the size. You'll need to be able to provide a square inch of material for the machine to analyze.
How can I safely test a new paint color?
The easiest thing to do is to paint an old box with the paint, allow it time to dry, and then tape it up on the wall. Doing this can save you a lot of time because you won't have to paint an entire wall or room if the new color doesn't exactly match.
Should I start with samples?
Yes, because no technique is 100% accurate. Plus, many paint stores have strict return policies, and you may not be able to get your money back if you're unhappy with the color match.