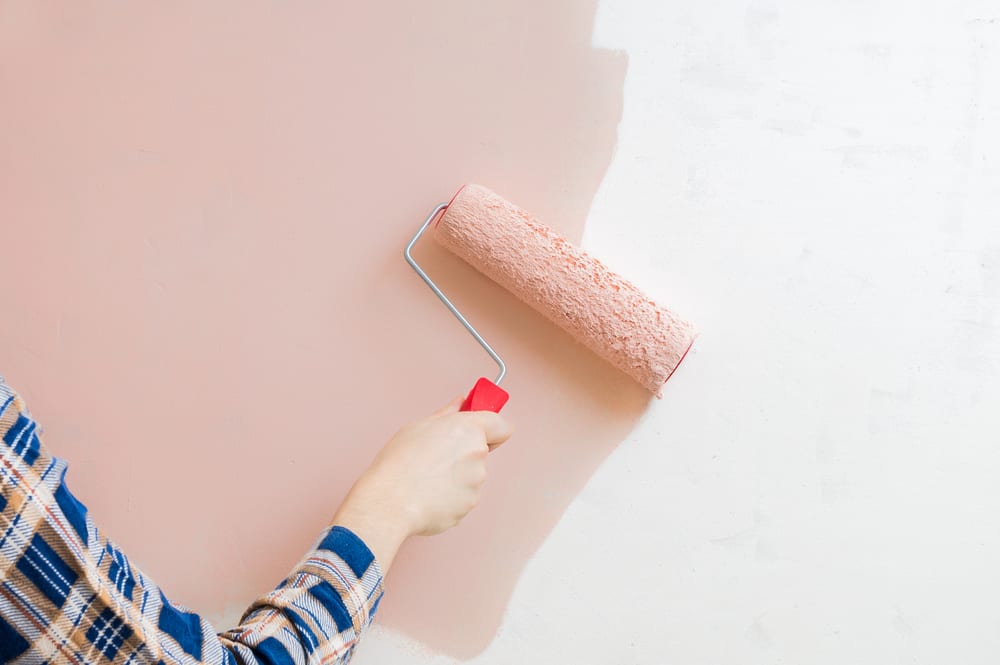 What is paint finish/paint sheen?
Paint finish or paint sheen refers to a paint's glossiness or how light reflects off the painted surface. There are many types of paint finishes, but generally speaking, the higher the paint's gloss level, the shinier the end result will appear. Some people like the aesthetic of a shinier finish (it's also more practical and "scrubbable"), while others prefer a matte finish. And if you like both, remember that different sheen types are suitable for different areas of your home.
How do I choose a paint finish?
When deciding on a paint sheen or type of paint finish, you need to consider aesthetics and practicality, which may be influenced by which room you're painting. The types of paint finishes range from matte or flat to high-gloss or shiny.
Flat (or matte) paint sheen has lower levels of resin and higher levels of pigmentation. High-gloss paints have more resin than pigment. High-gloss finishes have higher visual appeal, but they are not ideal for imperfect walls. Meanwhile, matte or flat finishes aren't ideal for areas like the bathroom because they might not stand up to the high moisture levels.
Some of the factors you should consider when choosing a paint sheen include:
Room size and lighting. For smaller rooms and not-so-well-lit rooms, you might want to choose paints with glossier finishes. This is because the light will bounce off the walls better, creating the illusion of a larger room.

The wall surface's texture. Walls with cracks or patches are best suited for flat or matte finishes.

How the room will be used. When choosing a paint sheen, you need to consider factors like how often you'll be cleaning the room, as well as how susceptible it will be to wear and tear.
Interior paint sheen types
Flat (or matte) finish
Paint with a flat or matte finish has the most pigmentation compared to other types of paint. It's low-luster and non-reflective, so it will soak up almost all of the light.
Best for:
Flat (or matte) paint sheen is ideal for areas with less foot traffic or those that will not be exposed to a lot of dirt. Flat paint sheen is also ideal for scratched or bumpy walls because it easily obscures blemishes. You can use this type of paint sheen on drywall with imperfect taping or one that is patched. You may prefer paints with matte or flat finishes in your bedroom, dining room, living room, or on your ceiling.
Our paint recommendation:
For a perfect matte finish, we recommend the Ultra Matte Paint from Rust-Oleum. This paint has a low-odor formula that dries in under thirty minutes. It is available in a wide variety of colors, including Aged Grey, Coastal Blue, and Farmhouse Red.
Eggshell finish
Paints with eggshell finishes are not shiny, but they're also not completely flat. The percentage of gloss in such paints is between 10% and 25%. This means that they are only glossy enough to make your paint job pop. Eggshell finishes are easier to clean compared to matte surfaces.
Best for:
Eggshell finishes are ideal for bedrooms, ceilings, dining areas, and living rooms that are not exposed to lots of traffic or dirt build-up.
Our paint recommendation:
Regal Select Interior Eggshell from Benjamin Moore is our top recommendation for an eggshell finish. This paint is easy to apply, and it's formulated with stain-release technology that enables you to clean the surface with minimal scrubbing.
Satin finish
Paints with a satin finish can be either acrylic- or oil-based. Oftentimes, satin paints are classified alongside eggshells due to their low luster. However, they have a higher resin level, resulting in a higher gloss. Surfaces with a satin finish are easy to clean and will provide you with the same benefits as matte or eggshell finishes.
Best for:
Satin is a good choice for bathrooms, children's bedrooms, dining rooms, laundry rooms, and kitchens. Satin is also tough enough to be used on a building's trim. You may also want a satin finish to make your kitchen or bathroom cabinets pop.
Our paint recommendation:
For a smooth satin paint sheen, we recommend the Interior Satin Enamel No. 7750 that is manufactured by Behr Ultra. The paint's formulation features a NANOGUARD® technology that makes it easy for you to clean the surface, thus making it look newer for longer.
Semi-gloss finish
A semi-gloss finish is more or less like a satin finish; the only real difference is a more noticeable sheen. While they're reflective, their shine is still minimal compared to high-gloss surfaces.
Best for:
Paints with a semi-gloss finish are perfect for rooms where water drips, grease stains, or general grime accumulates on the walls. This finish makes them perfect for bathrooms, kitchens, and children's playrooms.
Our paint recommendation:
We recommend the SuperPaint® Semi-Gloss Interior Paint from Sherwin Williams. The paint's formulation has a high consistency that makes it quite easy to apply. It also doubles as a primer. As such, you will not need to prep your walls with a primer before applying the paint.
High-Gloss finish
High-gloss paints provide you with a glass-like finish. They have the highest durability, however, they're also the hardest to apply compared to other paint finishes.
Best for:
High-gloss paint is not only fashionable but also functional. The high level of sheen makes it easy to clean dirt, oils, and stains, making this paint ideal for high-touch areas like doors and trims.
Our paint recommendation:
We recommend Aristoshield® from Dunn Edwards Paints for the best high-gloss finish. This water-based paint is made using a urethane alkyd resin. The resin is responsible for its superior adhesion and durability, and despite being a high-gloss paint, it is rather easy to apply.
Frequently Asked Questions
Which is better, eggshell, or satin?
Eggshell and satin finishes are more or less the same, with the latter providing you with a silkier finish. On the other hand, eggshell finishes are velvety and not so easy to clean. They're not well-suited for high-wear surfaces such as bathrooms, children's playrooms, entryways or the kitchen.
Which paint finish is best?
There are no set rules for which paint finish is best. The type you choose depends entirely on your preferences. However, you will need to consider such factors as the room's use and its susceptibility to wear and tear.
Does sheen affect the paint's color?
Yes. The glossiness of your paint impacts the apparent color. For instance, you might want a low-level sheen scale on dark and rich hues. The same case applies when it comes to imperfect walls. The higher the sheen levels in the paint, the more visible the imperfections will become.
To ensure sheen uniformity, be consistent in the amount of paint you use on the entire surface. Use a brush that's specifically designed for the type of surface you are painting. If necessary, use a primer designed for that specific surface.