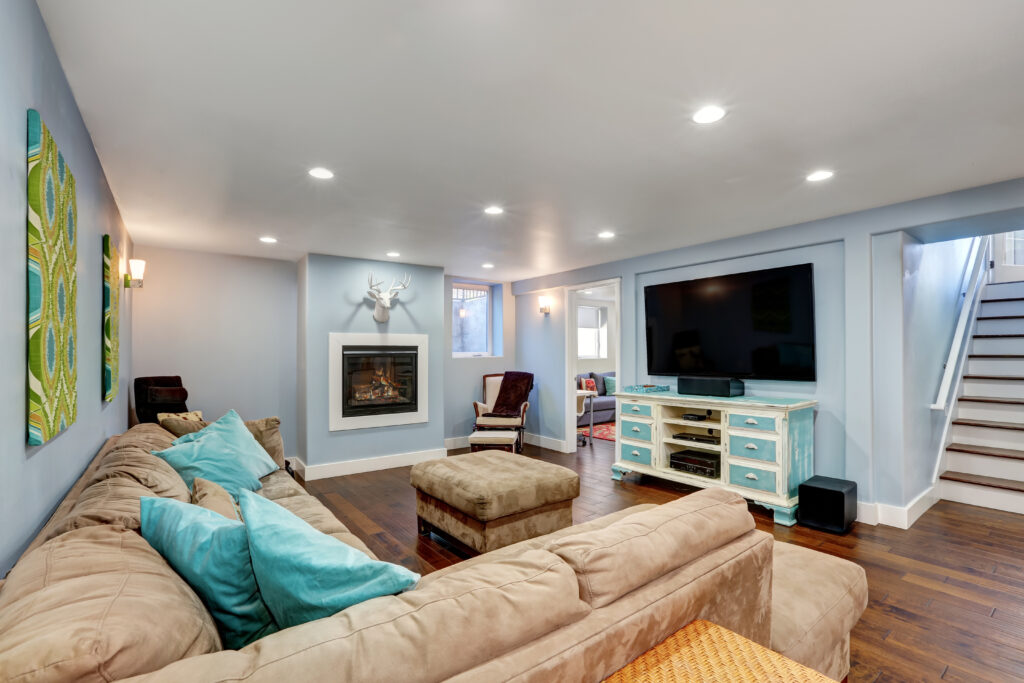 Because of their location, it's easy to overlook basements during renovations. They're mostly built for storage — sometimes without comfort and light in mind. But with a few touch-ups, like updating your basement wall colors, you can reinvent a cellar or basement into one of the most beautiful and functional spaces in the house.

A new paint job is an easy place to start elevating your basement's look and feel. To make it unique and express your personality, use a combination of basement paint colors. Also, take your accessories and furniture into account, as they can influence how well your chosen color fits the space.

Read on to explore some of the top basement paint colors and get inspired for your next project.
17 basement color ideas you should consider for your next paint project
To pick the ideal color, consider factors like the texture of the walls, the light source, the mood you want to create, and personal preferences. Below are some basement color ideas to inspire creativity:
1. Brilliant white
Brilliant white diffuses light better than any color to make your space look brighter and appear larger. It's also versatile, so you can add different colored furnishings and accessories.
Paint suggestion: Benjamin Moore Chantilly Lace OC-65
2. Red
Fiery red can infuse energy into an otherwise dull space. Red is a great choice for an entertainment area or home theater. It's also good as an accent wall if you don't want to paint all of the walls red.
Paint suggestion: Sherwin-Williams Showstopper SW 7588
3. Gray
For a minimalist shade to help create a calming effect in your basement, consider gray. Pair gray walls with neutral furniture and bright fabrics for a classic, timeless look.
Paint suggestion: Farrow & Ball Purbeck Stone 275
4. Black
Many people would not consider black walls to be a great choice for any room, but the moody color can deliver amazing results when paired correctly. For example, mixing black with gold or rustic accessories and furniture adds character and richness. Remember, however, to invest in a great light fixture to make the dark shade glow.
Paint suggestion: Behr Beluga 770F-7
5. Navy blue
A classic navy blue will enhance your basement's look and feel without creating the impression of a confined space. Add some light-colored design details to brighten things up.
Paint suggestion: Sherwin Williams Inkwell SW 6992
6. Yellow
A vivid and energetic color, yellow warms a dark space instantly. The brighter yellow hues can be challenging to incorporate as sunlight intensifies the brightness. However, a warm banana or lemon yellow illuminates the basement perfectly, even with the darker natural light within a basement.
Paint suggestion: Benjamin Moore Banana Yellow 2022-40
7. Sky blue
Sky blue is an excellent option if you want to create a makeshift playroom or lounge space in the basement. It's one of the most pleasing basement colors because it lifts the spirits and calms the senses in an otherwise enclosed space. Consider throwing in a neutral rug and accessories with contrasting colors to bring it all together.
Paint suggestion: Benjamin Moore Light Blue 2066-70
8. Purple
Purple, the color of royalty, is usually associated with creativity. It is also a wonderful option in case you want to turn the basement into a workspace or office. The shade you choose will have a great impact on the effect of the space. Deep plums add an air of elegance and sophistication, while lavender has a playful and soothing feel.
Paint suggestion: Benjamin Moore Mystical Grape 2071-30
9. Cream
Cream is not only a beautiful balance between pure white and warm beige but also creates a relaxed atmosphere. This warm neutral is flexible and partners with white to great effect. To complete the look, pair with honey-toned or mahogany woods.
Paint suggestion: Benjamin Moore Windham Cream HC-6
10. Green
Fun green paint can add life to a basement that was previously cold and dull. Depending on how you're using the space, you can use green as an all-around background or an accent. Light shades inject fun energy, while darker ones create a cozy feel.
Paint suggestion: Donald Kaufman DKC-23
11. Brown
When used on finished basement walls, this warm earth tone fosters a beautiful, cozy, and inviting space. Brown is a great choice for a basement library or TV room. You can use brown against white trim to lighten up or layer it with natural wood accents to strengthen its enveloping ambiance.
Paint suggestion: Farrow & Ball Tanner's 255
12. Strawberry pink
If you want to be a little creative with your basement color ideas, think strawberry pink. It works well with white accessories and is lovely for transforming your basement into a girls' getaway space.
Paint suggestion: Behr Rose Sorbet 150A-2
13. Orange
Orange has a way of breathing new life into any space. It's nice with cream furniture and wooden accessories. Also, if you intend to turn your basement into a gym, orange combines the calming elements of yellow with the power of red, helping you stay positive and energetic as you ace your fitness goals.
Paint suggestion: Benjamin Moore Orange Sky 2018-10
14. Beige
Neutral beige can help turn your basement into one of the most attractive spaces in your home. Although it does not rank among the most commonly used basement colors, it is versatile and will work well with most colors. It can be magical with wooden floors and white ceilings. Depending on the shade you choose and the colors you pick to go with it, using beige as an accent wall can also lighten your basement.
Paint suggestion: Sherwin-Williams Accessible Beige SW 7036
15. Taupe
The brownish-gray of taupe will introduce warmth and appeal to your space instantly. It adds a touch of softness to the sophistication of gray for the best of both worlds. As a neutral color, it's also fun and easy to decorate with. Both modern and classic palettes can complement taupe walls for a calming aura.
Paint suggestion: Behr Perfect Taupe PPU18-13
16. Turquoise
Turquoise strikes the perfect balance between blue and green. Painting your basement walls turquoise will bring the tranquility of blue and the uplifting energy of green. It's perfect if you want to turn your basement into a peaceful space to relax and meditate. Add some earthy tones to create a soothing effect.
Paint suggestion: Benjamin Moore Galapagos Turquoise 2057-20
17. Ochre
Welcoming and vibrant, ochre is a variation of yellow that can give your basement a pop of color and a contemporary update. For an accent wall, pair ochre with dark blue tones for a more finished look. Warm lighting also helps bring out ochre's tranquil character.
Paint suggestion: Sherwin-Williams Sun Bleached Ochre SW 9011
Frequently asked questions
How do I choose a paint color for my basement?
When choosing basement paint colors, start by evaluating the amount of light the basement gets. Also, how do you plan to use your basement? What effect do you want to create? Lastly, make sure the paint color coordinates with other basement elements for maximum visual appeal.
What is the best color for a dark basement?
Generally, red, blue, and dark gray colors make a basement feel unique and different, as most people paint basements with light colors. But to keep it from feeling confined, take into account the height of your ceiling and the amount of natural light in the basement before using a darker hue.
What type of paint should I use in the basement?
Basement walls have unique requirements, so you can't just use any paint. In addition to picking basement wall colors, choose a waterproof paint. Waterproof paint minimizes the chance of mold by helping to prevent water from gathering between concrete and drywall and discouraging water from seeping out.
Which colors will create the impression of a larger space?
Light colors diffuse more light and will make your basement feel bigger. White is an obvious choice when you want to create the impression of a larger space, while light yellow can bring warmth and lift your spirits.