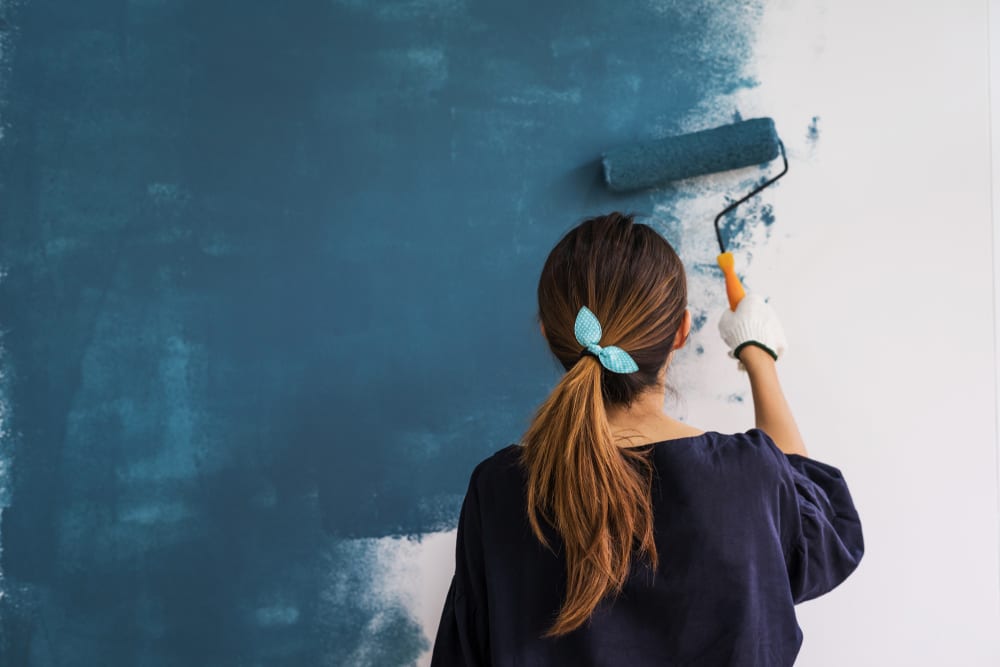 Using textured paint can have a unique effect on your walls, lending your home personality, character, and ambiance. The 'texture' in this paint comes from the additives to the paint mixture, like silica sand or gypsum.

With textured paint, you can style and dimension to your walls, defining the look and feel of your home. Here, we'll talk about the fundamentals of textured paint and help you learn how to paint textured walls in your home.
Why use textured paint?
In addition to achieving a unique and interesting design, wall texture paint can be used to hide imperfections in a room. The texture helps to cover those tricky cracks or dents that regular paint often can't tackle.
Types of textured paint
There are many different types of textured paint that you can use on your wall. Here are some examples, to help get those creative ideas flowing:
Sand textured paint: This textured wall paint contains sand-like additives and comes in two forms: premixed and self-post mix. The premixed variety already has the additives when bought from the store; the self-post mix allows you to mix it manually, creating your ideal texture.
Knockdown textured paint: This textured paint has a mottled finish that is created by watering down the paint to a soupy consistency that creates high points on the painted surface. These are knocked down with a putty knife before it dries. The texture is tough and durable.
Popcorn textured paint: This textured paint is a popular way of hiding imperfections on drywalls. The paper-based styrofoam additive gives it a rough, fluffy look that resembles popcorn.
How to apply textured paint in 6 steps
There are two ways to apply textured paint: You can use a paint sprayer or opt for a manual approach. Whichever method you choose, here are the six steps to follow.
Step1 : Choose your paint texture type
Your choice of textured paint depends on what effect you want to create. If you want to apply it to areas in your room that see a lot of wear and tear (like foyers or hallways), choose textured paint that's durable.
Step 2: Get your drywall ready
Textured paints do better when the drywall has been well prepared before application. Sand the drywall to remove old paint, clean out debris, and smooth out the surface before application.
Step 3: Prepare the tools
For a textured paint job that's done manually, you'll need a paintbrush, a roller, a sponge, aa mixing bucket, a stencil (if you have a specific design), and a suspension pole for your work. If you're going with a paint sprayer, make sure you buy or borrow one.
Step 4: Mix the paint
Some textured paints come with premixed compounds that allow you to go straight to the application phase. For others, you may need to manually mix the paint yourself. If you're mixing the paint, be sure to know the proportions required.
Step 5: Test your textured paint
Find a scrap wall or some dry cardboard to test your paint texture to see how it looks before applying it to your wall. Testing gives you the opportunity to know if the textured paint you selected suits your needs.
Step 6: Apply the textured paint
When you are done with your testing, apply the textured paint you desire and allow it to dry before applying additional coats.
Using different painting techniques allows you to create a unique faux finish
Using different painting techniques on drywall can create different types of faux finishes.  Here are some examples.
Stencil
A stencil is a plastic sheet that allows you to create designs on your wall by painting over it. To stencil a textured wall, you need the following tools: a stencil, stencil paint, stencil adhesive, a stencil brush, and a roller.
Before stenciling, first prep the wall by painting over it with a brush and a roller, and then allow the paint to dry. Peel the stencil cover and apply adhesive spray on it. Stick the stencil on the wall and use the stencil paint you selected to paint over it. Repeat this process until you achieve the desired design. Stencil painting requires very little paint, so use it sparingly.
Sponging
Sponging uses paint to create patterns on a wall using a sea sponge. A sea sponge comes in different textures and has different diameters of pores, so you can achieve a unique effect on your wall. First, you'll want to assemble your materials: a base paint for coating the wall, a glaze paint, a second (darker or contrasting) paint for sponging, a sea sponge, and a brush.
The glaze does not have pigment added to it, so mix it with the darker paint before use. Dip the brush in the mixed glaze paint and put it on the sponge. Test out the sponging method by painting a small portion of your wall. If you're happy with the end result, use the sponge on the rest of your wall to create the design you want.
Color washing
This type of paint technique adds depth and character to a wall. First, you water down your topcoat paint to a runny consistency. The paint is then swiped over the walls in a crosshatch pattern. After the first application, a softer brush is used to soften the lines to give it a perfect finish.
Products and tools you will need to apply textured paint
To apply a textured wall paint, here are some tools you'll need:
Tools for manual textured painting
Tools for machine spray gun textured painting
Airless paint sprayers: These are for experienced professionals for professional painting purposes. Examples include Graco magnum 262800 X5 and Titan ControlMax 1500.
High volume low pressure (HVLP) paint sprayer: A HVLP sprays paint at a high volume with an air pressurized gun.  The paint is forced through the nozzle to output atomized paint particles. You can use this Homeright FinishMax that's recommended for DIY painting.
Compressed air paint sprayer: This sprayer is made up of a spray gun and an air compressor. It is popular among amateur painters because of its simplicity.
The bottom line on using textured paint
Textured paints add depth and feel to your walls, and they can be a great way to create designs that bring your walls alive. Paint texture can also hide imperfections and create durable surfaces that withstand the pressures of household use.
Frequently asked questions
Can you buy paint with texture in it? 
Yes, you can buy premixed textured paint, which already has the additives that provide the textured feel.
How do you make textured paint? 
To make textured paint, mix the base paint with an additive, like sand, until you get the consistency you want.
What textured paint type should be used in different parts of the home? 
High-traffic areas like the living rooms and hallways require textured paint that is tough and durable. For example, Knockdown textured paint does better in such areas.
How long does a textured paint last? 
This will depend on the textured paint type. Some textured paint has high durability. For example, Knockdown texture paint is touted to be quite tough and durable — it can withstand years of use because of its tough outer coating. Its protective ability keeps your drywall safe from cracks and imperfections.