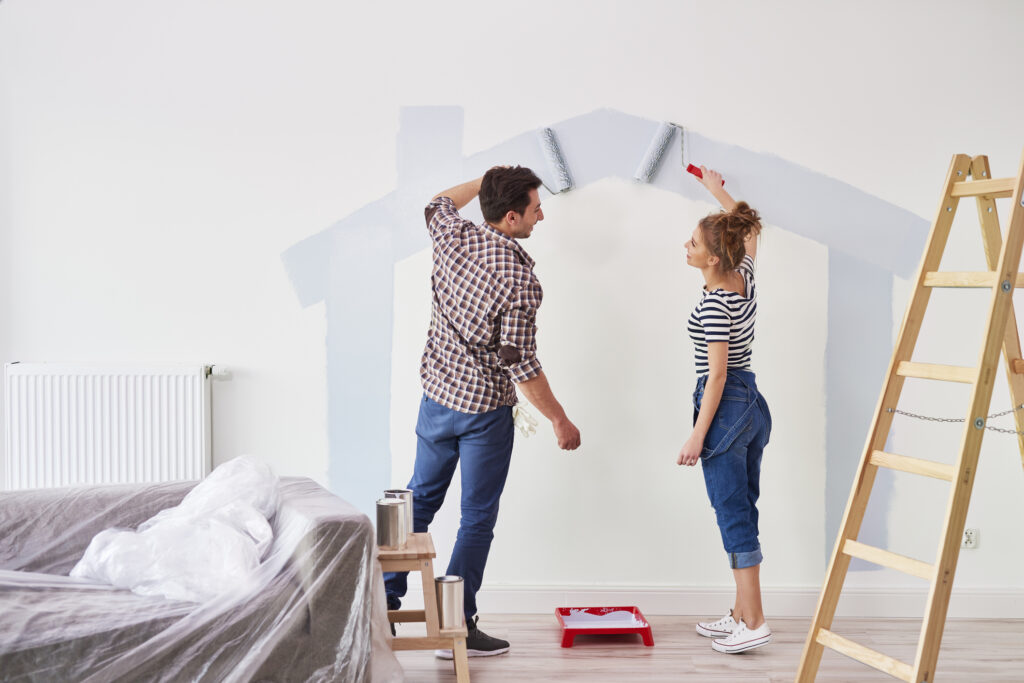 If you're about to complete a DIY painting project, you're likely asking yourself, "How long does it take for paint to dry?" When trying to fit a project into a busy schedule, it's important to know how long your new paint will need to dry and how long to wait between coats of paint before moving furniture back against the wall and allowing your household back into the room.

The main paint drying factors, whether painting interior or exterior walls, will revolve around temperature, humidity, and the type of paint that you're using. You're not looking for exact conditions, but rather an acceptable range to avoid conditions that are too hot or too cold for a professional-looking paint job.
How the type of paint affects drying time
Generally, there are two types of paint for both interior and exterior: oil and latex. Oil-based paint is more durable, thicker, water-resistant, and generally has a glossier finish. Latex paint, which is water-based and doesn't actually contain any natural latex, is thinner with a more matte finish.
Wondering how long to wait between coats of paint? Oil-based paint generally takes six to eight hours to dry, while latex paint can be dry and ready for another coat in as little as an hour. If completing a painting project quickly is important to you, then latex paint may be a good option due to its quick drying time.
Oil-based paint is considered by many to be more durable and better suited for high traffic areas in your home. However, latex paint has come a long way in durability and is an easier paint for beginners. Leading paint manufacturers Behr and Valspar offer latex paints that have the highest ratings in their respective lineups.
How application affects paint drying time
By properly applying paint, you can achieve a quicker dry time. This will not only make the job faster but will also prevent dripping and streaking. Even though many brands tout their paint as "one coat," that doesn't mean one coat will have the best look. While you may be able to sufficiently hide the color of the old paint, applying two thin coats instead of one thick coat will lead to a better finish and prevent unsightly dripping.
There are a few things you can do to efficiently apply a coat that will dry fast with minimal blemishes. As you apply, you want to be sure to stir the paint regularly. Oil-based paint separates often, and latex paint needs to be stirred periodically throughout the project as well.
For both types of paint, you need a high-quality paint roller that will evenly distribute a thin coat. Work away from the edges, which you can go back and touch up with a quality edge brush. You want the paint to be just thick enough to cover the wall completely. Let the first coat dry according to the paint manufacturer's recommendation, and then apply the same amount a second time.
Set time vs. dry time
It's important to note that most paints are dry to the touch after a few hours, but it takes significantly longer for the paint to "set." In fact, this process can take up to seven days for latex paints, and up to a month for oil-based varieties. This means that the paint needs time to fully adhere to the surface for a durable finish. Once this is achieved, you'll be able to move in furniture that touches the wall and clean scuffs and markings.
How location can affect paint drying
For both interior and exterior painting, you have to cope with the elements and fixed factors that could affect paint drying time. Inside your home, air conditioning and heating will keep the temperature in the preferred range for optimal drying, around 70° F. Outside of the home, it's best to avoid painting right after it rains and to aim for a relative humidity of around 50%. (It doesn't have to be exact, but the closer to 50%, the better.)
As for a temperature range, check the product's recommendations. Typically, you can apply paint between temperatures of 50° and 90° F, but look to shoot somewhere in the middle, around 70° F. If you are trying to paint in the summer or winter when temperatures fall out of this range, you can break up the project into different stages and paint when temperatures are their warmest or coolest and the paint can dry within two or three hours of temperatures rising or falling out of the recommended range.
Inside your home, you can use a fan or natural airflow to help dry and set the paint faster. Turn on a ceiling fan to a low or medium speed, or open a window on opposite sides of the room to facilitate airflow. Just make sure that allowing outside air in won't raise or lower the temperature outside the acceptable range for drying.
Frequently asked questions
Does paint type affect how long paint takes to dry?
Yes, oil-based paints will take longer to dry — about six to eight hours. Latex (also called acrylic) paints will take as little as one to two hours to dry.
How long should I wait between applying coats of paint?
You should wait until the paint is dry to the touch. One to two hours for latex paints, and up to eight hours for oil-based paints.
How many coats of paint do I need for my walls?
Two coats are generally recommended. However, plan on letting the second coat dry and going back over to touch up thin spots. There shouldn't be many of these, but there might be a few that look noticeably lighter than the surrounding area.
When is a good season to paint in humid climates?
Parts of the country are going to have high humidity year-round. Generally, wait for a couple of days of dry weather and sunshine in the spring and fall or warm days in the winter.
---