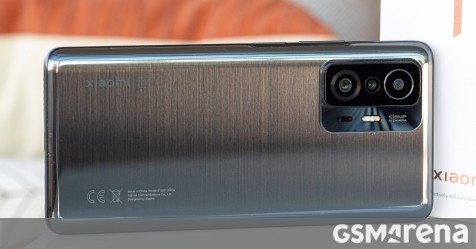 We doubt that the timing of Xiaomi's September 15 event was coincidental – it was the day after Apple launched new iPhones and tablets. Is anyone really choosing between an iPhone 13 and a Xiaomi 11T? We doubt it. But a Xiaomi Pad 5 vs. iPad 10.2 (2021) may be a close call.
Either way, with students going back to school and the holiday season just ahead, many will be looking to freshen up their hardware. Let's have a closer look at what Xiaomi has put on the table.
Successors to what?
Just which phones are being replaced by the 11T series? Certainly not the Mi 11 models, those are more premium. So the Mi 10T series, but it looks like such a moderate upgrade that the lower cost of the 10T models potentially makes them look more attractive.
Let's start with the Xiaomi 11T Pro. The Mi 11 Pro was never available in Europe, so let's consider the Mi 11 instead. It's currently €700, while the 11T Pro is €650 if you missed the early bird pricing (which is already over). €50 more buys you a larger AMOLED display (6.81" vs. 6.67") that is sharper to boot (1440p+ vs. 1080p+), both running at 120Hz. And the main 108MP camera has OIS while the ultrawide module has a 13MP sensor (instead of 8MP).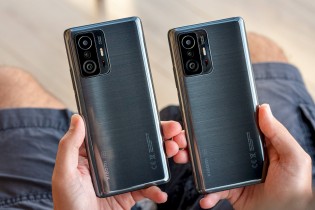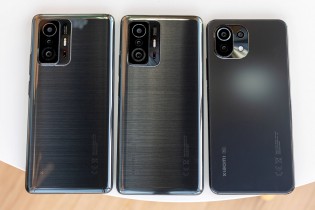 Xiaomi 11T and 11T Pro • Joined by the Xiaomi 11 Lite 5G NE
True, the battery is smaller (4,600 mAh vs. 5,000 mAh) and charges slower over a wire (55W, 100% in 45 minutes vs. 120W, 100% in 17 minutes), but this one does have 50W wireless charging (vs. none). If you read our review of the 11T Pro you will see that battery capacity amounts for 3 hours difference in the Endurance rating.
The Xiaomi 11T starts at €500, but you lose the Snapdragon 888 chipset in favor of a custom Dimensity 1200. The MediaTek chipset is quite fast, but consider this – a Mi 10T 5G with a Snapdragon 865 and a 144Hz IPS LCD can be found for €400. But that one has a 64MP main camera. If you want 108MP, the Mi 10T Pro can be found for €460 (we're talking Amazon prices here, not some shady import deal).
If that wasn't enough, the Mi 11i (aka Mi 11X Pro) comes close to matching 11T Pro's specs (save for the battery and charging) and you can pick one up for €560. And we haven't even looked at the non-Xiaomi alternatives (for that you can check out the last page of our review).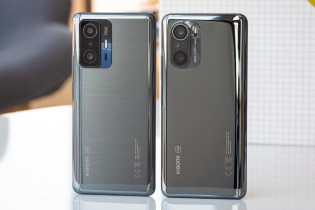 Xiaomi 11T Pro and the Xiaomi Mi 11i
You can pay a bit more money to get a notably better phone or less money to get a phone that's almost as good. This puts the Xiaomi 11T series in a bit of an awkward spot.
120W fast charging is mainstream now
The 11T Pro comes bundled with a 120W charger and, sure, the package costs €650, but have you looked at how much such powerful USB-C chargers cost? Last year such charging speeds were available only on a couple of phones and those were never available globally.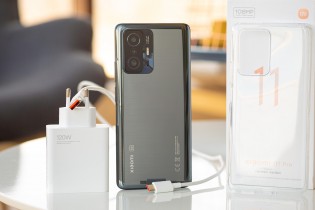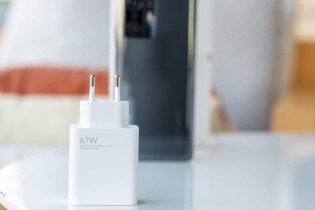 120W fast charger for the 11T Pro • "Just" a 67W charger for the 11T
Even this year there aren't too many phones that can do 100+ Watts, but the 11T Pro is one of them, it doesn't cost an arm and a leg, isn't some gaming phone and will be widely available in Europe and Asia.
Before you say that you prefer slow charging, you can always do that with one of the chargers you have laying around at home. It is certainly recommended for overnight charging. But if your battery is nearly dead and you have only 10 minutes before you need to go out, this 120W charger will look like a hero.
Cost cutting on a high-end device
We have no complaints about gaming on the Xiaomi 11T Pro. In terms of real-world use, the phone didn't get too hot and we didn't notice the results of thermal throttling while playing games.
Still, we found that the Snapdragon 888 chip can get toasty under sustained load, so Xiaomi could have spent a few bucks more on the cooling system. The phone does have a vapor chamber cooler, but then so do many other phones. And some do better than others at cooling.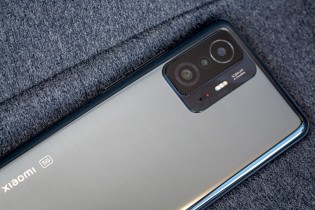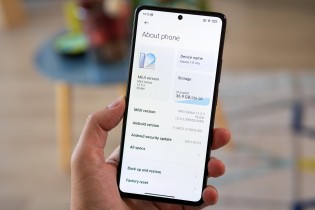 Why was the OIS cut? • The Snapdragon 888 needs more cooling than most chips
Also, where did the Optical Image Stabilization system (OIS) go? The Mi 10T Pro has it, as do the Mi 11 and Mi 11i/11X phones. Also, no IP68 rating (just IP53) makes us feel like Xiaomi could have spent a bit more and give the phone full protection.
We're not asking for a 1440p 120 Hz AMOLED or anything outlandish here, the cost cutting measures harm the 11T series' image of value for money phones.
Great entertainment potential
Never mind us grumpy old folk, the 6.67" AMOLED display is actually pretty excellent for the price. It may not be an LTPO panel, but it does offer a variety of refresh rates that better match your content.
And it supports Dolby Vision with great color accuracy. The 11T Pro display is very bright too, peaking at 837 nits, which is about the same as a Galaxy S21 5G or a Realme Explorer Master. Note that while we haven't tested the vanilla 11T display, the two use the same panels.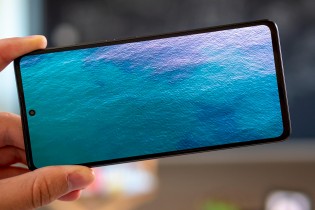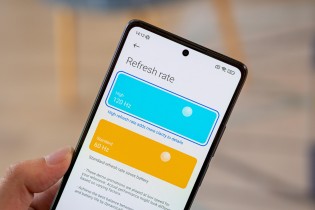 The 6.67″ AMOLED display with 120 Hz refresh rate and Dolby Vision is great for videos and games
The phone's stereo speakers – proper stereo speakers, not one plus earpiece – were just a hair shy of scoring Very Good on our loudness score. They also supports Dolby Atmos (which has a noticeable positive effect on sound quality) and were tuned by Harman/Kardon.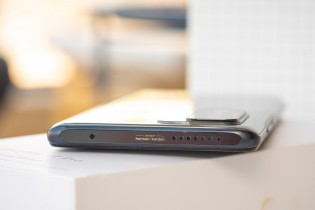 Proper stereo speakers tuned by Harman/Kardon and with Dolby Atmos
As mentioned before, the Snapdragon 888 chipset does great for gaming. We're yet to test the custom Dimensity 1200-Ultra inside the 11T, but other 1200 chips have shown strong performance. The screen and speakers work just as well for game graphics and sound as they do for video content, which makes the 11T series quite capable of serving entertainment duties.
Solid camera despite the cutbacks
The 11T series scores high on content consumption, but they hold a lot of promise for content creation too. The two phones have the same camera setups, though different chipsets, so it's too early to talk about the image quality of the vanilla phone.
But the Xiaomi 11T Pro is one update away from having a very capable camera. We found issues in the image processing of daylight shots, though it's mostly small things like tweaking the sharpening and color rendering. Those aside, there is a solid base here.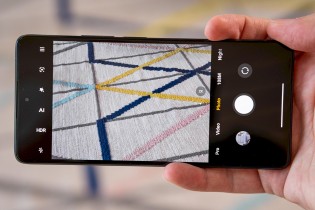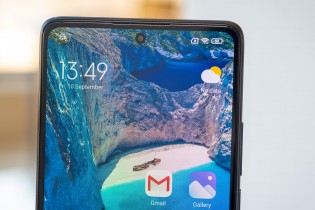 The main camera is great for videos • This selfie camera could have been a lot better
There is no dedicated telephoto lens and the phone's 108 MP sensor doesn't quite fill that gap. The image quality at 2x isn't great (never mind higher magnification). This will be a lot harder to fix.
Video recording was surprisingly good, we were more impressed by that than the still camera. 8K isn't perfect, but it's mostly a gimmick, anyway. 4K videos, however, are excellent with great detail, natural looking colors and outstanding dynamic range. Even though the ultra wide-angle camera is limited to 1080p/30 fps, it still produces good, usable footage.
The main weakness of the camera section is the front facing camera. A 16 MP Quad Bayer sensor just doesn't make for a sharp image.
Xiaomi 11 Lite 5G NE is almost the same as the old edition
As the name suggests, the Xiaomi 11 Lite 5G NE ("new edition") is just a revised version of the Mi 11 Lite 5G, except the Snapdragon 780G chipset was swapped out for a nearly identical 778G. The new chips is fabbed on TSMC's 6 nm node, while the other one comes from Samsung's 5 nm foundries, which may have an effect.
Other than that there is not much more to say. The NE starts at €370, original version costs about the same (it's €20 less). Check out the video below for details on the New Edition phone:
The Xiaomi Pad 5 is a capable tablet for not a lot of money
Yes, Android tablets still exist, Xiaomi had almost forgotten about them. This one starts at €350 and comes with a large 11" IPS LCD with 2,560 x 1,600 px resolution and a Snapdragon 860. With that you wouldn't feel too bad for picking one up, even if you're not sure you need a tablet.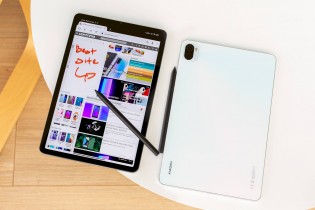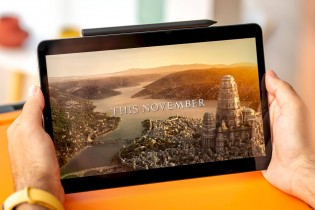 The Xiaomi Pad 5 is a capable tablet • It has a sharp 11″ IPS LCD with Dolby Vision
You can check out our review for an in-depth look, but there isn't much to complain about. The screen supports HDR10 and Dolby Vision along with Widevine L1, so you can stream Netflix, Amazon Prime Video, etc. in high resolution. And it's a 120 Hz display too, so the UI is smooth and ready for some gaming (the 860 may be an old chip, but it still has a flagship GPU). And there are four Dolby Atmos-capable speakers to boot.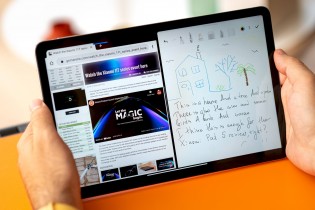 The Snapdragon 860 can still easily handle multiple apps at a time
You can also use it for wen browsing (it can last over 14 hours on a single charge). You can by the Xiaomi Smart Pen (at a hefty price of €100) if you need a drawing tablet or just feel better about sketching your ideas with stylus instead of your finger. This tablet is flexible enough to find several uses around the house and at €350 it's an easy pick.