The official Genshin Impact Twitter account has recently announced two upcoming playable characters: Arataki Itto and Gorou. Itto had recently been leaked, but now we finally get a proper look at his appearance and confirmation that he will be playable. Meanwhile, Gorou is a character most players have already met in-game, and many have been looking forward to playing him. With version 2.2 just around the corner, players shouldn't have to wait too long for these characters to be released.
Arataki Itto Revealed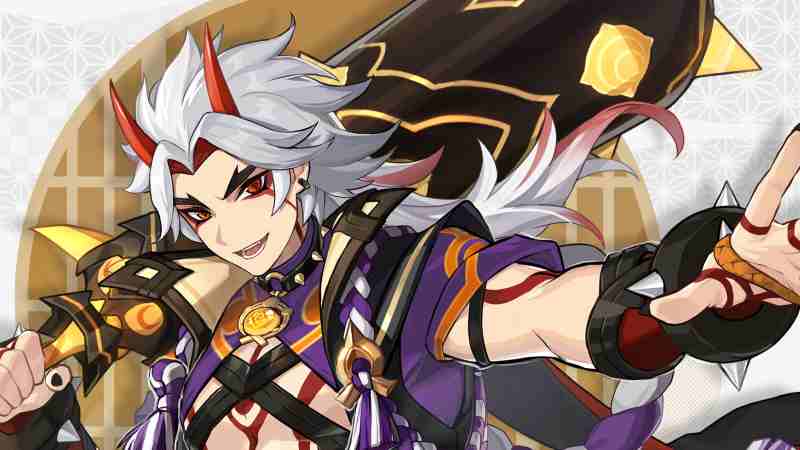 The highly-anticipated character has officially been revealed. After cropping up in various leaks, we finally get to see him in all his muscular, Oni glory. We've had confirmation that he has a Geo Vision, and as we saw in the leaks he wields a Claymore. Many believe the Claymore he's holding in his artwork to be a part of his Elemental Burst, in which he supposedly brandishes a giant Claymore that deals Geo DMG, similarly to Noelle's Elemental Burst. Interestingly, he has quite a different body type to the other adult male characters in the game: rather than tall and lean, he's large all-around. Could this hint to him having a brand-new kind of in-game model?
It's been rumoured he's a 5-star character, although this is yet to be confirmed just yet.
Gorou Revealed
Gorou played an important role in the story as General of the Watatsumi Army, and soon players will be able to get their hands on this half-canine warrior. We already knew that he was a Bow user from in-game cutscenes, and his Geo Vision was highly speculated. Now his Vision has been confirmed as Geo, making him the first Geo Bow Character. Many players believe he will be a DPS character, although his moveset has yet to be leaked.
It's rumored he's a 5-star character, but similarly to Itto this has not been officially announced.
The post Genshin Impact 2.3 – Arataki Itto and Gorou officially announced appeared first on WePC | Let's build your dream gaming PC.