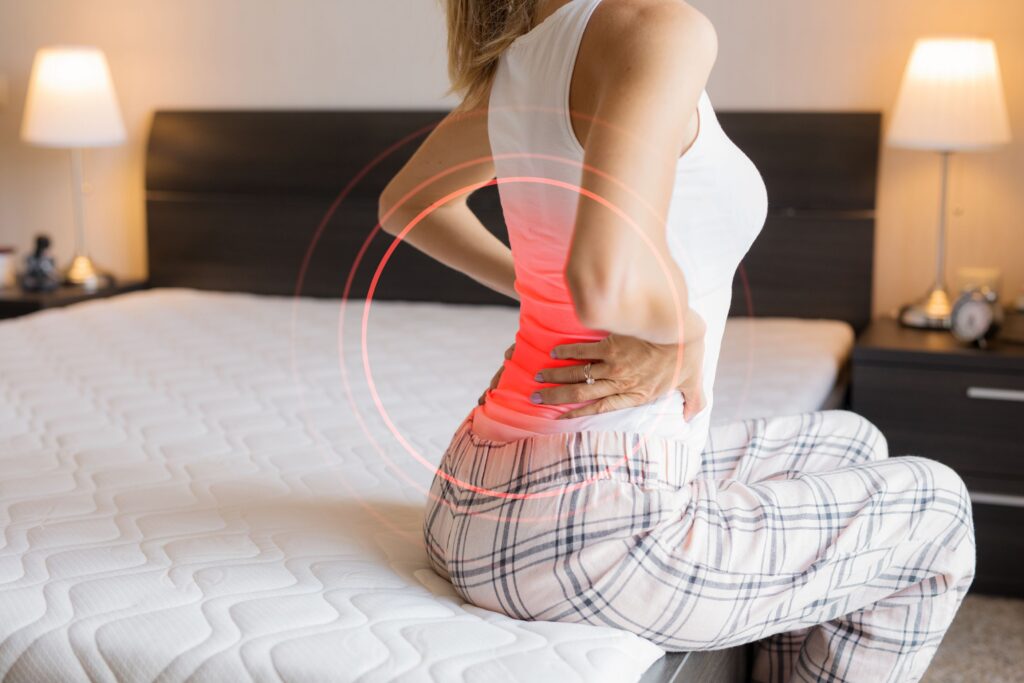 Back pain is one of the most common causes for people to see a doctor or miss work. Causes of back pain range from arthritis and skeletal irregularities to muscle strains and disc ruptures. When searching for the best mattress for back pain, it's essential to assess multiple factors before you invest. Consider the best type of mattress, your personal sleep style, and the location of your back pain.

We spoke with Dr. Kristen Gasnick, a board-certified physical therapist practicing in outpatient orthopedics in New Jersey, for expert advice on sleeping positions and how they relate to back pain.

Dr. Gasnick says that "proper joint alignment" is essential when you're sleeping. She says that prolonged sleeping positions can strain certain body parts.

According to Dr. Gasnick, "Common symptom flare-ups experienced when trying to sleep include increased low back pain and sciatic nerve pain radiating into the legs."

If you're experiencing these symptoms, now's the time to get a new mattress. Find the best mattress for back pain by considering the factors outlined in this guide.
First, know your mattress types
Innerspring
Innerspring mattresses are a style that dates back to 1865. They're known for their metal coils. The feel of an innerspring mattress is based on coil count, shape, the gauge of metal, and if the coils are continuous or pocketed.
Memory foam
Created in the 1970s by NASA, memory foam was first used to enhance seat cushioning and provide greater crash protection for airplane pilots and passengers. Memory foam mattresses contour to the shape of your body, providing the ultimate customization in both support and comfort.
Latex
Latex mattresses come in three types; natural latex sourced from the rubber tree plant, petroleum-based synthetic latex, and a combination of both natural and synthetic latex.
Pillow top
Pillow top mattresses add a layer of luxe plushness on top of a traditional mattress, increasing comfort with a soft to medium mattress feel.
Adjustable bases
Motorized bases allow for mattress customization by lowering and raising both the head and foot of the bed. Adjustable bases offer high-tech options, including the incorporation of smart-home devices and sleep monitoring.
Water bed
Invented over 50 years ago, water beds are making a comeback with new and improved features, including temperature control and wave reduction support.
Gel
Crafted with gel foam or beads, gel mattresses provide comfort to hot sleepers. The gel allows for increased inner-mattress air circulation and moisture-wicking properties, ultimately delivering a cooler night's sleep.
Determine what kind of sleeper you are
Back sleepers
If you find yourself spending most of the night sleeping on your back, you might be experiencing lower back pain. Dr. Gasnick says you can alleviate that pain by sleeping with "one pillow under your neck to prevent excessive neck flexion and a pillow under your knees to prevent excessive lumbar lordosis (or arching of the lower spine)."
Adding extra support to those areas can help mitigate the strain your lower back experiences in this sleeping position.
Mattress recommendation:
Purple mattress is crafted to fully support your back with its hyper-elastic polymer grid that forms to your body while also allowing comfortable airflow. Ranked highest in J.D. Power's 2019 Mattress Satisfaction report, Purple achieved the highest score in comfort, support, durability, warranty, and value for the money.
Front sleepers
Sleeping on your stomach every night can put consistent strain on your lower back. Dr. Gasnick doesn't recommend this sleeping position but says if it's the only way you'll fall asleep comfortably, you should make a few adjustments.
"Place a pillow under your stomach to help minimize back arching in this position," Dr. Gasnick says.
Mattress recommendation:
A medium-firm mattress keeps your spine aligned while supporting your midsection as you sleep on your stomach. The Serta Perfect Sleeper Elkins II in "firm" provides custom coil support that will help you wake up with less lower back strain.
Side sleepers
If you sleep best on your side, you might wake up with consistent hip and neck pain. Dr. Gasnick recommends surrounding yourself with pillows that help relieve pressure points.
"For side sleepers, placing a pillow between the knees ensures proper pelvic alignment," Dr. Gasnick says. This will prevent strain on your hips.
She also says, "Two pillows should be used for the head to prevent excessive side bending of the neck, which often causes increased neck stiffness upon waking."
Mattress recommendation:
Rated #1 innerspring mattress in Consumer Reports Best Mattresses of 2019, the Avocado Green mattress outperformed other mattresses on both side and back support tests. With 1,414 pocketed support coils, the Avocado mattress distributes body weight evenly to ensure whole-body support.
Consider your back pain placement
In general, Dr. Gasnick recommends abiding by the Goldilocks principle and choosing a mattress that's neither too hard nor too soft. Whether you sleep on your back, side, or stomach, a medium-firm mattress ensures the mattress can support spinal alignment without your body sinking down too much. Medium-firm mattresses also provide enough "give" to relieve high-pressure points at the hips and shoulders.
If you have upper back pain
Located anywhere between your neck and lower back, upper back pain symptoms can include feeling pain while breathing deeply and moving your shoulders and neck.
Mattress recommendation:
The best mattress for sore backs ensures the pain is not aggravated during sleep. Loom & Leaf's memory foam mattress contours to your body to create a healthy alignment of your spine and relieve joint pain.
Pricing ranges from $849 (Twin) to $1,899 (California King). With an overall rating of 4.8 out of 5 stars, customers praise Loom & Leaf mattresses for their back and neck support.
If you have lower back pain
Do you wake up with a dull ache in your lower back or a shooting pain that makes it hard to move, let alone sit up straight? You might be dealing with lower back pain — and your old mattress might be making it worse.
Mattress recommendation:
The best mattress for lower back is Saatva's Classic mattress. This hybrid innerspring mattress offers lumbar zone technology and memory foam, which delivers lower back pressure relief.
Pricing ranges from $799 (Twin) to $1,699 (California King). With over 40,000 reviews, Saatva's customers note waking up without lower back pain for the first time in years.
If you have sacroiliac joint pain
According to the Mayo Clinic, Sacroiliitis is inflammation of your sacroiliac joints — the area where your pelvis connects to your lower spine. This can cause pain in your lower back or buttocks, and extend down into your legs.
Finding a mattress that supports proper spine alignment and relieves pressure on your lower back is key to mitigating sacroiliac joint pain.
Mattress recommendation:
Casper's Wave Hybrid offers zoned support, including a zone focused on the lower back, waist, and hips to ensure proper alignment of your spine.
Pricing ranges from $1,346 (Twin) to $2,696 (California King). Customers gave the Wave Hybrid mattress high marks for back pain relief.
Buyer's note: If you have back pain, consult with your physician or chiropractor before your mattress purchase.
The bottom line
Dr. Gasnick shares valuable guidance on the best mattress for back pain, stating there is no "one size fits all" solution. Whether you're dealing with upper, lower, or sacroiliac joint pain — everyone has a different opinion of what is considered "comfortable.
Take advantage of mattress trials. Try a new mattress out for a few months to see if you sleep comfortably night after night. Follow the general guidelines above and consult with your doctor or chiropractor — but only you can decide what mattress is the best fit for you.
Frequently Asked Questions
Can a mattress give you back pain? 
Absolutely. If your mattress is past its prime — which, according to Consumer Reports, is approximately ten years — back pain may result or increase in severity.
Are hybrid mattresses good for back pain?
Hybrid mattresses can benefit those with back pain due to the combination of innerspring technology support and memory foam comfort.
Are memory foam mattresses good for back pain? 
According to Dr. Gasnick, because of their ability to mold and form to an individual's body contours, memory foam mattresses are particularly beneficial for back pain, simultaneously providing support for the spine and cushion for high-pressure areas.
Correction: A previous version of this article incorrectly referred to Dr. Kristen Gasnick as "he." Dr. Gasnick is a female; you can see her Excel Physical Therapy staff page here. (Updated on June 4, 2020)