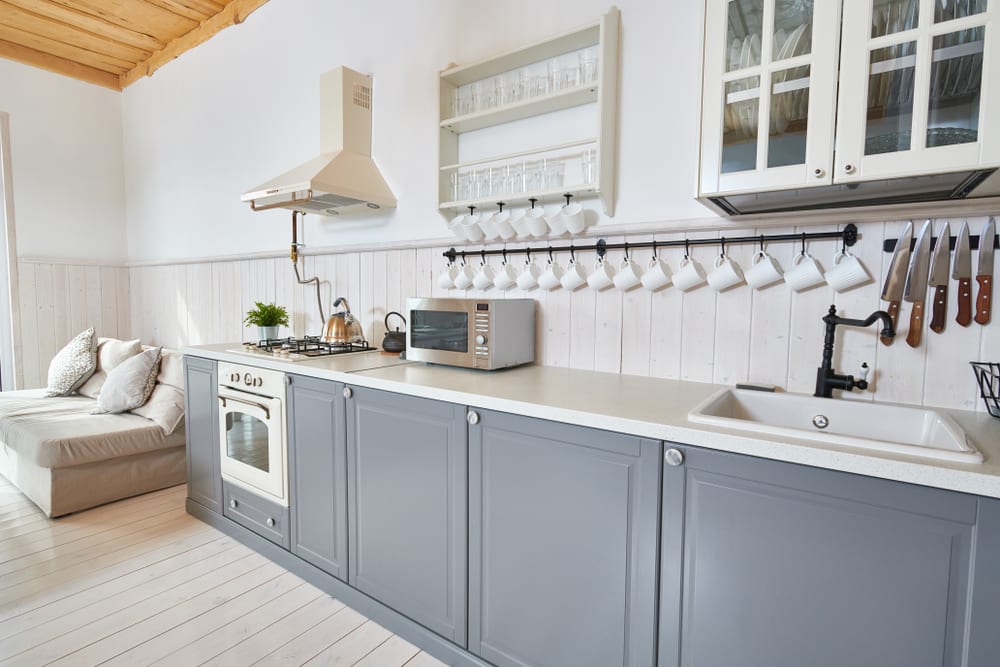 Cabinet paint is the quickest way to give your kitchen a face-lift — and it's also one of the cheapest ways. Although painting kitchen cabinets takes time, this DIY project can be completed in less than one week with the right tools and mindset.

Whether you're painting cabinets white or want to chalk paint cabinets, there's no wrong choice. Read on to learn how to paint cabinets correctly, so you can avoid mistakes and get a gleaming new kitchen.
Paint your cabinets in 13 easy steps
Your kitchen may be the heart of your home, but rushing any of these steps when painting kitchen cabinets will end in disaster. Take your time to follow each step, so you get a long-lasting color and a great-looking finish.
Step 1: Wipe down your empty cabinets using a degreaser like TSP. Let dry.

Step 2: Remove cabinet doors and hardware, make a quick map of your kitchen, and label each door with a number to match.

Step 3: Push thumbtacks into the underside of the cabinet doors you took off so you can paint the raised tops and let them dry or lay the doors across sawhorses.

Step 4: Take out any shelves and wipe the cabinets out from top to bottom.

Step 5: Use 120 grit sandpaper to rough up your surface and remove rough spots for a grippy surface.

Step 6: Grab your shop vac and bristle brush attachment to remove every trace of dust for a smooth finish.

Step 7: Go over the cabinets with a tack cloth to make sure you've picked up all the grit.

Step 8: Apply an initial coat of primer. This will help keep paint from peeling and chipping — allowing for long-lasting color.

Step 9: Paint the cabinets, frame, shelves, and drawers.

Step 10: Let every coat of paint dry about eight hours before starting on any additional coats.

Step 11: When you're done painting, provide plenty of time for the paint to dry completely before touching the surface.

Step 12: Finish the paint job with a coat of sealant. Let it dry completely.

Step 13: Reassemble the doors, shelves, and hardware by matching up the locations.
Products and tools you'll need to paint cabinets
Choosing the best paint for cabinets
Learning how to paint cabinets can be overwhelming. To cut down on any surprises along the way, you should always start with a primer. A stain-blocking primer (like Kilz) will ensure previous colors won't peep through. Bonus: You'll deaden any old cooking smells in the process.
Oil-based paint, like Rust-Oleum, is the best for cabinets if you like the brush-mark look. Although these solvent-based paints are extra durable, this paint takes hours longer to dry — some sixteen hours between coats. This can significantly extend the time of your kitchen renovation. These paints do have a strong smell and may require a respirator. Cleaning up is more of a hassle, too, because you'll need to use mineral spirits or paint thinner.
Latex or water-based paint, like Benjamin Moore, is popular for a reason: It's a great cabinet paint because it's fast-drying and offers easy clean-up. You only need water and six to eight hours between coats. These paints have less fumes while still offering up color longevity and durability. The hardness of gloss and semi-gloss paints make these finishes the perfect choice for any hard-working kitchen. Up the durability with Latex Agent, an additive to improve the toughness of water-based paint.
Chalk paint, like the paint from Annie Sloan, may not require sanding or priming (unless it's a light color), but it does take a top coat to seal the finish. If you skip that step, you'll end up with flaking paint. Plan on needing at least two coats of chalk paint, if not three, to cover your cabinets.
Avoid these mistakes when painting kitchen cabinets
Don't skip the primer. If your wood cabinets haven't been painted before, primer will help keep wood tannins from yellowing your paint over time.
Don't rush the drying process. Your cabinets will need more than one coat of paint. Let your cabinets fully dry up to eight hours before you add a new coat, or you risk gloppy, sloppy brush strokes or peeling paint.
Don't skip cleaning. Your kitchen cabinets might look clean, but if you skip cleaning with TSP, any grease traces will keep the paint from sticking.

Don't leave the cabinet doors and hardware on the hinges. It's tempting to paint everything, but the paint isn't going to adhere to those surfaces in the long run.
The bottom line
Painting your kitchen cabinets is more than a weekend project, yet it's still a relatively easy way to give your kitchen a new look for less. Just remember to clean your cabinets and use primer for the most professional-looking results.
Frequently Asked Questions
What kind of paint do you use to paint my kitchen cabinets?
Use any paint you want, just know that oil-based paint takes double the time to dry than latex paint.
How can I paint my cabinets without sanding?
Previously painted cabinets may not require sanding. Just clean the surface, add a coat of primer, and repaint your cabinets. Or use chalk paint, which doesn't need to be sanded or primed.
How much do I sand down on my kitchen cabinets?
The purpose of sanding is to create a better texture so the new paint will stick. You don't need to sand down to the bare wood.
If I have to sand my cabinets, do I have to use a shop vac afterward?
Any vacuum can remove the mess you made while sanding, but a shop vac is built for heavy-duty work. Your home vacuum may clog and could end up covered with dust on its exterior.
Can you paint laminate cabinets?
Yes, you can. If you've been wondering how to paint laminate cabinets, simply follow the steps for painting kitchen cabinets, but switch out the brush for a roller for a smooth finish.
---