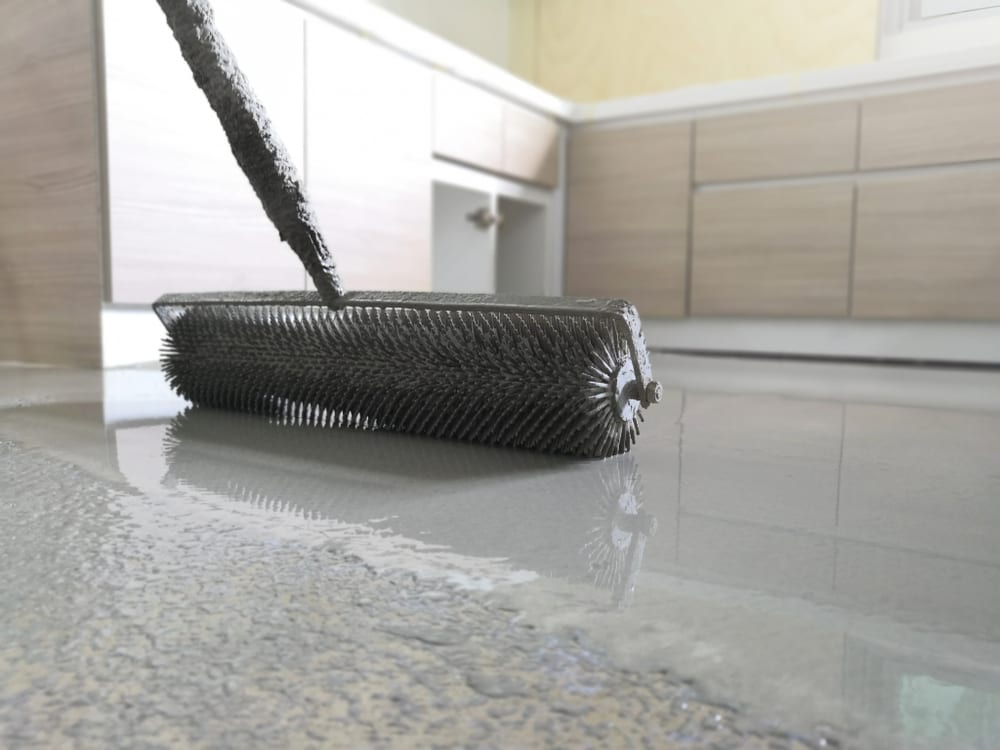 Epoxy paint is one of the toughest and most durable paint materials available on the market today. It's also a great choice if you want to add a little extra shine to your floors. Epoxy paint can act as a sealant on cement floors and is typically applied on garage or basement floors. There is a lot of information out there on how to apply epoxy paint. But there is also a lot of confusion around whether it should be epoxy paint vs. epoxy coating.
The best way to figure out which will work best for you is to learn the difference between them both. This article will help you understand everything you need to know about epoxy paint.
What Is Epoxy Paint?
Originally designed for industrial use, epoxy paint is a latex acrylic product that may have a small amount of epoxy in the mix and is used for flooring applications. Epoxy paints provide a tough, durable protective coating that's easy to maintain. Because of its unique properties, epoxy paint is corrosion-resistant, resistant to chemicals and easy to clean – making it ideal for garages and warehouses, etc.
The main difference between epoxy paint and normal paint is that when epoxy is present, the paint will adhere to the concrete surface much better, making it more durable. Without epoxy, a standard acrylic paint will eventually peel and flake, especially in high-traffic areas.
Many people decide to use epoxy paint because it's resilient, sealed, and can be safer in highly-trafficked areas, not to mention the aesthetically pleasing shine. It shields your floor from damage, especially from heat and chemicals, and is shock-resistant. It's perfect for any area where chemicals, heat, and other materials may be used.
Pros and Cons of Epoxy Floor Paint
Pros:
Resistant: Epoxy is a hardy flooring choice. It can bear the brunt of heavy shock, heat, chemicals, and water. It is ideal in garages where cars can emit corrosive chemicals.
Cost-effective: Epoxy paint can be added onto your current flooring, saving you time and money on removal.
Long-lasting: Although it takes time to install, once the epoxy is in place, it lasts a long time. It's hard-wearing, extremely durable, and will withstand a great deal of traffic.
Protection: Epoxy almost creates a shield for your flooring and will protect it from stains, cracking, and wear and tear.
Maintenance: Epoxy is dust-resistant. By creating a layer, epoxy helps prevent dust from settling and circulating. It also creates a smooth and flat surface that's easy to clean with a mop, broom, or vacuum.
Cons:
Slippery: In general, epoxy-painted floors are skid-resistant, however, oil-covered epoxy can be very slippery. When this is wet, it can be slippery. Epoxy paint isn't ideal for areas that are prone to spills or water on the floor.
Temporary: Even though it is hard-wearing and resistant, epoxy does need replacing eventually. Everyday wear and tear takes its toll and chips and cracks can start to develop. When this happens, you will have to add another coat of epoxy paint to ensure things keep looking good. If it's in an area where heavy things are dropped onto the floor, like a gym, this may be an issue.
Application: It takes a lot of preparation to ensure your epoxy paint is applied effectively. You need to fill in all cracks and meticulously clean all grease, oil, and dirt off. The application process itself is also time-consuming and tedious. It can take several days for your epoxy paint to dry properly and you need to wait until the first coat is completely dry before adding the next.
Removal: It can be costly and labor-intensive to change the color, design, or to have epoxy removed.
Epoxy paint vs. epoxy coating
Epoxy paint is simply that – a paint. It's easy as a DIY project. An epoxy coating is typically made up of two-parts — a resin and a hardener — which most will need professional help to ensure long-lasting results.
One of the most important things to bear in mind when choosing between the epoxy coating or epoxy paint is the durability. If you simply want to improve the appearance of your floor, then epoxy paint is ideal. However, if you want to improve an area that is traffic-heavy and at risk of chemical spillage, then the epoxy coating is a much better option. Epoxy floor paint is more durable than traditional latex paint, but it won't hold up to stains, chemicals, and abrasions as well as epoxy coating.
Another key difference between the two is the price. Epoxy paint is considerably cheaper. You can buy paint at a store and apply it on your own. With epoxy coatings, you will likely need professional installation and a higher quality product.
Why use epoxy floor paint?
It's a cost-effective alternative to installing completely new flooring. The high-build formulation of epoxy paint means just one layer provides a good, firm thickness, which which you can apply to many surfaces. Unlike conventional heavy-duty floors, you won't have to repaint an epoxy-painted floor every six months.
Epoxy paint is resistant to moisture and can withstand high temperatures, making it a perfect choice for bathrooms, saunas and swimming pool areas. The seamless glossy finish of epoxy paint creates a non-absorbent surface that is easy and efficient to clean, so it also works perfectly in gyms, garages, and areas where there is a risk of spillages.
Benefits of using garage floor epoxy paint
Epoxy garage floor paint is one of the toughest and most durable finishes you can apply. It can also instantly transform boring or unattractive cement into a professional-looking area.
The hardened application that you get from epoxy paint will create a coating that is very durable and resilient to impacts, chipping, chemicals, stains, and abrasions. The other great benefit is that it is dust-resistant because it is a topical sealer – meaning it sits on top of the material and doesn't penetrate the pores, creating a protective barrier. On bare concrete floors, traffic can disturb dusty powder and this can be left on cars, tools, storage units and can be a pain to clean.
It is also naturally moisture resistant. Spills and stains won't be absorbed into the epoxy leaving ugly, lasting marks.
The bottom line
If you are looking for a hard-wearing, easy-to-maintain floor that has a nice shiny finish, then epoxy floor paint is perfect for you. It fits well in areas with high traffic, high usage, and at risk of chemical spills. It shields your floor from damage, is shock-resistant, and easy to maintain and clean. You can use epoxy paint for garages, warehouses, basements, or any high-traffic areas.