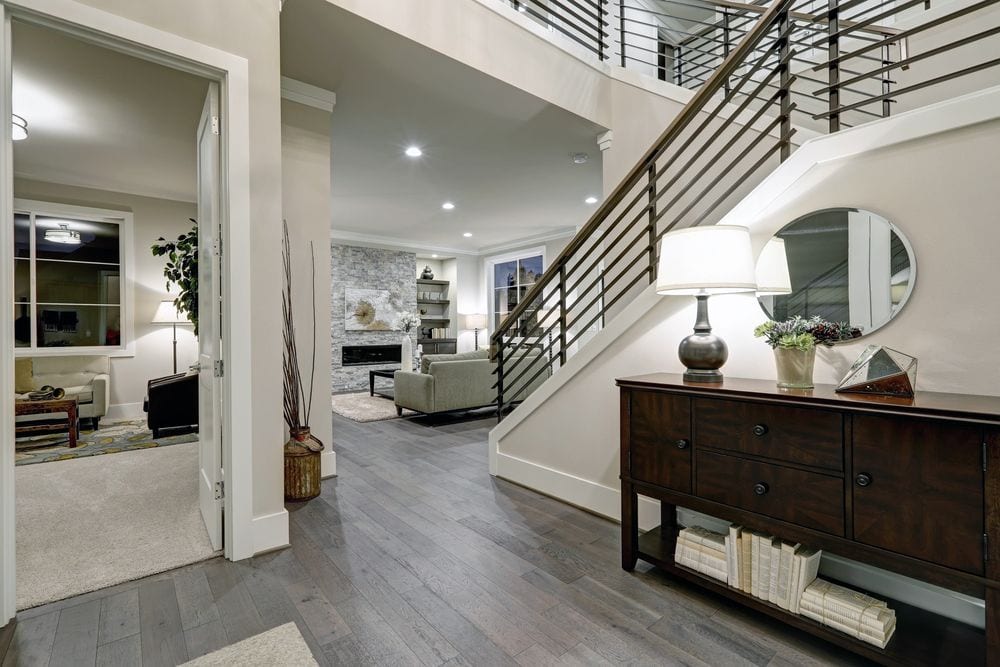 Artazum-Shutterstock

When you're thinking of renovating a home, it's easy to go overboard and perhaps waste your money on projects that don't have a significant return on investment. Aside from the ROI factor, some partial renovations may actually leave your home in worse shape. This is a particular concern when you buy an older home. Knowing where to draw the line with a fixer-upper can be a battle between your budget and your heartstrings.Whether you have an older home or a relatively new house that you want to change, sometimes you need to reconsider some of your reno ideas. Below are a few examples that could waste your money.Shop These Products Now: Console Storage Table – Modern Table Lamp
Knocking down walls to create open floor plans
Open floor plans are all the rage and they can make an area look a lot larger. "However, there are consequences to knocking down walls that homeowners don't always realize," says Eamon Lynch, Director of Warranty Services at Power Home Remodeling in Philadelphia, PA.Obviously, taking down a load-bearing wall is problematic. But even if the wall isn't load bearing, Lynch believes that you should leave it alone. "The structure of the house was designed with that wall in place for a reason," he explains. "Over time, the absent wall will have an effect on the structural integrity of your home, and this includes sagging external walls."
Shop These Products Now: Roof Tiles – Outdoor Paint
Installing a new roof without removing the existing layer
Because a new roof is so expensive, you may be tempted to do the bare minimum. But this strategy might come back to haunt you. "If you're dealing with mold-like growth or a leaking roof, this means it's time to replace the roof," Lynch says. His company replaces thousands of roofs across the country each year and often finds that customers make the same mistake. "They tried to save time on roof renovations by installing new layers over an existing layer of shingles," Lynch says. In the short term, this seems like a time-efficient and cost-effective choice. But when you layer your roof, it can lead to major problems in the future."If you don't remove the original layer of shingles on your roof, you can't see what problems may exist underneath, like soft spots on wood or separation," he explains. Also, when you don't remove the entire roof, he says you can't replace or install flashing, pipe collars and drip edges. "These components are essential for keeping out rain and snow by serving as transitions at roof-wall intersections, chimneys and around pipes and vents."Another problem with layering: you can't install proper ventilation. If you add new layers on top of old layers, you're restricting airflow and your attic can't breathe. "You're trapping moisture and adding weight to the top of your house, which was designed to only support one roof, not multiple roofs."
Shop These Products Now: Kitchen Backsplash – Glossy Countertop
Major kitchen renovations
Any type of kitchen renovation is likely to be expensive, complicated and long. A major kitchen renovation multiplies all of these factors. But what's your rationale for a major reno? "Think about the intention of the kitchen," Lynch says. "For example, is cooking a big hobby of yours? Will the kitchen be primarily used for entertaining?"Stop to objectively evaluate how the kitchen will be used. Then, Lynch says you can plan the most effective reno that will deliver a suitable ROI. "And if your main purpose for the renovation is to increase resale value, remember that a major kitchen renovation doesn't increase curb appeal, which is the first factor that home buyers consider when they're beginning the process," he says. "Keep in mind that what you think will be ideal won't necessarily be ideal to a potential buyer."
Shop These Products Now: Window Films – Bathroom Mirror
Adding windows to your home
Natural light is a very appealing quality in a home. However, Lynch advises against adding skylights to your exterior. "If your home doesn't have a window or other type of opening, don't put one in," he says. "Creating a fenestration, an opening like a window or door, that wasn't originally built into the building's exterior can cause a range of new issues," he says. These problems include loss of energy efficiency and increasing your chances of developing leaks.
Shop These Products Now: Wardrobes – Closet Organizer
Prioritizing vanity over value
It's natural for homeowners to want to feel a sense of pride regarding their homes. "But oftentimes, homeowners fall into the trap of renovating for aesthetics. They neglect to address the less sexy renovation projects that are essential to the structure and quality of the building," Lynch says. It may be more fun to renovate the master bedroom or add a sunroom. But Lynch says the greater ROI lies in fundamental renovations like siding replacement and roof repair. Especially now that savvy buyers don't focus on cosmetic features.And even though curb appeal is important to buyers, it's also possible to go overboard in this area. "If your front yard is dead, water and fertilize it until it's green," advises Robert Taylor, Owner of The Real Estate Solutions Guy.  He warns against spending thousands of dollars on sod and fresh plants. "The more expensive your renovation, the more likely you're doing it to please your own personal tastes, instead of potential buyers."In fact, years ago, when Taylor first started rehabbing houses, he drove by an old property that he spent a considerable amount of money on, trying to restore the destroyed lawn. "I was shocked to see that the new buyers had torn out the lawn and poured a concrete slab over it," he says. Since then, he's seen others yards in which buyers have ripped up the existing landscape to create something to suit their own tastes. "It just goes to show that you have to leawhat you personally like out of the decision process," Taylor says.