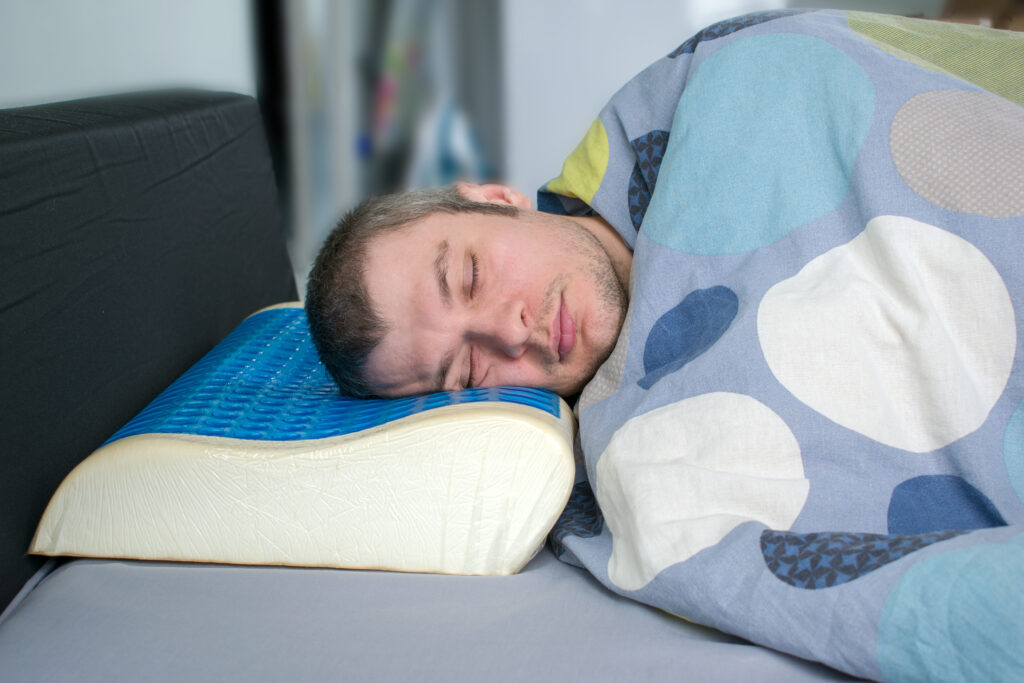 While traditional memory foam mattresses have long been touted as a top choice for comfort, even fans say they tend to retain too much heat (AKA "sleep hot"). One solution to this problem is switching to a cool gel mattress. In addition to helping hot sleepers, a gel memory foam mattress is also an excellent choice for body pain sufferers. Some consumers choose gel foam because, while it has the same features as a traditional memory foam mattress, it gives them additional support.
What is a gel memory foam mattress?
A gel memory foam mattress features memory foam construction that includes small gel beads or capsules. Typically, manufacturers pump gel beads into the mattress's foam, and the two mix together. Manufacturers may also add gel liquid to the memory foam or within a top comfort layer.
The gel beads form pockets similar to what you can find in a traditional open-cell mattress. But instead of allowing air to filter through the mattress, the gel beads work by absorbing and releasing heat from your body. The gel helps keep you cool while the memory foam redistributes weight and conforms to your body.
What type of sleeper is a gel memory foam mattress best for?
A gel foam memory mattress is optimal for hot sleepers or those who prefer sleeping on a cool surface. These mattresses conform to the body while dispersing body heat and relieving pressure points. However, some sleepers might find this mattress uncomfortable, particularly those suffering from severe back pain.
Traditional memory foam mattresses conform to a sleeper's body. While that helps keep spines aligned and relieves pressure points, these mattresses also retain a significant amount of heat. Adding gel to the mattress or its top layer delivers the same comfort benefits as a traditional memory foam mattress, only with a cool gel mattress, you won't be as hot.
Are cool gel mattresses comfortable?
Because a traditional memory foam mattress molds to the shape of your body, some sleepers feel like they are stuck in a permanent rut on the bed while sleeping. A gel memory foam mattress springs back quicker after you apply pressure. That also means that when you are sleeping it conforms to your body faster.
So, if you move around a lot in your sleep, a cool gel mattress is not going to stay compressed when switching from one position to another. No matter how often you move, it will keep conforming to your body. That can be more comfortable and keep you from getting that "stuck" feeling you might have with a traditional memory foam mattress. A cool gel mattress is also more comfortable for many because it allows for airflow and breathability. Those two are beneficial if you're looking for ways to cool down when sleeping.
How much do cool gel mattresses cost?
Prices will vary depending on the brand and size. Just like traditional memory foam mattresses, cool gel sizes range from twin to California king. Prices range from just over $200 up to $1,000 or more for a queen mattress. Even though the majority of cool gel mattress manufacturers use high-quality materials, some use less expensive materials to cut costs. Less expensive materials could lead to the mattress sagging more quickly or potential issues with off-gassing. You'll find that the more expensive models also have a higher density; density of a gel foam mattress is similar to its firmness. For example, a low-density mattress has a plusher feeling and one with high-density has a firmer feel.
Company: Molblly
Product: 10-inch Gel Memory Foam Mattress
Pricing (MSRP): $239
Company: LUCID
Product: 10-inch 2019 Gel Memory Foam Mattress
Pricing (MSRP): $235
Company: VIBE
Product: 12-inch Gel Memory Foam Mattress
Pricing (MSRP): $334
Company: Classic Brands
Product: Cool Gel 1.0 Ultimate Gel Memory Foam 14-Inch Mattress
Pricing (MSRP): $379
Company: Muse
Product name: Muse Cooling Gel Memory Foam Mattress
Pricing (MSRP): $1,195
*Pricing information varies based on availability
Gel memory foam: Pros and cons
Pros

Cons




Air circulation and breathability reduces heat retention

Helps you sleep cool

More responsive to movement

Pressure relief

The cooling effect might not last long

Made using synthetic materials

Some are expensive

Uncomfortable for some sleepers









Are there any other gel-infused mattress products that can help hot sleepers?
If you're a hot sleeper but aren't sure yet if you want to invest in a gel memory foam mattress, toppers also offer cooling benefits at a much lower cost.
You can also go beyond the mattress. Other gel-infused products include pillows, sleep masks, and mattress pads. Use in combination with each other or alone. Each of these gel-infused products is also an excellent option for cooling down a traditional memory foam mattress.
The bottom line
If you are a hot sleeper, a cool gel memory foam mattress might be the answer. These mattresses have the same comfort features as a traditional memory foam mattress, but with added gel beads or capsules. In addition to offering optimal support and comfort, a gel memory foam mattress can also help you get a cooler night's sleep. Keep in mind, though, that these mattresses could carry a higher price tag due to the gel infusion.
Frequently asked questions
What kinds of mattresses keep you cool? 
Some mattresses feature technology to help regulate temperatures. You can also opt for a cool gel foam mattress.
What is the best cool gel mattress? 
The Muse cool gel memory foam mattress has a removable and washable cover that helps wick away heat and sweat. This mattress is also infused with cooling gel to help regulate body heat. There are three levels of support: soft, medium, and firm.
Who makes cool gel mattresses?
Many manufacturers feature cool gel mattresses in their inventory, including Brooklyn Bedding, Broyhill, Classic Brands, Dreamfoam Bedding, OSO Essentials, P PURLOVE, Signature Sleep, and Sleep Innovations.
Do gel mattresses keep you cool? 
While there is no scientific evidence proving that gel mattresses cool you down, the concept is that gel in the foam helps draw heat away from your body. Gel also springs back more quickly when you move, reducing heat retention that you might feel if it remains conformed to your body.
---