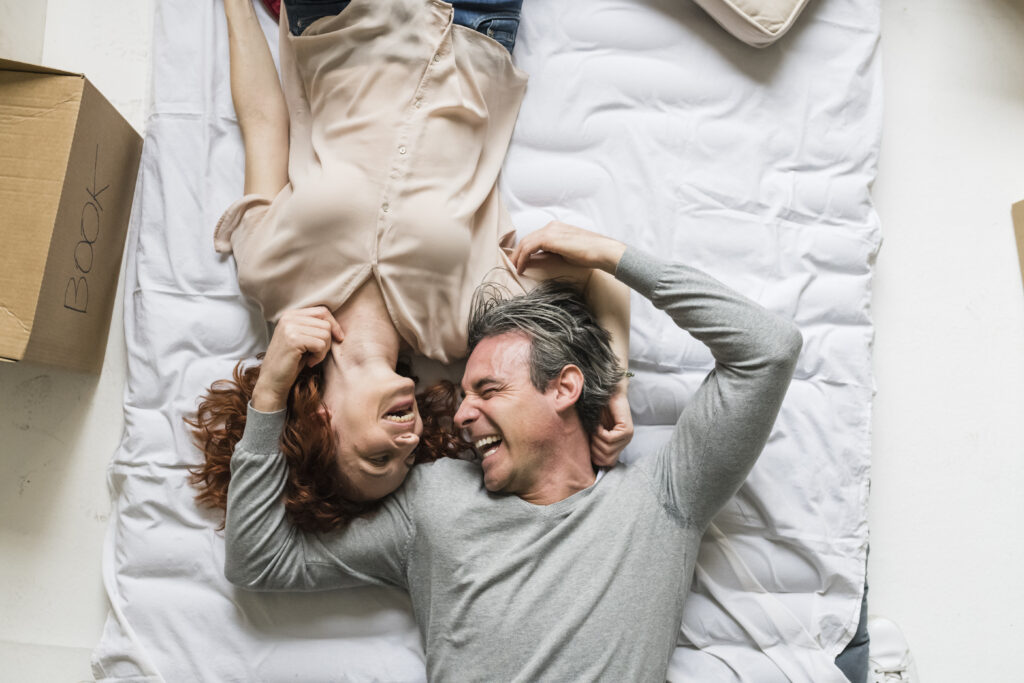 If you're in the market for a new mattress, you may have heard of the online mattress revolution. Rather than going to a brick and mortar mattress store to buy a mattress made of traditional materials, you can have a high tech new mattress delivered to your home in an easy to manage box (AKA "bed in a box"). Casper and Purple are two of the biggest players in this space, but what are the differences, and which is right for you? Here's a deep dive into Casper vs. Purple mattress.
The Casper Mattress vs. The Purple Original Mattress
When considering Casper vs. Purple mattress, it's important to make an apples-to-apples comparison. Although both companies also offer hybrid models, here we will focus on the original all-foam mattresses.
Let's look at what these mattresses are made of:
The Casper Original Mattress:
The Casper Original Mattress is 11 inches high. This three-layer mattress features a supportive, durable base made of polyurethane foam, a zoned memory foam middle layer, and a thinner perforated top foam. Here's how the layers work together:
Airscape™ top layer: Breathable perforated foam boosts airflow to keep you cool at night while conforming to your body to relieve pressure.

Zoned Support™ middle layer: Divided into three separate ergonomic zones, this layer provides softness under your shoulders and firmer support beneath your hips and waist.

Polyurethane foam base: The thick, strong base is designed for both comfort and support.
The Purple Mattress
The original Purple Mattress is 9.25 inches high. The mattress consists of three parts – a high-density foam base, a soft comfort layer, and a Hyper-Elastic Polymer® Purple Grid, all topped with a stretchy and breathable soft knit cover. Here's a look at the technology:
SoftFlex cover: Designed to flex with the Purple Grid, this breathable knit also promotes airflow.

2-inch Purple Grid: Unlike traditional memory foam, the Purple Grid features thousands of open-air channels, promoting a cooler night's sleep. It won't collapse under your body heat but flexes effortlessly as you move around.

Dual-layer foam middle and base: Soft comfort foam is layered on top of thick, high-density foam designed for support.
What about comfort?
The Casper Original Mattress
Customers on the Casper site and Amazon note that the original mattress feels reasonably soft yet supportive, and several mentioned that it alleviated back and neck pain overnight. Temperature is rarely mentioned in reviews, but a few people note that it doesn't feel as hot as other types of mattresses. Several reviews mention that it may take a few days to adjust if you previously had a traditional mattress.
The Purple Mattress
In reviews on both the Purple site and Amazon, customers consistently note that the mattress feels cooler than other models. They also mention that it feels soft but provides enough support, so you don't feel like you're sinking into the bed. Some say it may take several days to adapt to the new mattress, but those who persevere are generally quite happy with the results.
How much do these mattresses cost?
Cost is an important consideration when comparing Purple vs. Casper mattress. Prices vary by type and size of the mattress, as well as any promotions that may apply. Pre-promotional pricing for each mattress size from each company is provided below.
| | |
| --- | --- |
| Mattress Size | Price (MSRP) |
| Twin | $595 |
| Twin XL | $695 |
| Full | $995 |
| Queen | $1,095 |
| King | $1,295 |
| CAL King | $1,295 |
*Prices as of 10/16/20
| | |
| --- | --- |
| Mattress Size | Price (MSRP) |
| Twin | $599 |
| Twin XL | $799 |
| Full | $999 |
| Queen | $1,149 |
| King | $1,449 |
| CAL King | $1,449 |
*Prices as of 10/16/20
Are there any notable shopping perks?
When comparing Casper vs. Purple mattresses, be sure to look beyond price to see what benefits each company offers. Both offer free shipping and returns, along with a 100-night risk-free trial and a 10-year warranty. Both also offer financing at 0% APR for up to 18 months.
Casper sells bed foundations as an add-on, while Purple offers mattress protectors, duvets, and the acclaimed Purple Pillow. A frequent Purple promotion includes free sheets, upgradable to a more luxurious version for $15, specifically designed to enhance the flexibility of the Purple Grid. Other promotions and deals may be available through both companies from time to time, especially during popular holiday shopping periods.
If you prefer to shop in person, Casper has dedicated Sleep Shops across the country, where you can take a short nap on the mattress. Both companies also sell in a variety of traditional retail stores.
What are people saying about these mattresses?
The Casper Mattress Reviews
The Original Casper Mattress earns 4.4 stars on Amazon and 4.5 stars on its own site. In 2019, JD Power ranked Casper second in "bed in a box" mattress models (behind Purple), while Good Housekeeping gave it top marks as the "Best Overall Boxed Mattress."
The Purple Mattress Reviews
The original Purple mattress has a rating of 4.1 stars on Amazon and 4.4 stars on its own site. It earned the highest rating from JD Power in 2019 among "bed in a box" mattresses. It won Most Innovative Mattress Material from Good Housekeeping that same year.
Casper vs. Purple pros and cons:
The Casper Mattress
Pros:

Cons:




Lower price

Reasonably soft yet supportive

Dedicated Sleep Shops for in-person shoppers

Some customers say it's not especially cooling

Some reviews say it's not especially comfortable for side sleepers

Some reviewers report a strong smell that takes days to dissipate (which is common among memory foam bed models)









The Purple Mattress
Pros:

Cons:




Cool and comfortable

Works well for back, side, and stomach sleepers

Motion isolating to limit disturbances to your sleep partner

No dedicated sleep stores

Needs special sheets to maximize flex and comfort

Some say it's too soft for those who prefer a firm mattress feel









Frequently asked questions
Which is better, Casper vs. Purple? 
Like so much in life, it depends. When comparing Casper vs. Purple mattress, consider your budget as well as your sleeping position and temperature. Also, decide whether you prefer a softer or firmer mattress. These basics, along with both companies' 100-night risk-free trial, will help you make your decision.
Do Casper and Purple offer other types of mattresses? 
Yes, both companies offer hybrid models. To make an accurate apples-to-apples comparison, we focused solely on analyzing the original, all-foam Purple mattress vs. Casper.
What is the difference between Casper and Purple mattresses? 
Though they use somewhat different technologies, consumers' main differences in Casper vs. Purple mattress focus on softness, temperature, and suitability for different sleeping positions.
Which is cheaper, Purple vs. Casper? 
Casper mattresses are typically somewhat cheaper than Purple. However, both companies regularly run promotions, so if the price is a concern, it's worth looking at possible deals on both.
---