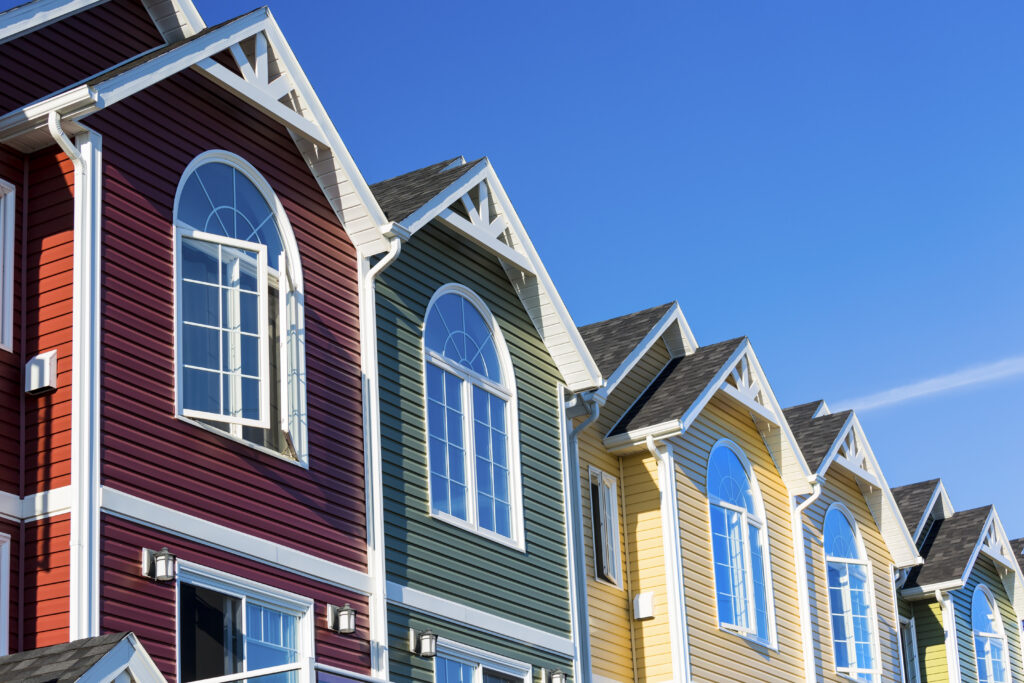 Thanks to its longevity and low maintenance, vinyl siding is a popular addition to many American homes. But it can start to look its age with time. If your vinyl siding is starting to look worn out or you've just moved into a home with faded, tired, or unattractive vinyl siding, you may be wondering: Can you paint vinyl siding rather than having to replace it? With the right tools and products, painting siding is possible — if you know how to do it.

Keep reading for our step-by-step guide on how to paint vinyl siding, including the products and tools you'll need.
How to paint vinyl siding
Ready to paint your vinyl siding? To do the job well, it's important to follow the process below.
Step 1: Check your vinyl siding warranty
Some manufacturers will void the product's warranty if it is painted. Before you embark on this big project, check to see if your vinyl siding's warranty is still active. If it is, check the legalities surrounding paint, including if you can only use a specific type or color or formulation.
Step 2: Clean your siding
The outside of your home accumulates grime and stains over time, all of which can prevent a smooth paint application. The Vinyl Siding Institute recommends washing vinyl siding with a soft cloth or an ordinary long-handled, soft bristle brush, using a solution of 1/3 cup powdered laundry detergent, 2/3 cup powdered household cleaner, 1 quart liquid laundry bleach, and 1 gallon of water.
Step 3: Mask off areas not being painted
To avoid getting paint on your window frames, door frames, and hardware, cover them using painter's tape and plastic sheeting or masking paper.
Step 4: Apply primer (if required)
Sherwin-Williams recommends if the vinyl siding has had a chance to weather for a year before painting, is cleaned thoroughly, and is in good condition, then primer is not required. If you do apply primer, make sure the product is specifically for vinyl siding.
Step 5: Apply the paint
Choose a paint specifically for vinyl siding, as these contain a blend of urethane and acrylic resins to allow for the siding's thermal expansion (the expansion and contraction of the siding due to temperature). They also come in vinyl-safe colors, meaning the shades won't absorb too much heat and cause the vinyl siding to crack. To apply the paint, you can use a paint brush, a paint sprayer, a roller — or a combination. Remove any drips with a paint brush and allow the first coat to dry completely before the second coat is applied.
Step 6: Remove masking and tidy up
Remove the masking tape, paper or plastic sheeting and touch-up any imperfections or missed spots with a paintbrush.
Products and tools for painting vinyl siding
To complete the process above, you'll need the following products:
When to call in a professional to paint vinyl siding
Can you paint vinyl siding? Yes! The next question to ask is if you are up to the job.
There are many reasons you might want to consider hiring a professional to paint your vinyl siding. These include:
The size and height of your home

Your availability

The condition of your siding

Your previous painting experience
If you decide to call in a professional to paint your vinyl siding, be aware that this will result in a higher cost for the project, as you must factor in the painter's labor costs. Additionally, you may have to wait for the painter to be able to complete your job, which could take days or weeks depending on their schedule.
The upside, however, is that a professional painter and their team will take a fraction of the time to complete the preparation and painting process. Many professionals will already have most, if not all, of the required tools on-hand and can offer advice regarding color selection if needed.
Painting siding vs. siding replacement
In some instances, your vinyl siding will need to be replaced entirely, rather than painted such as when the siding has rotten parts, holes, gaps, dents, or moisture is getting through. Additionally, if your siding is old (i.e. 20 years and older), it may be nearing the end of its lifetime. A professional vinyl siding contractor can inspect and determine this.
While replacing your vinyl siding will result in siding that's high quality and in brand new condition, this process will be a lot more costly than a few coats of paint.
Frequently asked questions
Can you paint siding?
Yes! If your vinyl siding is in good condition, all it takes is the correct preparation (such as cleaning the siding and masking off areas) and two coats of paint specifically formulated for painting vinyl siding.
Is painting vinyl siding hard?
The process of painting vinyl siding is very similar to painting any other surface in your home. While the process itself is not hard, it can be time-consuming, especially depending on the size and height of your home.
Can you paint vinyl siding in any weather conditions?
No. It is advised you only paint your vinyl siding when temperatures are mild, there is low relative humidity, and the sky is cloudy (but rain isn't in the forecast). Avoid applying paint if it's too hot, sunny, or windy, as this can lead to poor application and an increased risk of flaking.
Can you paint vinyl siding in any color?
Light colors work best on vinyl siding, as darker colors absorb more heat and could cause the siding to warp or buckle. Stick to painting your vinyl siding the same shade or lighter than the current shade, as each product is only designed for a certain amount of heat absorption.