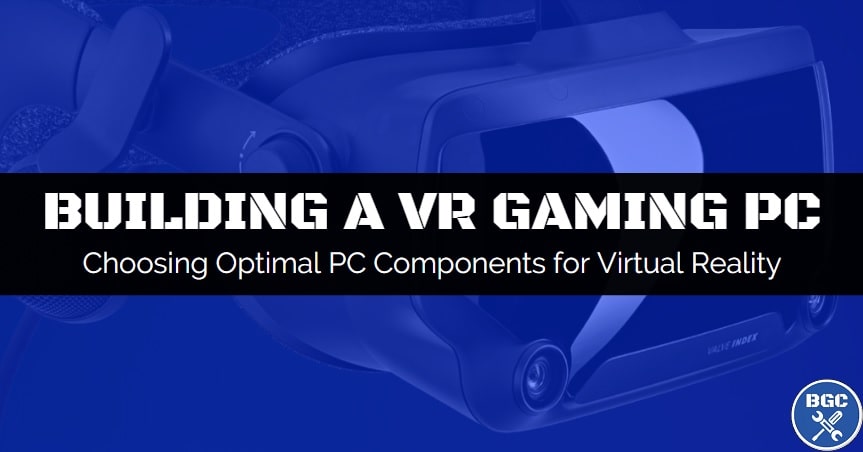 Home > Gaming PC Builds > VR Builds
Current Recommended "Bang for Buck" PC Parts to Build a Good VR Setup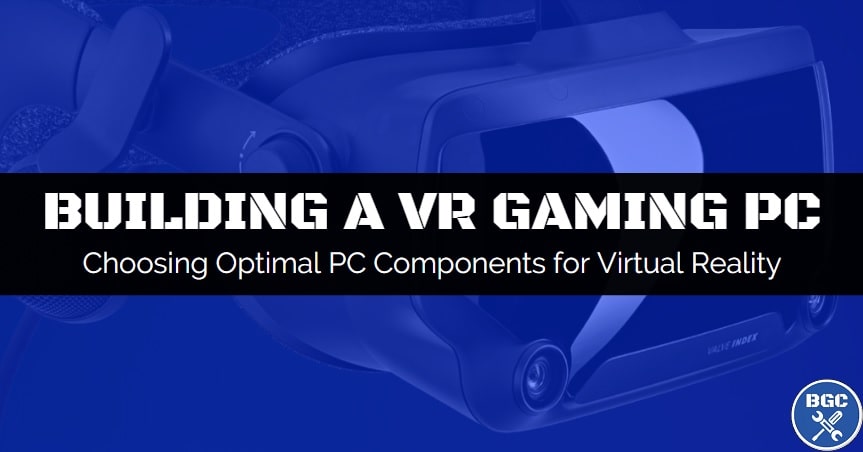 High-end PC VR headsets are quite demanding and require good parts for optimal performance
Last Updated: November 14, 2019
What if I told you, in 2020 the slowly bubbling, Tsunami-like technology that is virtual reality (finally) bursts open the dam door separating the enthusiast and mainstream crowds to finally gain the widespread respect and adoption it truly deserves as the inevitable future of gaming that it no doubt is (IMHO). It's an exciting time to be a gamer and I predict 2020 is going to be a standout, memorable year in the history of VR thanks to true AAA games built for VR from the ground up emerging on the scene for the first time.
See Also: Half-Life: Alyx PC Requirements
But this VR PC build guide isn't here to persuade you to get into virtual reality for the first time, and I'm assuming you're here because you're already sold and want to build a good PC for a high-end headset like the Valve Index, Oculus Rift S, Pimax 8K, and HTC Vive Pro (the top 4 best PC VR headsets as of November 2019).
See Also: The Best PC VR Headsets (Our Picks)

When you build a PC for virtual reality gaming, you want to do your due diligence in order to choose the right components to both ensure your system is VR-ready from every angle (including picking a suitable CPU, GPU, RAM, and motherboard), and so you get the best VR performance for your budget.
In this VR PC builds guide, we'll cover everything you need to know, including a look at why VR is more demanding than normal PC gaming, how to choose the best PC parts for VR, and our latest recommended custom VR-ready PC builds for different price points. Let's go!
See Also: How to Easily Assemble a PC
The Cheapest VR-Ready PC Build (Under $1000)
If you're on a tight budget and want the cheapest PC build for VR gaming in 2019 and throughout 2020, these are the cheapest components we can recommend:
Graphics Card: NVidia GeForce RTX 2060 6GB (any model)
CPU: AMD Ryzen 5 3600
CPU Cooler: AMD Stock Cooler
Motherboard: MSI B450 Tomahawk Max
RAM: 16GB DDR4 3200MHz/3600Mhz

Power Supply: EVGA SuperNova G3 550w 80+ Gold Modular
Storage: Samsung 860 EVO 500GB SSD + Western Digital 1TB HDD
Case: Any compatible well-cooled Mid Tower
If you have a bit more than 1000 dollars (US) to spend on your VR gaming PC build, get the slightly better RTX 2060 Super instead, especially if it's not much more than the standard RTX 2060. This type of build is enough firepower to be a good entry-level VR PC build for the Oculus Rift S or HTC Vive, but if you want the very best VR experience and/or you're using the most demanding headsets on the market like the Valve Index at 144Hz or the insane Pimax 8K, you will need a better computer without question.
But for the Oculus Rift S and HTC Vive Pro, the above build should run any VR game or application on the market (well, at least as of November 2019) at acceptable performance levels, so if you're just a casual VR gamer wanting to check out what the fuss is about, it'll get you started.
For full details on how to build the best cheap VR PC build using the components recommended above, see our $1000 gaming PC build guide which is the exact same build except for a different GPU. So, simply swap the RX 5700 graphics card for any RTX 2060 model (the guide lists out specific recommended RTX 2060 cards) as we recommend NVidia for the most reliable VR performance and driver support: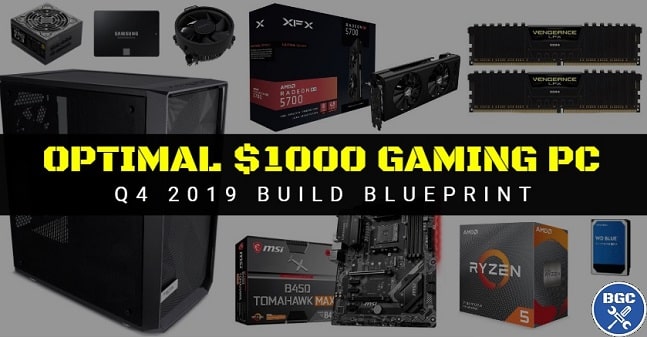 The cheapest PC build for casual VR gaming (but I'd swap the RX 5700 for a RTX 2060)
The Best Budget VR-Ready PC Build ($1500)
The above cheap virtual reality PC build will cover the bare minimum specs required for high-end PC VR headsets, but for a guaranteed good experience in any VR game throughout 2020 we highly recommend the following type of setup using a very capable RTX 2070 Super:
Graphics Card: NVidia GeForce RTX 2070 Super 8GB (any model)
CPU: Ryzen 7 3700X
CPU Cooler: Cooler Master Hyper 212 Evo (any model)
RAM: Corsair Vengeance LPX 16GB DDR4 3200MHz/3600Mhz
Motherboard: ASUS TUF X570-Plus WiFi
Power Supply: EVGA SuperNova G3 650w 80+ Gold Modular
Storage: Samsung 860 EVO 1TB SSD + Seagate Barracuda 2TB HDD
Case: Any compatible well-cooled Mid or Full Tower
This is perhaps the overall best value PC build for virtual reality in 2019, and a nice balance of price and performance that'll work well with any VR headset on the market except the Valve Index running in 120/144Hz refresh rate (although for less demanding games this rig should be fine for that). If you're looking to be as cost-effective as possible when building a VR computer, but still want enough grunt for any modern VR game to run smoothly, the above budget VR build is what we suggest to most gamers.
See a full PC build example using these exact parts with our latest $1500 gaming PC build guide: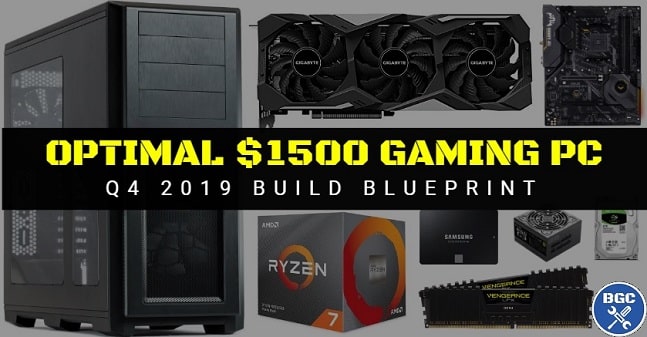 The Best Mid-Range VR-Ready PC Build ($2000)
Keep in mind that while we say "mid-range", that's in relation to the grand scheme of VR PC builds as VR requirements can be super high (think the Valve Index at 144Hz). So don't get it twisted: the following virtual reality gaming PC build is a very capable system for excellent VR performance overall:
Graphics Card: NVidia GeForce RTX 2080 Super 8GB (any model)
CPU: Intel Core i7-9700K
CPU Cooler: Cryorig H7
RAM: Corsair Vengeance LPX 16GB DDR4 3200MHz
Motherboard: MSI MPG Z390 Gaming Edge AC
Power Supply: EVGA SuperNova G3 750w 80+ Gold Modular
Storage: Samsung 860 EVO 1TB SSD + Seagate Barracuda 2TB HDD
Case: Any compatible well-cooled Mid or Full Tower
If you're a casual VR gamer there's no need spending more money than this on your custom VR PC, as the RTX 2080 Super and 9700K CPU is a great hardware combination to easily handle high-end VR headsets. If you're wondering why we choose Intel over AMD for high-end VR, see our quick build notes of the next setup below.
For specifics on building this system, refer to our latest $2000 gaming PC build guide which goes into full detail: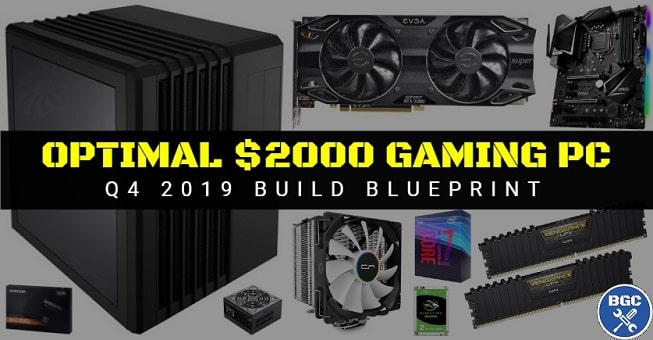 The Best High-End PC Build for VR ($2500)
Now we start getting into the true high-end territory of VR performance for the real enthusiasts out there. This high end VR PC build boasts the expensive (and quite overpriced compared to lower-tier cards if we're honest) yet powerful RTX 2080 Ti which is the best overall VR GPU as of 2019 besides the even more overpriced Titan RTX:
Graphics Card: NVidia GeForce RTX 2080 Ti 11GB (any model)
CPU: Intel Core i7-9700K
CPU Cooler: Dark Rock Pro 4 or Corsair Hydro H100i RGB Platinum SE
Motherboard: Asus ROG Strix Z390-E
RAM: Corsair Vengeance Pro RGB 16GB 3200MHz
Power Supply: EVGA SuperNova G3 750w 80+ Gold Modular
Storage: Samsung 970 EVO m.2 1TB  + Seagate Barracuda 2TB HDD
Case: NZXT H700i Smart RGB, Enthoo Evolv X or Thermaltake View 71
When paired with the fast Intel i7 9700K processor, you'll get a near-flawless VR gaming experience today and over the next few years. But while we do admittedly slightly favor Intel for a VR PC build (cue the haters in the comments below ;P), especially for the higher potential refresh rates of the Valve Index (which really tests your CPU as well as your GPU of course), AMD's latest Ryzen 3rd gen processors have proven themselves as very formidable close-performing gaming CPUs and are a worthy alternative (especially if you're building a hybrid VR gaming/workstation setup).
But the fact of the matter is, for squeezing out the maximum amounts of frame rates possible, Intel still holds a slight edge in the high-end market with their unbeatable 9700K (and 9900K; see the next VR build). You can sue me, downvote others who spit similar truths on Reddit, or cry about it, but it's objective facts my dude. But again, to be fair, you're unlikely to witness the difference in real-life gaming situations, so AMD vs Intel for VR doesn't really matter overall and either is going to serve you well. But if you were to ask me personally, I'd choose Intel for high-end VR.
For how to go about building the best VR PC build for $2500, see this guide for full details:
The Ultimate 2080 Ti PC Build for VR ($3000)
With even more money to throw at your dream new VR setup, you can level things up in the CPU department once more to include the monstrous 9900K instead of the 9700K for slightly higher frame rates – especially helpful for the Valve Index in high refresh rates (120 or 144Hz) as this requires some serious CPU horsepower (and the 9700K is actually not strong enough for flawless 144Hz in VR in the most demanding games).
Graphics Card: NVidia GeForce RTX 2080 Ti 11GB (any model)
CPU: Intel Core i9-9900K
CPU Cooler: NZXT Kraken X72 RGB
Motherboard: ASUS Maximus XI Hero Z390 ATX
RAM: Corsair Vengeance Pro RGB 32GB 3200MHz
Power Supply: EVGA SuperNOVA 850 G3 80+ Gold Modular
Storage: Samsung 970 EVO m.2 1TB  + Seagate Barracuda 2TB HDD
Case: NZXT H700i Smart RGB, Enthoo Evolv X or Thermaltake View 71
As with all our other sample virtual reality PC builds above, our recommended build in the same price tier for standard PC gamers includes the same parts (what makes the best 4K gaming PC is the same as what makes the best VR PC), so check out the build guide here: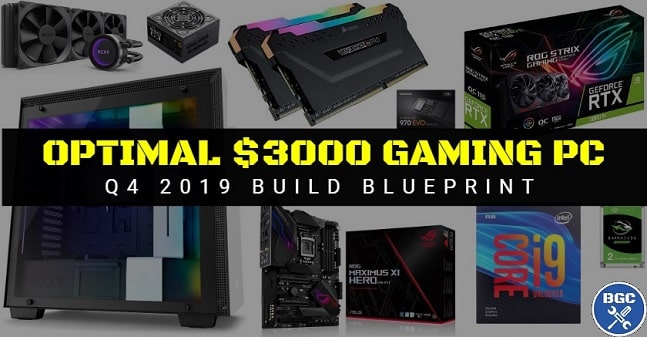 The Extreme Valve Index 144Hz PC Build ($4000)
If you want to leave no stone unturned and invest in a system that has the best chance of running the most demanding VR games in 120Hz or 144Hz with the Valve Index (or for the super high-res Pimax 8K) – this type of $4000 VR gaming PC build is worth considering assuming you're heavily interested in VR and getting the ultimate experience:
Graphics Card: NVidia Titan RTX 24GB
CPU: Intel Core i9-9900K
CPU Cooler: NZXT Kraken X72 RGB
Motherboard: ASUS Maximus XI Hero Z390 ATX
RAM: Corsair Vengeance Pro RGB 32GB 3200MHz (or faster)
Power Supply: Corsair RM1000x 80+ Gold Modular
Storage: Samsung 970 EVO m.2 1TB + Western Digital Black 2TB Performance
Case: NZXT H700i Smart RGB, Enthoo Evolv X or Thermaltake View 71 (or other Full Tower)
Besides dual video cards using NVidia SLI, which is currently not well supported for VR (see the FAQ below), a Titan RTX and 9900K build is the single best consumer GPU and CPU combination possible in 2019. This power is not necessary for lesser demanding VR titles, even for 120 or 144Hz, but for the most demanding games on the market the overpriced Titan RTX may actually be necessary, as crazy as that sounds.
But just remember that 90Hz on the Valve Index, or any VR headset for that matter, is just fine, and many people won't even see the difference between 90Hz and 120/144Hz in virtual reality. Point is, we can't comfortably recommend this $4000 VR PC build for 99.5% of people, even for the Valve Index, but if you have no budget restriction it is what I'd build.
Based on what I've gathered from (admittedly limited but seemingly fairly conclusive) VR enthusiasts' experiences, even a mighty RTX 2080 Ti can't handle the Valve Index at 144Hz in all VR games. Crazy, I know, but remember that 144Hz in VR is like 4K 144Hz; no mean feat in the slightest.
Is VR Worth It in 2019?
If building a computer for a good VR experience today and over coming years requires beefier specs compared to just building a standard gaming PC, is VR worth the extra money?
Only you can answer that question, and we're not here to give you financial advice as we don't want anyone selling their house and living on the street in order to experience virtual worlds no matter how fun they can be (though if you've had that thought swirl through your head after trying VR for the first time somewhere, you're probably not the only one).
See Also: The Best PC VR Headsets for the Money
So I can only give you my personal opinion here, and without a hint of bias in my bones I can comfortably say that objectively-speaking, there is no more immersive gaming experience as high-end PC VR and there is now a wide range of good VR games and experiences as of late 2019.
I think it's 100% worth the money – IF AND ONLY IF you can afford it without having to sell a kidney.
Plus, besides the current wide range of VR games (some good, some great, and some okay) there are some juicy upcoming releases in 2020 including Medal of Honor VR which is set to be the first true AAA FPS built from the ground up for virtual reality.
Despite its seeming maturity, it's still only just the beginning for the technology though, so there's no rush to get in now. Unless you simply can't wait, in which case I don't blame you. The first time I tried VR, which was the short but sweet Trails on Tatooine mini experience on the Oculus Rift, I was immediately mesmerized and sold on VR, and itching to get my hands on a headset with levels of palpable excitement the likes of which I've not felt as a gamer since way back as a real young kid during the golden N64-era of 1997 to 2001 (man, what a time).
The future of virtual reality both within gaming and non-gaming applications holds infinite possibilities and is so exciting to a pure futurist like yours truly. All it takes to understand what the future of VR holds (in due time) is to very briefly try a single concept game or two. Think about it; imagine your favorite game in a full-limb-tracked, free-to-move, room-scale wireless VR experience…and then throw the mad fun of multiplayer and eSports in the mix. The possibilities of incredibly immersive, amazingly-fun experiences is truly limitless.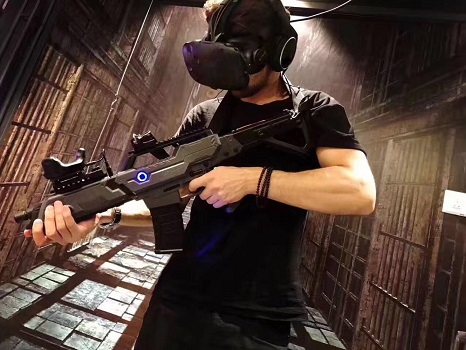 Think of your favorite game of all time. Now imagine it in full tactile VR where you feel like you're IN the game. It's coming…
If you're not pumped for VR as THE gaming medium of the near future, I think it's only a matter of time until you're swayed as games continue getting better and better. I think how many people still generally view VR today is kind of like how the internet was viewed when it first came about (well, those who haven't tried high-end VR properly; Google Cardboard or Nintendo Labo doesn't count and is nothing like PC VR). It's funny to think about now that the internet has literally consumed every facet of our lives (for better or the worse), but the reality was that people used to think the internet was a fad. Yep, the internet…a fad. Anyway, let's cut the side tangent about VR utopia and answer some common questions we see people asking surrounding building a PC for VR.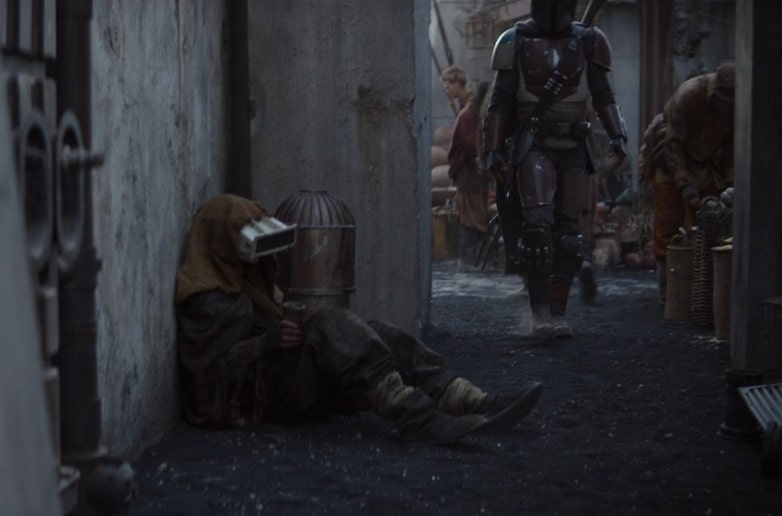 Don't go homeless for VR, but do watch The Mandalorian
VR PC Builds FAQ
Q:

How Demanding is PC VR?
A: Compared to "normal" PC gaming, virtual reality is more demanding overall and requires better hardware to run well. That means having both a strong CPU and GPU, as both are important when building a PC for VR, though like with building a computer for standard non-VR PC gaming, your graphics card is the single most important component of all so you want to allocate a healthy chunk of your PC build budget (25 to 40%) to buy the best GPU for VR that you can.
Q:

Why is VR So Demanding?
A: VR headsets typically render at a maximum of 90 frames per second (or 90 Hz), which is a fair bit more than the maximum 60 frames per second (60 Hz) of most standard gaming displays. 
But here's the thing: whilst the refresh rate is the "maximum" frames per second your eyes can see, with standard gaming displays you always aim to get to that holy grail of 60 if you can, but if it lowers a bit below 60 it hardly ruins the experience much (assuming you don't go too consistently low such as 30-40 and under).
But with VR, not only is 90 frames per second the maximum frames you can see, it's the recommended minimum as stated by VR developers from Rift and Vive. They say that to retain an immersive VR experience, you shouldn't slip under 90 frames per second as the drop in frame-rate is much more noticeable and uncomfortable with VR because of the fact the lens display is right in your face. 
Q:

 

How Much Does it Cost to Build a VR-Ready PC?
A: While VR PC can be quite demanding compared to traditional gaming, that's not say you need to spend thousands and thousands of dollars on a good computer for VR. In fact, building a PC for $1000 to $1500 is more than enough to assemble a very capable PC to play any VR game on the market right now in 2019 (assuming you choose the right balance of components).
You could theoretically use cheaper parts than this too if you really wanted, as a $700 to $800 PC can be theoretically fine as an entry-level VR-ready setup to get you in the door, though we don't recommend it for a flawless VR experience.
Q:

 How Do You Know if Your PC is VR-Ready?
A: As VR becomes more and more popular each year, many gamers wonder if their PC is VR-ready or not. So how do you know? Simply put, you need a graphics card that officially mentions "VR-Ready" in its specs or on the box, and a decent mid-range CPU (though there's no such thing as official VR-ready CPUs). Though just because you have a VR-ready GPU, doesn't mean you'll get good VR performance.
Q:

 What GPU is Needed for VR?
A: The minimum, cheapest GPU on the market in 2019 that is officially VR-ready and viable for PC VR headsets is the RX 570 4GB on the AMD side of things, and the GTX 1060 3GB from NVidia's range. Your VR performance and experience will be limited with these entry-level GPUs though, so while they could be enough it's recommended to shoot for the next tier up such as the RX 580 or GTX 1070/RTX 2060.
Q:

 How Much RAM Do You Need for VR?
The minimum amount of memory recommended for PC VR gaming is 8GB of RAM, which is also the same amount for a standard gaming PC. But for the best VR gaming PC build, aim for 16GB which isn't expensive to do these days and easy to include in any respectable VR system of $1000 or higher.
Q:

 What's the Best Motherboard for a VR PC Build?
A: When choosing a motherboard for VR, make sure it has a nice amount of USB ports, especially if you're using the Oculus Rift S which requires 4 USB ports (see below) as you'll also need to factor in your other USB accessories like a keyboard, mouse, and headset. However, any good mid to high-end motherboard will have plenty of USB ports.
Q:

 How Many USB Ports Do You Need for PC VR Headsets?
A: Current-gen PC VR headsets don't require too many USB ports, so this shouldn't be a concern for most PC builders. For example, the Valve Index only needs 1 USB 3.0 port, and the Oculus Rift S needs 3 USB 3.0 ports and 1 USB 2.0 port – something most modern motherboards will have covered.
Q:

 What Happens if Your PC Can't Reach 90FPS in VR?
A: You get sucked into a virtual wormhole and transported to a galaxy far, far away, never to be seen again (sounds kinda fun though). Virtual reality requires 90 frames per second for smooth stutter-free performance, so if your computer isn't powerful enough to reach this performance threshold you could experience an unpleasant ride in the virtual world which could lead to motion sickness for some people. This is why we don't recommend using a really cheap PC for VR gaming, however features like Asynchronous Spacewarp for the Oculus Rift S can help with this.
Q:

 What is 

Asynchronous Spacewarp?
A: No, it's not some form of time travel, but that's okay because VR is the next best thing. Asynchronous Spacewarp (ASW) is a feature introduced by Oculus (Valve Index and HTC Vive headsets has a similar feature called Motion Smoothing) that helps make for a smooth experience on less powerful PCs.
If your system can't reach the 90FPS target of VR headsets (as their default refresh rate is 90Hz, although the Valve Index can go up to 144Hz) the feature will kick in and render the games at half of 90 FPS (45 FPS) and use synthetic frames to reach a total of 90FPS. This is to make the experience smooth at the sacrifice of image quality.
Q:

 Do VR Games Support SLI?
A: As of 2019, there are unfortunately currently only a small amount of VR games and experiences that support SLI  such as the Serious Sam VR series, Eve Valkyrie, NVIDIA Funhouse VR, The Lab (Robot Repair), Trials on Tatooine. Hopefully SLI game support in the VR realm will get better with time, as high-end PC VR headsets like the Valve Index brings practically every single GPU on the market to its knees running in 144Hz mode (even a RTX 2080 Ti).
Q:

 Is VR More Demanding Than 4K?
A: Virtual reality is roughly on par with the requirements of standard PC gaming in 4K resolution, but VR definitely can go beyond 4K in its demand (think Valve Index at 144Hz, or the most demanding VR experiences around). So when planning the best PC build for VR, considering 4K benchmarks for your prospective parts-list can be a decent gauge as to how they'll stack up.
Standout Sources/References Used in Our Research
VALVE Index System Requirements and Compatibility (SteamVR)
Oculus Rift and Rift S Minimum Requirements and System Specifications
HTC Vive Recommended System Requirements
HTC Vive Pro Minimum System Requirements
HTC Vive gets Oculus Rift ASW-like motion smoothing
Asynchronous Spacewarp: Oculus Developer's Blog
Introducing ASW 2.0: Better Accuracy, Lower Latency: Oculus Developer's Blog