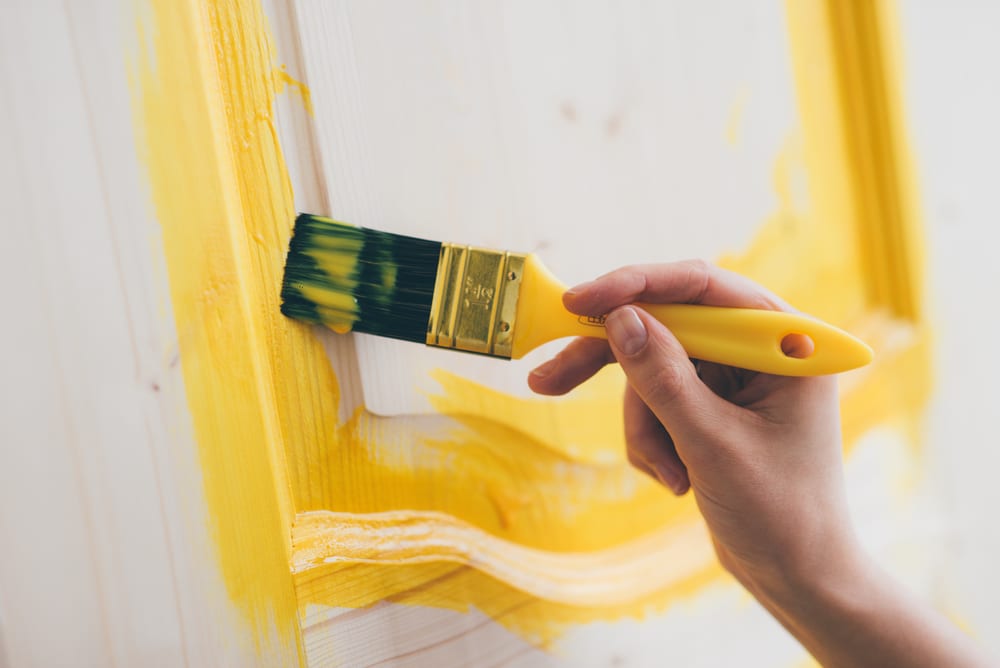 Maybe you want to freshen up décor inside the house by updating the colors of your doors. Or, maybe your doors are starting to look a little worn down and weathered and need some touching up. Whatever the reason you're painting interior doors, there are some simple best-practice instructions for you to follow.

Use this guide for tips on how to paint interior doors step-by-step, plus some recommended products for that process.
How to paint an interior door in 8 easy steps
Painting interior doors starts with a lot of prep work.  We dive into the nuances of the process and the products you'll need.
Step 1: Remove hardware
Remove any handles, knobs, and other hardware before prepping and painting the door. To make your life easier later, label every piece of your door that you remove so you remember where to return it when you're done. If you have a partner or roommate present, you might even want to have them record a video of you disassembling the knob for you to refer to when it comes time to put the hardware back together.
If you don't want to remove anything, you'll need to use painter's tape to section off any areas that need to be protected. You can also remove the entire door if you prefer. Laying your door horizontally will make it easier to prevent drippage while painting, but be sure to elevate your door to allow for ventilation.
Step 2: Prepare the door
It's important to prepare your door before painting. If there are any holes, gouges, or imperfections that need filling, this is the time to do it. You will also want to put a drop cloth underneath the door to catch any dust or paint that may fall at some point in the process.
Step 3: Sanding
Now it's time to sand the entire door. Use fine-grit sandpaper or a gentle sander if you have one. Note that if your door was painted before the 1980s, it's possible it was painted with lead paint, in which case special safety precautions will need to be taken.
Step 4: Clean
Next, clean off any dust or other dirt. You can vacuum the dust or use a cloth with a little bit of water. If it's an especially tough spot, use some trisodium phosphate on the cloth.
Step 5: Prime the door
There are a lot of primers available, and this step is key to making sure the paint goes on smoothly and evenly.
Step 6: First coat of paint
Now it's time to paint the door! Be sure to slick on that entire first coat without stopping, or the paint will dry unevenly. It's also important to paint with long, smooth brush strokes.
If you're painting a paneled door, first paint the panels from top to bottom, then paint the vertical strips between the panels. Lastly, paint the outer edges of the door.

If you're painting a plain door, use a small foam roller for larger areas and an angled brush for the edges.
Step 7: Second coat of paint
Your door might need a second coat of paint, depending on the color and smoothness of the first coat.
Step 8: Replace the hardware
Once your paint is totally dry, it's time to reattach the handles, knobs, and any other hardware. If you removed the door, now you can reattach it to its hinges. That's it! You've mastered how to paint a door.
Products and tools you'll need to paint a door
The bottom line
Follow the steps above before you start painting interior doors in your house. You'll need a variety of tools and products for this project, some of which you might already have at home. There are a couple of different methods for how to paint an interior door, so it's important to do some research on the type of paint you want to use, what kind of paint is already on your door, and whether or not you'll need to sand and prime before painting.
 Frequently Asked Questions
What's the best paint for interior doors?
The best paint for interior doors is any paint specifically made for interiors of homes, not exteriors. You don't need weatherproof paint to survive your hallway.
Do I need to remove my door to paint it?
This is totally up to you. You don't need to remove your door to paint it, but if it's easier to work on a horizontal surface rather than vertical, remove the door.
Do I need to prime interior doors before painting?
Yes, priming your interior door before painting it is best. However, many paints are both a primer and paint in one, so you may be able to combine those two steps depending on the brand and type of paint you choose.
Can you use a roller to paint a door?
Yes, you can use a roller. It just needs to be a smaller roller – 4 inches is a perfect size.
---