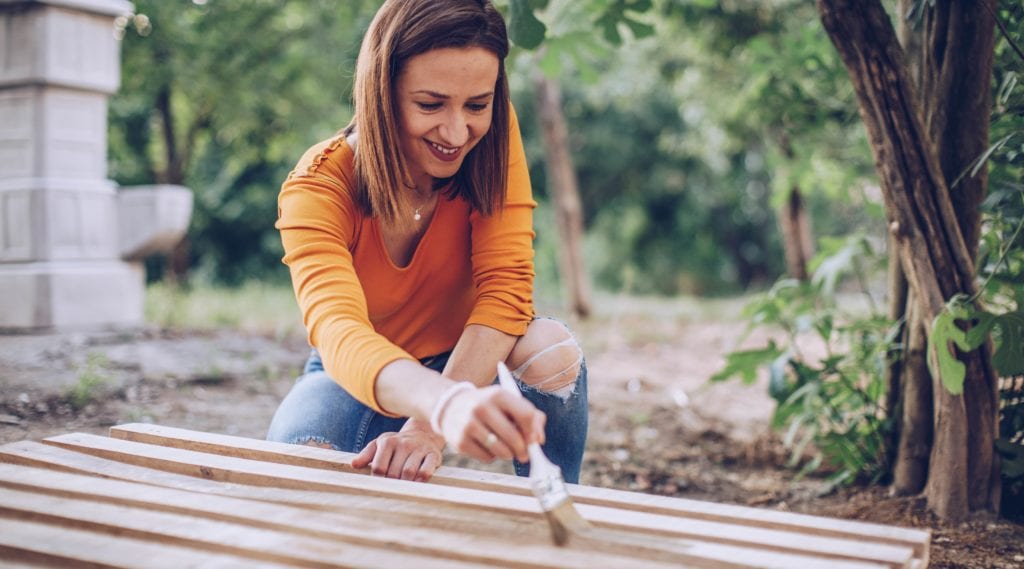 Congratulations, homeowner! You got it all done: The house-hunting, the closing, and the moving.

Now, you're in this new house that's all yours. But does it really feel like you? Have you had the time to add those personal touches that really make your house your home?



Well, now that the moving craziness has died down, it's time for the fun part. MYMOVE has three easy DIY projects you can do this weekend to both add your personality to your beautiful new home and get you (and the family) outdoors — with no moving boxes in view!
Project #1: Personalize Your Front Entrance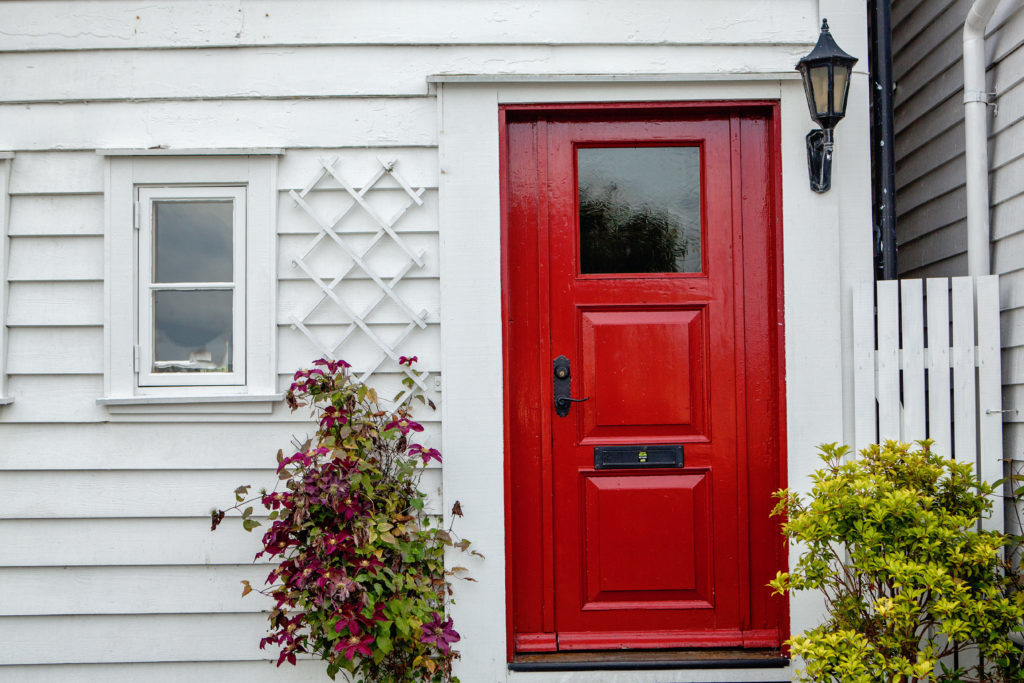 Credit: Carol Yepes / Getty Images

Nothing says welcome home like an appealing front door. It's the first thing people see when they drive up to your new home, and it's a great opportunity to make a statement. Here are some easy steps you can take to create undeniable curb appeal:
Customize your house numbers:
Want to get away from the traditional black wrought iron address indicators? Try repainting them a bold color or nailing the numbers to a wooden backdrop for a mid-century modern look. You could even make moss-covered house numbers to bring an earthy, organic vibe.
Choose a fun welcome mat:
Whether it features a custom monogram or phrase, your favorite team's logo, or a simple "hello," welcome mats are an easy way to leave your creative thumbprint on your home. You can order a custom rug on artisan sites like Etsy, or you could buy a plain rug and DIY with acrylic paint.
Pro tip: You could even crochet those unused plastic bags into a beautiful welcome mat! 
Go bold with your front door:
A small can of your favorite paint color could go a long way in adding some pizzazz to your home. Think cherry red, deep aqua, or even powder pink! The possibilities are endless!
Frame your doorway with flower pots:
Pops of color from fresh flowers automatically give a new home a lived- and loved-in feel. Have older terra cotta pots that are looking a bit worse for wear? Spruce them up with spray paint or distress them for a shabby-chic look. Then, choose your favorite flowers (keeping in mind your climate and the amount of sunlight your front door gets), pick up a bag of potting soil, and start creating!
Pro tip: You can get the kiddos involved by turning these pots into adorable fairy gardens!
Light a path to your front door:
Installing path lights on your walkway not only adds outdoor ambiance when the sun goes down — but it also serves as a guide for your guests and keeps them safe from potential tripping hazards. Lowe's has an easy step-by-step guide to choosing and installing outdoor lighting.
Pro tip: You can make your home more energy efficient by choosing solar-powered path lights (which are a breeze to install)!
Project #2: Create a Backyard Oasis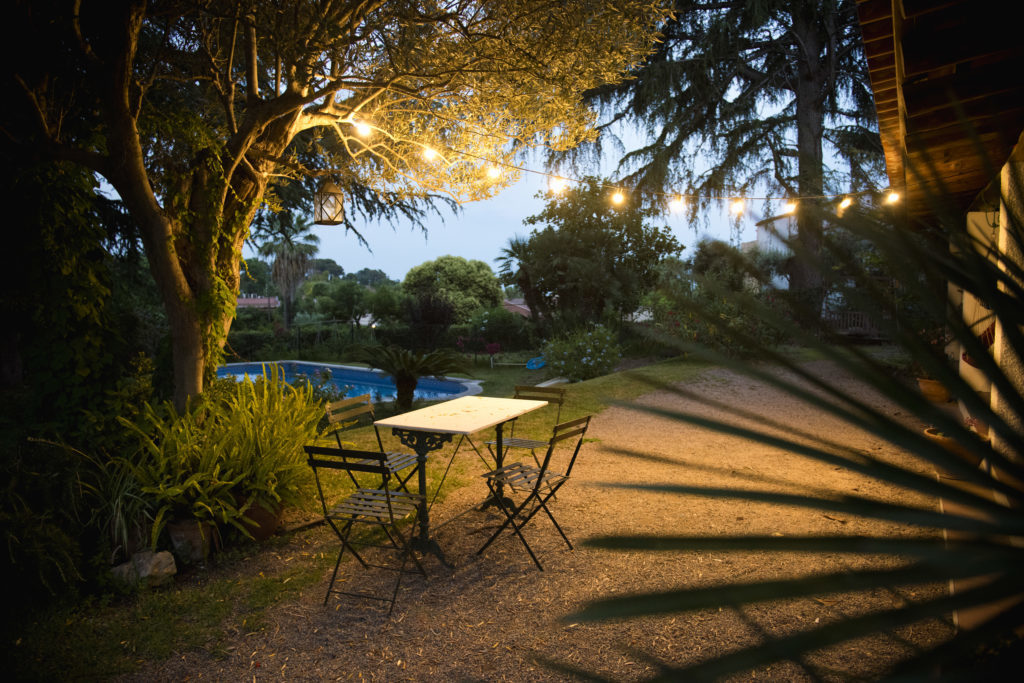 Credit: Stephen Simpson / Getty Images

Finding a place to escape and unwind is essential after a stressful move. Why not make that place your backyard? You don't need to spend thousands of dollars on landscaping or install a complicated water feature to create that haven. Just incorporate one (or all!) of these few easy features:
String up cafe lights:
Whether you create a canopy or wrap your favorite tree, a string of lights will undoubtedly add an element of romance to your backyard. Creating the perfect mood lighting for dining al fresco will make you never want to go back inside!
Pro tip: You want to choose lighting that will last. Here are a few tips and tricks to choosing and hanging outdoor lighting.
Upcycle old furniture for the outdoors:
Do you have an old kitchen table you can't find a place for inside? If you take a few steps to treat the furniture for the outdoors, you can easily find a place for it in your backyard haven. Then, you get to save money by using what you already have to create an outdoor dining area or sitting space!
Get creative with wood pallets:
If you don't have any spare furniture to use (and you want to be nice to your wallet), look up places where you can get cheap wood pallets. With these wood pallets, you can create comfy outdoor seating, a dining table, or even an outdoor bar.
Light the candles:
Bugs are an expected downside to the great outdoors. So if you want to enjoy your outdoor oasis without the pests, light citronella candles near where you and your guests will be sitting. Plus, you get the bonus of the candlelight ambiance!
Pro tip: You can easily DIY with materials you likely have lying around the house.
Hang a tree swing or a hammock:
Nothing gets kids out of the house and into the outdoors like a swing. This is an easy way to incorporate play into your backyard bliss. You can make your own swing using heavy duty rope and a wooden board (or skateboard or an old tire). For more advanced DIYers, you can make your own hammock — just make sure you have two durable trees.
Project #3: Grow What You Eat
Credit: Westend61 / Getty Images

Stretching that green thumb may seem like a daunting task, especially for a beginner. But what could be better than fresh fruit from a tree in your front yard, or crisp veggies from your backyard vegetable patch? This is the perfect opportunity to plant seeds and (quite literally) establish roots in your new home. Here are a few ideas:
Start small with a potted herb garden:
You can grow almost any herb in a container, and potted plants are often easier to start and maintain. Just keep in mind the sun, water, and soil preferences of the herbs that you plant, especially if you want to put multiple kinds in one pot. Before you know it, you'll have fresh cilantro for fajita night and fragrant basil for spaghetti dinners!
Plant a fruit tree:
Do you have a corner of your yard that gets tons of sun? That's the perfect spot for a fruit tree! The tree you should plant will depend on where you live — cherries and apples are best for colder northern climates, while citrus fruits thrive in the southern warmth. Go to your local garden center and explore your options!
Try your hand at a raised vegetable bed:
If you want to contain your vegetable garden to a specific portion of your lot, raised beds are the way to go. These simple structures allow you to handpick your soil based on what veggies you want to grow, and keep the dirt enclosed and protected. Raised beds are perfect for your everyday veggie essentials — tomatoes, leafy greens, onions, and more!
Pro tip: You can easily construct these beds yourself with lumber and exterior screws using this Lowe's tutorial.
Trust Us, It's Worth It
Adding outdoor decor and flourishes may seem like an unnecessary project after the chaos of a move. We get it; you're probably tired of a to-do list.
But adding statements that personalize your home allows you and your family to connect with your new outdoor space. These projects will add your family's personality to your new home — and doing them together will kickstart those priceless new memories.