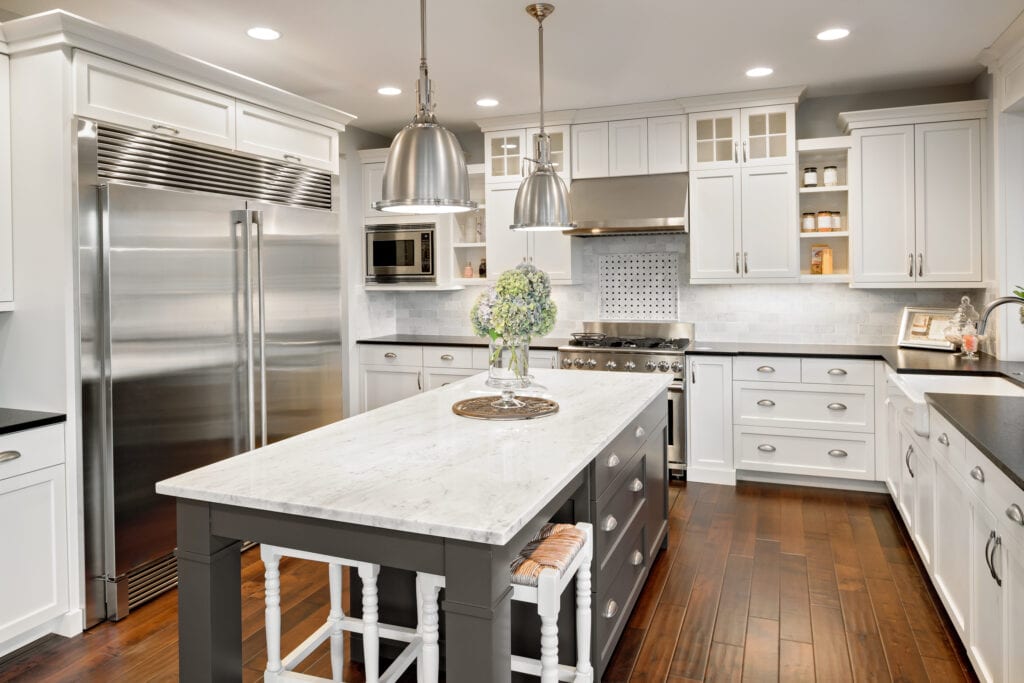 Switching kitchen cabinet colors is the easiest and most effective way of changing a kitchen's overall look and feel. It involves zero construction or renovation — you only need paint and a brush.
Kitchen cabinets take up a significant amount of your kitchen's visual space. Therefore, cabinet colors are the first thing you should consider when deciding on your kitchen's color scheme. We've rounded up 27 kitchen cabinet paint colors that will give your space a cohesive and clean look.
The 27 best kitchen cabinet paint colors
Black
Black kitchen cabinets perfectly complement stainless steel appliances and bold accents. They make a dramatic statement and are perfect for a minimalist look.
Paint suggestion: Benjamin Moore, Baby Seal Black 2119-30
Chartreuse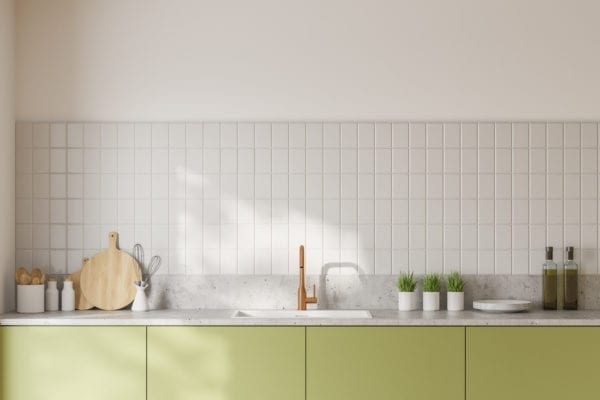 While not for everyone, chartreuse cabinets are perfect if you want a bright and cheery kitchen space that brings the outdoors in. Pair it with grey, black, or brown on your appliances, floor, and backsplash.
Paint Suggestion: Valspar, Vintage Chartreuse VO20-3
Coral
Coral kitchen cabinets give kitchens a vibrant, feminine feel. Soften it with taupe or white accents, or tone it down with a contrasting dark color like navy blue.
Paint Suggestion: Behr, Youthful Coral 170B-5
Cream
Cream is neutral, so you can manipulate it to achieve a classic country, Mediterranean, industrial or Victorian look. Consider painting your kitchen cabinets cream if you're working with a small kitchen; it creates the illusion of a larger, airy space.
Paint Suggestion: Benjamin Moore, Gentle Cream OC-96
Crimson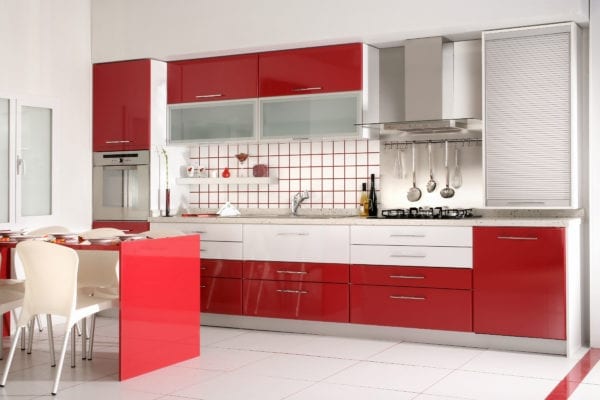 If you're daring, add drama by painting your cabinets crimson. Crimson comes out perfectly when paired with stainless steel or brass appliances.
Paint Suggestion: Behr, Dark Crimson M140-7
Crisp white
White is one of the most common kitchen cabinet colors for its simplicity and neutrality. White kitchen cabinets are perfect if you want to highlight unique kitchen décor or features. It can also be unifying if your kitchen is a mix of different styles.
Paint Suggestion: Benjamin Moore, Brilliant White OC-150
Dark gray
Gray is quite effective at taming a busy mosaic backsplash or dramatic colors. Dark gray kitchen cabinets add an air of sophistication and can better hide signs of wear and tear.
Paint Suggestion: Valspar, Voyage 4006-1B
Eggplant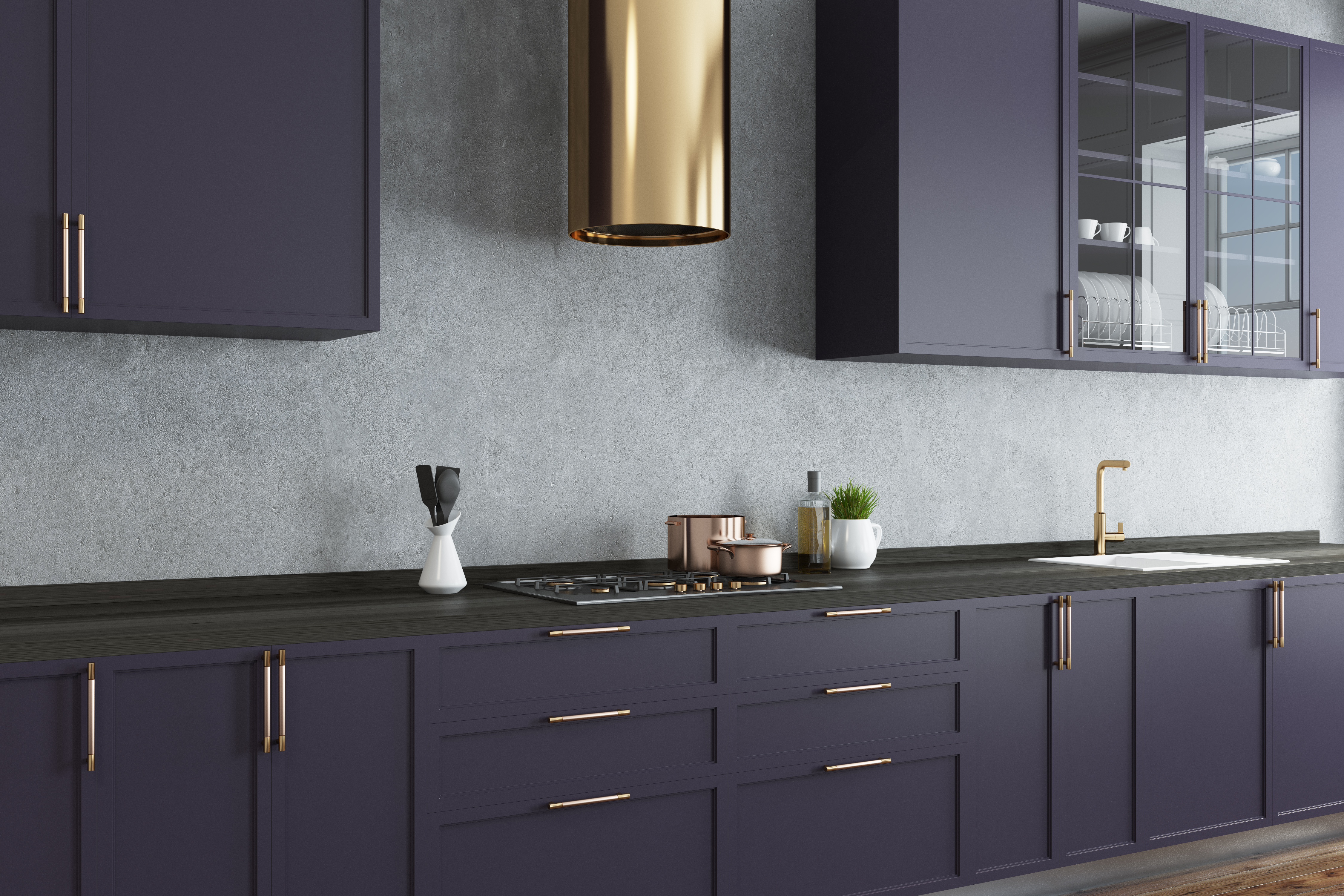 Add a feminine dash with eggplant-colored kitchen cabinets. With such a strong color, keep the rest of the kitchen minimalistic.
Paint Suggestion: Behr, Oriental Eggplant PPU17-2
Forest green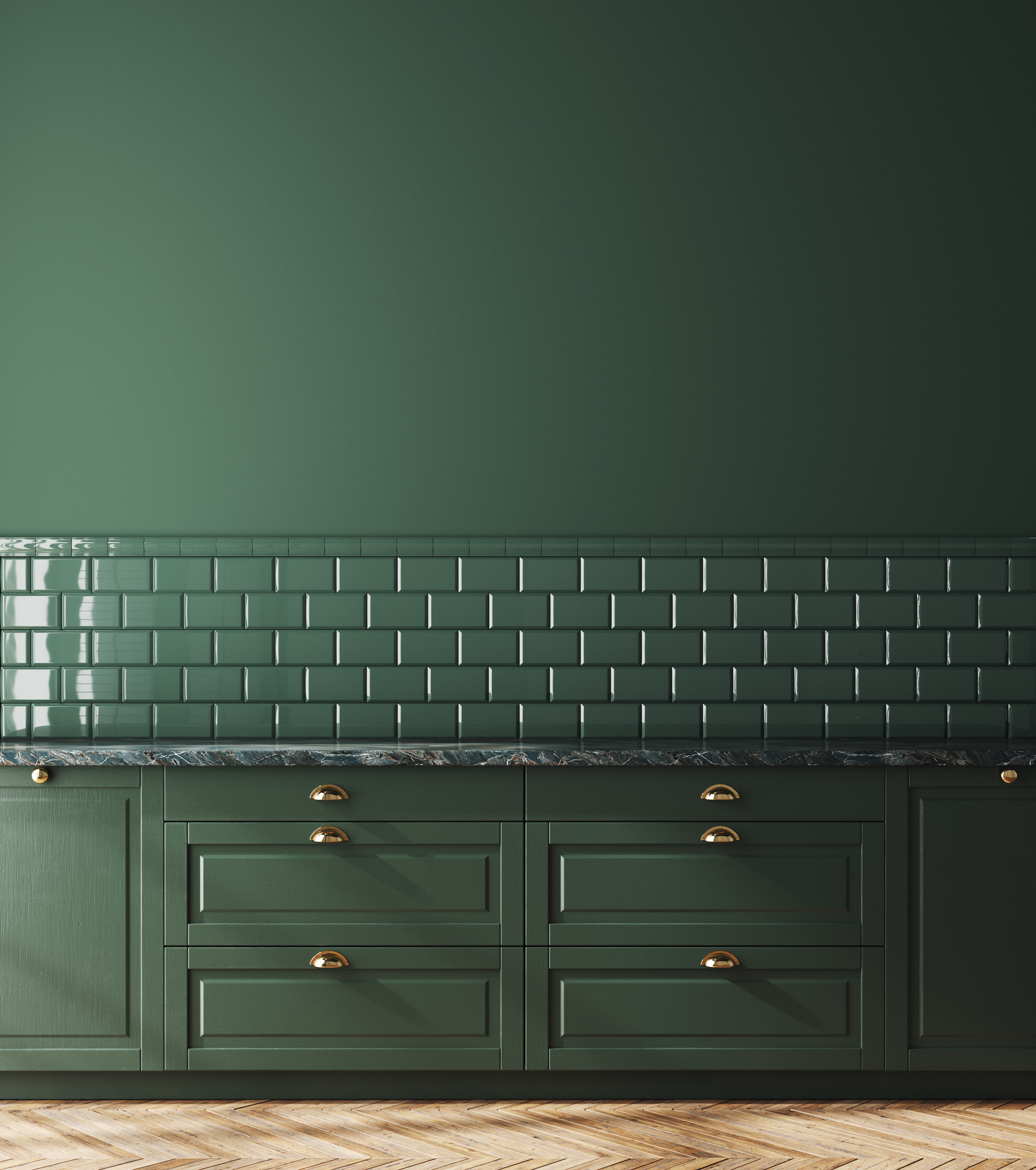 Green kitchens fell out of favor for a while, but now forest green cabinets have emerged to complement white backsplashes and earthy tones.
Paint Suggestion: Benjamin Moore, Forest Green 2047-10
Greige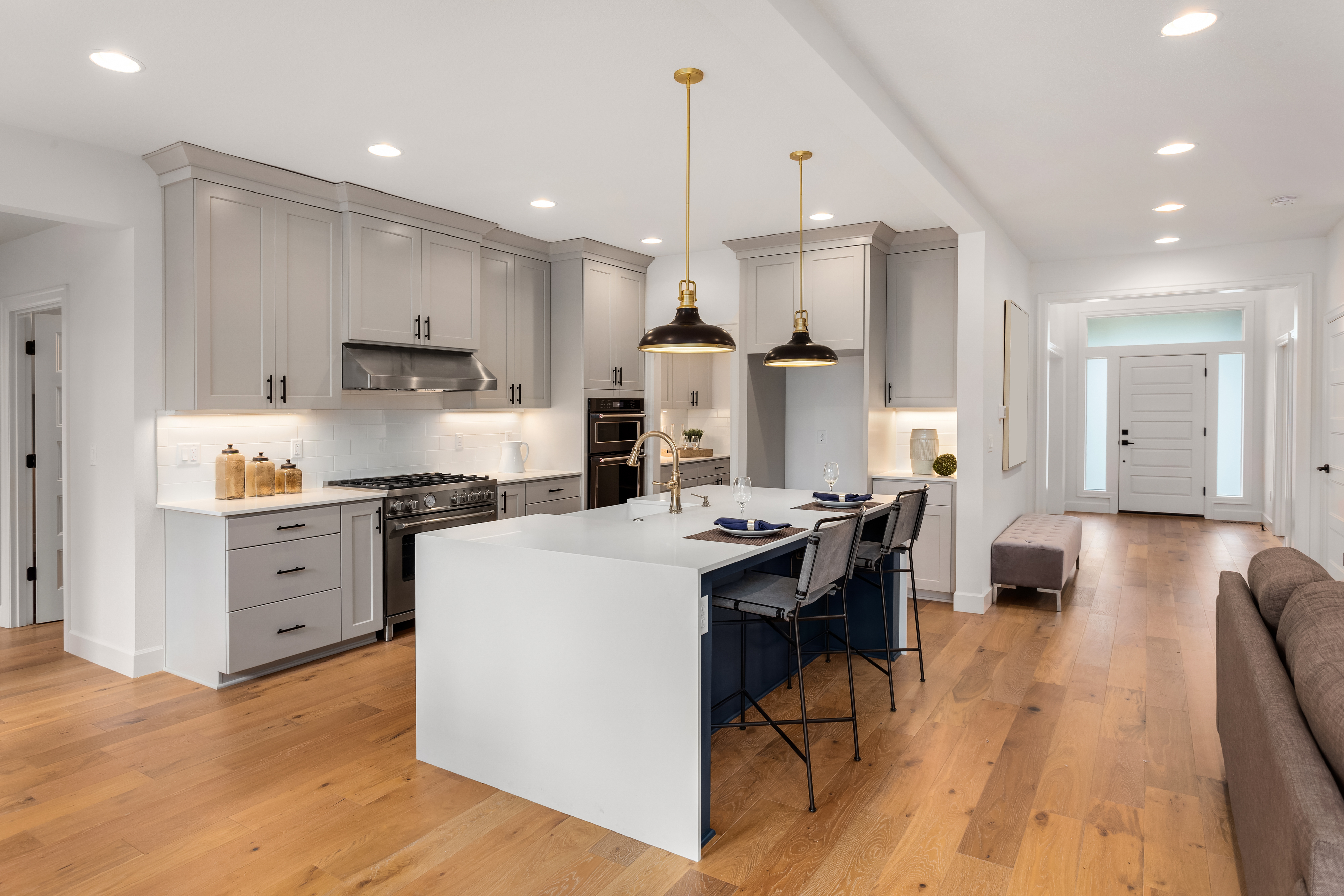 A combination of grey and beige, greige is perfect for small kitchens, making them feel spacious without being overly harsh. Neutral greige can be paired with just about anything.
Paint Suggestion: Behr, Greige PPU24-11
Looking for more? Here are all the best greige paints and suggestions for using them.
Golden
Add luxury, shine, and shimmer. Golden kitchen cabinets pair gorgeously with granite countertops for a warm modern look.
Paint Suggestion: Valspar, Summer Gold 3005-1B
Khaki green
Khaki green is easy on the eyes and creates a grounded look. Khaki green cabinets would work with a soft gray backsplash and an open cabinet design.
Paint Suggestion: Behr, Balance Green S360-3
Lavender
Like the flowers, lavender-colored cabinets make a room delicate and fresh. Pair lavender cabinets with dramatic orange or even white for a modern vibe.
Paint Suggestion: Benjamin Moore, Lily Lavender 2071-60
Light blue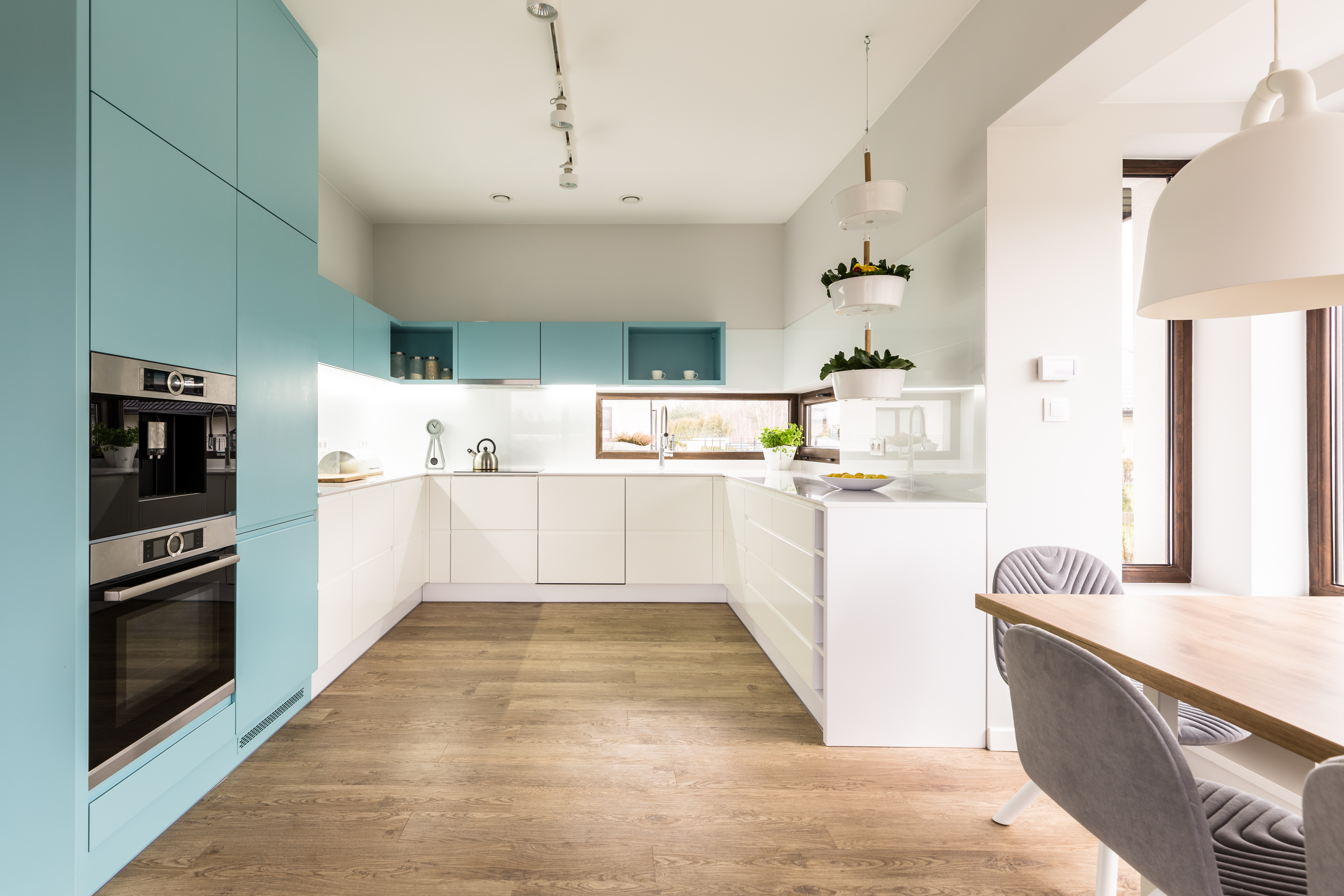 It is said that blue has a calming effect, promoting peace and serenity. Light blue kitchen cabinets are different but still classic and elegant — lovely for small spaces.
Paint Suggestion: Valspar, Blue Skylights 4006-3C
Mint Green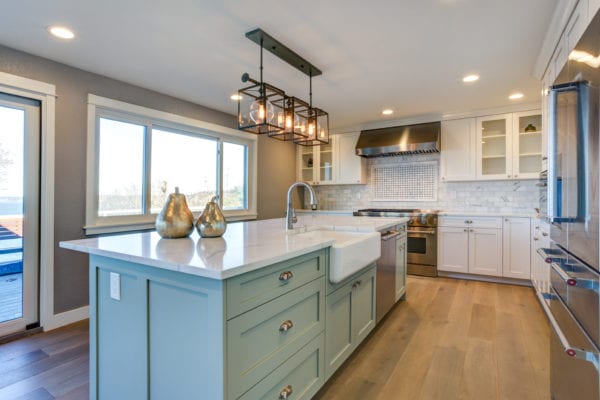 Mint green kitchen cabinets are another good choice for small spaces. Add brass handles for a vintage style. Because it's specific, test to be sure it complements the appliances, backsplash, countertops, and floor.
Paint Suggestion: Behr, Soft Mint HDC-MD-19
Navy blue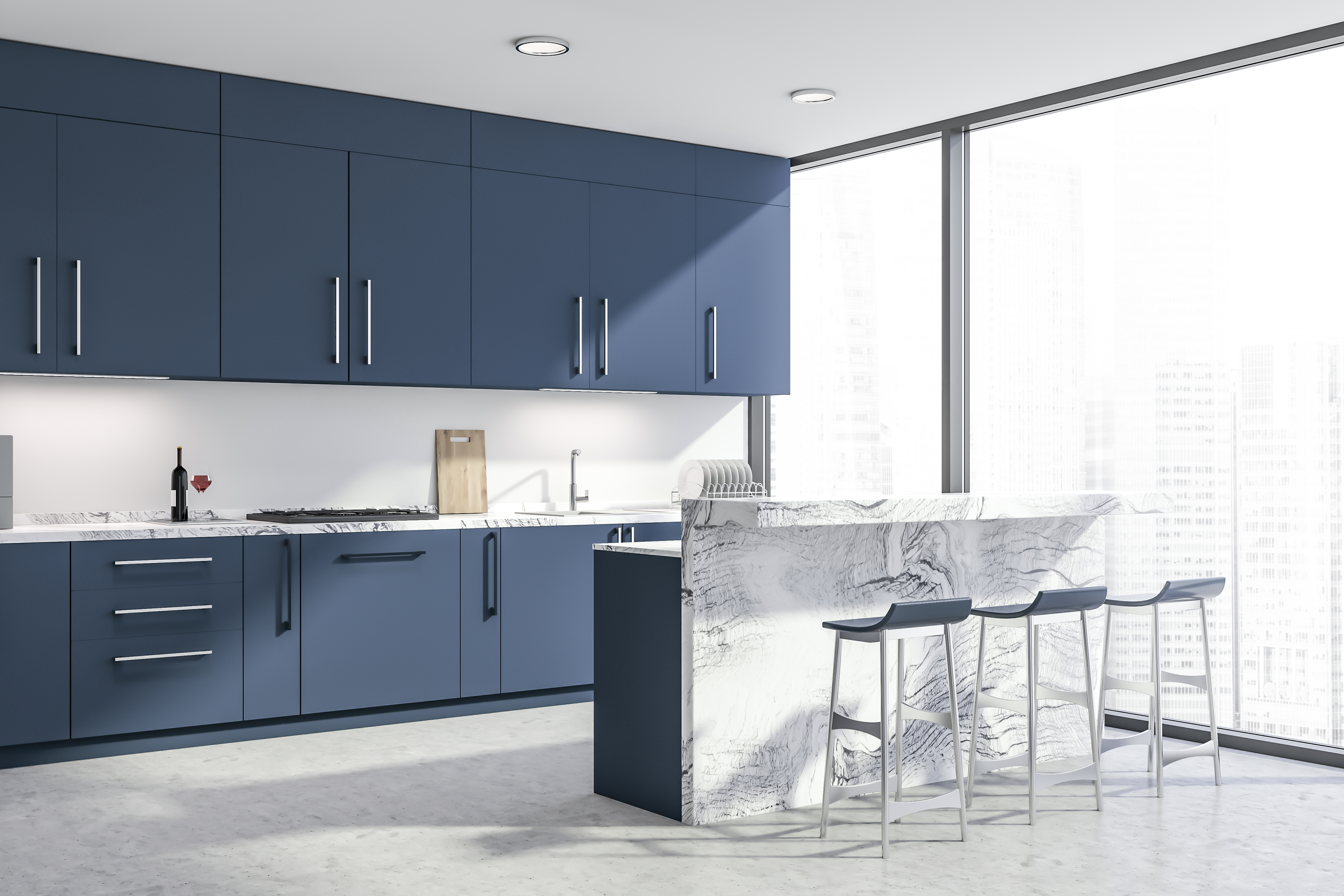 Navy blue is beautiful with neutral paints and wood finishes. A major benefit of navy blue — it's timeless. It looks rich with golden or silver handles.
Paint Suggestion: Benjamin Moore, Hale Navy HC-154
Orange
Orange is a color for the brave. Go with orange if you want to infuse your kitchen with friendly energy, personality, and pep. It works well with wooden floors and can be used alongside green, turquoise, and white.
Paint Suggestion: Valspar, Island Orange 2010-2
Pale pink
Pale pink or blush is perfect for achieving a sophisticated yet subtle look. Pale pink kitchen cabinets effortlessly brighten a kitchen even when there is insufficient natural lighting.
Paint Suggestion: Benjamin Moore, Pale Pink Satin- 008
Pistachio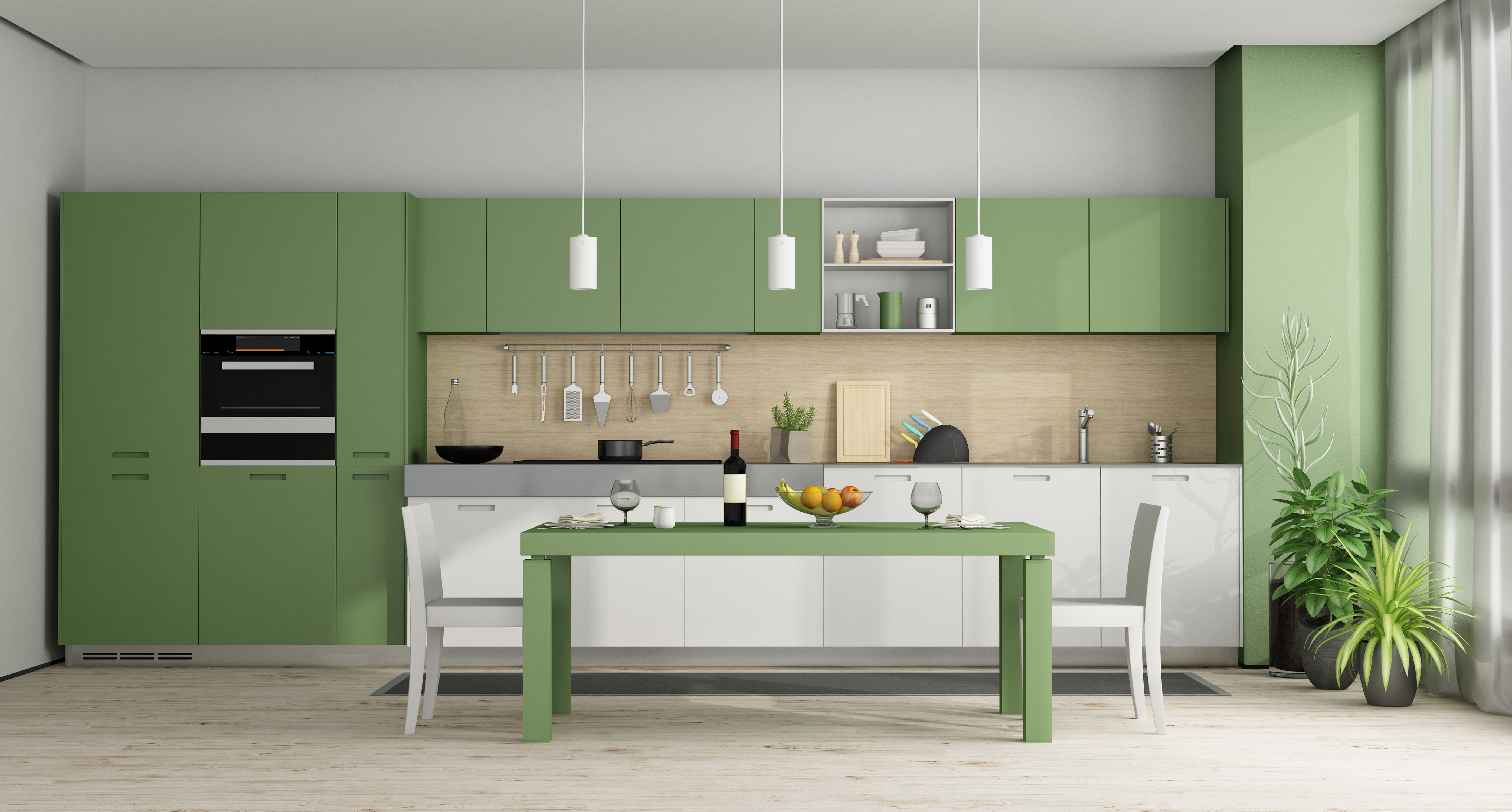 This natural hue gives kitchens a timeless elegance and style. Essentially light green, pistachio creates a clean and tidy look. Pistachio kitchen cabinets complement wooden floors and countertops for a homey feel.
Paint Suggestion: Behr, Pistachio MQ4-42
Sage green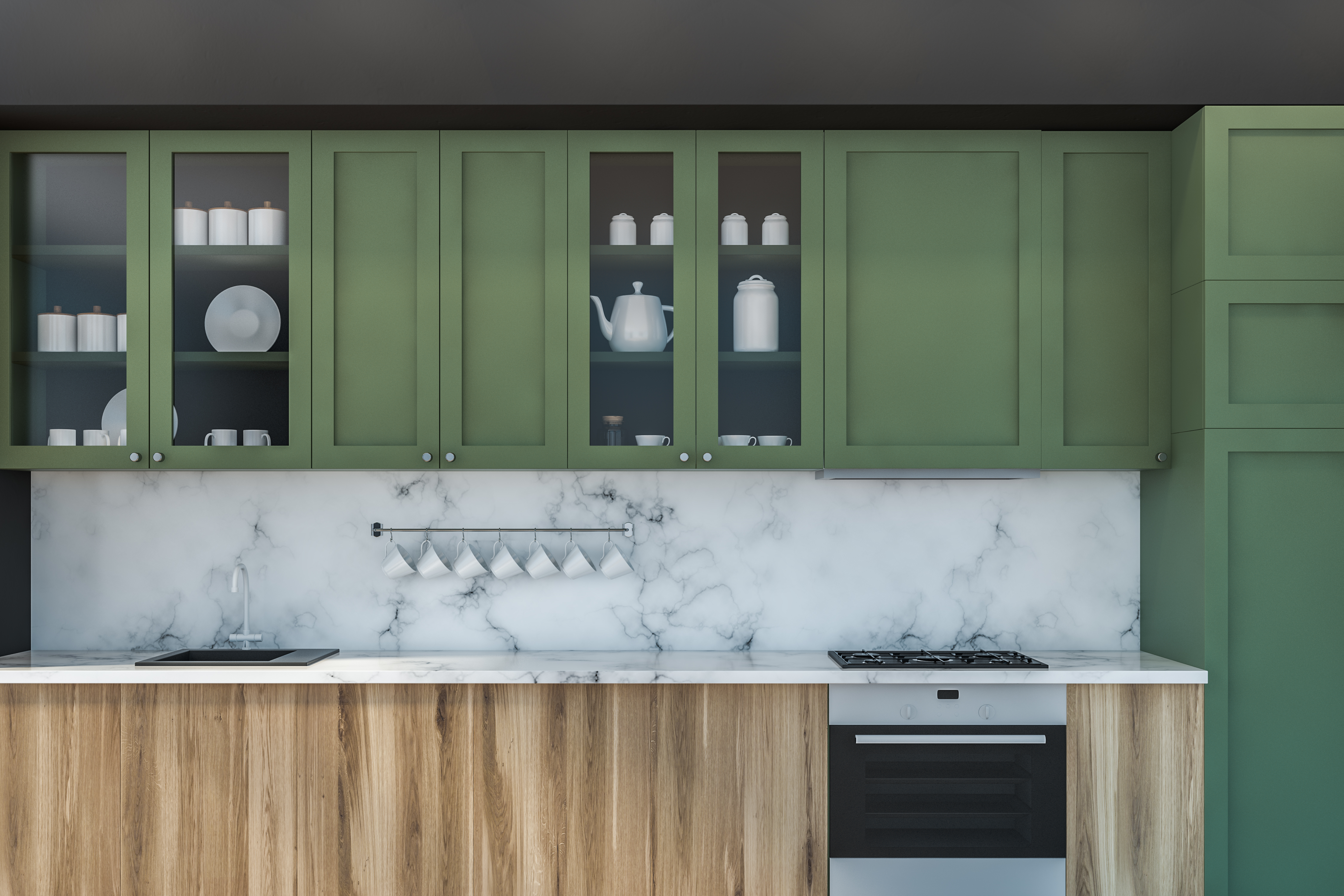 Add an intriguing pop of color by painting your cabinets sage green. It calms without being bland or boring.
Paint Suggestion: Benjamin Moore Saybrooke Sage HC-114
Spring green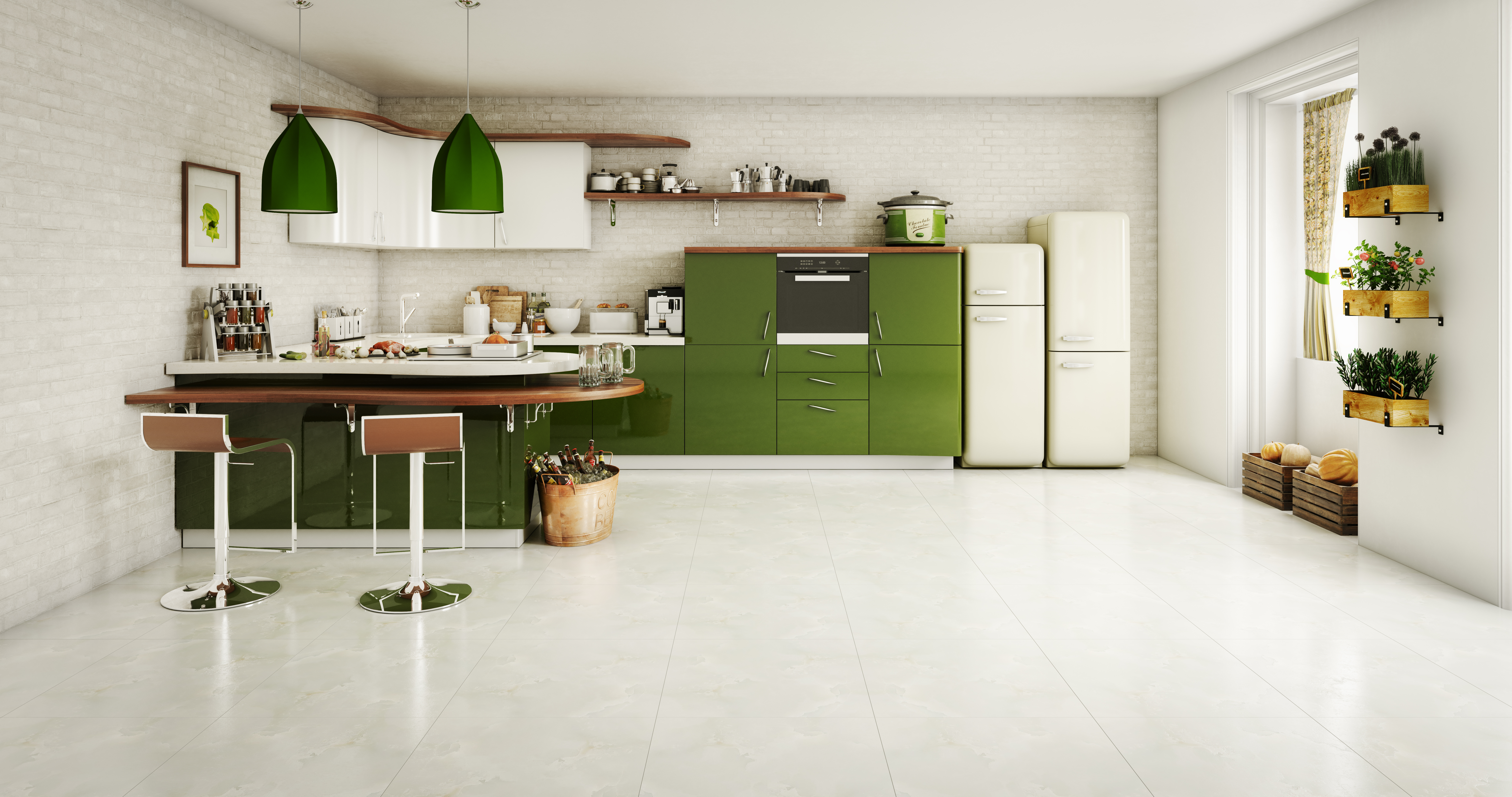 Breathe some fun and fresh into the atmosphere by painting your cabinetry spring green. Pair it with a pale yellow backsplash and wooden countertops.
Paint Suggestion: Behr, Springview Green P380-6
Soft taupe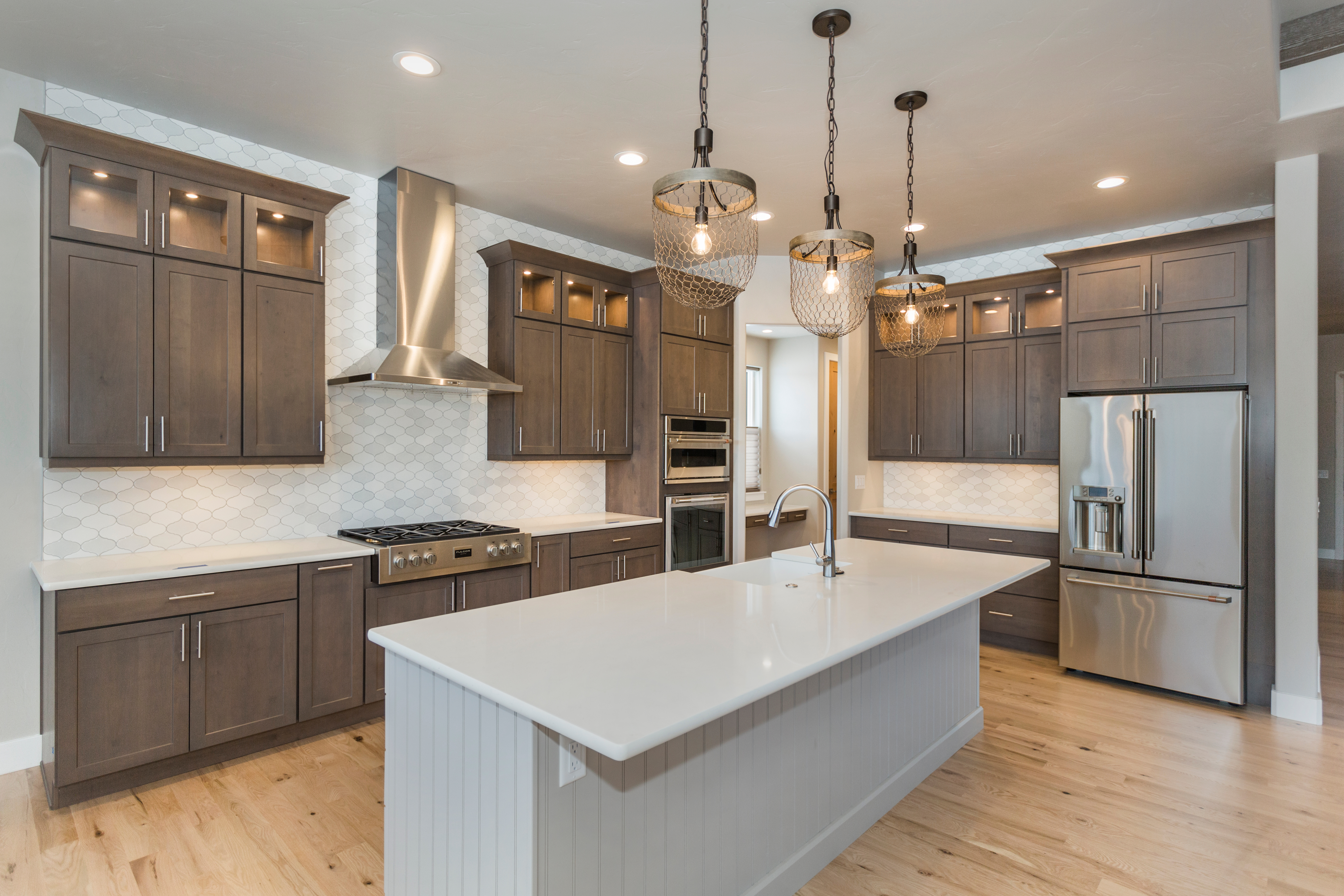 Taupe is neither brown nor gray, but more a mixture of the two. On kitchen cabinets, taupe creates a well-balanced, grounded, soothing space.
Paint Suggestion: Behr, Perfect Taupe PPU18-13, Benjamin Moore, Smokey Taupe 983
Teal
A combination of green and blue, teal adds personality with a sense of peace and tranquility, making the kitchen feel calm and relaxing. Legendary chef Julia Child famously cooked from a teal kitchen.
Paint Suggestion: Valspar, Tantalizing Teal 5008-10B
Turquoise blue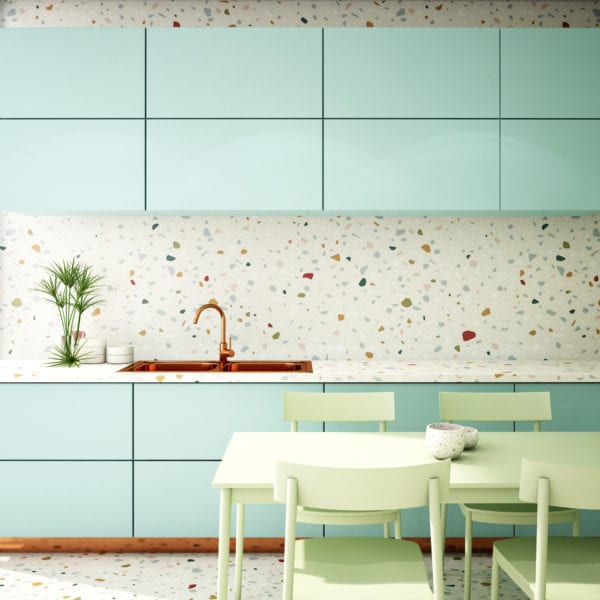 Turquoise is often associated with tropical waters. Painting your kitchen cabinets turquoise will automatically draw the eye. It looks smart paired with stainless steel or silver appliances and accessories.
Paint Suggestion: Behr, Gem Turquoise 500B-4
Warm gray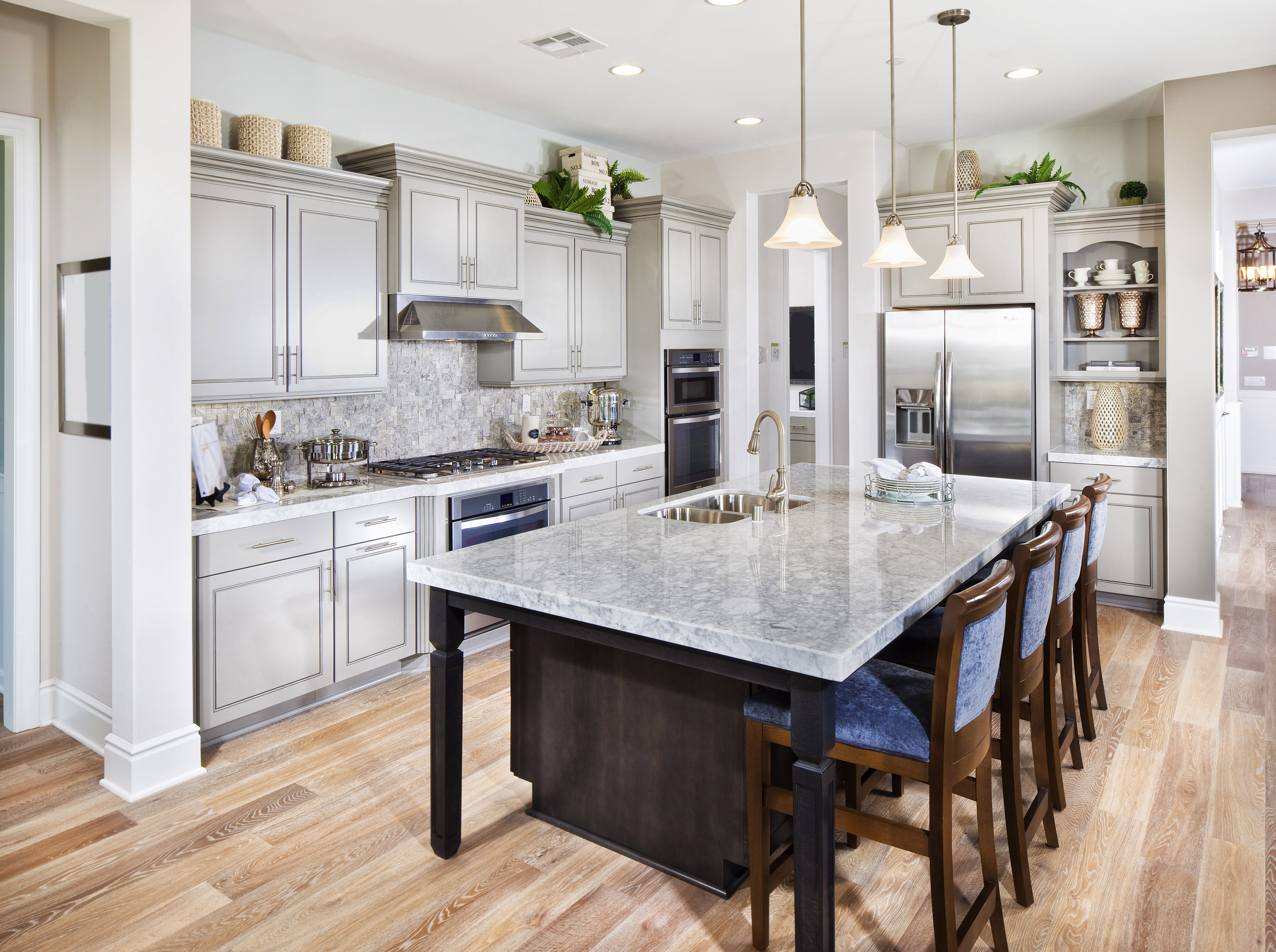 Grey not only makes your kitchen warm and relaxing but can also be paired with virtually anything. Warm gray on kitchen cabinets is a good white-alternative if you want other elements like marble, granite, or wooden countertops to pop.
Paint Suggestion: Benjamin Moore, Revere Pewter HC-172
Wine red
Red is quite a stimulating color and a great choice if you want to draw the eye to your cabinetry. As it's dramatic, be careful how you accessorize, so it doesn't overwhelm.
Paint Suggestion: Behr, Red Red Wine S-H-130
Yellow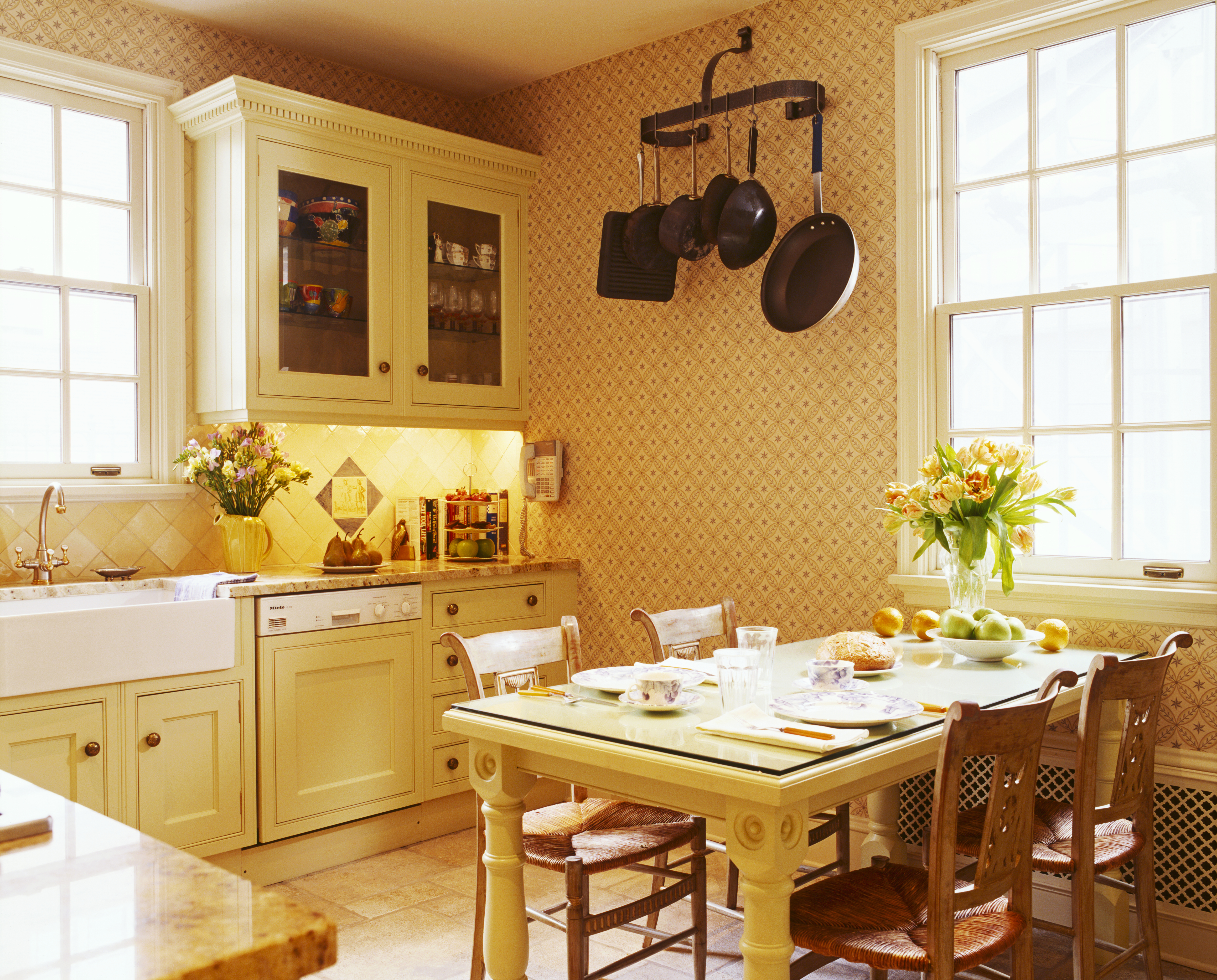 Yellow exudes cheer, positive energy, and visual coziness. You can use yellow on your kitchen cabinets if your kitchen doesn't have sufficient natural lighting.
Paint Suggestion: Valspar, Elizabethan Yellow 3009-1
Frequently asked questions
Q:
What is the best paint color for kitchen cabinets?
A:
The ideal color depends on the overall mood and aesthetic you want to achieve, plus other kitchen features like appliances, countertops, and the floor. When in doubt, use neutral colors such as gray, greige, taupe, or white.
Q:
What is the most popular kitchen cabinet color for 2020?
A:
Homeowners are looking for cabinet colors that bring out their personality and style. In 2020, blue is on the rise for kitchen cabinets.
Q:
How do I paint my kitchen cabinets?
A:
Empty the cabinets and make sure they are thoroughly clean and free of grease. Sand and prime the cabinet exteriors and apply one or more coats of paint.
Q:
What color do I need to paint my kitchen cabinets to sell my house?
A:
If you plan on selling your home, choose neutral cabinet colors like beige, black, brown, grey, or white. These are versatile for a variety of tastes and easier to style.