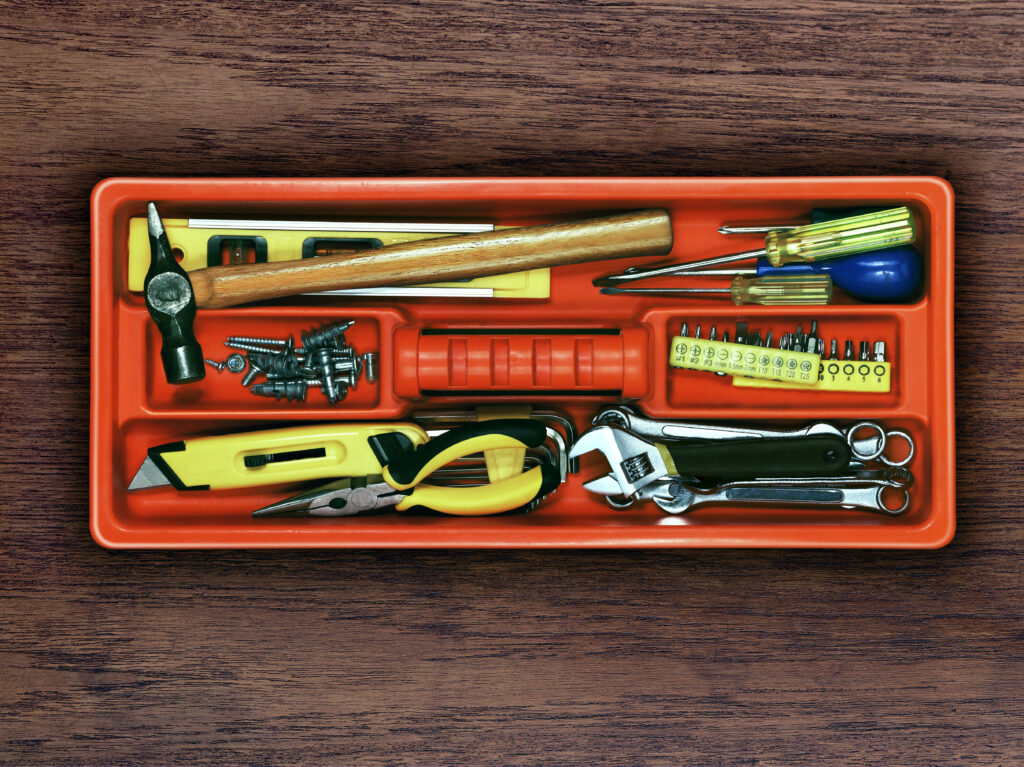 Your home, just like a car, needs maintenance to keep it in tip-top shape. As a homeowner, there will be common household repairs or projects to tackle. Many tasks won't need a contractor, just a few simple items from your DIY toolbox.
The most likely home repairs
While a maintenance-free home would be amazing, the reality is that repairs will need to be made. Having the essential tools for home repair in your basic tool kit will help you easily handle these common fixes:
Repairing nail pops: If you have drywall in your home, nail pops are inevitable. As your house shifts and settles, the drywall construction nails may protrude slightly, hence the term "nail pop."

Stopping leaky faucets: While this is a minor repair, it can be a major annoyance.

Eliminating window drafts: It's important to locate and properly seal any drafty windows, as they can make your home less energy-efficient and your utility bills higher.

Tightening loose screws: From doorknobs to drawers, the screws holding them in can become loose over time.

Hanging up pictures: Adding a personal touch to those bare walls will be easy with your household tool kit.

Unclogging toilets: Toilets can clog, especially if they have a low-pressure flush. Unclog toilets right away, as the water can overflow and create a much larger home repair.

Patching nail holes: Moving or taking down wall decor leaves unsightly holes behind.

Replacing smoke detector batteries: According to the National Fire Protection Association, you should change smoke detector batteries once a year.

Changing indoor air filters on HVAC units: The lifespan of your indoor air filter can range, with an average of three months. Changing your filter regularly ensures the best air quality.

Fixing a squeaky door hinge: Does opening the bathroom door wake up the entire family in the middle of the night? Grab your DIY tool box and apply some lubricant spray.
Building your DIY basic tool kit
As you shop at your local home improvement store, you may be amazed at the number of tools to choose from. Our must-have tools for DIY repairs and tasks will have you covered. Once you create your basic tool kit, you can add on to your home improvement equipment as needed.
Tape measure: Whether you're measuring space to fit your refrigerator or the full specs of a room, accurate measurements are essential. Pick up a 12-foot tape measure along with a smaller six-foot version.

Claw hammer with rubber grip handle: With a secure grip from the rubber handle, you'll be able to use the hammerhead for nails and claw end to remove them.

Multi-bit screwdriver: To successfully put in a screw, you'll need a screwdriver. A multi-bit with replaceable heads in a range of sizes ensures you'll have the right tool for the job.

Level set: As you fill your DIY toolbox, levels are a must. A level ensures whatever you're installing is even.

Retractable utility knife: From cutting up cardboard boxes to old carpet, a utility knife with a retractable blade is a useful addition to your DIY tool box.

Pliers: A set of long nose and diagonal pliers are key for gripping objects, stripping or clipping wires.

Nails: Pick up an assorted nail pack with both flat and round head nails for hanging photos and general repairs.

Screws: You'll find that many different items in your home are secured with screws. A set of flat head and round head screws will have you covered.

Putty knife: Use a putty knife for everything from scraping paint to applying spackle.

Plunger: Unclog toilets, kitchen sinks, and shower drains with both a toilet plunger and a sink and drain plunger.

Caulking gun and caulk: Repair drafty windows and doors, or cracking wall and tub seals with caulk and a caulk gun.

Wrenches: Fix that leaky faucet or tighten a loose nut or bolt with a multi-sized wrench set.

Indoor/outdoor extension cord: Keep both an indoor and outdoor extension cord on hand for projects where a traditional cord just isn't long enough. And for any holiday light displays.

Duct tape: The uses for duct tape are endless so always have a roll or two in your tool box.

Painter's tape: Whether you're painting your walls for the first time or fifth, painter's tape keeps walls, ceilings, and trim edges clean.
More essential tools for home
Once you have the basics, you can start building up the tools in your toolbox to include other essentials. These tools may be used less often, but are necessary for many other common home improvement tasks.
Paint key: Avoid bending the paint can lid by opening paint cans with ease using a paint key. You're usually given a free one when you buy paint.

Cordless power drill and drill bits: While a manual screwdriver is completely adequate for basic projects, an electric power drill provides more speed with adjustable torque (the amount of force when twisting in the screw or drill bit).

Batteries: Keep an assortment of batteries nearby to replace dead batteries in everything from toys to smoke detectors.

Safety glasses: Protect your eyes during home repairs and projects with safety glasses.

Hand saw: Ideal for cutting wood, laminate, or plastic, a hand saw allows precision cuts every time.

Electric orbital sander and sandpaper: Sanding by hand can be tedious. An electric sander gets the job done in no time. Keep a variety of grit sandpapers in your DIY toolbox as well.

Hex keys: Also known as Allen wrenches, hex keys are used to install or remove hexagonal bolts and screws in everything from furniture (especially the self-assemble kind), electronics, toys, and bicycles.

Electrical tape: If you're skilled in changing light fixtures or switches, you'll need electrical tape to keep the wires from being exposed.

Drywall anchors: Sometimes nails or screws may not be enough to hold heavier decor or shelving on walls made of drywall. You'll need a drywall anchor and screw kit to safely attach wall-hangings.
The bottom line
Equipped with this DIY toolbox list, taking care of home repairs and projects will be faster and easier. Remember, before you dive in, know exactly what tools you'll need to get the job done.
---