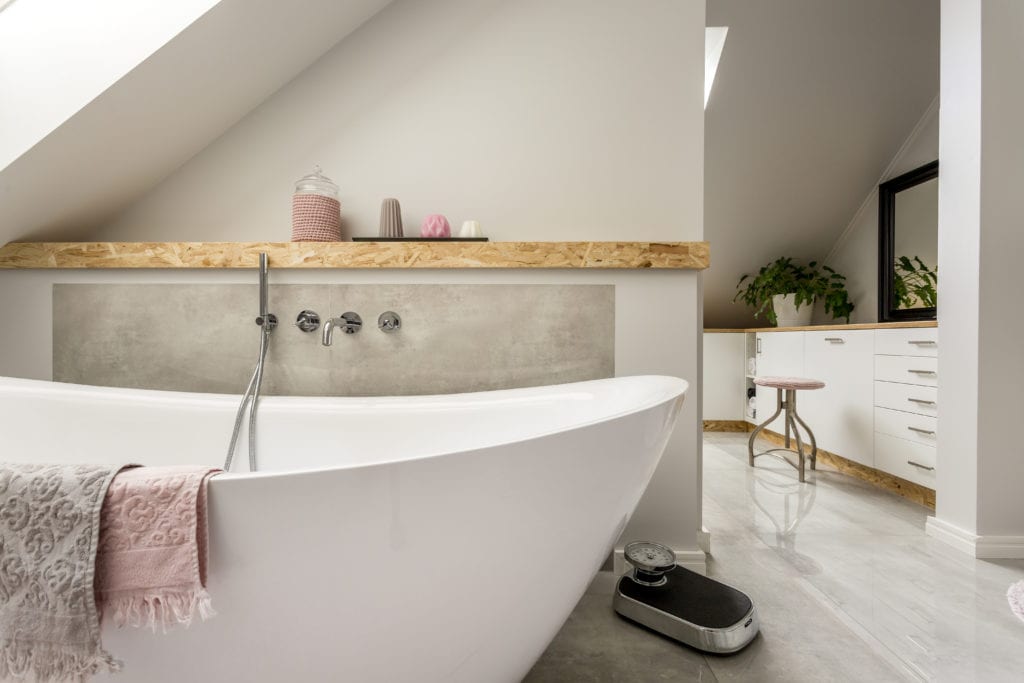 Bathrooms are personal spaces that can serve as relaxing sanctuaries. When looking to redecorate the bathroom, one of the important decisions you'll have to make is choosing the best paint color. With the wide range of bathroom color choices available, picking the right one can be overwhelming. Here are some tried-and-true color picks to help narrow your search and add style to your bathroom.
The 20 best bathroom colors
Here are some of the most popular bathroom colors (and their codes) that you can use to create a beautiful and relaxing bathroom environment:
1. Dusty blue
Dusty blue paint pairs well with almost every design style to create a relaxed and fresh look. The shade of blue complements both warm metallic and light wood accessories. Icy 6534 by Sherwin Williams is one of the best options for the paint color.
2. Greige
Greige is a timeless bathroom paint color that will keep your bathroom feeling cozy and relaxing. Greige works great with darker, natural stone tiles as well as lighter hues. Consider Benjamin Moore Balboa Mist for your next project.
3. Hunter green
Although hunter green is a great paint color for your bathroom, it needs a lot of light. White fixtures and new tiling make the dark paint pop for a stylish look. Upgrade your bathroom with Benjamin Moore hunter green 2041-10.
4. Deep navy
Covering your walls in rich deep navy paint is a big step in transforming your space. Pair this paint suggestion with white tiles or wood details to give the room a traditional, nautical, or Mediterranean look. Get the look with Behr midnight blue N480-7 paint.
5. Peachy pink
With peachy pink paint, a bathroom can have a touch of playfulness while still feeling grown-up. The peachy tones help to create a sweet space with a sophisticated edge. For the perfect finish to your walls and storage areas, consider Sherwin-Williams Blushing SW 6617.
6. Stormy blue
If you want a good paint color to pair with the warm metallic in your bathroom, stormy blue is one of the colors you can consider. However, if you can't imagine the dark color on your bathroom walls, limit it to a statement wall. Check out Glidden rich navy.
7. Off-white
Bring warmth to your bathroom without overpowering it by using off-white paint color. This shade is great for different décor and styles, leaving your space looking clean and organized. Magnolia Home by Joanna Gaines Shiplap will help you achieve this look.
8. Periwinkle
Periwinkle brings together a little bit of blue and a little bit of purple. This shade makes for a good paint color if you're looking to create a grown-up and soothing space. For a modern and sophisticated appearance, consider Clare Wink for your bathroom.
9. Black
Black is bold and beautiful. The hue works well with almost anything, ranging from neutrals to brights and metallic, helping you have a classic space with a modern edge. For a practical and high-style shower, Benjamin Moore mopboard black would be a good brand.
10. Powder blue
Another popular paint color for bathrooms is powder blue. If you're not into bold and vibrant colors but prefer to stick with subdued hues, this would be a great choice. Use Benjamin Moore manor blue and pair it with a sunny shade of yellow to liven up your space.
11. Cerulean
Cerulean, an aqua inspired color, feels modern and bold. The paint color is perfect for when you want to bring a feeling of lapping waves at the beach or a nap by the pool. Benjamin Moore poolside is one of the best cerulean paints.
12. Warm gray
With warm gray paint, you'll discover why neutrals are still preferred bathroom colors. This shade of gray keeps up with everything, giving you the flexibility to invest in different colors of towels. Pick Olympic free reign for your next paint project.
13. Pistachio
Add a fresh and vibrant theme to your space with a pistachio paint color. Incorporate splashes of yellow and green using hand towels, sconce shades, and window treatments. Some of the best pistachio paints are Farrow & Ball cooking apple green and breakfast room green.
14. Charcoal
Remodeling a bathroom involves a lot of work. However, adding a dose of graphite will save you a significant amount of money while ensuring noticeable changes. If you're looking to highlight your vintage light fixtures, curios, and art, consider using the Olympic knight's armor OL102.
15. Clean white
With clean white paint, you can combine historic and modern styles. Add large mirrors on top of the white-washed sidings to create the impression of a larger room. If you want your bathroom to look fresh and clean, consider buying Olympic delicate white paint OL107 for the project.
16. Mint 
If you want your bathroom to look and feel fresh, mint paint may just be what you need. The color is perfect for cooling a sunny room, delivering a beautiful finish that complements your bathroom vanity. Benjamin Moore Palladian blue will deliver the look you desire.
17. Taupe
When it comes to taupe, you have a versatile color that offers impressive flexibility. Taupe pairs well with natural accessories as well as objects that feature cream or ivory colors. Pick Benjamin Moore sparrow for a project where you want to blend modern and traditional themes.
18. Arctic blue 
Create a personal oasis where you can relax and rest with arctic blue paint. If you want your bathroom to feel like a luxury spa, consider using soft blues with gray undertones to complete the look. Benjamin Moore glass slipper would be a good paint to use for the project.
19. Cool gray
Using cool gray on your bathroom walls will keep your space looking clean and sophisticated. Pairing the shade with white trim adds nice warmth that allows you to start your day off on the right note. For the best results, go for Sherwin-Williams essential gray SW 6002.
20. Brown 
Another color that makes it to the list of popular bathroom paint colors is brown. The color gives your bathroom a calm and earthy look. While dark brown creates a dramatic feel, the medium tone is soothing, and light brown is neutral. Accent colors for Farrow & Ball pelt are soft blue, beige, and cream.
Frequently Asked Questions
How do I choose a color for my bathroom?
If you're planning to redecorate your space, go for colors that will help you evoke your desired feeling — whether that's bright and cheery, aquatic and nautical, or a relaxing spa. Make sure you take into consideration the color of the tiles and fittings. In the end, the paint should enhance both appearance and mood.
What is the best color for a small bathroom?
A small bathroom will require colors that make it appear spacious and open. Brighter colors and shades will reflect natural light, helping to keep your bathroom looking clean — and larger than its size.
What are the top paint colors for a large bathroom?
If the bathroom is so large that you do not feel cozy in it, you should choose a color that makes it feel warmer and cozier. Warm colors such as red, orange, brown, and gold will help to create the desired effect.
What colors combine with white tiles in a bathroom?
White tiles are neutral, giving you a chance to create a stylish and comfortable bathroom environment. You can pair them with other neutrals like black, white, and gray, or play with a pop of color, like sunny yellow, powder blue, or other bright colors.