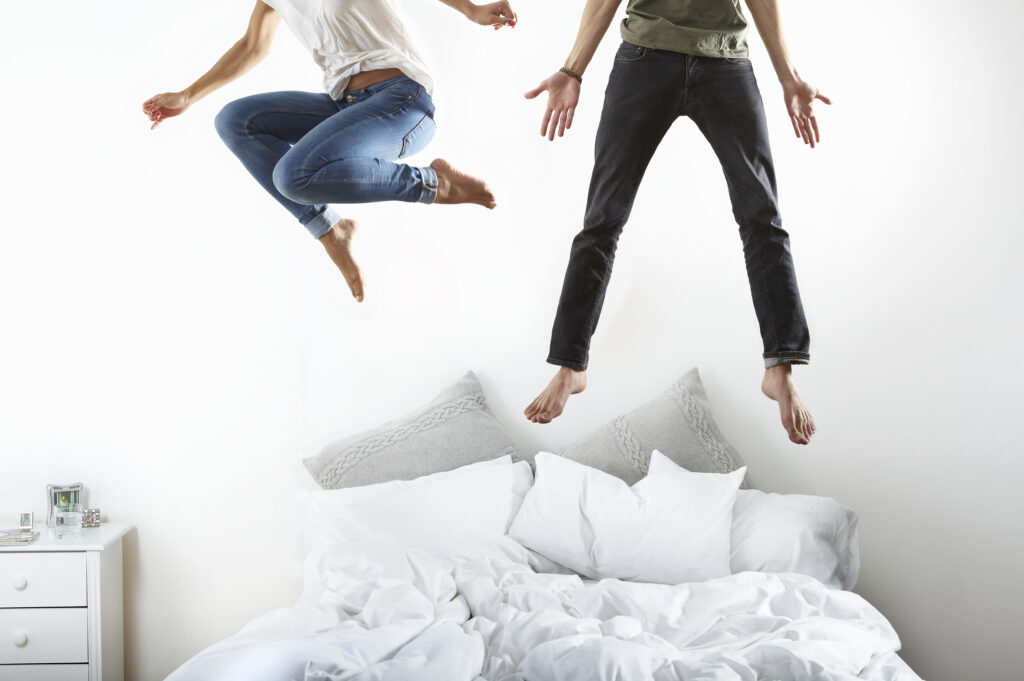 Looking for an amazing bedroom that's out of the ordinary? Here are 16 of the most extreme and modern beds you'll ever see.1. Private Cloud looks like a giant rocking chair, or — to be exact — a rocking bed. It requires a little more space than a typical bed, but if you like to be rocked to sleep, it's probably worth it (the bed can be stabilized, if you want the look without the movement). More pictures here.
2. The Feel Seating System designed by Animi Causa has a really cool shape inspired by molecular structure, the basic form for all objects in the universe. It is made of 120 balls covered with elastic fabric. It can be used as a bed and in many other creative ways, as its structure allows it to take multiple forms.
Shop These Products Now: Folding Bed – Ottoman Stool
3. Designed by the studio of invention Décadrages and marketed under the brand name BedUP, the bed that lowers from the ceiling is a real space-saving innovation for anyone who lives in a small space.
By day, the bed is stored on the ceiling, the under-surface becoming the ceiling (lighting also can be integrated). At night, the bed is pulled down, stopping at the height previously set. Besides being functional, this bed has a clean design that is discreet and elegant. More pictures here.
Shop These Products Now: Floor Bed – Blanket
4. Those of you who played Tetris might smile when you see this bookcase that transforms into a bed. The bookcase/bed maximizes space and gives your walls a pop of color. Parts of a mattress stand upright to form the bulk of the bookcase; they surround five storage shelves that are suspended by a wall-mounted frame. The mattress sections are placed on the floor and slot together to form a bed (two parts for a single bed, all four for a double).
Shop These Products Now: Canopy Bed – Pillow
5. Hi-Can is a High Fidelity Canopy by Italian designer Edoardo Carlino. The Hi-Can features beautifully designed equipment that allows you to surf the web, watch movies, play games and listen to music, all from the comfort of your bed.
This bed provides a lot of technology at your fingertips from the moment you wake up; it's a perfect tool to make your life more sedentary. You get a projector, a sound system, a projection screen, a DVD player and all the relevant inputs; just add a mini-fridge.
Shop These Products Now: Convertible Bed – Blanket
6. The Scoop! designed by Guido Rosati for Saba Italia is a sophisticated and innovative piece of furniture that combines the sofa function and the bed function. The two semicircular sides of the bed can be separated, resulting two new pieces of furniture. It is a great way to surprise your guests, and it gives you a stylish contemporary bed and two sofas all in one. More pictures here.
Shop These Products Now: Convertible Sofa to Bed – Throw Pillow
Shop These Products Now: Convertible Sofa Bunk Bed – Pillow
7. The pictures above feature a sofa bed with removable covers and an integrated/patented mechanism that transforms it into bunk beds. The Doc acts as a sofa by day, and with a simple movement becomes two beds with integrated supporting ladder and protection guard.
Shop These Products Now: Convertible Sofa Bed – Pillow
8. This sofa bed, called Book, is designed by the Italian designers from Flou. The ideal boundary between day and night, Book is particularly suitable for small spaces. By day, it's a modern, linear sofa; by night, it turns into a comfortable bed. The sofa isn't that beautiful, but when we consider its dual function we can overlook this detail.
Shop These Products Now: Floating Bed – Desk Lamp
9. Have you ever wanted a floating bed? It's now (almost) possible. To give the Fluttua bed from Lago its floating appearance, the frame is attached to the wall and supports a single post under the center of the bed. Your guests will be quite impressed.
Shop These Products Now: Desk Bed – Pillow
10. The computer bed makes intelligent use of the space below it. Gas pistons enable the bed to fold up and double as a computer table. It's available with a metal bed frame and wooden slat foundation.
Shop These Products Now: Luxury Bed – Projector Screen
Shop These Products Now: Bedside Table – Area Rug
11. The RUF-Cinema Bed features a home cinema, with a projector between the two headboard bolsters and a screen at the foot of the bed. When the movie is over, all you have to do is press a button on the remote control and the screen disappears inside the footboard.
Shop These Products Now: Bed Mattress – Throw Pillow
12. Check out this interesting idea: a bed suspended by ropes. Teak platforms suspended from heavy-gauge rope take center stage, while a punchy orange-striped fabric on the wall and Roman shade create a seamless backdrop. The visual effect of these suspended beds is stunning, but they're definitely not for light sleepers.
Shop These Products Now: Wooden Bed – Bookcase
13. Zoom-Room is not just a Murphy bed; it's a design solution. Simply press a button on the remote control to send the premium latex mattress and German-designed slatted frame gliding down a vertical track and into your room. See a video on Zoom-Room's website.
Shop These Products Now: Canopy Bed – Open Box Shelves
Shop These Products Now: Round Table – Bookcase
14. Point Architects from Tokyo combined a bed with a bookcase, and the result was the Uroko House. An incredible bookcase surrounds the bed, calling to mind an igloo made of books. Although the design is clever, it's unfortunately not very practical — but little kids would love this bed.
Shop These Products Now: Stylish Bed
15. This bed is designed for those who sleep only in the fetal position. Sure, it's perfectly shaped for that — but who sleeps in the same position all night? This bed, though certainly unique, definitely wasn't designed for a good night's sleep.
Shop These Products Now: Pillow – Bed Mattress
16. A flat-panel TV hidden under this bed slides out to position itself for the optimum viewing while in bed. TV junkies of all ages would love this bed. [Via A TV that's Perfect for Every Bedroom]