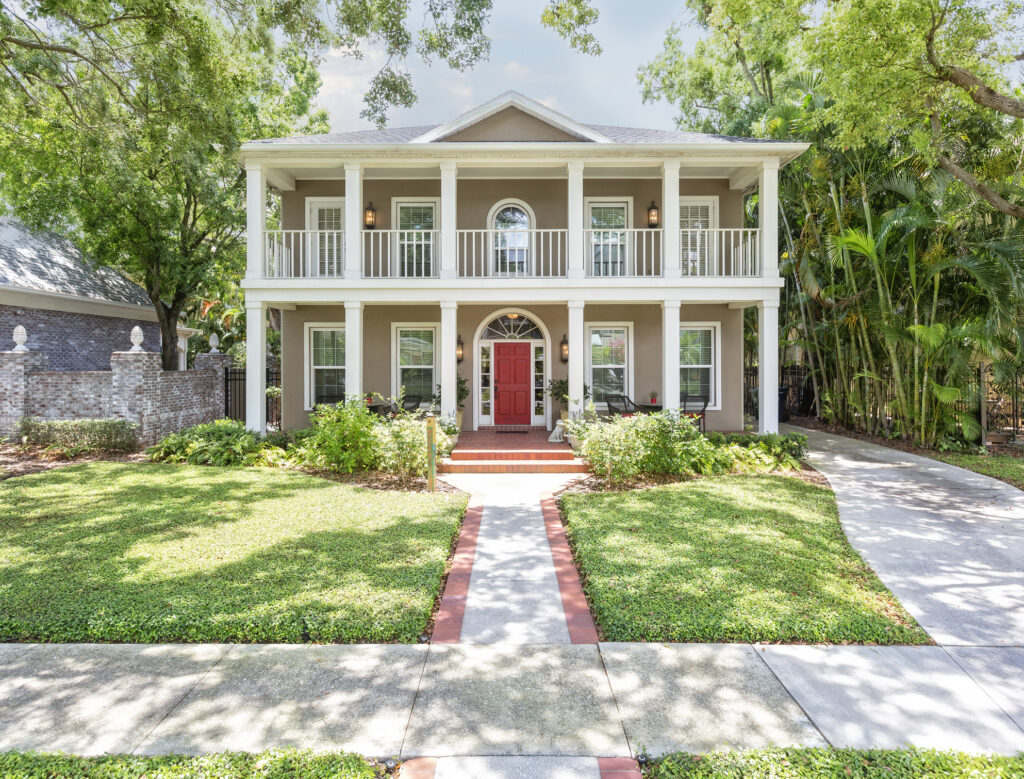 Your front door is one of the first impressions of your home, so you want to make sure it reflects your style and aesthetic while also fitting your exterior design. But with thousands of front door paint colors to choose from, it can be daunting to pick the perfect color.

To help simplify the process, we've created a list of 15 refreshing colors for you to peruse. Our suggestions range from timeless classics to bold and dynamic new options. Whether you are looking for front door colors for a brick house, a traditional ranch home, or a contemporary Cape Cod, we can help you find a beautiful color that will fit your front door needs.
The 15 best front door paint colors
1. Dusty blue gray
Add some sophistication to your entryway with a dusty blue-gray color. This shade of works on every style, from Country French to Craftsman.
2. Dark brown
A dark brown front door is both classic and timeless. You can never go wrong with this simple and stately color choice.
3. Pale mustard
Brighten up your porch and give your house a pop of color with a pale mustard yellow paint. Your house will be the cheeriest one on the block, guaranteed.
4. Dazzling teal
Teal is a popular front door paint color for a reason. It works with almost every style of house and is eye-catching no matter which shade you choose.
5. Smooth black
A smooth black front door is elegant and chic. Add some greenery and natural wood, and your house will be one of the sleekest on the street.
6. Dark gray
A dark gray front door works with every house style and color, from Cottage-style to Victorian. This color is a classic and will easily match your décor, no matter how often you like to switch it out.
7. Vibrant red
An eye-catching and vibrant red front door not only makes a statement but gives your house enviable curb appeal. Add a white or ivory trim to make your door stand out even more.
8. Modern navy
A modern navy front door is a great way to update your house. This is also a particularly good front door color choice for brick houses, as the blue hue contrasts nicely with red brick.
9. Majestic maroon
Maroon is one of the best—and most underrated—front door colors. It's trendy without being easily outdated, and it will make your house stand out from all the others in the neighborhood.
10. Traditional white
White is one of the classic front door colors for brick houses. The contrast between red and white is both eye-catching and dramatic—which is exactly why it never goes out of style.
11. Light gray
A pale gray front door gives your home a subtle yet elegant vibe. It's more contemporary than dark grey and more daring than white, yet it's never overwhelming.
12. Fresh green
Bring the outside in with this fresh and earthy paint color. The flowers and plants around your doorway will seem even more vibrant when accented by a delightfully green front door.
13. Royal eggplant
A deep eggplant-colored front door will set your house apart from the rest. Add some greenery and ornate décor to your doorway to add to the royal ambiance.
14. Cheerful coral
This bold and bright paint color shouldn't be relegated to beach towns! A cheery and peachy coral front door is a great way to bring a warm and coastal atmosphere to your home.
15. Seafoam green
A bright, seafoam green front door is a great way to add some contrast to the front of your house. As long as the rest of your exterior is a neutral like grey, white, or even brick, this color can be the perfect accent.
Frequently Asked Questions
What kind of paint do you use on a front door?
Because the paint on your front door needs to withstand any type of weather and outdoor exposure, it's imperative that you use paint specifically made for exteriors. You'll also need to choose between oil-based or latex-based paint: Latex is generally the best option as it's weather-resistant and rust-protective, but if the current paint on your door is oil-based, then you need to use oil paint again. As for the finish, you can choose whatever you like; however, we recommend semi-gloss, as it is resistant to damage while still being easy to clean.
What color is good luck for the front door?
Unfortunately, there isn't one specific color that guarantees luck and good fortune to us—otherwise, we'd use it on the whole house! However, we do believe that a happy home and family will naturally bring good luck, so find a color that brings joy to your home, and trust that good things will follow.
What is the best color for the front door?
The best color for a front door is whatever color represents your home and family best. It should convey your style and personality to the world and be a great first impression for all your guests.
How do you pick a front door color?
Start with a few considerations: What are the colors and tones of your home's exterior? What is the style and feel of your neighborhood? And, ultimately, what makes you and your family happy? One or all of these factors will likely influence your choice—whether you want to find something that's complimentary for curb appeal or something bold to help your home stand out.
There are also several online tools, like the Amazon Paint Finder, that can help you visualize different colors before you choose. Give it a try if you want to compare a few colors side by side.