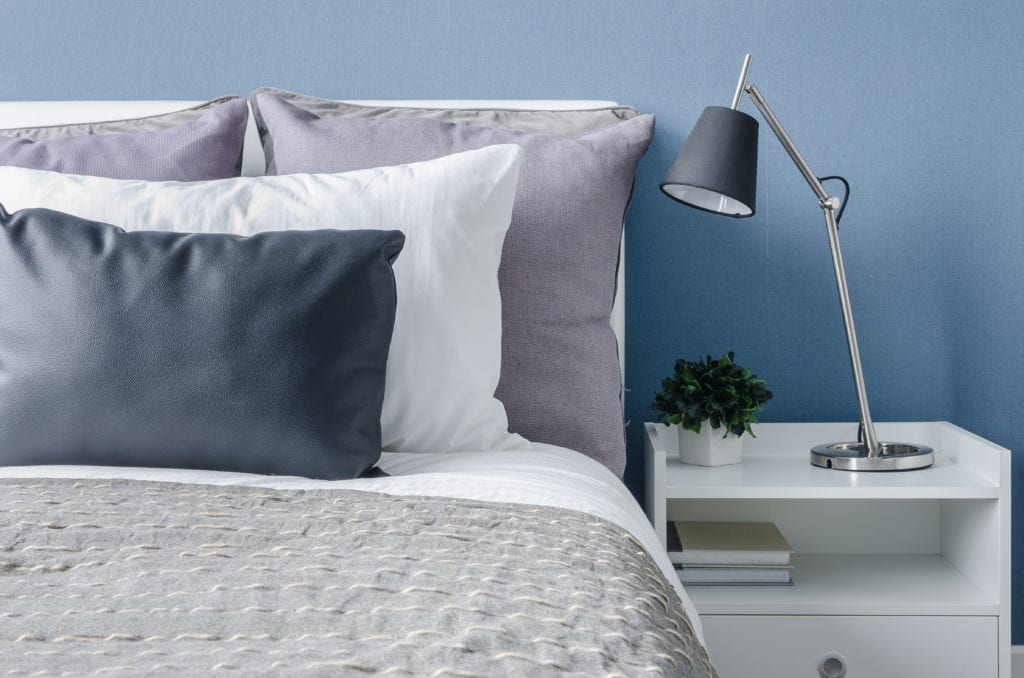 When deciding between bedroom paint colors, it can be difficult to envision exactly how the color scheme will work with the lighting, furniture, and overall decor in the room. Read on to learn how to determine the best bedroom color for your design vision.

Every room in a home tells a story, and the room's color helps that story come alive. This is particularly important in a bedroom, as the paint color can provide a tranquil, relaxing space when selected properly.

When brainstorming bedroom colors, it can be easy to feel overwhelmed by the number of room painting ideas that are possible— from accent walls to painted ceilings. Scrolling through your Pinterest feed could give you a jolt of inspiration, or inundate you with the sheer number of possibilities.

Here are our favorite bedroom paint colors to get you started, check out this article for more bedroom painting ideas.
The 15 best bedroom colors
Shades of lavender and light lilac exude serenity while providing a vibrant, yet understated, color palette.
Our paint suggestion: Glidden, lavender haze
Terracotta gives earthiness to a bedroom and blends well with greenery and dark furniture.
Our paint suggestion: Montage Signature, terracotta
Blue is associated with clear skies and sunny days, evoking happiness and serenity in a room.
Our paint suggestion: Rust-Oleum, coastal blue
Deep shades of purple offer an elegant edge to a bedroom.
Our paint suggestion: Prestige Paints, impulsive purple
Creamy colors pair well with light wood furniture and flooring, giving the room an airy feel.
Our paint suggestion: The Spruce, macramé beige
Rich shades of dark grey add deep, warm tones and a modern appeal.
Our paint suggestion: The Rainbow, dark grey
Light green evokes clean, earthy tones.
Our paint suggestion: Benjamin Moore, soft fern
Mustard yellow has subdued undertones that are vibrant and warm.
Our paint suggestion: Rust-oleum, Venetian yellow
Light shades of rose pink blend well with warm copper or light gold accents.
Our paint suggestion: Rust-oleum, blush pink
White walls open the space and make a room appear larger than it is. It also provides a great palette for adding splashes of color in the décor.
Our paint suggestion: Glidden, white
Cool, gray tones enhance a room's natural light and pairs well with green and blue décor.
Our paint suggestion: Montage Signature, dove gray
12. Elegant: Gold
Metallic paint, such as gold, can make a room appear larger and typically works best when used on an accent wall.
Our paint suggestion: Ralph Lauren, gold metallic
Zesty shades of apricot and peach pair well with creamy beige tones and add an element of flair to a bedroom.
Our paint suggestion: Glidden, peach darling
Soothing shades of light yellow add a cheerful touch to a room.
Our paint suggestion: Prestige, yellow rise
Cool shades of sea blue are modern and minimalist, adding the perfect touch of color.
Our paint suggestion: Glidden, blue pearl
What is the psychology behind paint color? 
According to Psychologist World, certain colors have been associated with increased blood pressure, metabolism, eye strain, and emotion. Specifically, the color red increases heart rate, blood pressure, and appetite (which is why it is a popular color in restaurants). One study suggests that black is associated with anger and aggression. Shades of dark blue and dark green can also bring about feelings of sadness or indifference.
The color of a room is deeply personal and often has cultural associations as well. For example, in Japan and China, the color white is used to indicate mourning, whereas white is associated with cleanliness and purity in the United States. Some Middle Eastern countries associate the color blue with protection and paint their front doors blue to ward off evil spirits.
So when it comes to choosing a color for your bedroom, go beyond your dream design. Dig deep and consider how the color makes you feel.
What you should consider when choosing bedroom paint colors:
Warm, neutral shades: Beige, creamy white, mustard yellow, and light grey offer a homey, inviting atmosphere that evokes comfort and relaxation. Warm tones provide a great palette to pair with bright pops of color in the bedroom's décor.

Cool, light tones: Soft yellow, lavender, light pink, and fresh blue offer a feeling of calm and restfulness in a bedroom. These colors are also less distracting and easier to pair with bright room décor and lively patterns.

Vibrant bedrooms: Shades of gold, dark purple, and terra cotta provide a bold color scheme that's both inviting and elegant.
Frequently Asked Questions
How do I choose a color for my bedroom?
Start by assessing the furniture you have in your room. If most of your furniture is white or light wood, adhering to that lighter design palette may work best. Darker furniture often pairs well with deeper, richer tones. After you have a general color idea in mind, explore color ideas on Pinterest, Elle Décor, HGTV, Good Housekeeping, and interior design blogs. After narrowing down some color options, visit your local paint store and request a sample that you can bring home. Test a small area in your room with the paint sample to help visualize how it will look. If you like it, you're ready to paint!
What is the best color to paint a bedroom for sleep? 
According to OurSleepGuide, blue is considered the best color for sleep because it has calming qualities. There are special receptors in the eye's retina (called ganglion cells) that are particularly receptive to blue, making it best for sleep.
Which colors should I avoid in my bedroom?
Red, orange, dark brown, bright lemony yellow, and lime green are colors that should be avoided when deciding on a bedroom color. Red tends to increase heart rate while orange evokes enthusiasm, making it ideal for a fitness room or home office. Dark brown and black tend to close in a room, making it appear smaller than it is. Bright shades of lemon yellow and lime green can be distracting and make the walls appear to have a neon-like hue.
What is the best paint color for a children's bedroom?
Fun, vibrant colors such as aqua, sea blue, light green, beige, and cerulean blue are great colors to pair with a children's design palette. It is typically best to steer clear from white, beige, and other light colors as children tend to beat up their walls. Adding a chalkboard wall is a fun idea for a children's bedroom as well.